This was yet another good year for live music in Kansas City. We hosted a wide variety of shows and tours, big and small, and In Kansas City covered more than three dozen of them.  Below is a list of my 10 favorite shows of 2019 and a list of all the shows we covered.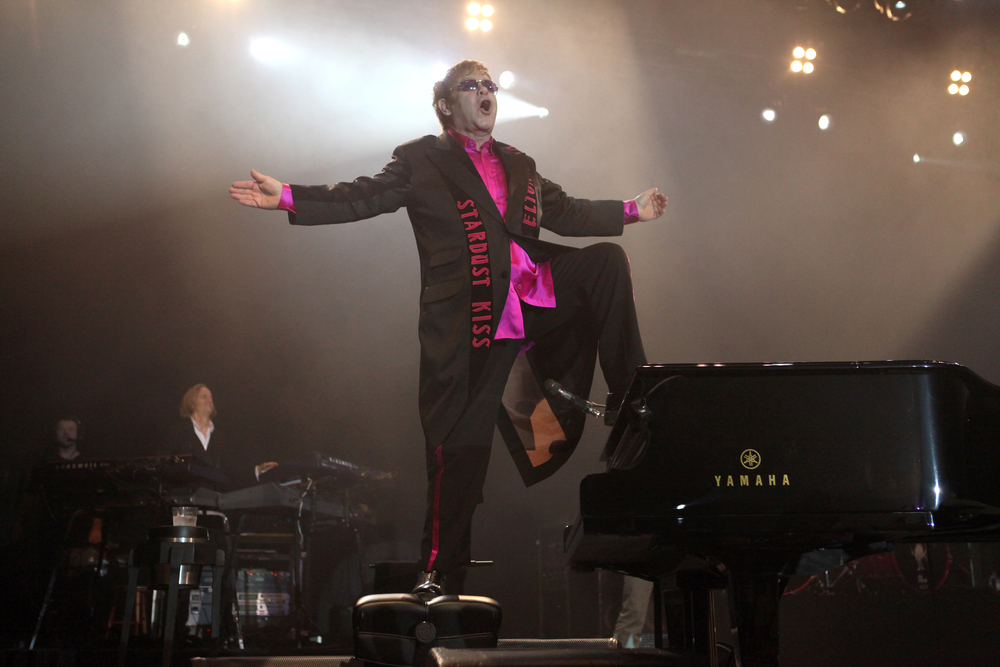 Elton John at Sprint Center
A bit of shine is off this memorable show—what was supposed to be his final ever in Kansas City. But in November he announced he was adding more dates to his Farewell Yellow Brick Road Tour in 2020, including another stop at Sprint Center on July 8.
Nonetheless, this remains a performance for the ages, a catalog-spanning 2.5-hour extravaganza loaded with hits and infused with a deep sense of nostalgia and which inspired deep appreciation for one of the greatest songwriters ever.  Review here.

Billie Eilish at the Silverstein Eye Centers Arena
More than 5,500 fans filled the arena, most of them teens who'd come to see and hear Eilish, 17, whose androgynous fashion and deep dives into the adolescent psyche have turned her into a heroine among her peers.
The show was relatively brief—about 80 minutes (she has released one full-length and an EP)—but the mood throughout was electric: the sights and sounds of someone young but wise beyond her years living up to the skyscraping hype that precedes her. Review here.
Wilco at the Arvest Bank Theatre at the Midland
 They'd been on hiatus for more than two years, and it showed. With a new album to feature (Ode to Joy) and propelled by a revived spirit and enthusiasm, Wilco put on one of its liveliest and best-ever shows in Kansas City, showcasing the excellent new album and giving a sold-out crowd a big dose of Wilco classics. Review here.
Mary J. Blige and Nas at Starlight Theatre
Both are members of hip-hop royalty, and on this evening they showed why. They would perform together twice, each adding guest vocals to the other's set.
Nas' 45-minute opening set started with a duet with Blige, then showcased his Illmatic album, which celebrated its 25th anniversary this year.
Blige's set felt  like a re-coronation of a performer who bares her raw emotions in nearly every song. From the opener, I Can Love You, to her spectacular closer, Family Affair (featuring more of Nas), she reaffirmed her undisputed title as the queen of hip-hop/soul. Review here.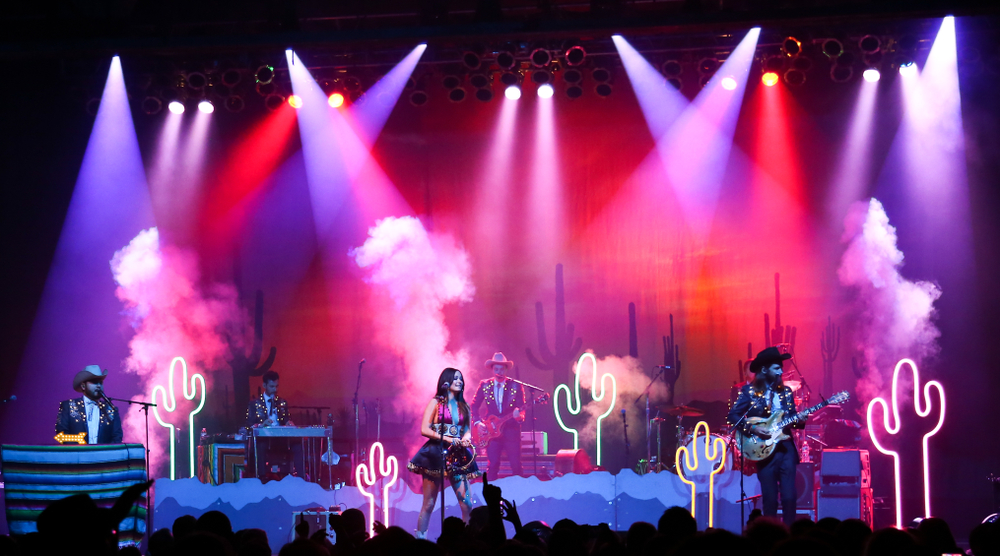 Kacey Musgraves with Yola at Starlight Theatre
With little help from the modern-country industry she has little interest in courting, Musgraves has mustered a large and enthusiastic fan base, and nearly 8,000 of them showed up this evening.
"Hello from one Kacey to another," she greeted them, before unveiling a 90-minute set that showcased an award-winning catalog that is growing increasingly diverse. Her set included pop-soul tunes from Golden Hour, which won three Grammys, and the pure country sounds of its two predecessors.
She also introduced most of the crowd to Yola, who opened the evening with a commanding set of R&B, gospel, soul, and country-adjacent songs that were the perfect set up for Musgraves' set. Review here.
John Mellencamp at the Arvest Bank Theatre at the Midland
 This show felt like a valediction. Or an appreciation for a long, illustrious career. It opened with a 20-minute film that documented Mellencamp's dedication to a life of music and visual art. Then came an 80-minute fusillade of hits, favorites, and, for the diehards, deep cuts. The sold-out crowd sang along evangelically all night to Mellencamp classics like Paper In Fire, Crumblin' Down, Authority Song, Pink Houses, and Cherry Bomb. Review here.

Thundergong! at the Uptown Theater
The annual fundraiser for Steps of Faith continues to be one of the year's best live shows, a star-studded must-see event.
Host and former Kansas Citian Jason Sudeikis was joined by fellow former Saturday Night Live alums Will Forte and Fred Armisen plus music guests Wynonna Judd, Ben Harper, and Kansas City's own Get Up Kids.
The marathon show featured music, magic, and comedy, and, most important, it raised more than $300,000 for Steps of Faith, which helps amputees afford prosthetic limbs. Review here.

Celine Dion at Sprint Center
For her first show in Kansas City in more than 10 years, she brought a 17-piece orchestra and a renewed purpose: Now in her early 50s and a widowed mother of three, Dion showed a new perspective on life, her career, and her music.
The voice is still powerful and expressive, but she shed the histrionics and melodrama and delivered an honest and sincere performance that expressed both the sorrow and gratitude that fills her heart, at one point spilling a few tears while paying tribute to her late husband. Review here.
Earth, Wind & Fire at Starlight Theatre
Now in its 50th year, this inexhaustible ensemble continues to draw large crowds who are always thirsty for its sassy, brassy blend of funk, soul, R&B, jazz, and pop.
They are down to three founding/long-term members, but they had no problem arousing a prolonged dance fest, thanks to a set list that included nearly all of their timeless and durable Top 40 hits, including September and After the Love Is Gone. Review here.
Lyle Lovett with the Kansas City Symphony at the Kauffman Center for the Performing Arts
One of the first shows of 2019 was one of my favorites. Lovett is as reliably funny, entertaining, and gifted as any singer-songwriter out there. Backed by the symphony and his four-piece Small Band, he led his audience through two sets that spanned his stellar, award-winning career and reaffirmed what everyone in the room already knew: He is a man of many facets and gifts. Review here.
THE SHOWS WE REVIEWED IN 2019
 JANUARY
Lyle Lovett at Kauffman Center
Madisen Ward and the Mama Bear
FEBRUARY
Kelly Clarkson at Sprint Center
Elton John at Sprint Center
Kiss at Sprint Center
MARCH
Eric Church at Sprint Center
John Mellencamp at Midland
Michael Buble at Sprint Center
Justin Timberlake at Sprint Center
MAY
NKOTB, Salt-N-Pepa, Debbie Gibson, Tiffany, Naughty By Nature at Sprint Center
Bobby Brown/Bell Biv DeVoe
JUNE
Luis Miguel at Sprint Center
Billie Eilish at Silverstein Eye Centers Arena
Train and Goo Goo Dolls at Starlight Theatre
Third Eye Blind, Jimmy Eat World at Starlight Theatre
JULY
Santana at Sprint Center
Shawn Mendes at Sprint Center
Earth, Wind & Fire at Starlight Theatre
AUGUST
Peter Frampton at Starlight Theatre
Mary J. Blige and Nas at Starlight Theatre
Ben Folds with Violent Femmes at Starlight Theatre
Dierks Bentley with Joe Pardi at Staright Theatre
Rob Thomas at the Uptown Theater
SEPTEMBER
John Mayer at Sprint Center
Kacey Musgraves with Yola at Starlight Theatre
Backstreet Boys at Sprint Center
Carrie Underwood at Sprint Center
Jonas Brothers at Sprint Center
OCTOBER
Heart and Joan Jett at Starlight Theatre
Chris Stapleton at Sprint Center
Celine Dion at Sprint Center
Luke Bryan at Sprint Center
NOVEMBER
Thundergong! at the Uptown Theater
Bret Michaels/Night Ranger/Lita Ford at Silverstein Eye Centers Arena
The Chainsmokers at Sprint Center
Wilco at the Midland
DECEMBER
The Jazz at Lincoln Center Orchestra featuring Wynton Marsalis