Elton John issued one chord on the piano before a sold-out-to-the-rafters crowd at the Sprint Center erupted into a fit of euphoria.
That very recognizable chord was the start of the intro to Bennie and the Jets, a signature song from a signature album, Goodbye Yellow Brick Road, the classic double-vinyl recording that gave this tour its name: Farewell Yellow Brick Road
Sir Elton, 71, has been touring for roughly 50 years, and in early 2018, he announced he was bringing his road show to a close with a final tour, a three-continent 27-month bonanza. Wednesday night, with plenty of grace, humor, energy and grit, he said farewell to Kansas City.
Backed by a six-piece band that included members who have accompanied him for decades—drummer Nigel Olsson, bandleader/guitarist Davey Johnstone, and percussionist Ray Cooper—John delivered more than 2.5 hours of music and a set list comprising 24 songs, most of them solid-gold classics that redefined popular music in the 1970s.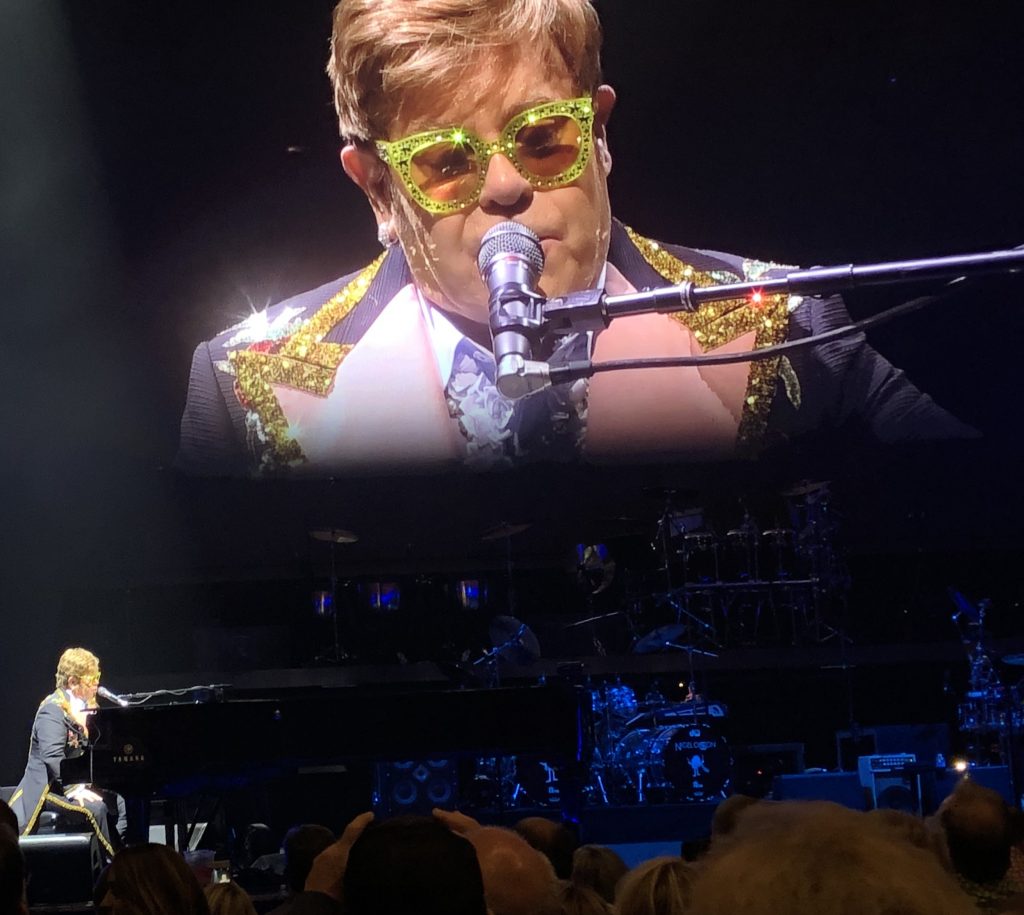 They performed before a gargantuan gilded-frame screen that broadcast an array of visual spectacles, including live shots from the stage, photo montages from throughout John's career, and assorted videos, including some raw, uncensored footage of Marilyn Monroe that added gravitas to Candle In The Wind.
John no longer executes acrobatics at the piano, but he remains a kinetic performer, one who attacks the keys with gusto and vigor. His hands aren't large, but they are swift and nimble, and all night he entertained the crowd with his thrilling piano skills.
And he is still a flamboyant fashion spectacle, from his rhinestone- and sequin-studded suits to his garishly-framed glasses.
Vocally, he can no longer scale the ranges he used to, as was evident during songs like Rocket Man and Crocodile Rock. His voice is deeper, blues-ier and more soulful and assertive, which serves many of his older songs well, especially those steeped in the many American genres he is so fond of: country, gospel, soul, the blues and taproot rock and roll.
Thus songs like Levon, Tiny Dancer, Daniel, and Burn Down the Mission, burned with emotion and conviction.
John and the band recast and rearranged several songs but artfully, without disfiguring them. They also added several instrumental jams within or at the end of songs, most notably Levon, which included a percussion solo before it swerved into a long, jazzy, gospel-rock outro.
He delivered a few asides and soliloquies, one about the sobriety that saved his life, another about his AIDS foundation, which has raised more than $400 million and which, he said, will continue its mission of eliminating the pandemic itself and the stigma attached to the disease.
He also mentioned Aretha Franklin and how her cover of Border Song in 1972 was a turning point for him and Bernie Taupin, his lyricist for 50 years.
And he threw Kansas City Chiefs fans a bone before the band introductions, asking the crowd to give his mates a "Mahomes"-like ovation, although he pronounced it more like "Ma-home-is." The gesture was nonetheless appreciated.
The show felt like one long, sustained highlight. Even lesser-known songs like Indian Sunsetand Believer eceived long, warm ovations. The crowd of 17,000-plus was on its feet much of the night, and the sing-alongs were loud, widespread and nearly nonstop.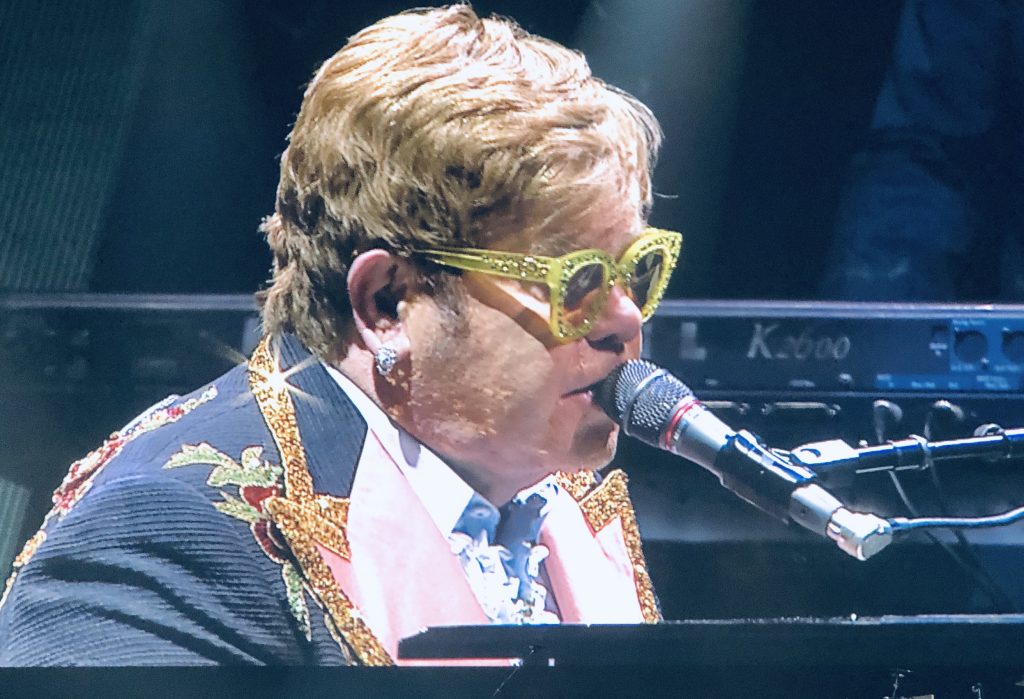 He would ride into the sunset with three of his most beloved songs. An amped-up version of Saturday Night's Alright For Fighting, accompanied by battle footage from kung fu/martial arts movies, ended the first set.
A few minutes later, they returned for a two-song encore: Your Song, a perfect Valentine's Day prelude, then Goodbye Yellow Brick Road, a ballad about leaving stardom for the farm or, in John's case, the family life.
His road won't come to its official end until December 2020, in London. But when it does, the music world won't be the same, despite what he sings in that song: "Maybe you'll get a replacement / There's plenty like me to be found."
Not true, Sir Elton. Not true.
SET LIST
Bennie and the Jets; All the Young Girls Love Alice; I Guess That's Why They Call It The Blues; Border Song; Tiny Dancer; Philadelphia Freedom; Indian Sunset; Rocket Man (I Think It's Gonna Be A Long, Long Time); Take Me to the Pilot; Someone Saved My Life Tonight; Levon; Candle In The Wind; Funeral For A Friend/Love Lies Bleeding; Burn Down The Mission; Believe; Daniel; Sad Songs (Say So Much); Don't Let The Sun Go Down On Me; The Bitch Is Back; I'm Still Standing; Crocodile Rock; Saturday Night's Alright For Fighting. Encore:Your Song; Goodbye Yellow Brick Road.