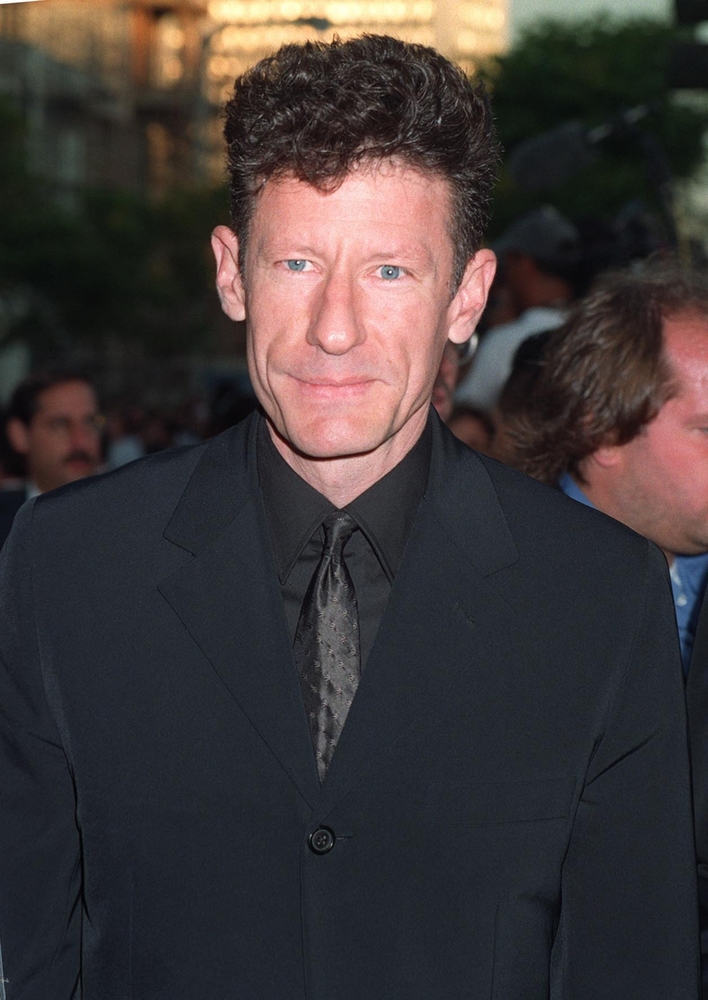 Lyle Lovett is a man of considerable reserve–thoughtful but soft-spoken, but never the loudest, most extroverted guy in the room.
Yet, during live performances, Lovett has plenty to say and a few ways to say it: through song lyrics, which plumb and probe the many facets of the human condition with humor, candor and wit; and through stories and asides, which often set up or explain those songs.
Friday night, Lovett gave a large crowd at Helzberg Hall in the Kauffman Center for the Performing Arts plenty of both during a stellar performance with the Kansas City Symphony, which was led by associate conductor Jason Seber.
Lovett also brought along his ace Small Band, a quartet comprising drummer extraordinaire Russ Kunkel, bassist Victor Krauss, fiddler Luke Bulla, mandolinist/guitarist Keith Sewell and pianist Jim Cox.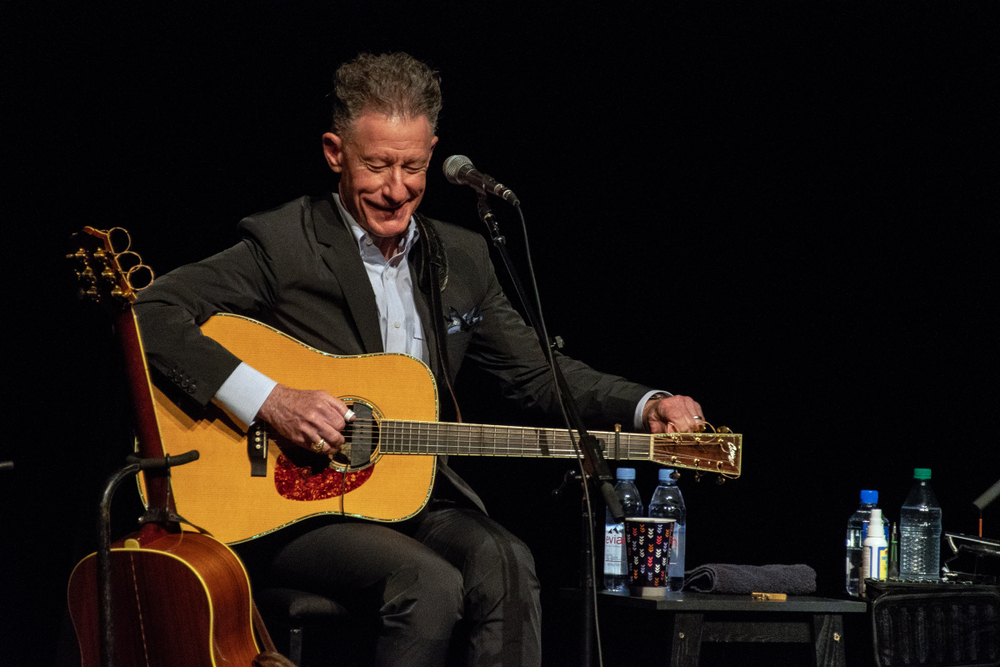 Through two sets that each approached an hour in duration, the two ensembles meshed seamlessly, despite the significant size difference. Not once did the orchestral gusts and waves overmatch or submerge the band's vocals or instrumentals.
This was the first of three performances (8 p.m. Saturday and 2 p.m. Sunday) but no one showed any noticeable opening-night rust or jitters.
The evening began with a welcome from symphony executive director Frank Byrne, who told the audience that the three Kauffman Center shows were historic for Lovett: the first time he has performed anywhere with an entire orchestra.
Seber then led the symphony through a rousing version of Hoe-Down from Aaron Copland's Rodeo ballet (and a composition now widely associated with the "Beef: It's What's For Dinner" TV ad campaign).
It was the perfect setup for what followed: a series of songs and stories, several of which were affiliated with cowboys, horses and the Western life.
Lovett opened with Just The Morning, a slow-moving ballad from his I Love Everybody album that paints a warm portrait of a couple awakening at dawn to start another day: "The coffee's almost done/You can smell it crawling in here from the kitchen/It's just the morning/Falling through the window." The orchestra lofted the song into new dimensions, bathing it in strings, horns, and reeds.
He followed that with Which Way Does That Old Pony Run, after paying Kansas City a faint compliment—"It's close to everywhere"—and then offering: "Cowboys didn't always go West; sometimes they came back." It gets at the theme of the song, which is about a guy heading east to leave his world (and woman) behind.
The mood then turned rowdy and sardonic: a swinging, jazzy rendition of She's No Lady which the symphony gave a heavy, big-band treatment and which Cox adorned with a few tasty piano fills.
Food was another recurring theme. Seber and Lovett jousted playfully about barbecue and whose is best (Lovett is a Texan). After Seber declared the case closed with one word, "Gates," Lovett deadpanned: "The night is still young."
He then slid into Nobody Knows Me, a lambent ballad about a lady who knows what her man wants and how he wants it, including his eggs: "over easy, with flour tortillas."
The symphony went dark, figuratively and literally, a few times, so the band could perform unaccompanied.  Cowboy Man was the first of those, a groovy country shuffle about a woman in search of a man who can "rope me on the prairie" and "ride me on the plain." Sewell embroidered it nicely with some deft leads on acoustic guitar.
Lovett introduced Cute As A Bug by comparing driving in traffic to social media: It can bring out the worst in people; and you can be as much of a fairly anonymous jerk as you want to be. The song is about an encounter the singer has with a cute girl in a Volkswagen that followed a near road-rage incident. The three-part harmonies throughout were keen and celestial.
They closed the first set with a hard-swinging, brass version of That's Right (You're Not From Texas), leaving the audience in excess of 1,500 ready for more. And plenty more was to come.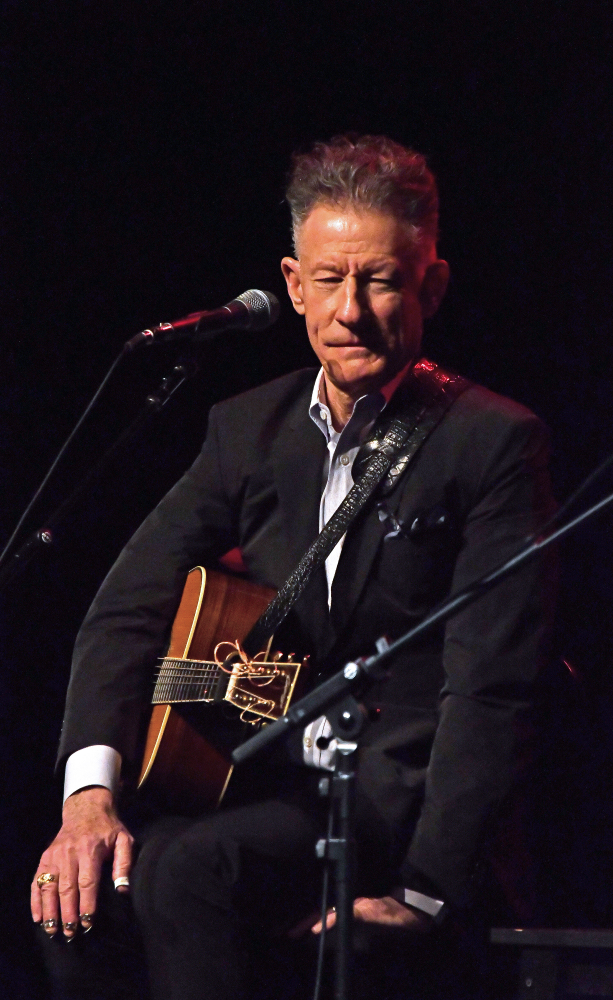 After an intermission of about 30 minutes, Seber and the symphony opened the second set by lighting into a John Williams composition from the score to Steven Spielberg's War Horse, again perfectly setting the table for what followed.
 Lovett and  his crew re-emerged and dug out a deep-album cut: the title track to his Natural Forces album, a song that alludes to American soldiers, American Indians, and a person's need to declare where he belongs: "Home is where my horse is."
He followed that with She's Already Made Up Her Mind, an austere, lacerating breakup song about a guy who knows it's over by the look on her face: "She is staring without an expression/And she is talking to me without moving her eyes/Because she's already made up her mind." The orchestra strings and Kunkel's percussion during the crescendo deepened the sense of heartache and despair.
With the symphony again in the dark, Lovett, Sewell, and Bulla gathered around one microphone to render a lively bluegrass vibe upon Pantry, a song about food that isn't just about food: "Don't cheat on me with biscuits with jelly sweet and blue/Keep it in a place you know you will be true/Keep it in your pantry."
They saved one of Lovett's most beloved songs for last, a song he said was inspired by his realization that he didn't want a real job. Rather he wanted to be a songwriter or ride horses or sail the seas. Or all of the above.
If I Had A Boat is one of his earliest songs but one of his most timeless and the orchestra's embellishments added to its loveliness–elevating it without smothering it.
He and the band returned for one encore, Simple Song, another contemplative low-tempo ballad with a lyrical story open to wide interpretation.
It's about departure and finding ones true self. But true to his storytelling gifts and ways with words, as he did many times this evening, Lovett closes with a verse about loss and moving on, a universal sentiment that nearly everyone can relate to:
So hear my words with faith and passion
For what I say to you is true
And when you find the one you might become
Remember part of me is you.
SET LIST
Hoe-Down (Kansas City Symphony); Just the Morning; Which Way Does That Old Pony Run; She's No Lady; Nobody Knows Me; Cowboy Man; Cute As A Bug; Pants Is Overrated; South Texas Girl; That's Right (You're Not From Texas). Intermission. Track from the score to War Horse (Kansas City Symphony); Natural Forces; She's Already Made Up Her Mind; Pantry; Twelfth of June; North Dakota; If I Had a Boat. Encore: Simple Song.