Time has been uncommonly kind to Earth Wind & Fire. Now approaching its 50th year of recording and touring, the Hall of Fame ensemble remains a force of nature as a live band.
Saturday night at Starlight Theatre, with uncommon precision and panache, the nine-piece soul/funk/R&B/jazz orchestra entertained more than 7,000 fans and devotees, most of whom spent the entire show on their feet, dancing and singing along, despite the oppressive heat.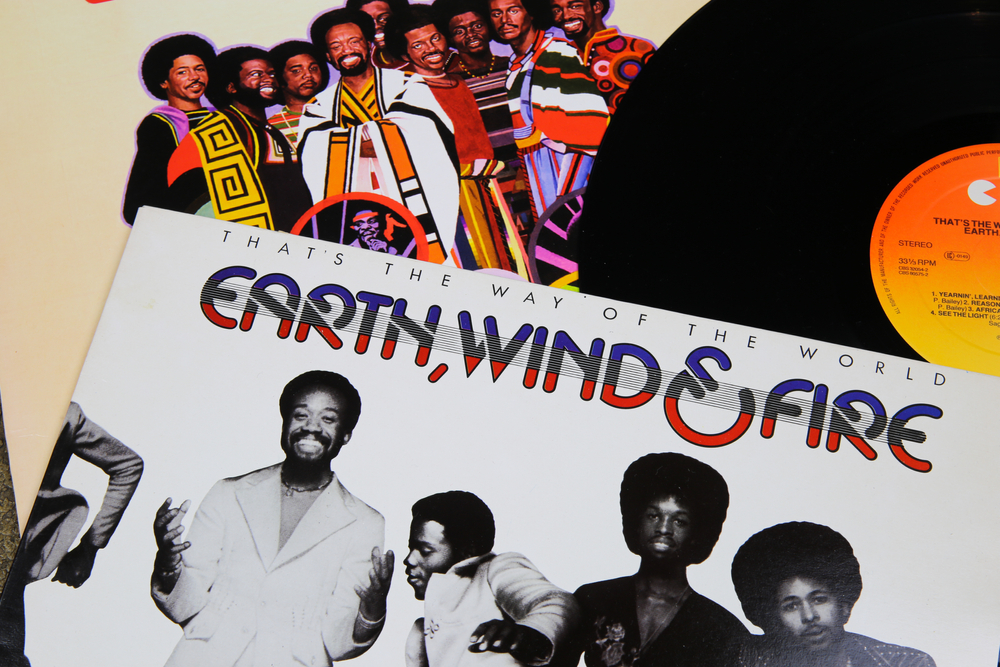 These days, EWF is down to three founding/long-time members: Philip Bailey, Verdine White and Ralph Johnson. It also includes a progeny—Philip Bailey Jr., who joined in 2008. And it has survived the death of its founder and leader, Maurice White, who died in 2016 but had retired from touring in 1996.
In 2019, with help from its touring three-piece horn section, EWF is a honed, toned, and enthusiastic band, one that pours zest and zeal into every song.
The big crowd was still filing in when they started Saturday's show with one of their many solid-gold hits, Sing A Song, a pop/funk nugget with a sticky-sweet melody and irresistible groove. The vocals from both Baileys and percussionist David Whitworth were spot-on, and the high-kick dance moves were impressive.  Before the dust from that one had settled, they launched into another funk-groove party, Shining Star. Again, the vocal harmonies were warm and crisp.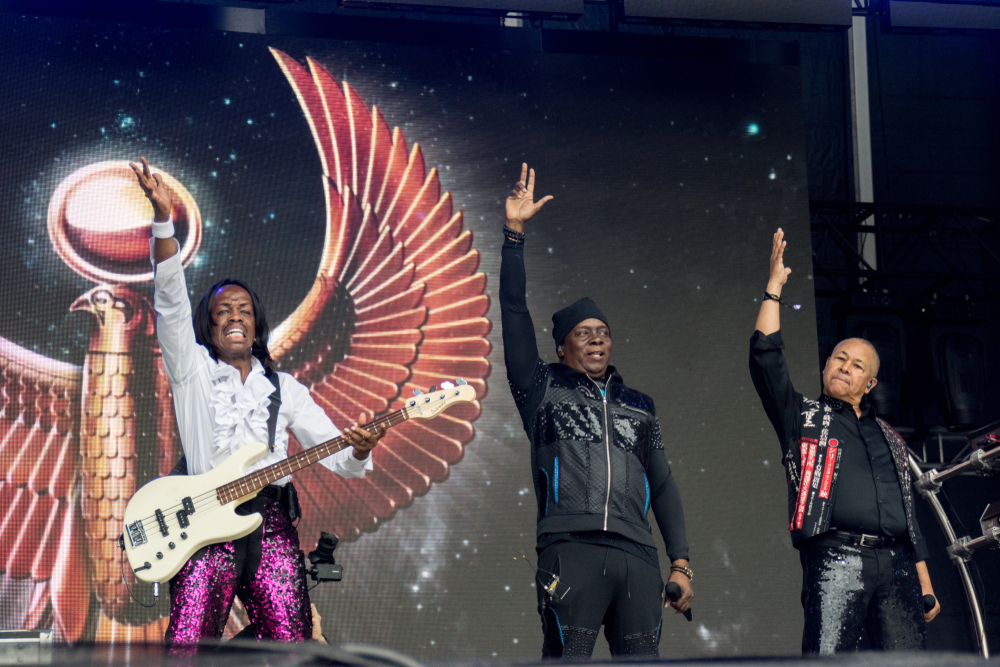 White and Johnson play integral roles in the band, but Bailey is now its unofficial leader. His voice was in exceptional form Saturday night, especially on songs like After The Love Is Gone and Reasons, in which his sky-scraping falsetto seemed to defy a few laws of physics.
Even during the deep cuts, the crowd remained engaged. Songs like the Afro-funk/jazz excursion Kalimba Story, an instrumental showcase for Bailey Sr., White, and Johnson, generated widespread dancing and rowdy ovations. The trumpet intro to that, from Bobby Burns Jr., was spicy hot.
Other highlights: Serpentine Fire and Evil, in which the crowd indulged in some choreographed clapping, and Head To The Sky, an old-school soul ballad with a Chi-Lites vibe, before which Bailey asked the crowd to make a "positive difference" in the world.
There was an audio glitch at the onset of Write A Song—the vocals were murky for a few measures—but that was eventually repaired. Like the cavalry, the horn section rode in and saved the day.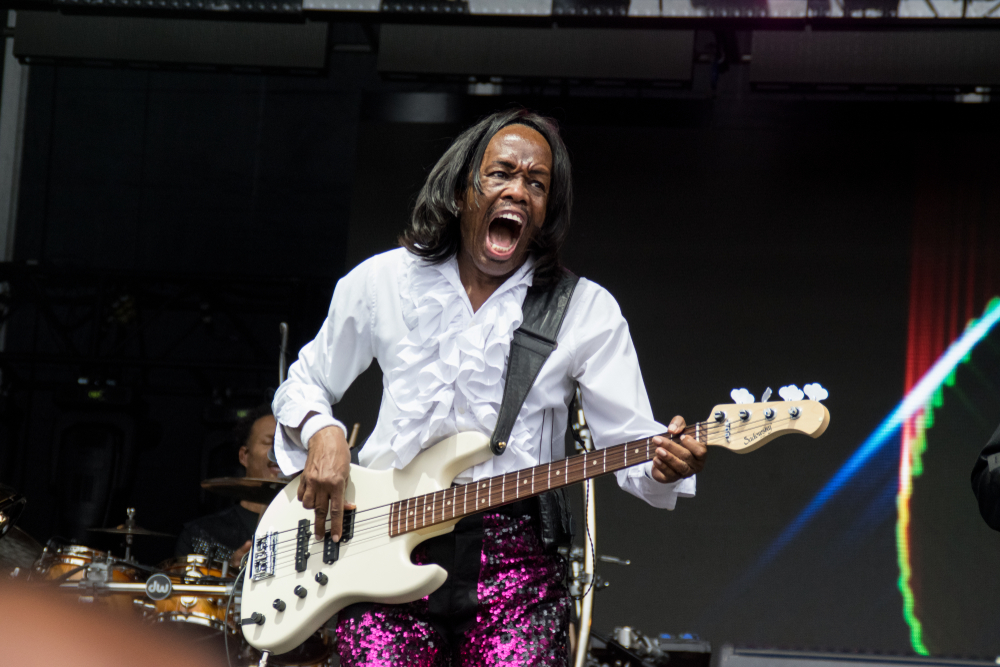 As appreciative as it was for the lesser-known songs, the crowd showed overtly what it was there to see and hear: songs like Got To Get You Into My Life, one of the best Beatles covers ever. Despite its lyrical message, After The Love Is Gone, another EWF classic,prompted some close-dancing among couples in the crowd.
They ended the set with a one-two-three-four hyper-funky punch that is as heavy and joyous as anyone's: Fantasy, Boogie Wonderland, Let's Groove, and then the ebullient September, one of the best songs of the past 50 years. From front to back and into the concourses, the singing and dancing were rhapsodic.
They could have stopped there because: How you going to top that? But they returned for a post-climax encore: In The Stone, another deep-cut funk-fest that drew howls of recognition.
Call it Bailey and the band practicing what he preaches and making a positive difference in a world that needs the kind of joy they disperse.