The Women in Business series is presented by UMB Women and Wealth
If you have walked around Kansas City's Westside recently, you might have noticed a new kid on the block—Seventeenth and Madison, a sleek mixed-use structure formed from four buildings dating from the 1880s to the 1950s, now sporting a contemporary, cohesive look.
It might surprise you to learn that the developer is a newbie, too—Cheryl Hartell, owner of Westside North Properties, LLC. "Many businesses and people have occupied this building. I wish the walls could talk because I would love to hear the stories they would tell," she says.
But first, Hartell's story.
"You could call me a serial entrepreneur," she says. After majoring in economics and earning a degree from Western Missouri State University, Hartell took a financial products sales job. "Although I learned a great deal about insurance and investing, I knew quickly the corporate world was not for me. Instead, I became a lunch line cook at the former Cafe Allegro where I trained under chefs Stu Stein and Mano Rafael."
When in 1995, The Vineyards Restaurant in Weston became available, Hartell jumped at the opportunity to be the chef and sole owner. In 2008, she sold it. "Accustomed to the pace of the restaurant, I didn't really slow down for long," she admits. "I became president of our school's PTA and wrote grants for safe playground equipment and recycled-tire playground surfacing." She also continued to cater favorite clients' events and parties. 
By 2017, she was at a pivotal time in her life, newly single and her children grown. She moved to the Westside. "I learned that the commercial property in this area is owned by just a handful of people. Not to be morbid, but maybe a little comedic, someone will have to pass away for it to become available. When the for-sale sign went up on the Cody building at 17th and Madison, I knew it was a good investment and had amazing potential," she says. Hartell purchased the building, but wasn't sure yet how she would develop it.
While she drew up her plans, she ran the Pita for Good food truck. "Even though seemingly romantic, especially to a former restaurateur, running a food truck is almost as involved and difficult as owning a brick and mortar," so that phase ended as the new building came to life.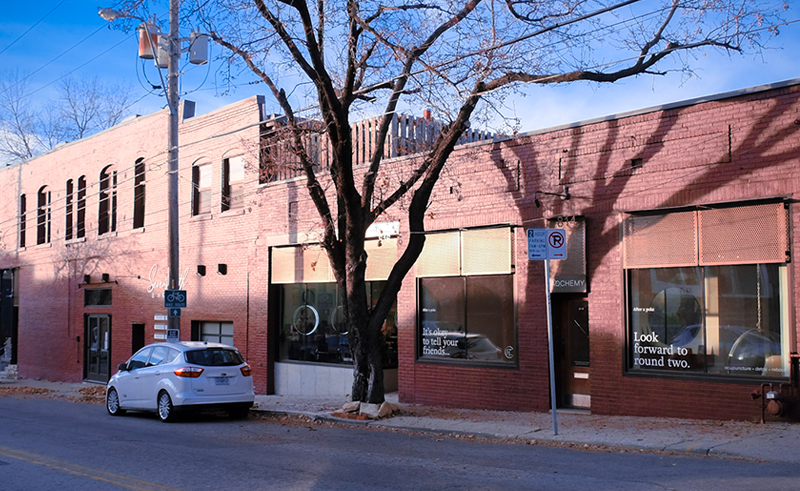 Refurbishing Seventeenth and Madison was like an archaeological dig. "From tax photos taken in the early 1900s, you can see that the building in its glory had beautiful storefront windows with iron columns," says Hartell. "By the 1960s with the neighborhood's decline, all of these windows had been replaced with blocks and most of the columns were covered as well. This was the state of the building when I purchased it." Seventeenth and Madison now includes two residential and seven commercial tenant spaces that house ten entrepreneurs.
Hindsight is 20/20, and Hartell wishes she had known more about the development tools that city, state, and federal governments offer. "The oldest part of my building had serious structural problems and would have likely been considered blighted," she says, thus qualifying for tax abatement or even a property-tax freeze. She is still working on those initiatives—and has her eye on another property she hopes could turn into affordable housing.
"The entire process from concept, to design, to permit, to construction, to leasing has been an incredible education for me," says Hartell. "I still learn something new every day. I have had a great design/build team with Hermanos Architecture. We meet weekly to go over the upcoming punch list, analyze costs, and pay invoices. Since I live in the building, I have been fortunate to be involved in and oversee every step of the construction process. Becoming a landlord, understanding real estate law, negotiating and writing leases, as well as marketing the property have also been new skills I've acquired." 
For women thinking about getting into property development, Hartell has sound advice: Do your homework. "Know the area," she emphasizes, "how the building and area is zoned and what can potentially and legally occupy the building. Have a structural engineer analyze and give you a report before you seriously consider purchasing the property. Find out the ages of the roofing, electrical, plumbing, and HVAC. Talk with the Economic Development Council to learn about incentives for developing. Find a mentor, a progressive banker, and a good real-estate attorney."
And know this, too, quips Hartell, with wry humor: "'While we are at it' is the most expensive phrase in the English language."