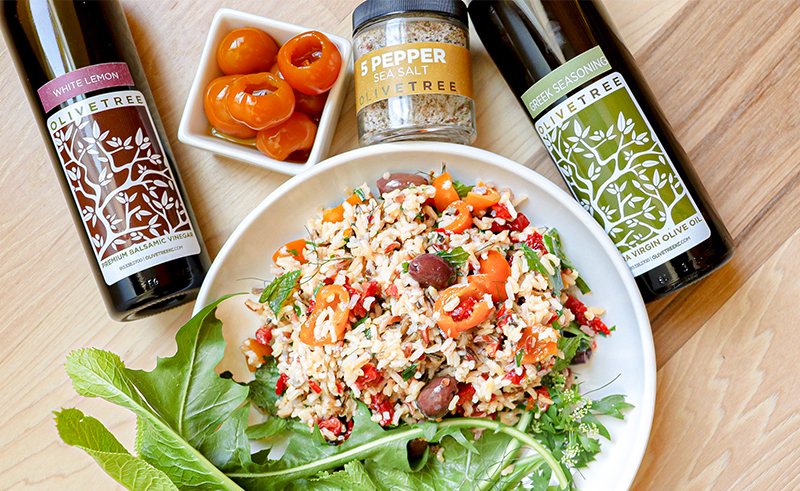 Vive la France! Bastille Day celebrations are coming to Kansas City on July 15 with a French-style picnic hosted by Les Dames d'Escoffier Kansas City, the local chapter of the international culinary organization for women.
Pique-Nique will offer a curated menu for two that includes a baguette, pork rillettes, charcuterie, smoked salmon spread, and other delectable sides, fruits, nuts, and desserts, plus a choice of a cocktail for two or bottle of wine. 
Order a basket for $125 and it will be ready for pick up on July 15 at Union Station or Olive Tree—all proceeds from the event will support women interested in the culinary arts.
Want to get an early taste of Pique-Nique? The basket will feature Cheryl Hartell's  Wild Rice Mediterranean Salad—which includes hand-foraged greens and local products from Linda Hezel, owner of Prairie Birthday Farm in Kearney, and Mindy Riley, owner of Olive Tree in Overland Park—and here's how to make it:
Wild Rice Mediterranean Salad 
2-4 servings
Ingredients
3 cups cooked wild rice and grain medley (use vegetable stock instead of water to give more flavor) 

1 cup chopped Prairie Birthday Farm Hand-Foraged Mixed Greens and Herbs 

1/2 cup chopped kalamata olives 

1/2 cup chopped sundried tomatoes 

1/2 cup chopped peppadew peppers 

1 teaspoon lemon zest 

1 teaspoon Olive Tree Five Pepper Sea Salt Blend 

2 tablespoons Olive Tree Greek Seasoning Olive Oil 

2 tablespoons Olive Tree Lemon Balsamic Vinegar 
Instructions
Mix all ingredients together in a serving bowl and enjoy!