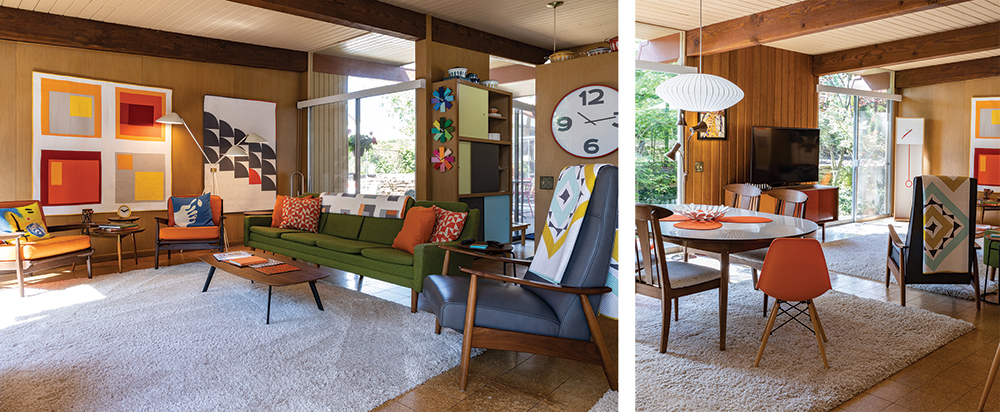 In 1958, "The Castilian" became an unlikely TV star. The design for this modern house in Prairie Village appeared on an NBC network TV show called Home. Designed by the California architects A. Quincy Jones and Fredrick Emmons, it was built by Kansas City's Don Drummond. Its modified "H" layout, with a private wing of bedrooms and baths, a public wing of living and dining, and a kitchen in the middle, showed America how patio daddy-o's wanted to live. 
Today's cool kids can find midcentury-modern Drummond homes throughout Kansas City's older suburbs. Drummond built more than a thousand homes in the metro. Artist Jacquie Gering and her educational consultant husband, Steve Gering, found theirs in 2018, moving from a Westside condo.
"As soon as I walked in, I knew this was my house," recalls Jacquie Gering. As a designer of contemporary quilts, Gering quickly saw the potential in the mahogany paneling, window walls, and cork floors. "The flow is spectacular," she says. So is the indoor/outdoor feel. In winter, when she and Steve sip coffee and read The New York Times in front of the double-sided fireplace, "We feel like we're in a snow globe."
Although the couple respects the 1950s design, "We don't want to live in a museum," says Gering. Some things had to go, namely the heavy draperies, brown blinds, and a '90s bathroom from a previous owner. In came discreet roller shades that practically disappear and a new bath with a modernist edge.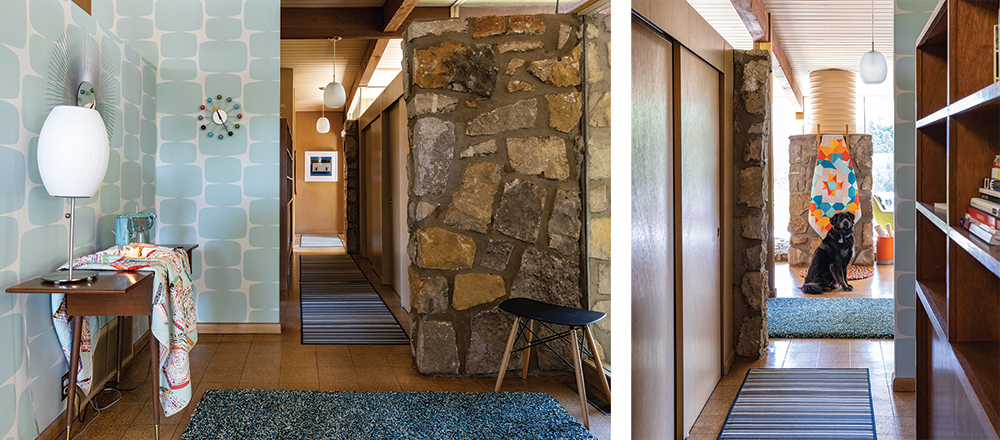 Now, when you walk in the front door and see the vintage Singer sewing machine against a backdrop of atomic-themed wallpaper, you "get" what this house is about. 
Orange is a neutral. Jacquie's graphic quilts—"Homage" to artist Josef Albers and "The March of One" inspired by the Women's March, with its own homage to the minimal realism of Charley Harper—hang on the living room walls. A green sofa from Retro Inferno, orange chairs she picked up at an estate sale, and a recliner from Design Within Reach continue the modernist vibe. In the dining area, a Formica-topped table stays true to midcentury materials.  Clocks in all shapes, sizes, and colors—the favorite way to tell time in the 1950s—pop up everywhere.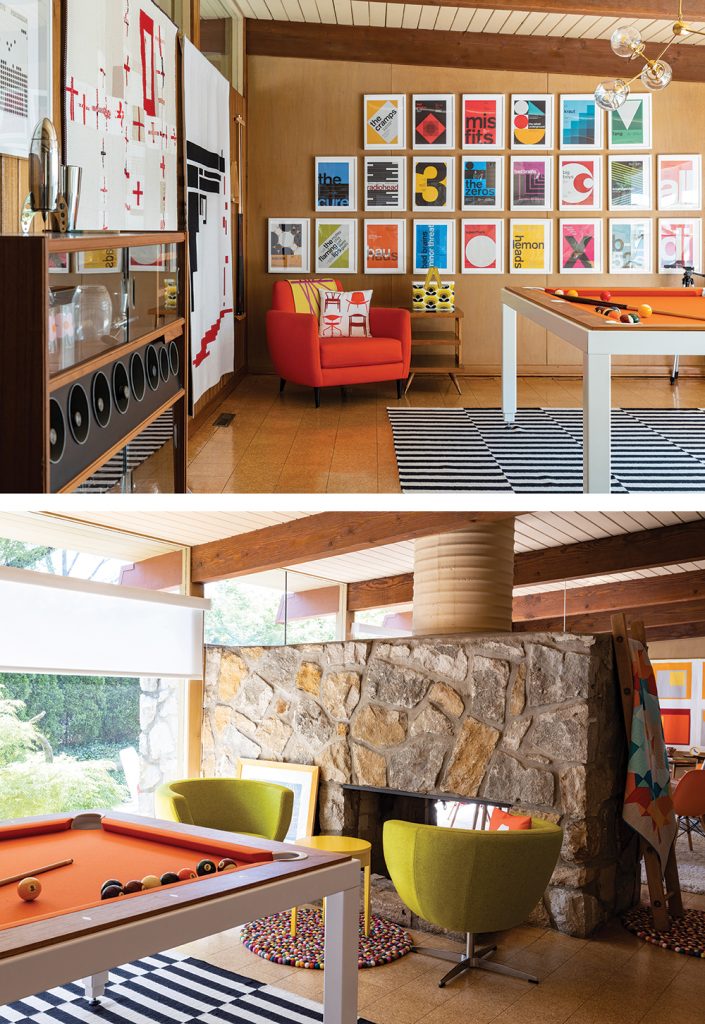 The family room's minimalist pool table—perfect for when the couple's grown sons visit—is lined in orange felt. Two chartreuse barrel chairs swivel to the fireplace. Along one wall hang framed graphic prints from Swissted by Mike Joyce, a book of rock n' roll posters reimagined in Swiss modern. "I'm obsessively organized," admits Gering. "I love repetition. I find it calming."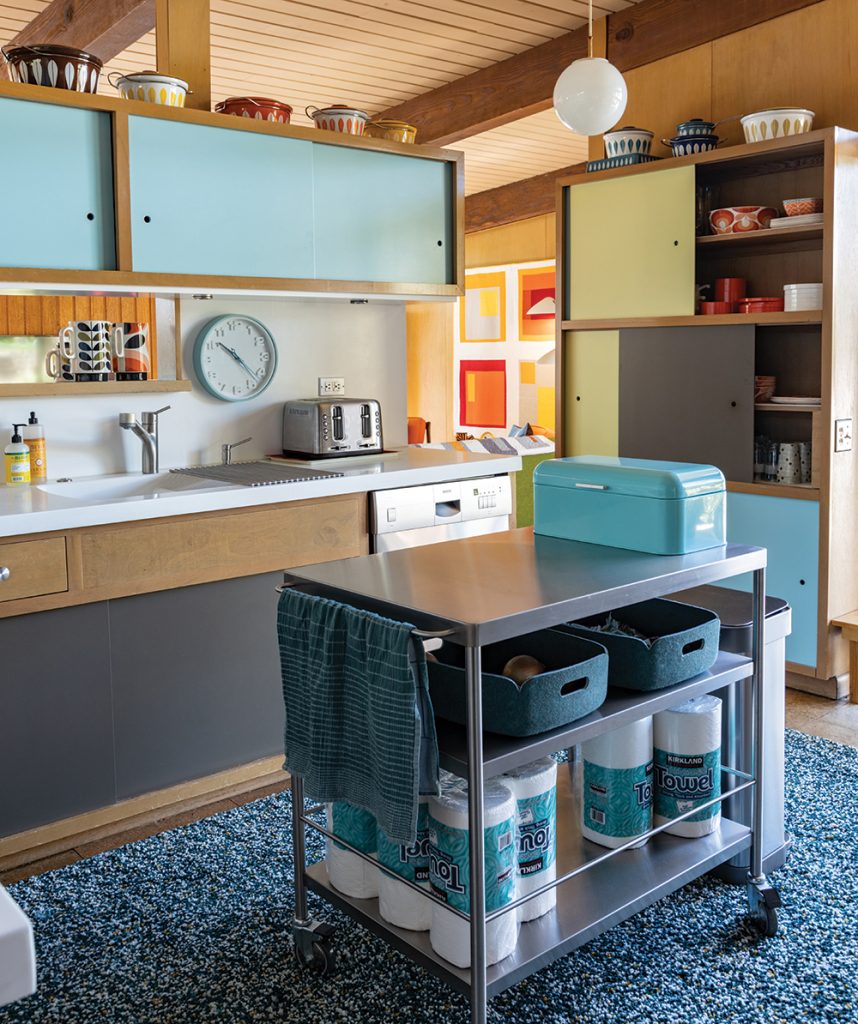 The small, tidy kitchen is brightened by turquoise and pale green sliding doors on the pantry cabinets, and a turquoise metal bread box (full of dog treats for Sideways, their rottweiler/Newfie mix) on a stainless-steel cart functioning as an island.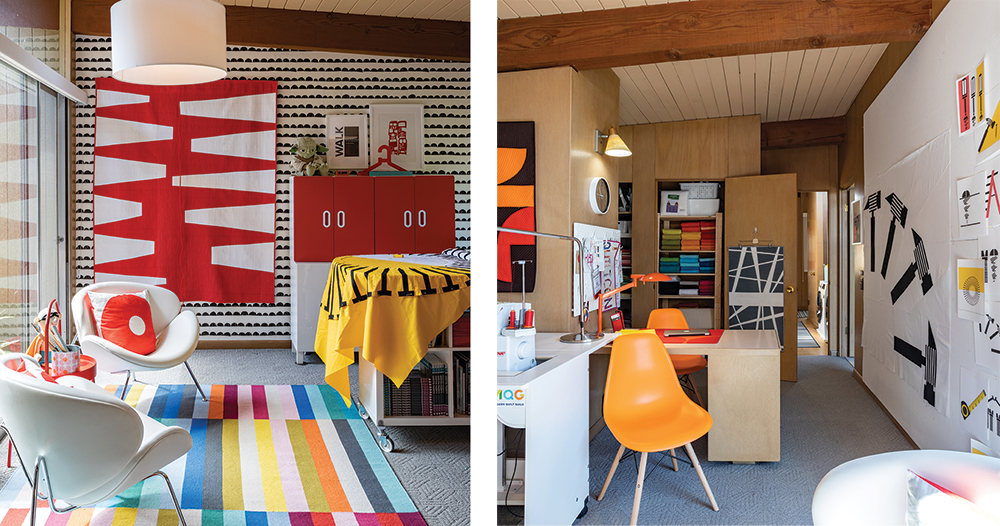 What was the master bedroom is now Gering's studio, with a long wall where she can pin up new designs. An orangey-red and white graphic quilt "Chomp," black-and-white half-moon wallpaper, and a rainbow-banded Ikea rug provide the visual punches. 
Gering's style is changeable rather than static, no better illustrated than in what is now the master bedroom. "I change quilts and pillows all the time for a completely new look," she says.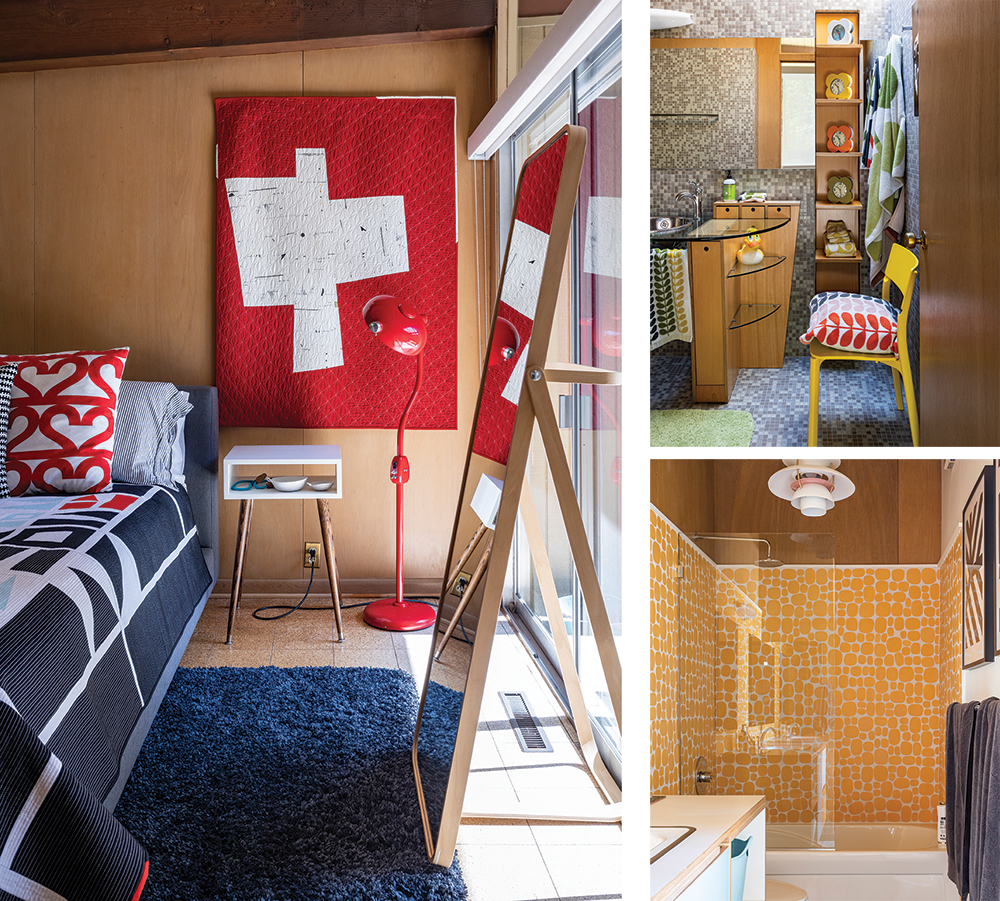 In one bath, a space-age vanity and towels in an Orla Kiely pattern stand out against earth-toned mosaic tile on walls and floor.
When Gering asked for Formica on the vanity and orange Rex Ray tile from ModWalls when she renovated a second bath, the Studio Build team didn't blink. A Danish modern Louis Poulsen pendant light completes the look.
"I believe a house should reflect who its owners are," says Gering. And through these new homeowners, The Castilian shows a more playful, upbeat side to its personality. 
---
The It List
Interior Design and Quilts
Jacquie Gering Rethink Quilting
Design Build
Studio Build
Antiques
Nova Vintage