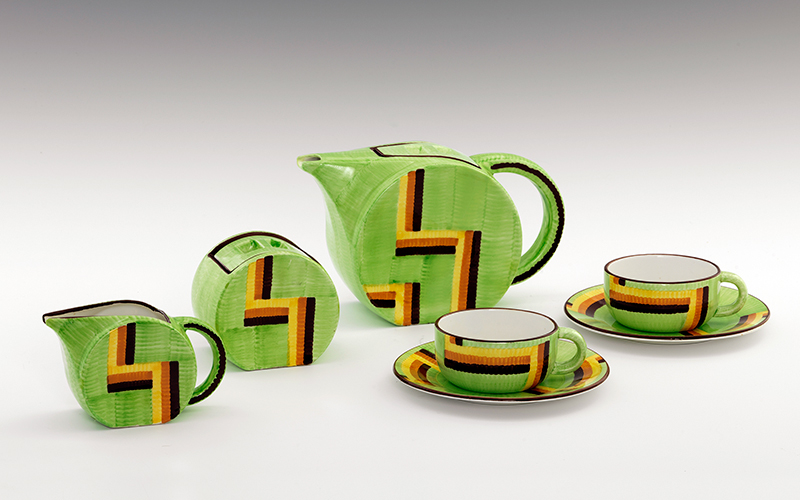 For many of us, the closure of the Nelson-Atkins Museum of Art was a particularly painful—if reasonable—blow during the shutdown of the pandemic. A source of solace and inspiration, the inability to stroll the halls and escape compounded the innumerable losses.
American Art Deco: Designing for the People, 1918-1939, the first major exhibit since the museum reopened, is an exuberant reawakening that explores the art, design, and architecture of the period between the World Wars. Art Deco, short for arts décoratifs, took its name from the 1925 International Exhibition of Modern Decorative and Industrial Arts held in Paris. The style is characterized by linear, symmetric, angular designs; a contrast to the curves, swirls and nature motifs of the Art Nouveau period it followed.
The exhibit was curated by Catherine Futter, the former director of curatorial affairs at the Nelson-Atkins and the current director of curatorial affairs and senior curator of decorative arts at the Brooklyn Museum. "It infused all aspects and levels of society, from domestic life to civic and commercial architecture, film, jazz, nightlife, and fashion," Futter says.
While the exhibit was previously on view at the Joslyn Art Museum in Omaha, Frist Art Museum, Nashville, and the Wichita Art Museum, the Kansas City exhibit will feature objects from local collections including two vintage cars on loan from Dick and Evelyn Craft Belger and Marshall Miller. In addition, the Kansas City Museum has loaned clothing from the period.
---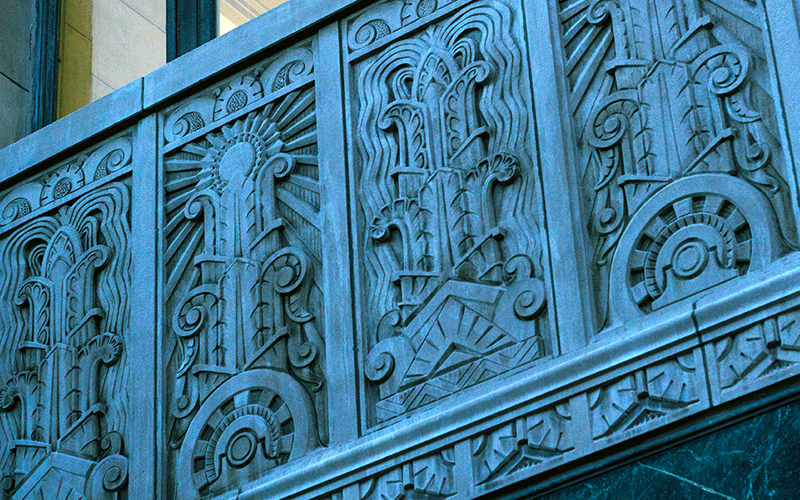 Art Deco Architecture in Kansas City
Extend your immersion into the streamlined style of Art Deco with a tour of Kansas City's buildings of the era. City Hall, Municipal Auditorium, the Kansas City branch of the Jackson County Courthouse, and the Kansas City Power and Light building were all built in the early 1930s as part of a ten-year plan for civic improvement and are excellent examples of the era. Geometric designs with bas-relief accents that appear in the stone and metal work inside and out.
---
Bring it Home
After you visit the Art Deco exhibit you may find that you'd like to bring the look home. Retro Inferno, the swinging shop on Main Street that is chock-full of modern furniture, has a few pieces ready to help you deco-rate.