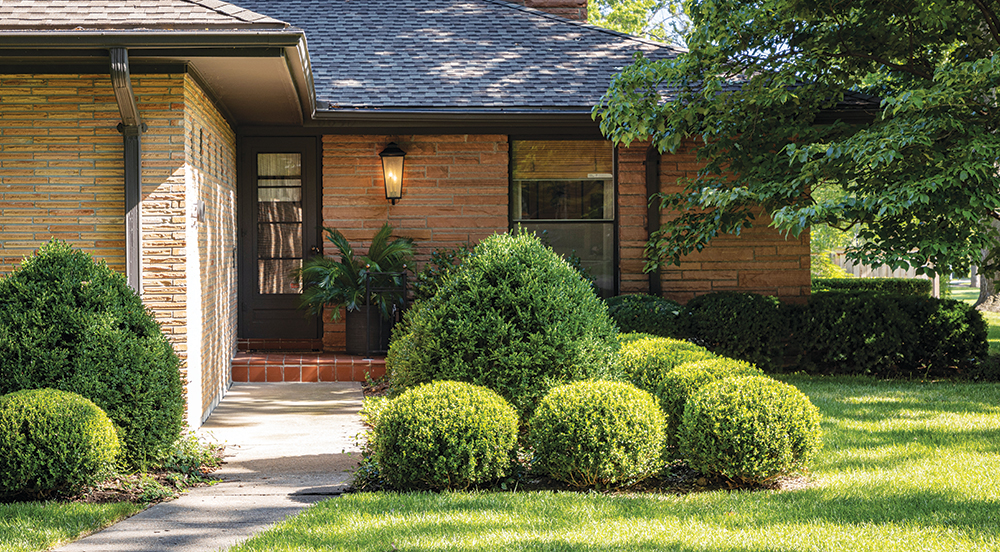 As soon as the business executive walked into this 1950s ranch near Meyer Circle, he knew it was the one. "I've lived in and redone nine houses in Kansas City. The last one was a white box condo. I was ready for a change."
And a change he got. He is only the third owner—make that "steward," he says—of the custom-built house in 70 years. The terra-cotta-colored brick and mahogany paneling dictated a new midcentury aesthetic, one he honed during trips to Seattle, Miami, and Palm Springs.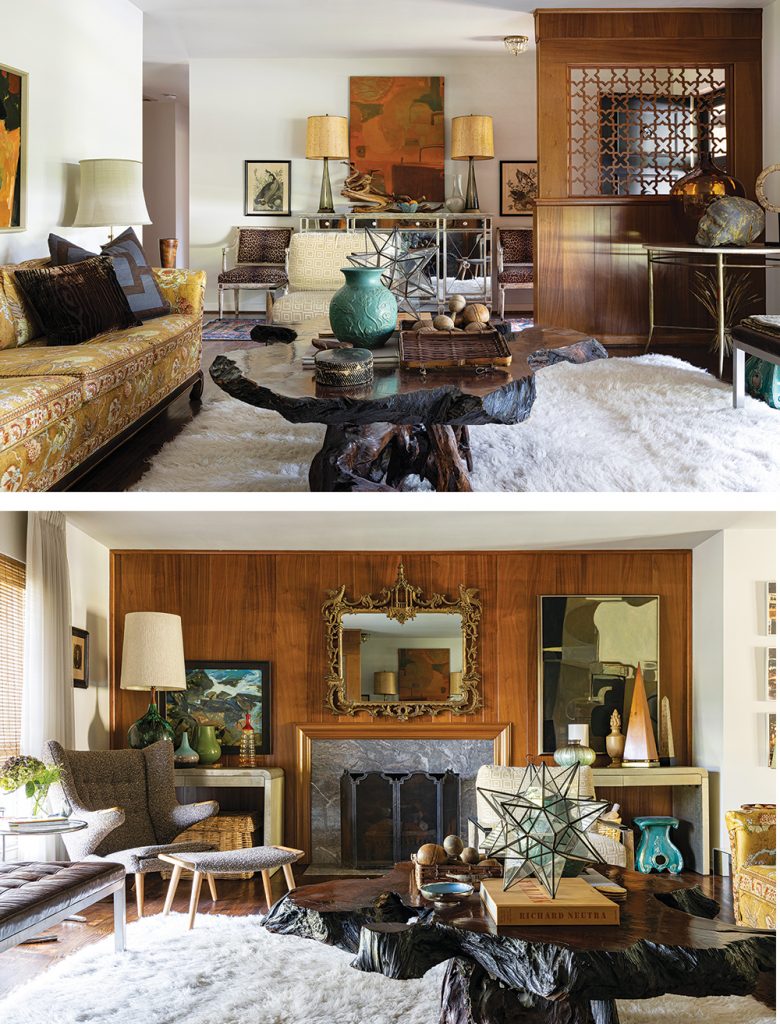 The move also prompted a purge of his possessions. "Over 35 years, I've collected 60 globes, screens, and lots of other pieces. Every time I move, I'm not afraid of letting go. I never repeat the same look. I reach out to antique dealers and interior designers and sell the stuff I no longer want."
Yet some of his style remains the same. "I always use white subway tile and Carrara marble flooring in my bathrooms; Sub-Zero, Wolf, and Bosch appliances in my kitchens. I'm a high/low guy; I have pieces from 1stDibs and Christopher Filley along with things I pick up at estate sales or big-box stores. And I like to layer coverings on the beds."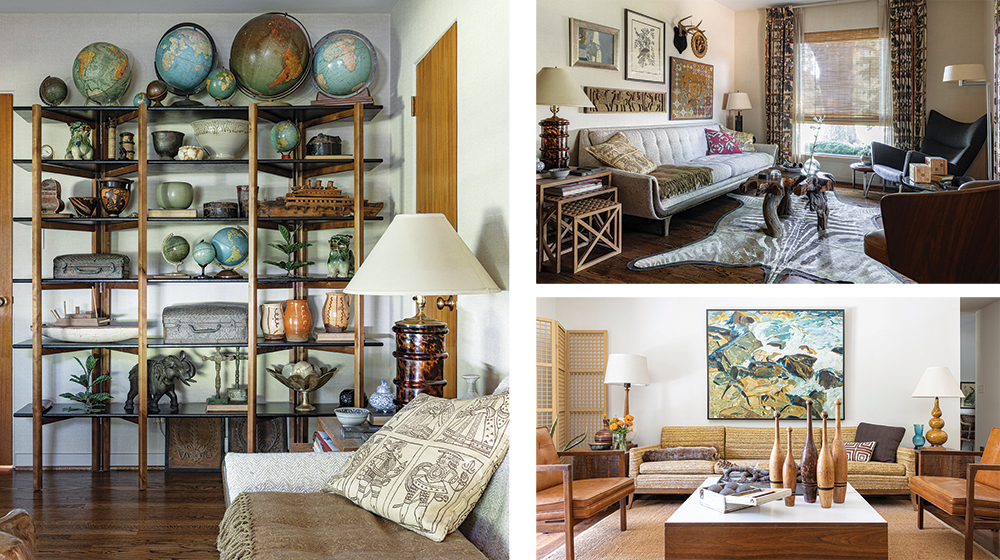 To start on this home, he had to revise the layout. Several small rooms formerly used as maid's quarters were no longer necessary. The house needed better access to the backyard. White carpeting that had been hiding oak flooring had to go. He relocated the original metal kitchen cabinets to the basement. And a bedroom became the dining room.
The color scheme also transformed from peach and pale green to neutral. French Canvas, a Benjamin Moore color, now washes the walls in a warm white. And texture is the name of the game, punctuated with orange and charcoal gray.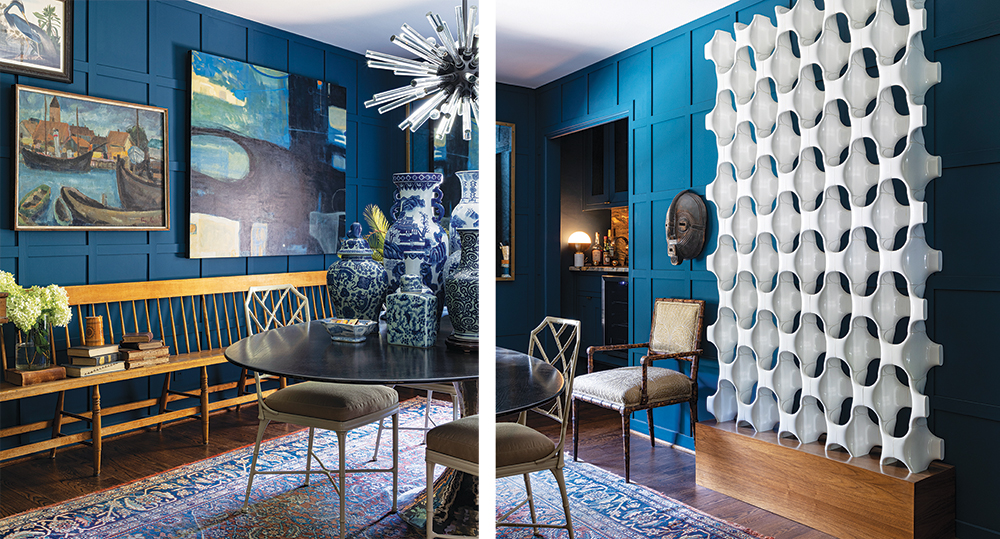 At one end of the house, a former maid's quarters converted to a study features the original burlap drapes, along with a Hans Wegner wing chair, framed needlework from a local estate sale, a slice of California redwood as a coffee table, and an animal-print rug. From photographs taken on vacations in Cape Cod, the homeowner had Kansas City artist Gary Head create custom paintings hanging throughout the house.
In the kitchen, Iron Mountain gray on the custom island picks up the warm tones of the oak butcher-block counters and Silver Cloud granite in a matte finish. New French doors lead out into the garden. Caramel-hued leather armchairs pull up to the nubby sofa. "I wanted a seating area in the kitchen for cocktails. This is the place for a margarita in the summer," he says.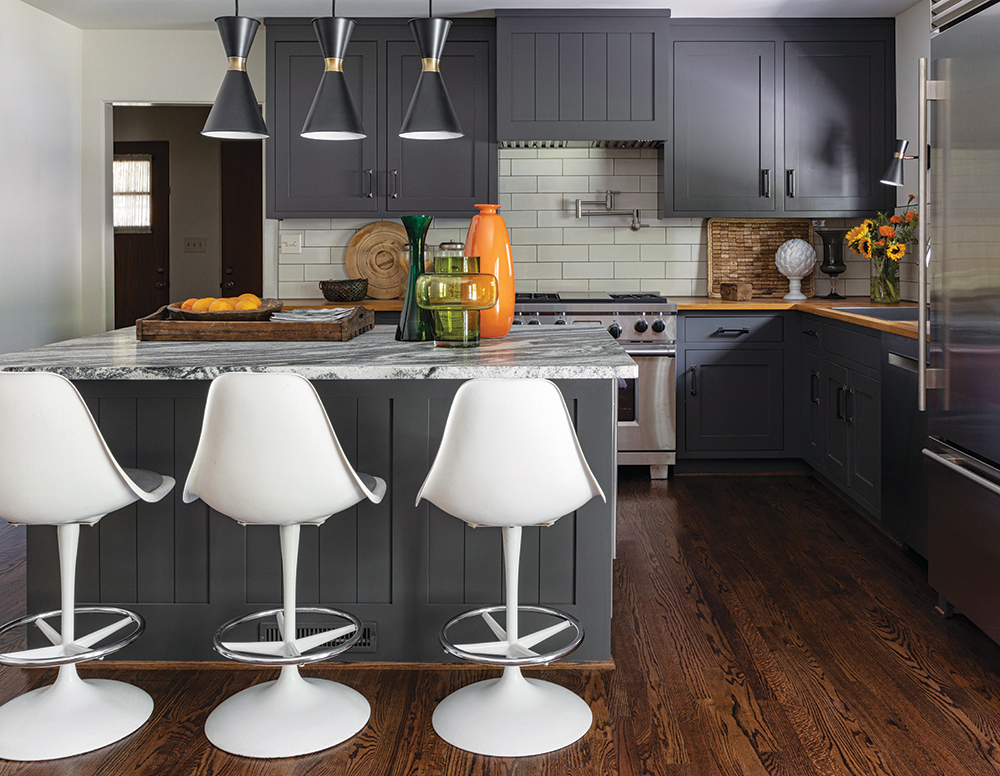 The dining room, painted a marine blue, features a custom acrylic wall piece, a Julian Chichester table topped with high-low blue-and-white china, and Brown Jordan outdoor bamboo-esque chairs. The kilim rug was a gift from former neighbors.
The living room, with its mahogany paneling and entry screen, is "a little bit Park Avenue, a little bit California," the homeowner says. "When I first walked in, within 30 seconds I knew I wanted this house." It's a room perfect for cooler months. "We like to have a glass of wine before the fireplace in winter."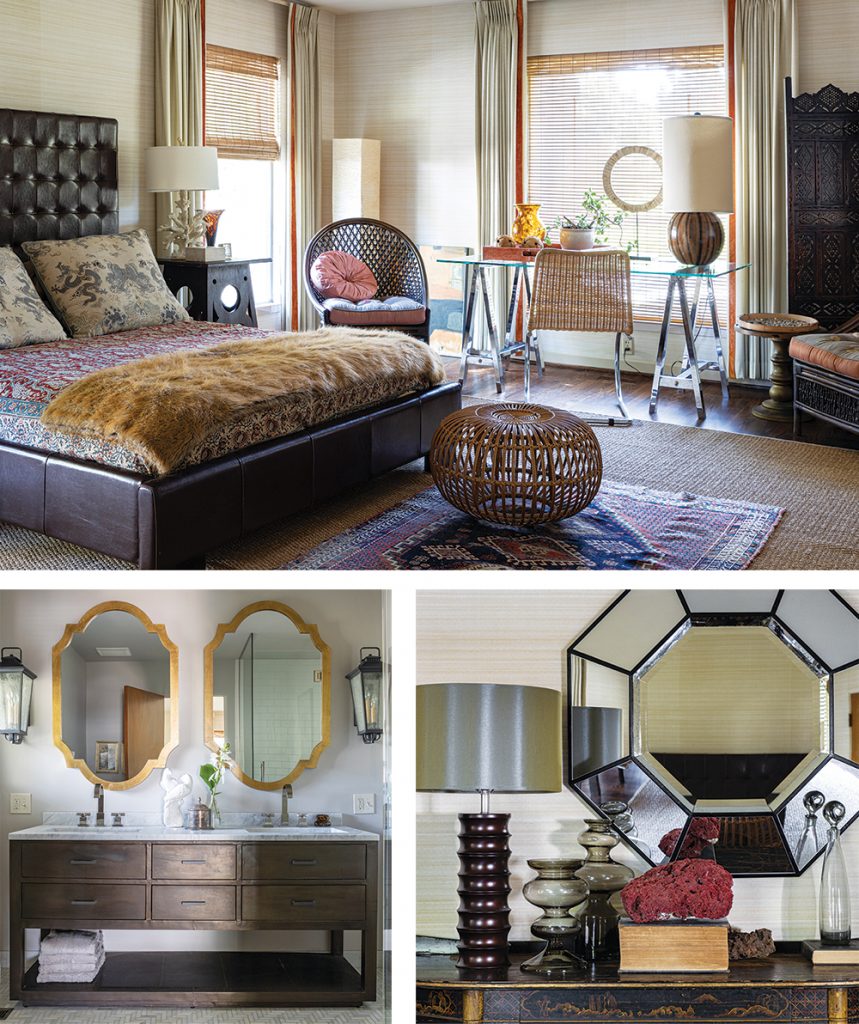 The bed in the master suite layers a tufted leather headboard, an Indian-print bedspread, and other prints. A sawhorse glass-topped table, now a desk, was the dining table in the homeowner's former condo.
A guest bedroom is nicknamed "the therapy room." Says the homeowner, "This is where friends and family come to stay when they're getting over something," be it a cold or a divorce. Grasscloth wallpaper suggests cocooning, as does the cozy bed.
"I used to run and bike around this area, hoping that one day I would live here. Now it's my favorite house of all the ones I've done," he says.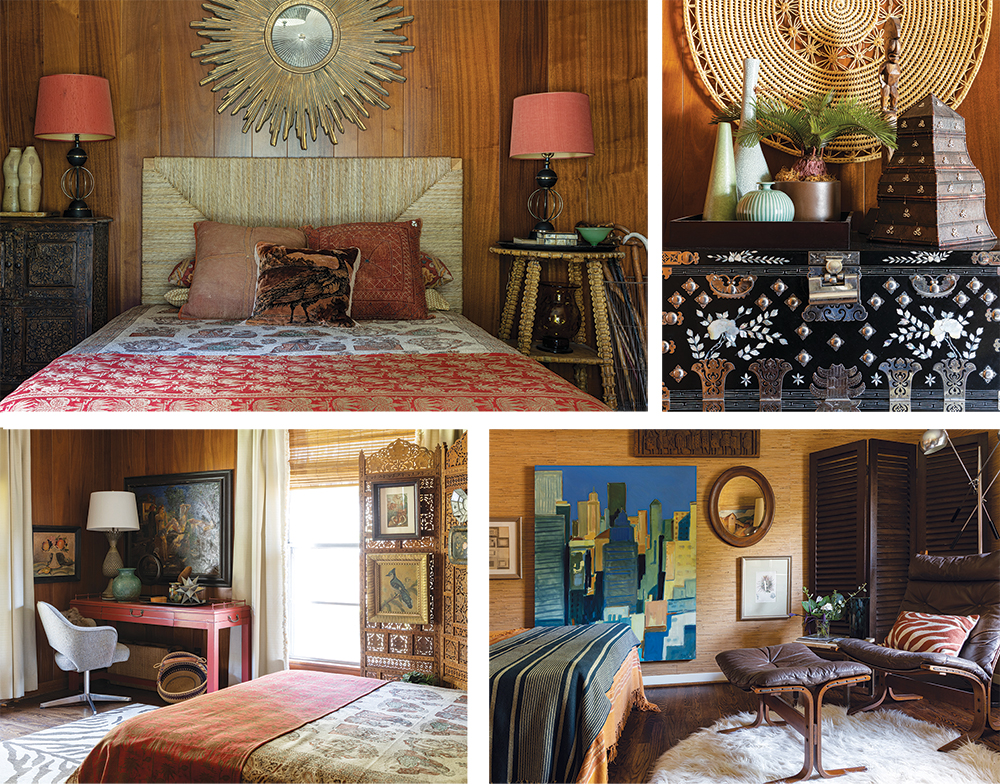 ---
The It List
Antiques
Christopher Filley Antiques
816-561-1124
Art
Prize Antiques
Furniture & Lighting
Retro Inferno