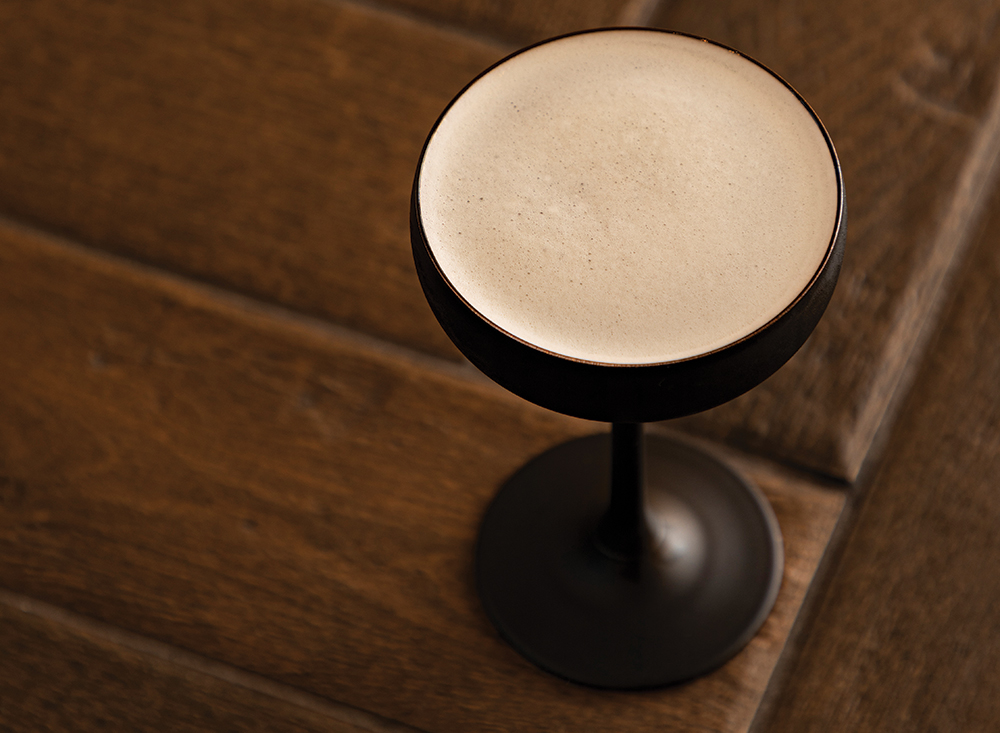 Liqueur has become the family business for Judy Nelson and her daughter Angela Sargent, the co-founders of local company Midnight Espresso Coffee Liqueur.
Nelson started making her liqueur with a caffeinated kick on the stove of her southern Missouri home's kitchen in the early '70s, giving it to friends and family as a gift—an aperitif to sip, mix with coffee, or pour over ice cream. For years, lucky recipients praised her concoction, encouraging her to bottle and sell it. But it wasn't until a few years ago when Angela Sargent and husband Matt got involved that Nelson's private passion project turned into a full-blown business.
"We decided to bring Mom's recipe to market to memorialize her recipe, literally put a smile on her face when she went to an establishment that sells fine liquor or a fine-dining restaurant to see Midnight Espresso—we call it "ME"—on their menu, and continue a family tradition," Matt explains.
But first, they had to convince her to share the secret recipe, which was locked away in a safe until she reluctantly agreed to let the Sargents start producing in commercially. Now that Nelson has passed on her treasured technique to her daughter, you no longer need to be a close friend of the family to get a taste of the espresso liqueur honed over the last 40 years. These days, production has moved from Nelson's kitchen to the company's Olathe facility, and it's available at Kansas City bars and restaurants, as well as retailers in Kansas and Missouri, just as the Sargents had hoped.
Midnight Espresso produces two versions of its vodka-based liqueur, the original recipe and a decaf variation. Both feature toddies specially made for the company by The Roasterie and are handcrafted in small batches using all-natural ingredients, but the decaf version uses decaffeinated beans to ensure cocktails don't come with a side of late-night alertness. Both are smooth drinking, with the regular recipe boasting a chocolatey flavor and the decaf exhibiting caramel notes. Either can be sipped on ice or mixed with other ingredients for a cocktail.
The company says it's the first in the country to sell both a caffeinated and decaffeinated coffee liqueur, the latter the result of a happy accident—a number of Angela's friends complained the beverage was keeping them up at night.
So far, the response has been positive, locally and beyond. Midnight Espresso submitted its spirits to the prestigious San Francisco World Spirits Competition where the decaf version won a silver medal and the regular nabbed a bronze.
We bet Judy Nelson is smiling right about now.
---
Midnight Espresso Martini
What pairs well with a vodka-based espresso liqueur? More vodka and coffee, naturally.
"We wanted to make a unique, sophisticated, and common ingredient drink for fine dining to everyday restaurants," Matt says. "The ingredients work because it provides flexibility to incorporate regular or decaffeinated Midnight Espresso along with The Roasterie's Nitro, Cold Brew, or whatever coffee preferences one might have."
1 ounce of your favorite vodka
1½ ounces Midnight Espresso Coffee Liqueur (regular or decaf)
½ ounce Roasterie Nitro or Cold Brew (substitute coffee or espresso)
Place all ingredients in a shaker and strain into a chilled martini glass.