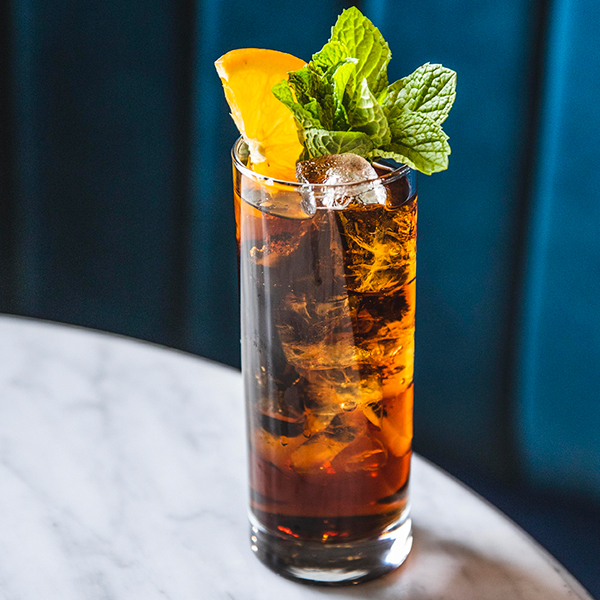 From 1899 to 1906, the East Bottoms was home to Electric Park, an amusement park dubbed Kansas City's Coney Island. Owned by brothers Joseph, Michael, and Ferdinand Heim, the trio behind neighboring Heim Brewery, the park offered the novelty of electric lighting after dark, plus rides, a theater, and German-style beer gardens.
The East Bottoms location closed, making way for a new park at 47th and Paseo, but the legacy of Electric Park and the Heim brothers lives on in the neighborhood thanks to J. Rieger & Co. and its Electric Park Garden Bar, which opened briefly last fall before closing for the winter season. Thankfully, spring has sprung, and service is set to resume this month at the one-of-a-kind outdoor bar.
The newest addition to the distilling company's family—which also includes a tasting room, The Monogram Lounge, and The Hey! Hey! Club—is an amusement-park for grown-ups, one complete with fire pits and tables, cozy lounge areas and even a swing-set table. As guests explore the sizeable space, there's an energy that has more to do with the sense of carefree fun than the glow of the bright Electric Park sign lights.
That sense of nostalgia carries over to the drinks, which are inspired by concession stands and soda parlors of bygone years. Belly up to Electric Park's big outdoor bar and marvel at the split-flat display board menu, showing the beverage options in the same revolving style once common at train stations around the world.
Offerings include a selection of snow cones, available with the drinker's choice of J. Rieger & Co. spirits or as a traditional snow cone, though the flavors are a cut above what you'll find at any carnival. The promenade features green apple, lime cordial, cucumber, and sage, while the tiger's head nods to the popular tiger's-blood shaved-ice syrup with its blend of tart cherry, passionfruit, pineapple, and coconut. Guests can also get a taste of the past with KC Bier Co.'s Heim Bier, named in tribute to the former brewery.
Of course, you come to a distillery bar expecting spirits, and Electric Park doesn't lose sight of that fact despite all its other charms. The lineup of draft cocktails includes an old fashioned made with J. Rieger & Co.'s KC Whiskey; a KC Ice water with Rieger's Vodka, riesling, lime, and chamomile soda; and the summer Electric Park Punch, which features Rieger's Gin, orange, white tea, caramelized pineapple, lavender, and hibiscus.
Select draft cocktails can also be made as ice cream floats, including the Railcar, a combination of KC Club Bourbon and Hogan's orange cream soda that tastes like traveling back in time, especially if you add a scoop of vanilla ice cream into the mix. Another float standout? The Giddy-up and Draw, a salty-sweet delight you can now make at home.
Giddy-Up & Draw
1

¼

ounce salted peanut-infused KC Whiskey (optional)

¼

ounce Amaro Dell'Etna

¼

ounce Giffard Vanille de Madagascar
3½ ounces root beer (J. Rieger & Co. uses Piney River's Andy's Root Beer)
To make peanut-infused whiskey: For every 750ml of Rieger's KC Whiskey, toast one cup of salted peanuts in the oven for 10 minutes at 300 degrees. While still warm, in a container measuring a quart or more, combine the toasted peanuts with KC Whiskey (save your bottle) and infuse for approximately one week at room temperature. Reminder to label your infusion with the start date. Strain solids, and rebottle.
Combine all ingredients in a Collins glass. Garnish with a slice of orange and a sprig of mint.