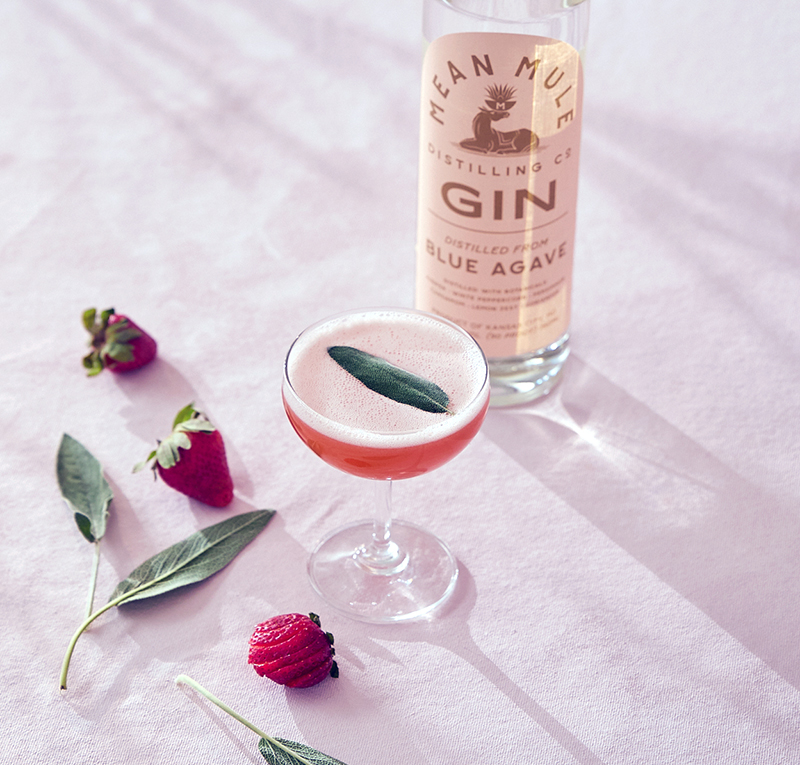 Crossroads-based Mean Mule Distilling Co. is rooted in family legend.
The story goes that Meg Evans, who co-owns Mean Mule with her husband, Jeff, comes from a long line of distillers—ones who weren't deterred by prohibition. Her great grandfather Fritz was running the family operation when a disgruntled customer turned him into the feds. When the revenue officers turned up on the family's property, Fritz took off running and the revenuers set out to find the operation, discovering a building they knew had to be it. What they didn't know was Fritz hid his equipment beneath a false floor protected by something unexpected.
"On top of the floor, he had gone and bought the meanest mule that money could buy to guard the stills," Jeff says. "So, these two men, these two revenuers in their arrogance—and really their ignorance—kick open this door and come face-to-face with 1,500 pounds of mean Missouri fury. Within two minutes, one man was dragging the other one down the road, and they never came back."
Back then, the family was making corn whiskeys and fruit brandies using items available on the farm, but the latest generation of distillers has taken a different approach—agave spirits. When Mean Mule launched in 2016, it became one of the first U.S. companies focusing solely on agave spirits, sourcing organic agave from Jalisco, Mexico, which is broken down into nectar and shipped to KC.
Mean Mule's product line includes a range of easy-to-drink spirits, from light and refreshing unaged Silver, perfect for palomas, to the more mature Heritage, aged a minimum of one year in Missouri white-oak barrels and released in yearly batches. But never ones to rest on their laurels, the Evanses recently introduced the first agave-based gin in the country.
"We're a little crazy," Jeff says with a laugh, but beyond wanting to do something out of the box, Mean Mule aimed to showcase agave's versatility with the gin. In a traditional take, the neutral grain spirit can come across as spicy and hard, whereas agave offers a smoother, more floral base.
Using vapor distillation, Mean Mule imparts botanicals found on the family farm to give the gin its flavor, including juniper berry, coriander, cardamom, white pepper, and persimmon, which adds a unique stone-fruit quality.
"It tastes like honey, it tastes like melon," Jeff says. "It's a lot of things all together—it turned out really well."
The gin is prominently featured on the cocktail menu you'll find at Mean Mule's tasting room, which takes inspiration from Western culture with a modern twist, like the rest of the distilling company's brand. In addition to being able to try a flight of all the spirits, guests can enjoy beers, wines, mocktails, classic cocktails, and seasonal offerings, which currently include the Strawberry Roan.
"Strawberry Roan is a song by a guy named Marty Robbins, and it just so happens that it's also a flower, and our entire menu this season is based on flowers that grow in the Midwest, so it really worked out perfectly," Jeff says. "And if you've never listened to any Marty Robbins, I highly recommend."
---
Strawberry Roan
1 ½ ounces Mean Mule Gin
3 fresh strawberries
¾ ounce fresh lemon juice
¾ ounce agave syrup
½ ounce aquafaba*
Muddle strawberries in a cocktail shaker. Add gin, lemon juice, agave syrup, and aquafaba. Add crushed ice and shake. Double strain cocktail into a coupe. Garnish with a sage leaf.
*Aquafaba is the liquid from cooking garbanzo beans. At Mean Mule, they use the beans to make hummus!