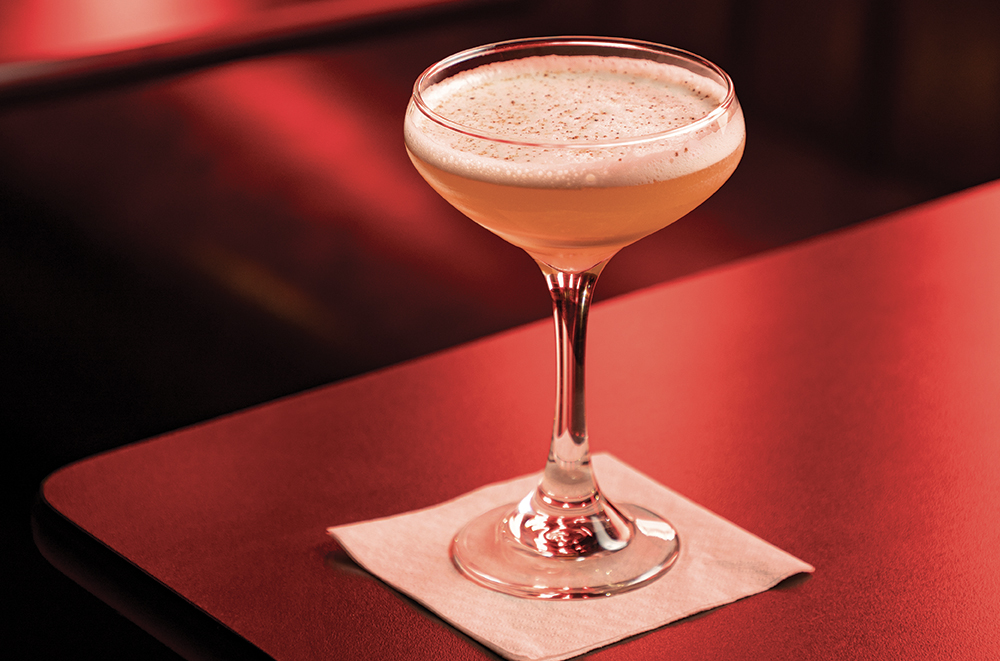 Just the thought of Green Lady Lounge summons a very specific soundtrack, one rich with the resonance of a saxophone and the thrum of a standing bass.
Regardless of what time of day you walk through the door, you can always count on a steady stream of soul-nourishing live jazz at this Crossroads favorite. No cover and music 365 days a year make Green Lady Lounge a popular spot at pretty much all times—and we mean all times, as it doesn't close until 3 a.m. daily. Open seating may leave you without a table or chair, but that's OK. You're in the warm embrace of Kansas City's jazz scene—sitting can wait. 
Naturally, music plays a pivotal role, and its influence can be seen and heard everywhere. Bands occupy a central space upstairs, while the bar's stone basement, dubbed the Orion Room, offers a more traditional stage set up. (To see who is scheduled to perform, check out the detailed calendar on Green Lady Lounge's website.) 
While both floors feature deep red walls hung with vintage oil paintings, The Orion room feels a little slinkier, with chandeliers and mirrors lending a sense of seedy glamour. Conversations among the patrons of all ages, colors, and creeds rise and fall in response to the performance taking place, combining with the music to create a heady buzz. And that's before you even have a drink. 
But of course, cocktails are Green Lady Lounge's non-auditory specialty. A variety of classic drinks are presented by servers dressed up in suits and ties or cocktail dresses. The Manhattan is a standout, but the bar also produces a handful of ginger beer-based libations, from your traditional Moscow mule and horsefeather to the pleasantly surprising Dark & Spicy, ginger beer spiked with spiced rum and lime juice. It's a testament to the staff that despite the size of the crowd, drinks are consistently well-made and delivered promptly.
Original cocktails include The Green Lady, applejack brandy with lemon juice, grenadine, and a green apple slice, along with some drinks that take their cues from the stage. Bartender Ethan Erisman says the Lamanai cocktail was inspired by a song of that name penned by local jazz organist Ken Lovern after taking a family vacation to Belize and touring the ancient Mayan ruins of Lamanai. The song, as well as Lovern's penchant for drinking pineapple juice when he is performing at the Green Lady Lounge, led to the drink's creation, Erisman explains.
Aromatics and a nutmeg garnish bring out the flavors of the falernum, an almond-ginger liqueur, and play well with the pineapple juice's sweetness. Tequila lends some earthiness to the tropical flavors, but Erisman also hopes it goes a step further, toward rehabilitating the often-maligned spirit.
"Whenever people come up to the bar and say, 'I don't know what I want, but I want a cocktail—not with tequila,' I make them the Lamanai, and they always love it," he says. "Tequila gets a bad rap because of our college days and this cocktail proves that tequila is not the devil we think it is."
---
The Lamanai
1 ounce tequila

 

½ ounce white creme de cacao
½ ounce falernum

 

1 ounce pineapple juice
2 dashes peach bitters
Ground nutmeg garnish
Vigorously shake the first five ingredients to give the drink a beautiful, creamy foam-like texture. Strain into a coupe glass and garnish with ground nutmeg.