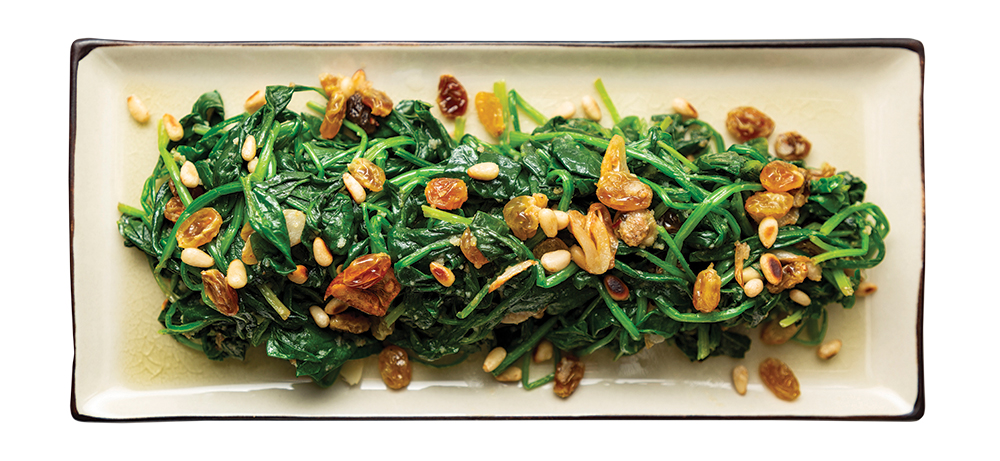 Early spring is a challenging time for Kansas City cooks and gardeners. No matter what the calendar says, winter is still here for all practical purposes. But for gardeners who plan ahead and try to plant a few things in the fall in hopes of a spring harvest, there is one plant that can be rewarding right now—spinach!
Ubiquitous in salads or in spinach/artichoke dip (and for good reason), there are other outlets for this versatile green. My favorite version involves an extra step that you might hesitate to do, especially on a busy weeknight after work, but let me explain. I call this velvety spinach, because the texture is, well—like velvet. There are two contributing factors to the texture—blanching/shocking, and a breadcrumb finish. The textural change comes from the removal of tannins from the spinach. Tannins are what you feel on your teeth when you eat raw spinach or when you drink a very big California cabernet. It's a dry, astringent feeling. Vegetable tannins are water soluble, so briefly blanching spinach leaves in boiling water is essential to their removal.  Shocking the spinach in cold water retains the beautiful color and prevents the spinach from overcooking and turning to mush. In addition, briefly cooking spinach makes many of its nutrients more readily available. The breadcrumbs, which bind the spinach to a little extra fat (from the cooking oil) give the spinach its luxurious mouthfeel. It may sound like a lot of effort but it's really not, and it's worth it if it will get you to eat your spinach. 
Basic Velvety Spinach
Start with a few good-sized bunches of spinach, preferably fresh from your garden, the farmers market, or a greengrocer with nice fresh products. A single large bunch from the grocery store should feed two, but cooking a little extra is nice for future use and costs no more time. I always thoroughly wash spinach unless it is in one of those sealed bags—and even then I closely inspect it for grit. Stems tend not to be a problem. In fact, the blanching process renders stems completely tender. Briefly blanch the washed leaves in boiling water (less than a minute—just until they are wilted), then scoop them out with a spider and "shock" them in ice-cold water to stop the cooking process. Immediately transfer the leaves to colander to drain. If cooking for a crowd or for entertaining purposes, this step could be done a day or two in advance. 
When ready to serve: in a generous splash of extra-virgin olive oil, sauté a few sliced cloves of garlic (more, if you're a big fan of garlic) and a pinch of crushed red pepper flakes. If you like things more savory and umami driven, toss in a chopped anchovy or two and stir until they are dissolved into the oil. Add the blanched spinach and a generous sprinkling of salt. Stir and toss until everything is hot. Now add the velvet—that means generously dust the spinach with a tablespoon or three of plain bread crumbs. Stir until incorporated. Taste for seasoning, adjust, and add another dash of olive oil—just because. You'll thank me. Serve warm.  
This recipe is a foundation for countless variations. One variation, Michelangelo's Spinach, introduced to me by my dear Italian mentor, is especially lovely and surprising. Interestingly, this 500-year-old variation on the recipe is incredibly nutritionally sound. It contains more protein, good fats, antioxidants, and—not to mention—flavor. Continue the velvety spinach recipe by adding a good handful of golden raisins (or other chopped, dried fruits), toasted pine nuts (or other toasted, chopped nuts) and a sprinkling of cinnamon. Drizzle with real balsamic vinegar and the dish is complete. Serve warm or at room temperature, with just about anything.
---
In Your Pantry

Apricots   Dried apricots are a powerhouse of flavor with countless sweet and savory applications. Available sulphured (bright orange) or unsulphured (dark-tawny brown to black—ideal for those with a sulfite sensitivity), the flavor is essentially the same. Briefly poached in water (with a splash of brandy) and a piece of vanilla bean, they make a simple and delicious topping for ice cream. Available from most grocers.
Tart Cherries   Not to be confused with dried sweet cherries or cranberries, dried tart cherries are boldly flavored, full of antioxidants—and not inexpensive. Their bright and assertive flavor is a wonderful accompaniment to wild game and lamb, and they make a brilliant chutney. Tasty eaten with a mix of nuts and chocolates. Available at better grocers and fancy food stores.
Figs   Dried figs come in numerous shapes, flavors and sizes. Black Mission and White Turkish are most commonly found, with the Turkish being more aromatic. Try tossing dried figs with crushed black peppercorns and bay leaves, sealing them in a jar and allowing the flavors to meld for a week or two (at room temperature). Serve with cheeses and cured meats. Available at better markets like Green Acres in Briarcliff.
Medjool Dates   Of the many varieties of dates on the planet, Medjool are the meatiest and sweetest available in our corner of the world. Eat them alone like candy (watch out for the sizable pit) or tear them into smaller pieces and toss in salads (especially delicious with citrus). Rehydrate them in warm orange juice and Grand Marnier, replace the pit with a toasted almond, and roll in sugar and orange zest for a sophisticated after-dinner sweet.