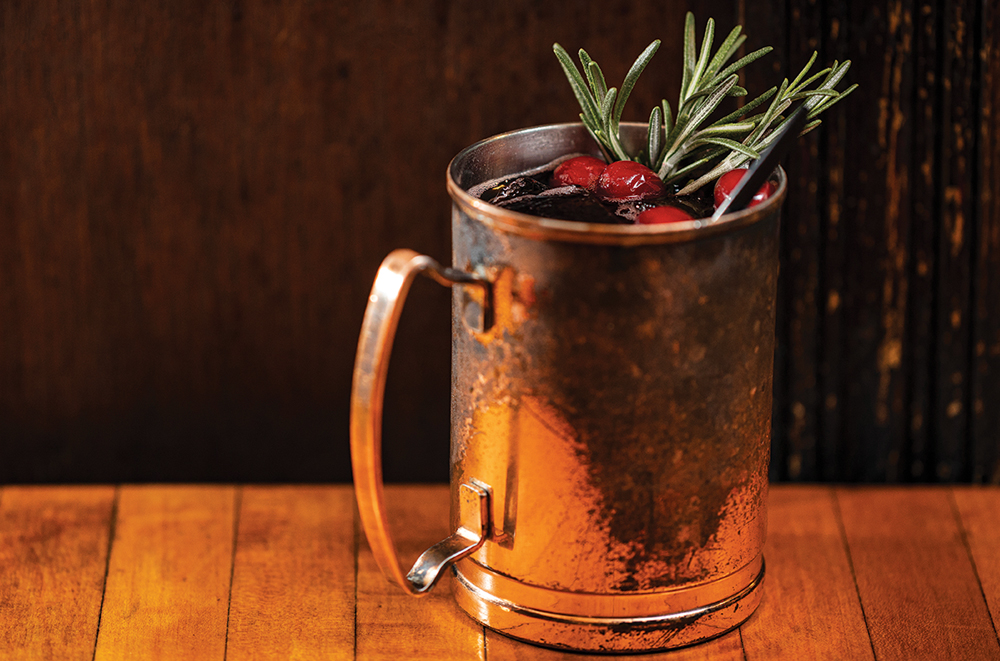 A country club, Harry's is not—at least not in the traditional sense of the name. The River Market bar and restaurant is not exclusionary or snobbish; it's hard to imagine any place where you can get a fried bologna sandwich and a PBR seeing itself as uppity. But it does feel like a community unto itself, a neighborhood bar that doesn't really care what neighborhood you're from as long as you're willing to play nice and enjoy yourself.
That laidback charm and lack of pretense has made it a staple of Kansas City's bar scene since it opened in the early aughts. As the neighborhood, along with the rest of the downtown area, evolved Harry's remained steadfast, secure in its laid-back charm and extensive offerings.
There's a lot going on in the best way. Nearly every inch of the historic building's wall space is filled with a framed photo or piece of kitsch, competing for attention with the handsome handmade back bar loaded with spirits.
The more-is-more approach extends to its food menu, which includes bar-friendly appetizers along with soups, salads, sandwiches, breakfast and heartier entrées such as fried chicken. If those offerings sound all-encompassing, they are, but that's a reflection of the varied crowds that come through the door from late morning to the wee hours: after-work happy-hour drinkers; groups looking for a low-key night out singing along to picks from Harry's old-school jukebox; and City Market shoppers stopping by for brunch. (Harry's patio is also prime real estate for alfresco dining and drinking when weather permits.)
The bar program is similarly well-suited to diverse tastes. There's a long list of beers spanning every style, but Harry's also boasts one of the city's most under-hyped whiskey selections, with special attention paid to single malt Scotch.
For those more inclined to order a cocktail than a snifter, the River Market favorite serves up solid classics and plenty of seasonal creations. The current winter menu includes a few twists on martinis, a spiked punch and the potent Cabin Fire, a combination of cinnamon liqueur, spiced rum, cranberry and orange juices and cabernet. The house-made red sangria is available by the glass or the pitcher, and drinkers can customize their own cider cocktail with cranberry vodka, Aperol or raspberry liqueur.
The happy hours at Harry's are as lingering as the bar's guests, stretching from 3 to 7 p.m. on weekdays and 11 a.m. to 7 p.m. Saturdays. Deals include a selection of beers and wine, including $4 mystery beers, and club favorites like the bomb-pop martini, along with discounted snacks and select seasonal cocktails, including the Winter Mule, a spin on the traditional Moscow Mule.
"The classic Moscow Mule has always been a crowd-pleasing favorite drink for our guests," says bar manager Corey Meyer. "We make our own ginger syrup in-house, which combined with soda water makes a tasty, subtly sweet, homemade ginger beer. We love to make modern twists on the classic cocktails—and thus the Winter Mule was created."
---
Winter Mule
Garnished with cranberries and rosemary, it's one of Harry's most popular winter staples.
1½ ounces Deep Eddy Cranberry Vodka
½ ounce ginger syrup
3–4 ounces soda water
Combine ginger syrup and soda water into a copper mule mug. Add Deep Eddy Cranberry Vodka. Garnish with two whole cranberries and one sprig of rosemary.