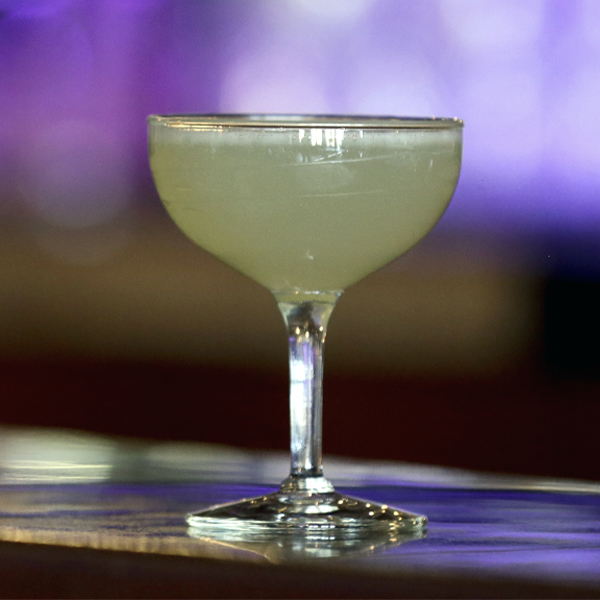 The historic structure at 1717 W. 9th Street has lived many lives. Built by Pabst Brewing Co. in 1911, it's been a saloon, a casino, a jazz venue, and even a fetish club, and the latest owners are paying homage to that rich past with 9th & State. 
Heather Hamilton and Sean Smith opened the bar on the building's first floor in June, juxtaposing the elegance of the original tin ceilings and colorfully tiled floor with clusters of comfy, no-frills seating areas and two ping-pong tables guests are encouraged to use, even if they're not ordering a drink from the massive bar.
Hamilton and Smith were looking for a live/work space when they came across their now home in summer 2020. 
"We always liked this building driving by it, but we didn't know it was for sale," Hamilton says. "We were just blown away by how well preserved it was. The more history we learned about it—it's just crazy."
Although they toyed around with different ideas for the property (which also includes a basement they could see someday becoming a speakeasy, and a second floor that boasts a ballroom and an apartment where the couple now lives), the presence of the big bar helped them decide to open a cocktail concept. 
There was just one problem: They had no experience bartending. In fact, Smith doesn't really drink, and Hamilton knew how to make just one cocktail before opening 9th & State—her personal favorite, a manhattan.  
Fortunately, they were introduced to Caro Thomas, an artist and mixologist who worked with the couple to develop the bar's menu. She made drinks for them to try and ultimately settled on a lineup that includes quality ingredients but doesn't feel overly pretentious or fancy, although they are served in vintage glassware Hamilton has collected from estate sales, family, and friends over the years. 
Some of the drinks serve as a playful nod to 9th & State's previous occupants, including two gin, vodka, and lime-based cocktails that we're not sure we can print the names of—when you see them on the menu, you'll understand why. The bar also offers an old fashioned with brown butter and brown sugar and the surprisingly silky bartender's breakfast, a mix of whiskey, egg, and a delightfully assertive dose of roasted walnut. And guests can enjoy a limited selection of wines, ciders, and beers—which of course includes PBR. 
Hamilton is partial to the Ape Hanger, Thomas' update on the espresso martini made with cold brew, chicory, and apricot. It's one of several offerings on 9th & State's "cocktails for good" section of the menu, with ten percent of sales from drinks benefiting organizations like The Huntington's Disease Society of America. The bar also wants to be a force for positivity at the local level, showcasing works for sale from area artists, hosting live music, and helping revitalize their chunk of the West Bottoms. 
"I feel like this side is kind of starting to come alive, and there are a lot of local people who have been investing around here, which makes me happy," Hamilton says.
Gambler
This recent addition to 9th & State's menu is inspired by the building's time as The Antler's Club in the 1930s, a casino and jazz club where Charlie Parker and Buster Smith played.
2 ounces tequila

 

.75 ounce St. George Spiced Pear Liqueur
.5 ounce Giffard Vanille de Madagascar Liqueur

 

1 ounce lime juice
Shake with ice and serve.