This time of year, we could all enjoy a nice drink—or two—so why not add a dash of fun and plenty of holiday cheer to the mix and hit the town for cocktails at one of the metro's many holiday pop-up bars? 
From cozy cafes filled with twinkling lights to bars transformed into winter wonderlands and spaces that mimic your favorite Christmas movie, there are plenty of opportunities to sit down to a menu of drinks that offers the flavors and themes of the holiday season. Even better? We tracked down 25 of them—one to visit every day through Christmas.
Kansas City, Missouri Pop-Ups
How the Conductor Club Stole Christmas
Pierpont's at Union Station, 30 W Pershing Rd.
Open through January 7
Pay homage to How the Grinch Stole Christmas as the Grinch books, movies, and songs come to life.
Jolly
Faulkner's Ranch, 10600 Raytown Rd.
Open Thursdays-Sundays through December 23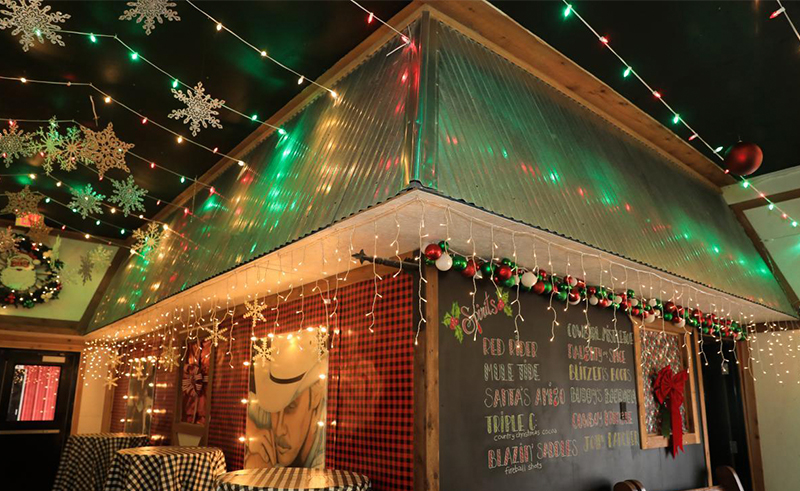 This pop-up "is where your favorite Hallmark Christmas movie meets Nashville honky-tonk!" Enjoy festive food and drink in the Western-themed event barn.
Jolly's at Chances Social
Chances Social by Grinders, 419 E 18th St.
Open weekends
You just might be blinded by all the twinkling lights at this holiday pop-up with dazzling lights strung from every corner.
Krampus Bar
9th and State, 1717 W. 9th St.
Open through December 31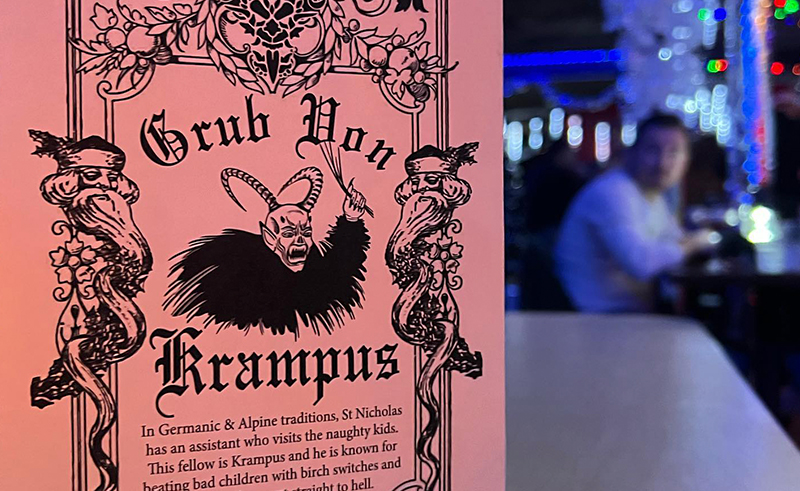 If you're on the naughty list this holiday season, this just might be the pop-up for you. You'll experience creepy cocktails inspired by the holiday horror film Krampus.
Miracle Kansas City 2022
Country Club Plaza, 4807 Jefferson St.
Power & Light, 1323 Walnut St.
Open through December 25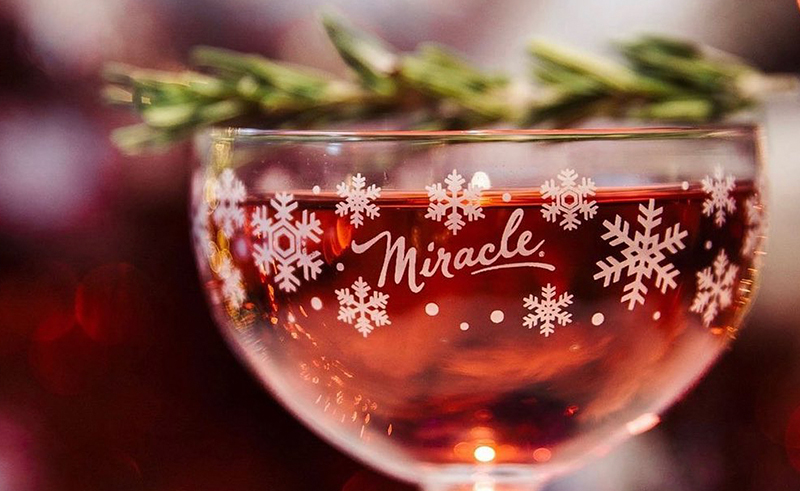 One of the first holiday pop-ups to set down stakes in Kansas City, Miracle is full of holiday cheer, twinkling lights, and holiday cocktails that come in themed glasses.
Nine Zero One Igloo Bar
The Fontaine Rooftop, 901 W 48th Pl.
Open through March 12
Here you'll choose from themed igloos, a log cabin, and a glamping experience on the rooftop of the hotel.
Northeast Pole
PH Coffee, 2200 Lexington Ave.
Open through December 23
Decorated for all ages, this holiday pop-up features holiday lights, decorations, photo opportunities, themed cocktails, and small bites, plus a holiday market with local makers.
Rec Deck the Halls
Boulevard Tours & Rec Center, 2534 Madison Ave.
Open Fridays and Saturdays through December 30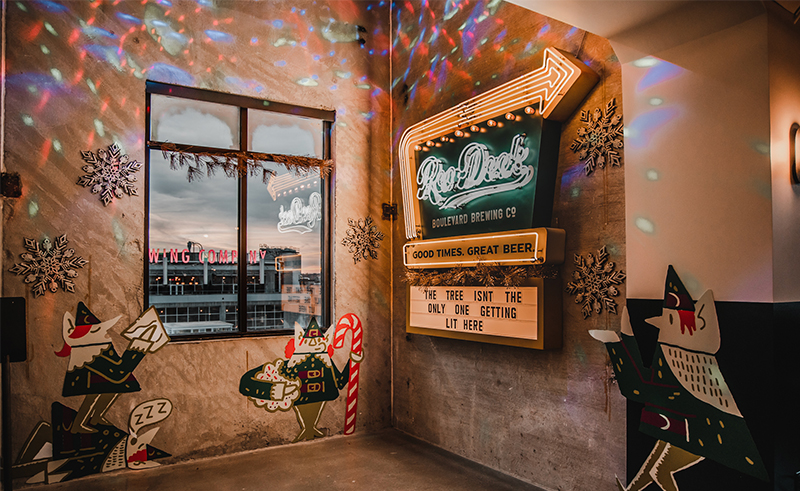 With keepsake glassware, yuletide nibbles, shimmering shuffleboard courts, cocktails made with Quirk hard seltzers, Fling craft cocktails, and barrel-aged beers, you'll find plenty of holiday spirit here.
Skies Kansas City
42nd Floor of Sheraton Hotel, 2345 McGee St.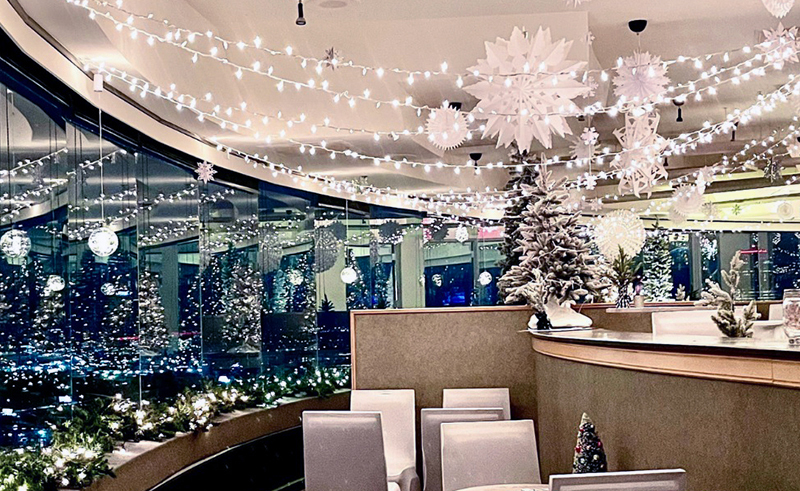 The classic Skies restaurant has reopened in the form of a winter wonderland. Tickets for the current dates are sold out, but there might be a few more dates opening up, so keep your eyes peeled here.
Sippin' Santa KC
Julep KC, 4141 Pennsylvania Ave. #104
Open through December 31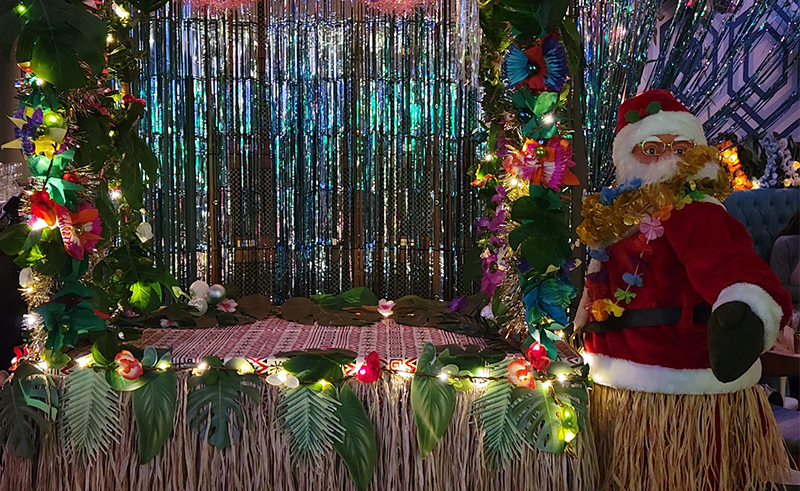 Santa is on a beach vacation at three pop-ups around the metro that feature cocktails such as the Jingle Bird, Yule Tide, and Rum Rhapsody. (see the Kansas pop-up section for other addresses)
Tinsel Town
Tom's Town, 1701 Main St.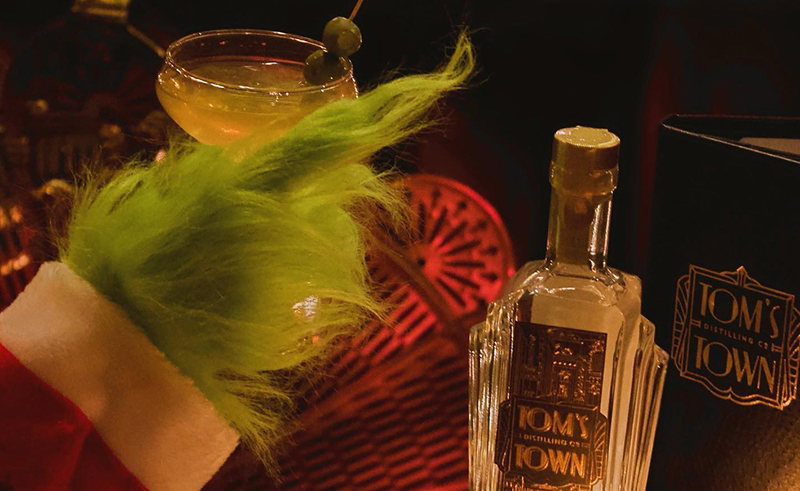 From Gen-gle Bells to the Salty Snowman, Tinsel Town has holiday drinks at the ready with every room decked out in yuletide cheer.
The Wonder Dome
Our House KC, 1815 W 39th St.
Open through March 2023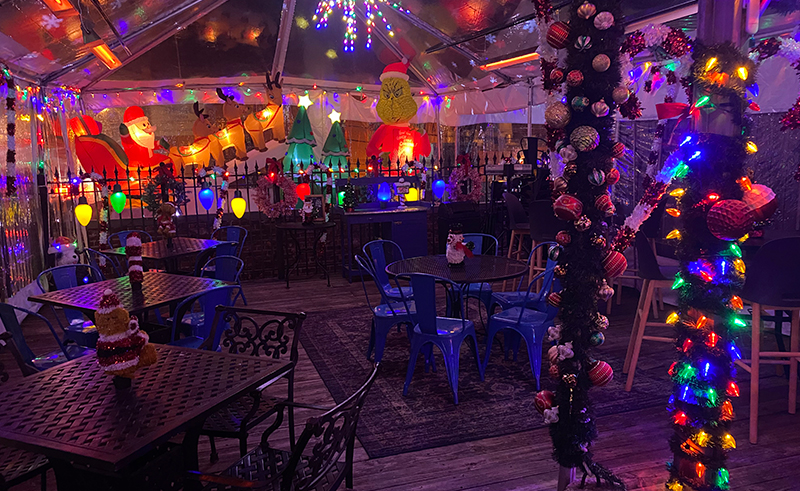 Feel like you're in a snow globe on the rooftop of Our House KC. The dome is complete with holiday blow-ups, snowflake projectors, and festive decor—plus heaters to keep it cozy.
Missouri Pop-Ups (outside of KC)
Deck the District
Iron District, 1599 Iron St., North KC
Open through December 17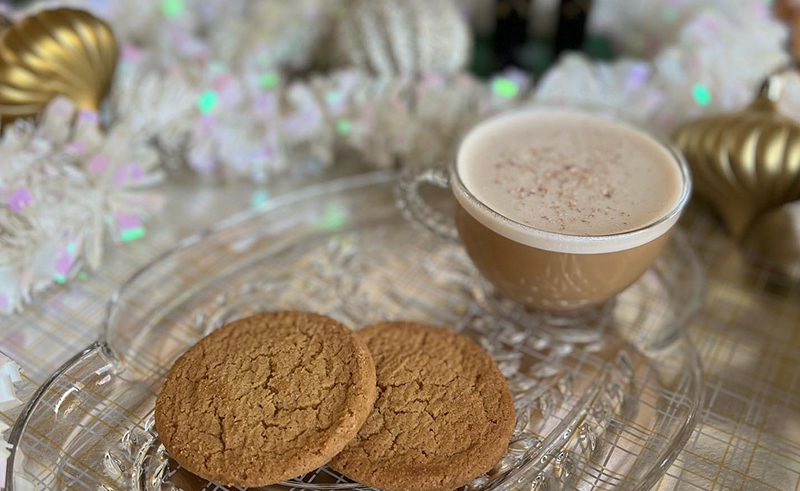 Iron District's upper deck is transformed into a cozy Christmas experience. Sip on handcrafted cocktails by Tiki Huna Bar.
Enchanted Tiki Bar
Powell Gardens Conservatory, 1609 NW U.S. Highway 50, Kingsville
Open through December 30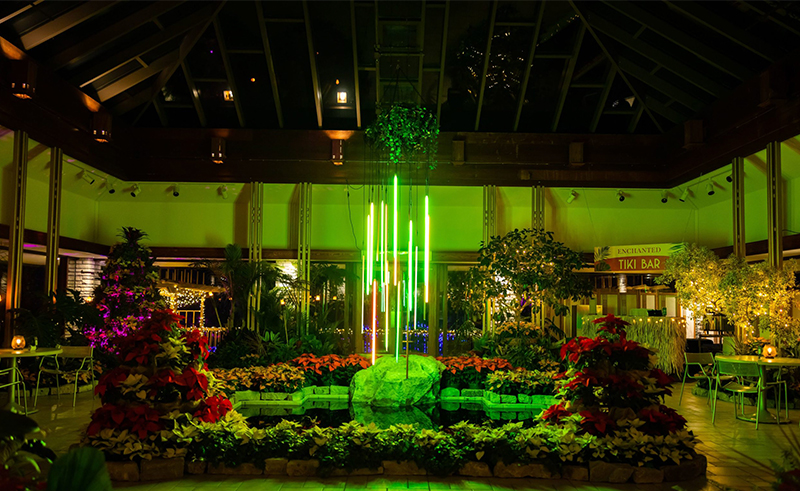 Complete with island cocktails, live tropical plants, music, and the glow of Powell Gardens' Festival of Lights, the gardens' signature glass dome has been transformed.
Fetch the Halls
Vignettes, 2376 Armour Rd., North KC
Open through January 7
"Get in loser, we're going drinking!" This Mean Girls holiday pop-up is inspired by the talent show scene in the cult classic film.
Home for the Holidays
Misc., 1447 Gentry St., North KC
Open through January 1
Adorned with stringed popcorn and homemade ornaments, there will be plenty of holiday cocktails, flights, and events at this pop-up.
Snowbound: A Merry Ski Lodge
Chicken N Pickle, 1761 Burlington, North KC
Open through December 14 with more dates to come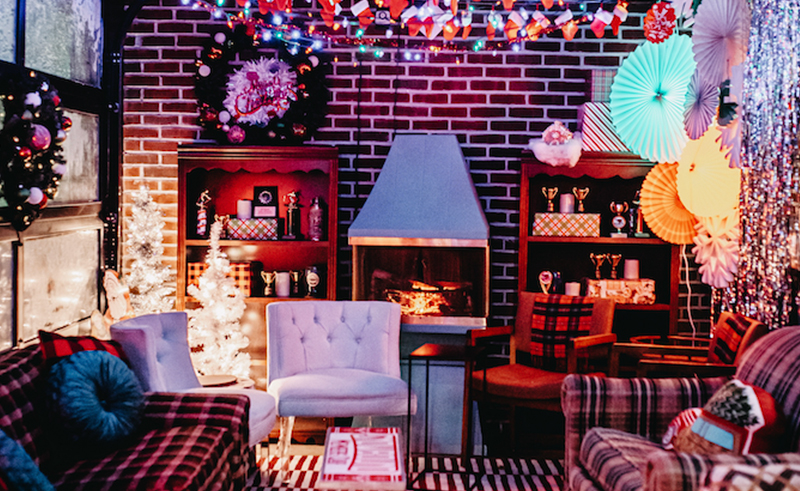 With summit views, a gondola, a cozy atmosphere, and outdoor fire pits, Snowbound has a full menu of holiday cocktails perfect for a day on the slopes.
Tinsel
Tipsy Taco, 27900 NE Colbern Rd., Lee's Summit
Open through January 8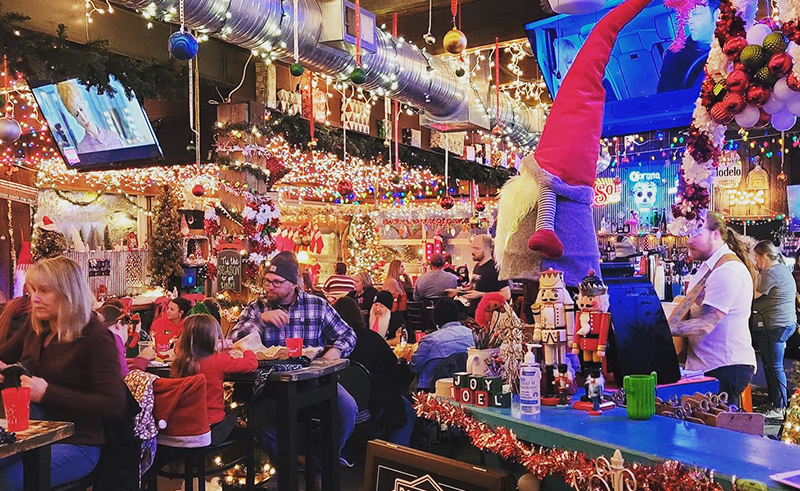 Filled with shimmering ornaments, glittering lights, and plenty of Santa's helpers, holiday cheer is at the max in this pop-up.
Kansas Pop-Ups
A Pop-Up Before Christmas
Deep Roots, 4601 Shawnee Dr., KCK
Open through December 31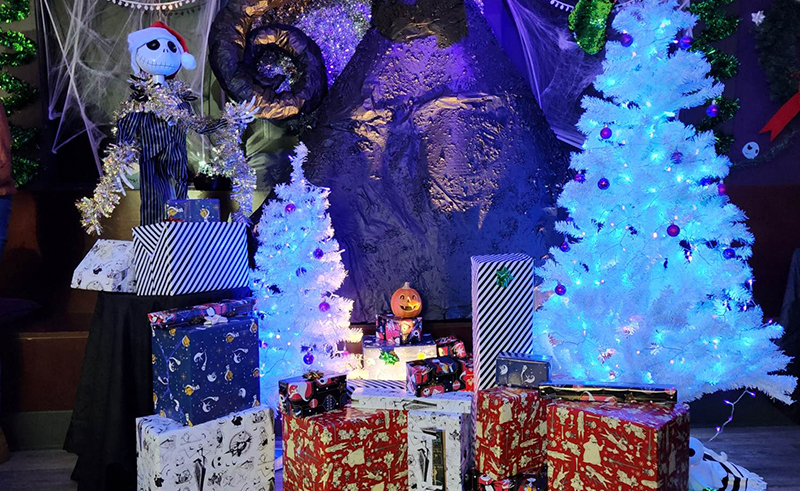 Inspired by the movie A Nightmare Before Christmas, this pop-up combines Halloween and Christmas with craft cocktails and desserts.
Drastic Mensches
Drastic Measures, 5817 Nieman Rd., Shawnee
Open December 19-24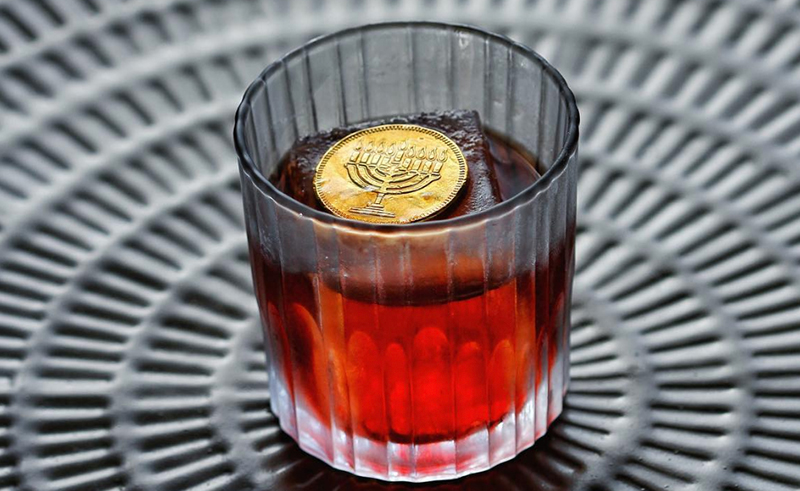 This Hannakuh-themed pop-up is honoring the Jewish holiday and donating half of all sales to the Jewish Community Center of Greater Kansas City
Sippin' Santa KC
Taco Republic Corinth, 4100 W 83rd St., Prairie Village
Taco Republic KCK, 500 County Line Rd., KCK
Open through December 31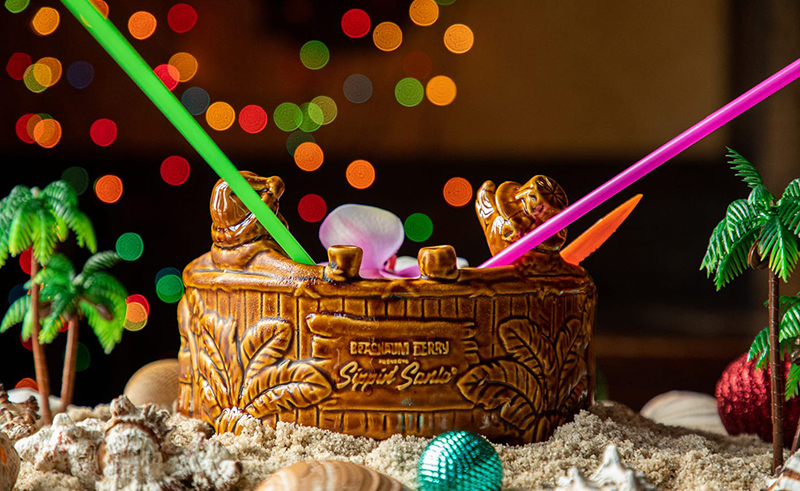 Santa is on a beach vacation at three pop-ups around the metro featuring cocktails such as the Jingle Bird, Yule Tide, and Rum Rhapsody. (See the Kansas City Pop-ups list for the additional location)
Who's Holiday Party
The Social Bar & Grill, 13410 W 62nd Terr., Shawnee
Open through December 31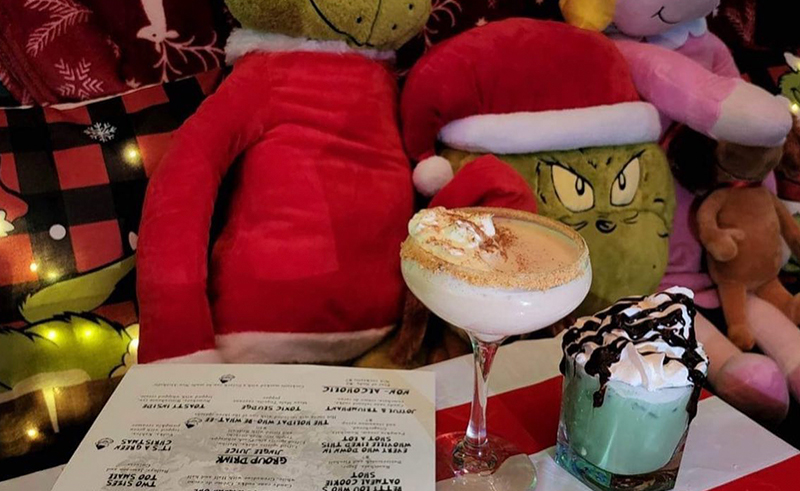 The Grinch is taking over Who-ville, and things have turned quite green for this holiday party—err—pop-up. 
Winter Wonderland
Transport Brewery, 11113 Johnson Dr., Shawnee
Open through December 30
There are four experiences you can book at Winter Wonderland: Christmas Movie Favorites, Cowboy Christmas, 70s Ski Lodge, and Santa Paws.