Sponsored content:

The key to losing weight is getting personalized, proven advice from your Medi-Weightloss® team
Cheerleader. Confidant. New best friend. These are just a few ways that patients describe the Medi-Weightloss® team members at Mirabile M.D. Beauty, Health and Wellness.
When you're ready to commit to losing weight and seeing positive changes in your overall health, our nutritionists and fitness experts are here to ensure your success—every step of the way.
And you'll see that success your very first week with Medi-Weightloss. On average, our patients lose 5-7 pounds the first week and up to 20 pounds the first month. But this loss in pounds and inches won't be a fleeting repeat of any yo-yo dieting you may have experienced in the past.
That's because it's not a diet.
"Medi-Weightloss is a lifestyle change rather than a diet," says James Mirabile, M.D., FACOG, founder and medical director of Mirabile M.D. Beauty, Health and Wellness.
"Since 2010 we've been helping our local patients reach their goals with an astounding total of over 79,000 pounds lost. And while Medi-Weightloss is one of the country's most successful programs—and the one that's physician-supervised—I like to think our team is why we achieve such incredible results right here in the Kansas City area."

Specific to your individual needs
Medi-Weightloss isn't a one-size-fits-all approach. In fact, patients range from college students to peri-menopausal women to retired businessmen—and everything in between. Each patient's challenges and goals are as distinct as the ways Mirabile M.D. counselors address them.
For instance, if keto is your thing, you're in luck! Medi-Weightloss fits well within that way of eating by focusing on healthy fats and proteins. The nutritionists at Medi-Weightloss regularly counsel patients on achieving a state of ketosis. Britni often shares keto-friendly recipes with her patients; delicious and easy-to-prepare meals that have kept her own weight in check for decades—long before keto became the rage.
A weight loss tip that might surprise you
When one patient hit a plateau in her weight-loss journey, Charidy suggested something that might come as a surprise: a week of intermittent fasting. This carefully monitored system worked and, within a few days, her patient was back to doing her happy dance on the scale.
For one patient who traveled for work, Colette recommended an easy-to-follow fitness routine that could be done on the go. Packing lightweight stretch bands in her suitcase helped battle not only the bulge that road warriors often face, but also the tensions of travel.
And, as Dr. Mirabile points out, "Our patients' situations can change from week to week, even day to day. During our meetings we become super-sleuths to find out why the scale isn't moving. It could be from extra stress, not enough hydration, not eating enough protein or even lack of sleep. All these can have a big effect."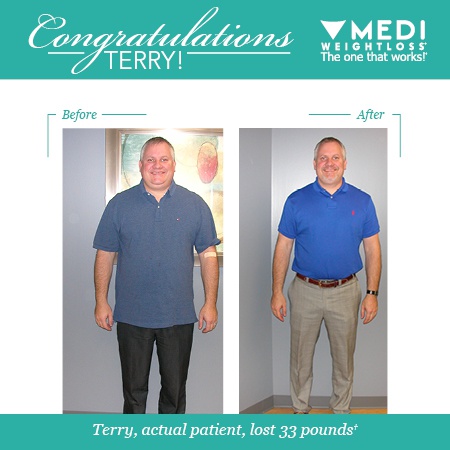 The perfect time to start is now
If you're dreading trying on swimsuits or warmer days when you can't hide behind an oversized sweater, starting Medi-Weightloss now will get you looking your best in time for summer.
In fact, you'll feel more confident fast. During Week One you'll discover how the scientifically based program has worked for thousands of patients. No pre-packaged foods and no starvation. In fact, many patients are pleasantly surprised at how much they're eating! The Medi-Weightloss food journal provides examples for three meals a day as well as snacks to keep you satisfied.
You'll eat plenty of healthy fats and lean proteins—known to curb hunger—whether dining at home or enjoying a meal at a restaurant or event.
Your Mirabile M.D. support team will teach you how to choose healthy food options to meet your unique lifestyle, whether you're a stay-at-home mom, a hostess who loves to entertain or a professional who attends evening events. Like Charidy tells her patients who dine out frequently, she's never met a restaurant menu she couldn't arm wrestle and win.
High fives and hugs
And if you slip up—as we all do—there's no shaming here. Your counselor will walk you through the steps necessary to get you back on track. They'll encourage, support, and yes, even use tough love when necessary.
"Our team regards each patient as an opportunity to change lives," says Dr. Mirabile. "And that feeling of success works both ways. I'll often hear cheers of delight during the day as patients and counselors celebrate a milestone together."
Week Two and beyond for a slimmer, healthier you
 Your Medi-Weightloss team will continue to help you meet your goals throughout this three-phase program with ongoing support during regular meetings. These one-on-one conversations are at the heart of the program—an element that's missing from failed DIY weight-loss attempts.
Katherine, one of our patients, put it best.
"I've tried every diet out there and would lose the weight, then slip back into my old, bad habits," she says. "My weekly meetings at Mirabile M. D. kept me honest and accountable. Maintaining a food journal became a good habit that I continue even after losing 48 pounds."
What have you got to lose?
Learn more about the weight loss program that works. Schedule a free consultation today!
Mirabile M.D. Beauty, Health & Wellness
Medi-Weightloss
4550 W. 109thStreet (I-435 & Roe)
Overland Park, Kansas
913-888-7546
mirabilemd.com