Sponsored Content
As always, the focus is on you! Receive up to 30% off a treatment during the month of May.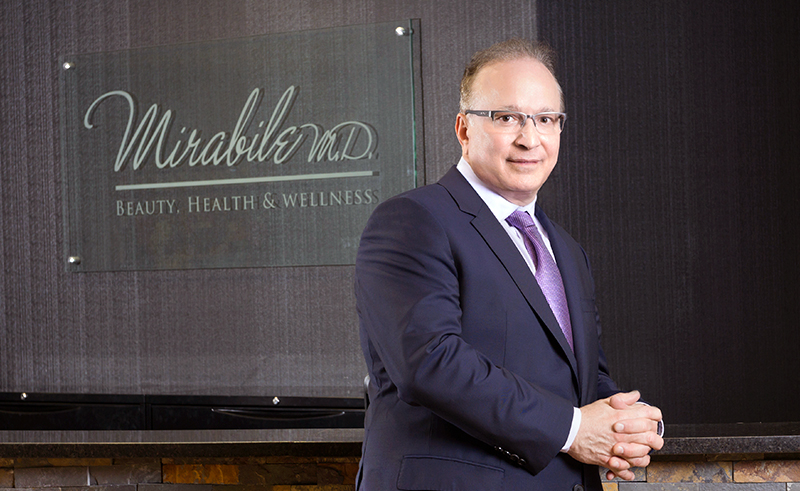 Some people are lucky—they always knew what they wanted to be when they grew up. So it was for James Mirabile, who wanted to become a physician and serve patients in a compassionate, caring manner. 
He comes by this desire to serve others naturally: his father, Jasper Mirabile Sr., was a beloved restaurateur in the Kansas City area. At Jasper's, patrons always felt welcome, special, and never rushed. That tradition continues today at the popular family-run restaurant in South Kansas City. 
After completing his residency in 1992, Dr. Mirabile started his practice as a board-certified obstetrician and gynecologist in Kansas City. "From the start," he says, "it was my goal to provide a setting where women felt heard. I always take time to listen to my patients and treat them as if they were part of my family."
That commitment is on view through dozens of patient testimonials including one from Adrien, who writes, "I have been seeing Dr. Mirabile for several years and I absolutely adore him! Here's why: He cares about his patients. You are always greeted with a smile. Going through one of the hardest times I've ever faced, he grabbed my hands and promised me he would find a solution to the problem—and he did."
Delivering Hope to Thousands of Women
After delivering 7,500 babies, Dr. Mirabile stopped the obstetrics side of his practice in 2009 to put more focus on gynecology, hormone therapy, and other wellness treatments. But women still remember his care all these years later, recently posting their gratitude on social media. 
Lisa commented, "He saw me through my pregnancies and delivered both my babies after thinking I would never be able to become pregnant. He is my hero, and I am forever grateful. He's been a blessing to our family for decades." 
Patients Helped Drive the Future
When patients began asking Dr. Mirabile for recommendations for Botox and other age-defying procedures, he realized there was a need for a clinic that didn't just provide the latest advancements in non-surgical aesthetic treatments but was also overseen by a physician to ensure the highest in safety protocols and efficacy. That—coupled with his interest in how science and beauty could work together—inspired him to open MedCosmetic in 1999. 
Since then, Dr. Mirabile has been a pioneer of aesthetic device technology. Not only does he offer his patients the most advanced treatments available, but also trains other physicians around the country who want to implement these ground-breaking services. Along with lecturing at aesthetic conferences, Dr. Mirabile is a Key Opinion Leader for InMode, a global provider of innovative medical technologies. He has also served on the Scientific Advisory Board for Cutera® and Vivieve®. 
Being among the first to learn about advancements in treatments for the face and body keeps Dr. Mirabile energized. "In all my years of practice, I've never been more excited about the game-changing procedures we have available today," he says. "With these latest iterations of lasers and radio-frequency devices, we can help men and women of any age look and feel better." 
Offering a Safe, Natural Hormone Replacement Option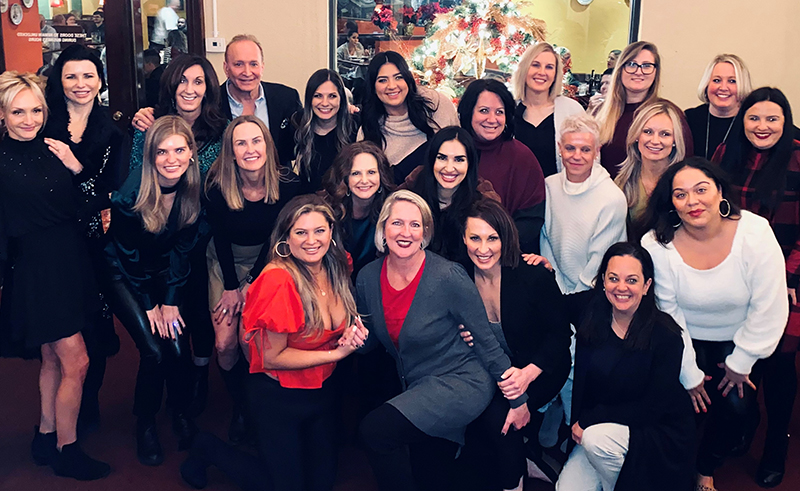 One other patient-driven change in Dr. Mirabile's practice was to find a healthy treatment for perimenopause and menopause. At the time, patients were told by other physicians that their issues were just in their minds, told to learn to live with it, or were prescribed anything from anti-depressants to a synthetic hormone replacement regimen. 
"I knew there was a better way to treat the symptoms that kept women from leading their most vital and happy lives," Dr. Mirabile said. After much research and training, he began providing bio-identical hormone replacement therapy to his patients. 
He was among the first in the Kansas City area to offer SottoPelle® therapy, which has been life-changing to so many of his patients. In 2013, he began treating men suffering from low testosterone and andropause, bringing a new category of patients to his office. 
When Wellness Begins with Losing Weight
Always seeking methods that would help his patients in every aspect of their overall wellness needs, Dr. Mirabile researched several physician-supervised weight-loss programs. When he personally tried Medi-Weightloss®, he was so impressed with the results and efficacy, he added it to his practice in 2010. 
"What sets Medi-Weightloss apart from other national programs is that it's medically supervised and based on scientific research," he says. "The program includes a nutrition program including healthy proteins and low carbohydrate vegetables, vitamin/mineral injections, and weekly visits. Patients can lose up to 20 pounds the first month."
Dr. Mirabile and his team of nutritionists, counselors, and fitness experts are also impressed that the program continues to evolve to address today's needs. "At its core, Medi-Weightloss has always been about achieving a fat-burning ketosis state—before that became a popular phrase," he says. "And now we have new tools to customize each patient's nutrition program based on goals, metabolic needs, and lifestyle—including intermittent fasting." 
Multifaceted Care Meets Convenience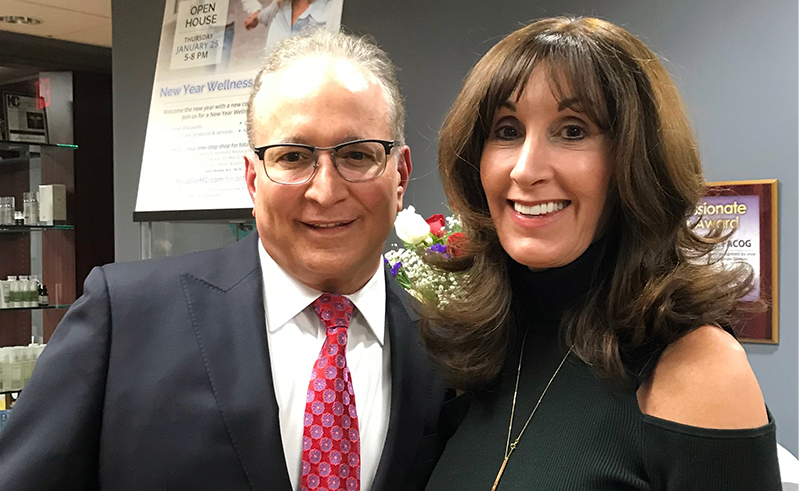 "One key thing I've learned during my three decades as a physician is that many aspects of care are interrelated," Dr. Mirabile says. "Often a patient will come to us for a specific concern, and we'll find another condition is the underlying cause. For example, a woman may see us for Medi-Weightloss, but through testing, we discover she has a hormonal imbalance. By treating that, she can be much more successful in her weight loss goals. Or after a patient loses a significant amount of weight, he wants to have a procedure, like Morpheus8 Body, to tighten skin and improve areas of the body."
It's that synergy that inspired Dr. Mirabile to bring all the healthcare divisions under the Mirabile M.D. Beauty, Health and Wellness banner in 2012. At this time, his wife Vicki Mirabile joined the practice to help bring his career-long vision to life. She serves as executive director and manages the MedCosmetic and Medi-Weightloss teams. 
Today, the office has 25 team members including nurse practitioners, registered nurses, nutritionists, licensed estheticians, medical assistants, and office support staff. Several of these highly skilled professionals have been with Dr. Mirabile for years, even decades. "And when we add a new member of the team, we look for compassion first," he says. 
"The practice I have today is what I dreamed of 30 years ago when I went into private practice," Dr. Mirabile says. "I'm surrounded by an incredible staff of people who are passionate about what they do and who truly care for our patients. I couldn't ask for a better group of people to spend my days with." 
Celebrate Our Anniversary and Save!
Visit Mirabile M.D. Beauty, Health & Wellness to discover a 30-year legacy of care. And during May, you can save up to 30% on all regularly priced MedCosmetic services and Medi-Weightloss visits. Patients will draw a certificate at checkout to reveal the savings discount. Call to learn more or schedule an appointment: 913.888.7546
Mirabile M.D. Beauty, Health & Wellness
4550 W 109th Street, Suite 130
Overland Park, KS 66211
913.888.7546
Mirabilemd.com