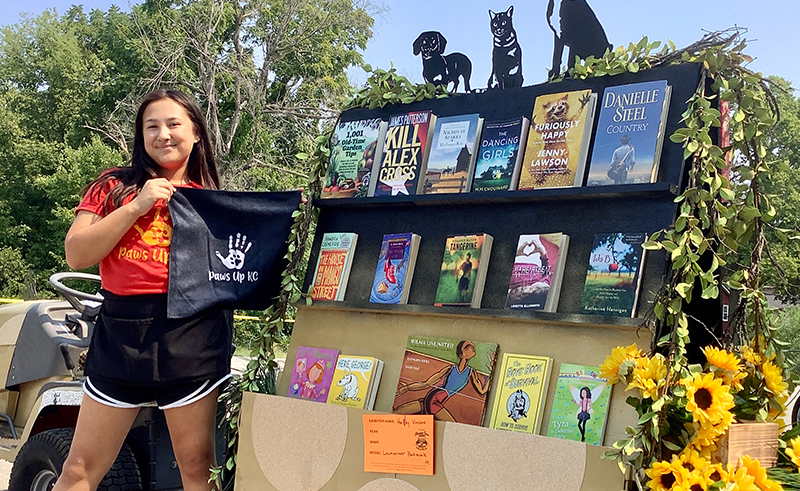 During the early days of the pandemic, many of us found ways to reinvent our time with new passions. At age 11, Halley Vincent started operating Seven Stories, a free bookmobile, outside of the Shawnee City Hall with the help of her mom, Ali Vincent, when the libraries closed down due to Covid.
After two years of driving her daughter—with plenty of books in tow—back and forth between home and City Hall, Ali Vincent jumped at the opportunity to take up residence in The Collective at 11111 W 59th Terrace, a new space in downtown Shawnee for small businesses and local makers. Not only did Vincent see potential in the space for her daughter's bookshop, but she also saw the potential to use a portion of it as her art studio.
"I looked over here," Ali says, gesturing around the space, "and there was a doorway I could take out to open the wall to combine two of the spaces. So, we signed for the space, and I brought in my daughters (Ali's other daughter is 6). They worked on a mural, we laid the floor, put in the fixtures, we did all of it—like a family labor of love."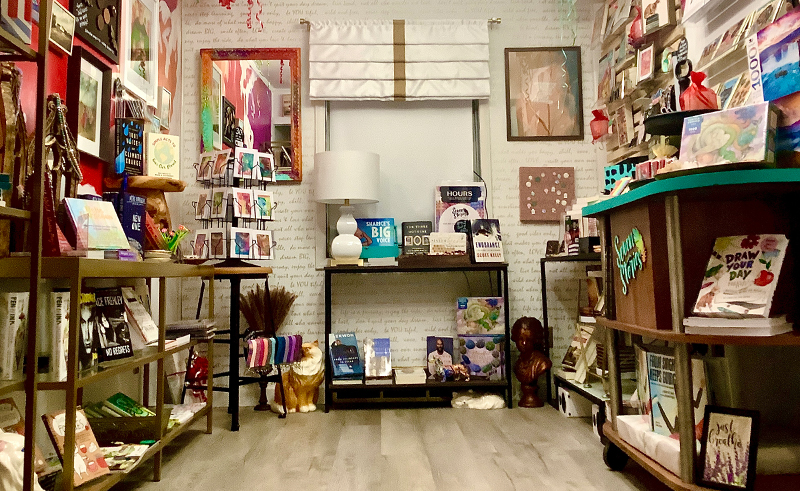 Walk into the L-shaped space, and you'll see a bright mural made of swirling purple, red, pink, and white hues as the backdrop of a small, but smartly curated collection of books for all ages, reading accessories, artwork, and other objects Halley selected. In the other part of the space, you'll see paintings hanging on the wall surrounding Ali's worktable, which will be removed during book clubs and other gatherings.
Look around the bookstore section, and you'll notice several selections featuring a Paws Up KC sticker. Purchase an item with a sticker on it, and 100 percent of your purchase will benefit Paws Up KC, the nonprofit organization Halley founded at the age of 9 to support Great Plains SPCA, Human Society of Great Kansas City, and Chain of Hope and funded through bake sales. All items in the store that feature a cat or a dog will also result in a 10 percent donation to the nonprofit.
"Every little bit adds up," Halley says. "By the end of 2023, I'm hoping to build a partnership with at least one Kansas City literacy group as well. I've always felt like there was a link between animal adoption and reading, and this just brings me closer to my goal of supporting both. I still believe that the kind of person who loves to curl up with a good book often has a cat in their lap or a dog at their feet—or sometimes both."
In 2023, both mom and daughter are hosting three monthly book clubs at Seven Stories to engage the community in important conversations inspired by the recent increase of banned books across the country. 
Each of the three book clubs will cost $40 a month. The fee covers a monthly kit that includes the month's book selection, a few fun gifts, a $5 voucher for the store or a future book club registration, and an invite to the upcoming meeting, which be held both in person and via Zoom. The three book clubs include:
Pies & Prejudice: Over a slice of pie, members will participate in a guided discussion of what it means to be anti-racist, inclusive, and an all-around, plain-old good listener to other people's experiences. Members will devour apple pie in January as they set ground rules for safe future discussions and talk about the essential elements of being a good ally. This group will gather on the third Thursday evening of every month.
Secret Book Society: Otherwise known as the SBS, this book club will give young adult/teen readers an opportunity to read and discuss a both new and old books that have been considered controversial, divisive, or downright dangerous. SBS members will enjoy unique membership perks, including a monthly doorstep book delivery, secret-ink spy messages, and decoder devices. Like any good secret society, dressing in all black is highly recommended, and members of the SBS "don't talk about the SBS." The SBS will gather on the last Sunday of every month.
Mamas Tryin': This one is for Johnson County moms who love to read and need an outlet to swap parenting ideas, share common concerns, and share laughter and sometimes tears. The literary sisterhood will gather around monthly book selections highlighting powerful mamas in history and lessons learned. This group will meet on the second and fourth Mondays of every month.
Sign up monthly for each club at shop7stories.com.