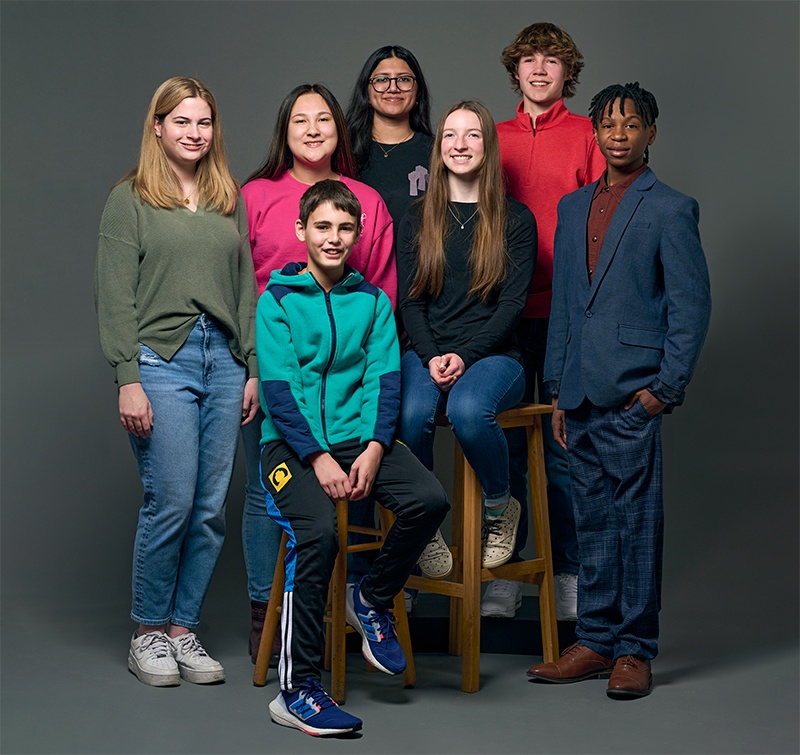 Whenever the 24/7 news cycle seems to burden us with negativity, it's refreshing—and heartening—to learn about all the good things that are happening right here at home.
We may be enduring yet another war, cancel culture, and divisive politics, but we're also in a time and place in which young people have more opportunities to serve others.
When they volunteer, not only do middle- and high-school students do good in the community, they also learn valuable life skills while finding their causes and their voices.
Schools Get Involved
"Students believe we can make a difference in our community," says Todd Clauer, Hyman Brand Hebrew Academy upper-school principal and creator of the metro-wide social justice program involving a coalition of three high schools—HBHA, University Academy of Kansas City, and Academie Lafayette. "They are looking at systemic change through policies and working with local officials." Students involved in Future Votes KC reach a consensus each year about the social justice project they will undertake. In past years, it has been getting voters informed on the issues of local Kansas City police control and climate change. Students work with officials such as Kansas City Mayor Quinton Lucas. Currently, Future Votes KC has had much success running candidate forums in the metro area. "Teenagers are not afraid to ask tough questions, and they gain confidence interacting with stakeholders," says Clauer.  "They want their voices heard."
Many high schools in the metro area require or encourage student volunteering. At Bishop Miege High School, students must have 80 volunteer hours to graduate; Rockhurst High School sets aside three weeks each January for senior service.  Lee's Summit High School, Shawnee Mission, and Blue Valley schools encourage students with lists of volunteer opportunities and faculty advisors, but do not require volunteering.
Shawnee Mission East goes a step further with the SHARE program, which is allied with the school, but funded by the annual Renovation Sensation homes tour. SHARE co-coordinator Erin Billingsley helps oversee 50-plus projects that range from one-off volunteering at Habitat for Humanity or Harvesters to ongoing projects. "These are opportunities for students to gain leadership skills while showing them a different perspective and offering a way to give back," she says.    
Shawnee Mission East freshman and SHARE program volunteer Luke Taylor learned about the needs at Kansas City International Academy, formerly known as Della Lamb, from his friend's mother Becky Croker, who does social outreach there. KCIA serves students from 25 different countries. "We meet with the kids and help them read and learn to speak English," he says. "And we also just play football and hang out so they feel like they have a friend and maybe a mentor. It's incredible to see so many success stories."
A Blue Valley high school student wanted her voice—and the voices of other young women—to be heard. When Sadiya Abid encountered gender inequality and sexual harassment, along with others she knew, she gathered a group of like-minded female students around her. With cofounder Kavya Parikh, she formed the nonprofit Future is Female, which won a 2022 T-Mobile Changemaker Challenge Award. Today, they have 12 chapters in six states. Along the way, she has learned how to set up a 501c3, increase funding from $200 to $1500 per project, and expand their reach across the country. "We have to stand up for ourselves," she says. "If we don't do it, who will?"
Starting Small, Starting Young
Some school-age children in our area recognize their causes early. Those causes can also grow in unexpected, organic ways.
At the age of 8, current Shawnee middle-school student Halley Vincent loved pets, reading, and helping people. She organized a bake sale at her school to raise money for Great Plains SPCA and netted $300.  A shy girl, Halley learned that dealing with donors for a cause she believed could make her more confident. And she became more proactive, making presentation boards for people she would approach for donations.  By the age of 11, she founded (with the help of adults) her first nonprofit, Paws Up KC, which combines literacy and animal adoption. Who doesn't need a stack of books and a pet to love? Halley gives out free books through the Paws Up KC bookmobile, encourages donations, and urges kids—and adults—to read to pets at shelters to help the animals socialize.  She also sees another link from used books to adopted pets. Says Halley, "You don't know how that played out when you get them or when you adopt them from a shelter, and I thought it was kind of similar with books because the book had a past life when it came from the bookmobile. So it may be a little rough, but it could be a great book."
Halley chooses reading material from diverse viewpoints, which recently brought her attention to banned books. With the help of her mother, Ali Vincent, Halley recently opened Seven Stories, a small bookshop in The Collective in downtown Shawnee. This year, they are hosting monthly book clubs to read and talk about "banned" issues.
Max Atlas, a middle-schooler from Prairie Village, also started with something he feels strongly about. He loves Legos. When he realized not everyone can afford them, he started a Lego Drive in which people dropped off new or used Lego sets to be collected at Summer Salt Ice Cream in Corinth Shopping Center. The sets went to Children's Mercy Hospital, Ronald McDonald House, Kansas City International Academy, and Jewish Vocational Service for families with kids in the hospital or new to Kansas City. Why Legos? They can "bring happiness to people who are in tough situations," Max explains.
At just 6 years old, Kansas City middle-school student Madden Tanner started helping his mother, Tovah Tanner, with literacy sessions for the underserved, held at local libraries. The two went on to establish the nonprofit Royale Cohesive Network, guiding young people ages 6 to 25 through all the steps toward entrepreneurship, starting with literacy and other steps to self-actualization.
Blazing Trails, Raising Chickens in Kenya
Scouting also gives metro area youth a way to give back, with support from an organization. "The Gold Award is the highest award a Girl Scout can earn," says Gina Garvin, chief brand and marketing officer for the Northwest Missouri/Northeast Kansas Council. "I am blown away by how many girls get an idea, take the lead, and find a way to make a difference."
Madyson Kline, a high-school student in Leavenworth, tapped into her love of the outdoors for her Gold Award. "I have a lot of happy memories just going on a hike with friends and family and I wanted to share my love for the outdoors with everyone," she says, but how to do it?  Kline fundraised, then built Little Bird Trail in Tonganoxie's Camp Tongawood.  On March 11, she will help host a Fun Run on Little Bird Trail.
High-school student Lizzie Place, a hiking aficionado from the south metro, researched, hiked, raised funds, and built a website. "I am in better shape, just from hiking so much!" she says. "I have met so many people and have also visited so many parts of the metro that I had never visited before, such as the Brush Creek Trail.  Finally, I've become more experienced with social media, from all the posts, tweets, and stories I put out." Soon to be released is her 2023 downloadable edition of 50 Free Hikes.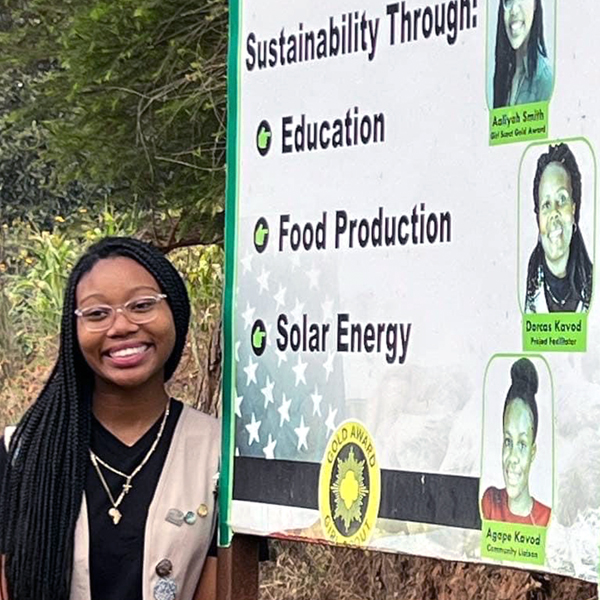 Aaliyah Smith, a high-school student, chose a Gold Award project that took her halfway across the world—from northeast Kansas to Africa. A chance meeting with a person from Kenya who talked about the needs he saw in his community resonated with Aaliyah, who says, "I wanted to do something different but impactful at the same time. The Community Poultry Project (CPP) really gave me an opportunity to think outside the box and explore an option for empowering women in a country with limited resources." The CPP supplies chickens to single women, often heads of their households. The women raise the chickens for meat and eggs as well as barter them for other items, increasing their family's nutrition and economic prospects.  "In 2020, we started with the goal of helping women and children secure a steady food source and steady stream of income," Aaliyah says. "It has since extended to the men in the community to provide day labor support." Aaliyah has crowd-funded her project, started a Facebook page, and visited the small village in Makueni County to see for herself the difference the CPP has made.
One small act of kindness really can make a difference, not only to those on the receiving end, but also for those who give.
"I feel very hopeful about the world, and the ways young people can make things happen," says Lizzie Place.