Comedian Jon Rudnitsky caught his big break when he became a featured player on Saturday Night Live's 2015-2016 season. Now the funny man is taking his act on the road. He'll be appearing at The Comedy Club of Kansas City starting tomorrow, Friday and Saturday.
We caught up with Rudnitsky while—from the sounds of it—he was in a bar located at the bottom of a cave. Also, we think perhaps he was speaking in to a pillow as well. We're sure he had a lot more to say, we just couldn't understand much of it. But he gets a gold star for repeating himself more than once.
Ever been to KC before? Thoughts?
"Once before. I enjoyed it. I didn't get to spend as much time as I would have liked. I was doing a college show. I can't speak to it too much other than I liked what I saw. This time I'll spend a weekend there. I'll get the full experience."
Talk to me about life after SNL.
"I've been doing well! Movie and TV shows. After SNL, I was in Home Again with Reese Witherspoon—which was an unbelievable experience to work with her and Nancy Meyers. I went on to do a show with Mindy Kaling. Now I'm in Catch-22, a mini-series with George Clooney. That was pretty amazing. Life has been good. SNL was my first big break and afforded me some pretty incredible opportunities. I've worked with a lot my heroes."
What's the best and worst part about being a road warrior now that you're on tour?
"It can feel a little lonely sometimes, but I like being nomadic—and going to places I wouldn't normally go. I've performed in a bowling alley in Michigan and a seafood restaurant outside of Naples.
I've done it all and some gigs are more glamorous than others. The others are war stories and they lead to new material. I have an appreciation that I get to do what I do. Every time I'm in a new place, I can't believe I'm there because I get to tell jokes for a living to strangers. It's a great gig."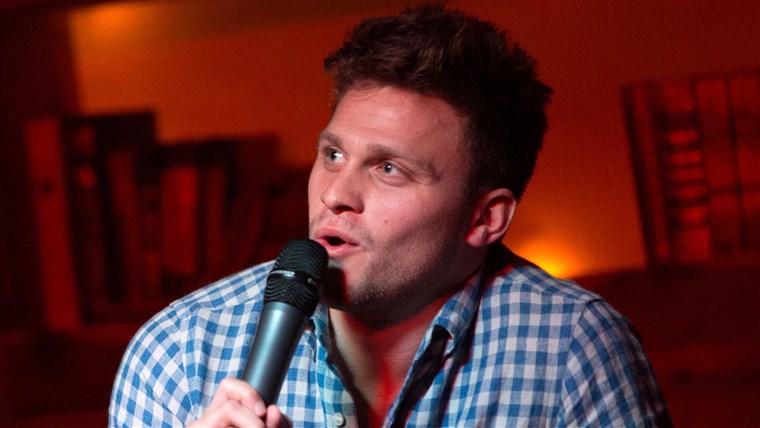 Career-wise—what would you like to happen? A sitcom? More movies?
"I want to do it all. I want to do a comedy special. I want to continue to do movies with people I admire. I want opportunities to be a part of great stuff. I want to continue to grow and blossom. The careers I look up to—like Steve Carrell and Jonah Hill—they've branched out and done more dramatic roles. My career opportunities are vast and wide.
Who do you find funny?
"I just saw Steve Martin and Martin Short at the Hollywood Bowl. They are legends. They've been doing it for decades upon decades. They give it their all up there. Martin Short—he's, like, 70—and he was running around in a onesie. He was giving the audience a full performance. I really admire that. I grew up watching them and they continue doing it at the highest level—and it's very inspiring."
You do a mean Matthew McConaughey impression. What other impressions do you have up your sleeve?
"I do a Trump—which everybody does now. A Bernie Sanders. A John Mayer. I do a lot more characters than impressions. It happens when it's least expected—like when I'm in the shower and realize I'm doing that person's voice."
Do you need any recommendations on where to eat when you're in KC?
"Of course I do! I guess my question is—I'm probably going to get a lot of barbecue recommendations, yes? What do you have that's not barbecue? I can't eat that for every meal or I won't be able to perform. (We suggested Bristol Seafood + Steak + Social and/or BRGR since Rudnitsky is staying downtown. We jokingly told him that—besides barbecue—Kansas City is also famous for our fresh seafood. We're not sure if he bought it.)
"I'll check 'em out—even though I'm a little worried about seafood, but I'll take your word for it."

Tickets to Rudnitsky's show at The Comedy Club of Kansas City are on sale now:
Thursday 7:30PM
Friday 7:30 & 10PM
Saturday 7:30 & 10PM
VIP seating is available. Doors open at 6:30 for dinner, drinks and live music prior to the show!
Interview has been edited for clarity and brevity.