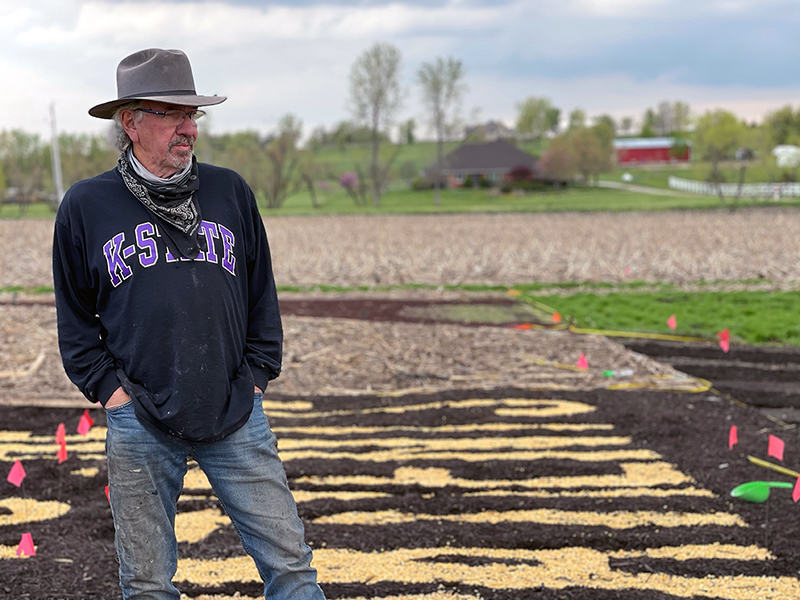 ''Welcome to my crazy life," says Stan Herd as he opens the door to his studio in north Lawrence. In the cavernous space, paintings and sketches in various stages of completion are propped here and there. Stacks of books, found objects, paints, and more than one comfy armchair inhabit the warren of rooms where the artist works. 
Dotted here and there are aerial photos of his most famous portraits: A young Kickapoo woman, Amelia Earhart, Young Woman of Brazil, John Lewis, Saginaw Grant—and most recently, Kamala Harris and Joe Biden. They're joined by "still-life" crop art from the past 40 years, whose full glory can only be captured by a camera fastened to a drone.
Internationally known as an artist who creates images, or earthworks, on land, Herd "paints" with soil, rock, plants, and flowers. His work is sometimes called living sculpture. Some earthworks are meant to last only a few seasons. Others are more permanent, but they're all memorable.
Herd counts Van Gogh and Picasso as major inspirations. One of his first earthworks to gain national attention was Sunflower Still Life, an homage to Van Gogh, and there are dried sunflowers and sunflower paintings everywhere. Like Picasso who sketched and painted bulls until he distilled their essence to a swooping black line of paint, Herd keeps experimenting with the sunflower.
Herd was born and raised on a wheat and sorghum farm in Protection, Kansas, near the Oklahoma border, where his father also raised cattle. The arid land had formerly been Kiowa hunting grounds. Herd knew early on he didn't want to follow in his father's and grandfather's footsteps. But there was something about the land and its associations, about the look of crops as they were planted, as they grew, as they were harvested, as they died back, that captured his imagination. A year studying at Wichita State, and Herd moved on to Dodge City, then New Mexico, and finally, Lawrence in 1985, where he found a place that echoes the social activism that thrums through much of his work. 
Herd has worked on commercial projects, too, such as The Offering, an earthwork for Oreo cookies, mimicking a crop circle, with the idea of a peace offering to space aliens, encouraging them to land, relax, and dunk the cookies into a glass of milk.
"I'm an artist who makes art with tractors," he says with a laugh.
Did you always want to be a crop artist?
No. 
I wanted to be an avant-garde Abstract Expressionist, but it wasn't really me. I began to paint the Kansas landscape and Western heritage murals. On an airplane flight, I looked down and thought, oh my god, maybe I could do something on the ground. Manipulate the landscape. I've been trying to perfect it ever since. 
Crop art was a term that Dan Rather coined when he came out to shoot my sunflower field and introduced me as Stan Herd, crop artist, on the CBS Evening News. Peter Jennings one time called me Stan Nerd.
Christo was the one who snapped my head. I saw a film on Christo's Running Fences, about him walking an art concept out into the community. It's not just the final product. It's the process. Lawyers, landowners, communities. The power of the work is the collaborative community working together around an art project.
How do you go about making crop art or earthworks?
You look at the land, the terrain, and find an appropriate image for the appropriate land. You work with a farmer to plant what you need, or a landscape earth mover, using a grid design. Or sometimes I have used uncut farm crops like alfalfa and sunflowers. Three different colors of milo. Winter wheat. At full height, a plant is one color, cut another, stubble a third color, plowed under a fourth. Sometimes I use marble and granite and plants.
Your portrait of Amelia Earhart was done a little differently.
They wanted a permanent piece. So we did it in native stone and rug juniper and little bluestem.
Tell us about your recreation of Van Gogh's 1889 Olive Trees at the Minneapolis Institute of Art in 2015.
They approached me, and my idea was to do a version of Van Gogh's painting. We ended up using native plants, wheat straw, mulch, gourds, and oats in a field in Eagan, Minnesota. If you're flying in or out of the Twin Cities and sit on the left side of the plane, you can look out and see it. We planted hundreds of watermelons and cantaloupes, four types of squash. Sage, kale, mums, and coleus. There were a lot of rocks in the field, and I thought I ought to do something with them. Van Gogh's stroke was slashes of color. Everything is organic and curved and flowing.  It's like a pulse. Everything was moving for him. 
The oats were supposed to mature to a beautiful, yellow sunlit sky, to be mowed out concentrically, somewhat in the style of Van Gogh's palette. But we got them in too late. By September, they were brown, not golden. We had to go over them with mulch and wheat straw.
So you use lots of tools?
Lots. Shovels, hoes, and rakes to gas-powered weed-eaters, tractors, plows, drills, mowers, and of course, nowadays drones capture the progress and allow us to tweak the image under the camera live. In the old days, we used airplanes and helicopters.
You've done several portraits of young indigenous women—in Kansas, Brazil, and most recently, China. What makes this a recurring motif?
A young indigenous woman, just like the land, is beautiful yet vulnerable. To me, this is the essence of the land.
As a young man who had grown up on a Kansas farm, I decided I knew something about the land and the people who historically worked the land. My real focus was on the First People—the Native Americans whose land my ancestors had settled. I would dedicate my life to creating statement artworks in the soil of my ancestors. What can they teach us that we don't know?
In 1988, I did Little Girl in the Wind. It was a portrait of a Kansas Kickapoo woman, Carol Cadue. Strong and fragile. I worked with Wes Jackson of the Land Institute in Salina. I was invited to speak at the Land Institute and met Carol. I did a portrait of her and from that came the inspiration for my first prairie piece done without plowing. That image continues to haunt me. Our connection to the past. Our connection to the land. I'm always looking for balance, for a workable solution.
Young Woman of Brazil constructed near a favela or slum in Sao Paulo took three years to do. There were financial and political problems down there that delayed the project. The concept was to create a large living earthwork with the nearby community—including children, artists, activists, and gardeners—to design, create, and finally work the two-acre site. The produce would go to the local schools, and the farmers would be subsidized for a couple of years to insure early success. 
This is an experiment. Can an art project of this nature actually help transform a blighted area? We will see.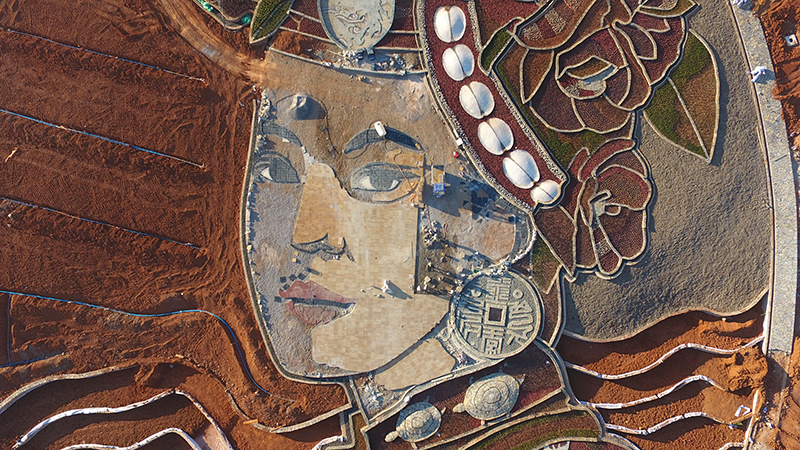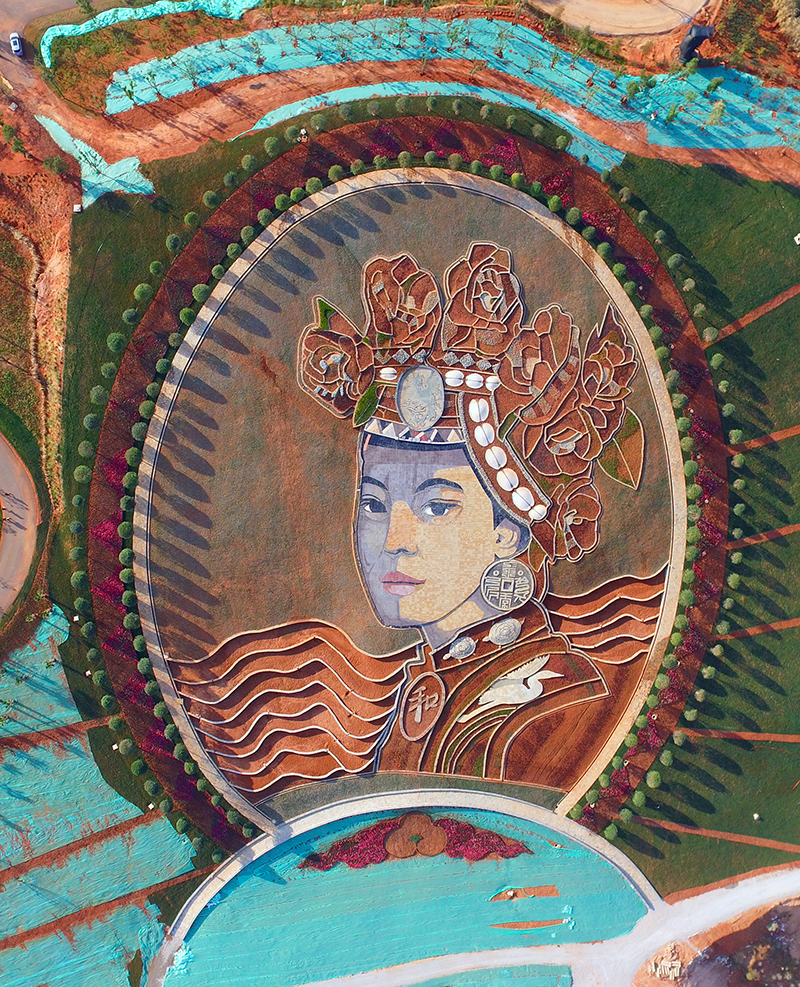 In 2015, we completed Young Woman of China in Yunnan province. I was contacted by a Chinese business executive who had seen my work in Minneapolis. He asked me to create a work for their 800-acre park. It's an earthwork of marble and granite and flowers embedded in the hillside. If they have major earthquakes in China, the Great Wall is in trouble, but our project is not. We try to build a community around the earthwork—gardens for people to work and visit and more—to change the dynamic of a place. Human consciousness thrives on beauty and diminishes in its void.
And the Ancient Fish Maze. The 80-million-year-old, 20-foot-long carnivorous fossil fish xiphactinus, like Jaws swimming around in our inland sea. 
We cut that from dormant alfalfa in a field near Lawrence. 
You also do commercial work.
Crop art is an expensive undertaking. I was leery at first about purely commercial projects, but I see them as a way of funding my other projects. I've done some fun things over the years.
Like what?
An earthwork for the movie Signs. It looked like an alien landing strip.
Absolut Vodka. The Nieman Marcus Christmas catalog.
The Oreo project was out of this world, literally. We created a design of an Oreo cookie in a green field, with a center golden oval "somewhere in Kansas." It had a double bed, a refrigerator stocked with milk, and packs of Oreos and a glass of milk for dunking. What space alien could resist?
The Catch-22 is that the hungry artist looking for a way to survive often finds it necessary to purse the marketplace of the art world, the marketplace of the corporate world or government grants. 
But I'm thinking I need to do more commercial work so I can do more of my other projects.
Tell us about an upcoming project.
I've been finalizing drawings for a new earthwork. It's going to be a portrait of Pele, the soccer star, for the World Cup in Qatar this November. It's too hot and dry to plant there, so this one will be from stone. I'm still waiting for approval from Sheikha Al Mayassa Al Thani (the sister of the Emir of Qatar). 
What is the best part of creating earthworks?
The most satisfying element of creating huge works with multiple assistants, landowners, horticulturists, photographers, students, and the community, is the collective nature of the experience—a feeling of utilizing the "creation" of the work as a catalyst for exchange and enlightenment. I feel like the works are, at best, a platform for the discussion of nature, mankind's relationship with nature, the environment, and art as an agent of change.
How has living in this area helped form and nurture your career?
It's central to wherever I go. I like the Native American idea of going in the four directions and bringing back to your village all you have learned from your travels. I'm proud to be part of the Prairie Renaissance group here, people who want to see positive change in the world. I think it's important for creative people to surround themselves with other creative people—musicians, filmmakers, poets. I try to do that.
And you did venture into filmmaking.
I was the associate producer of The Only Good Indian. Wes Studi starred, Kevin Wilmott directed, and we shot it in the Flint Hills.
You've been creating art for 40 years. What have you learned?
I told a young musician friend that creating art—music, poetry, film—is akin to a religion, a belief that you are here for a purpose and that those who figure that out, live life at a level that is not available to others. That is your gift. You can't fail, if you don't quit.
I also believe that life is a journey about trying to balance your ego, your belief in yourself, against the presumption that you are special and deserve more than you have. It is a constant battle all of your life to strike that balance.
Interview condensed and minimally edited for clarity.