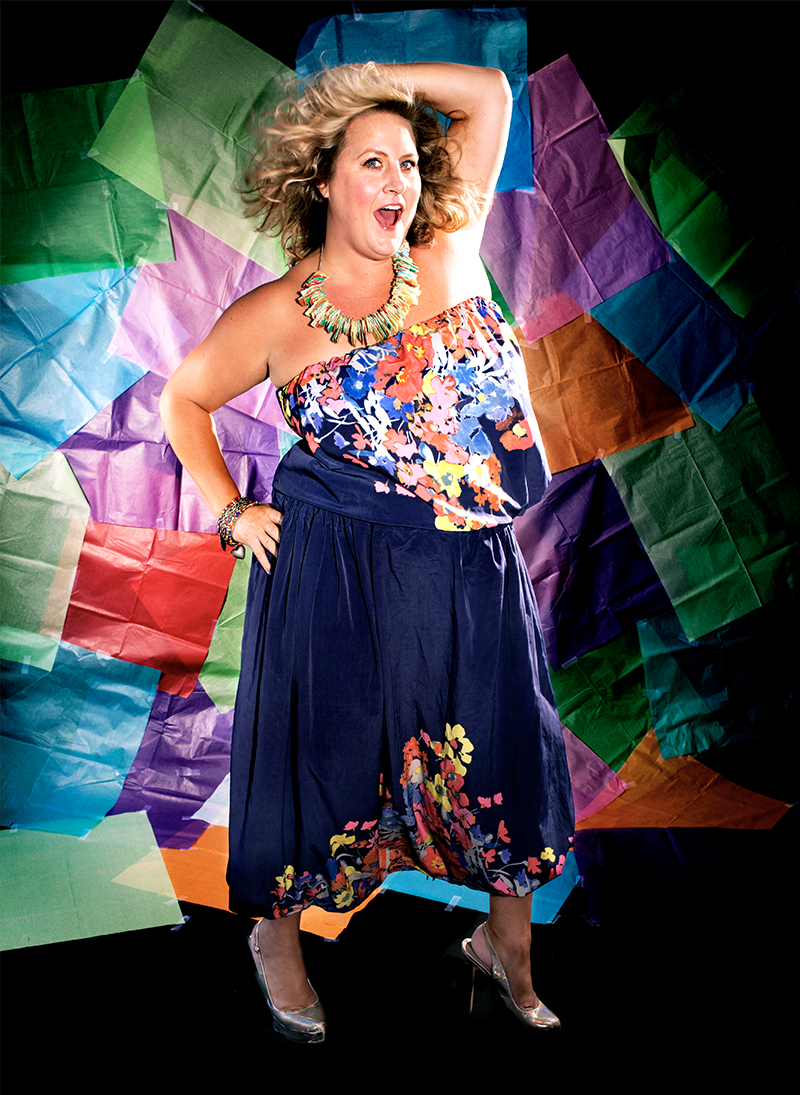 A native of the Little Apple (Manhattan, Kansas) has taken the Big Apple by storm. In 2015, Bridget Everett quit her restaurant job to pursue a career in comedy and music, opening shows for Amy Schumer, writing songs with NSFW lyrics and singing with her band, The Tender Moments, and performing in provocative cabaret shows that got her dubbed "the most exciting performer in New York City" by Village Voice.
Now Everett is starring in the new HBO comedy series Somebody Somewhere, which she co-produced. The show has garnered glowing reviews, and Everett's character, Sam, looks to be the next Kansan-played-by-a-Kansan to steal America's heart after Jason Sudeikis's Ted Lasso.
IN Kansas City spoke with Everett by phone from her apartment in New York about filming in Kansas, returning to live cabaret shows after a two-year Covid pause, and coping with depression and grief.
What have you been doing today besides talking to reporters on the phone?
Oh my god, I was just turning off my soft rock radio and finishing up a delicious breakfast here at noon on a Monday. [Laughs.]
What neighborhood do you live in in New York?
I'm on the Upper West Side, between Riverside and Central Park.
What's your apartment like?
It's good. I live on the top floor. I've got a nice terrace that sort of saved my life during the pandemic and lots of natural light. It's a real upgrade from where I was about five years ago where I had natural light from 11:15 to 11:30 every morning and that was it.
What is your non-working life like in New York?
[Laughs.] It is crazy. It is off the rails. It is a cup of coffee on the couch, go for a walk to get some Vitamin D, come home, and wait for nighttime so I can have a glass of wine.
When you go out do people recognize you?
Yeah. I think every year it's a little bit more. I had a dog that passed away in June, but she was also recognizable, so people used to stop her on the street and be like, "Poppy!" And I'm like, "What about me?" [Laughs.]
I'm so sorry about Poppy.
Thanks. It's a heartbreaker.
Your new series, Somebody Somewhere, is a comedy, but grief is a strong underlying theme. You lost your Dad and your sister in a short span, and now your dog, too. How are you coping?
It was definitely challenging because my Dad and sister died within a year of each other, and it was really painful, but I'd never really dealt with it. So, doing this show was part of healing, and then my dog died halfway through [filming] so it was a little, ah, hard core for a while there. But we got through it, and I'm actually happy that I had something to focus on. And it was such a positive experience and positive vibe on set, it really saved my life.
The show is set in Manhattan, Kansas, where you're from. Most movies and TV shows set in the Midwest are cringe-inducing, but Somebody Somewhere feels true and well-observed. Did you work with the writers to get the cultural-emotional pitch dialed in?
Oh, yeah. I was in the writer's room every day and working closely with our showrunners, who are also from the Midwest, and our writers and our other executive producer to really nail Sam's voice and the tone. We wanted to give our most authentic version of what being from the Midwest is like. Granted, I haven't lived there for a number of years, but my mom is still there, two of my brothers are there, my best friend lives there. Those are the people that made me. Those relationships formed me. It is largely because of those people in Manhattan that I am the way I am.
The series is filmed in Illinois but there are scenes that show Manhattan, Kansas, landmarks—did you shoot any B-roll there?
Yes, we came back after we filmed. It was fun being back. It brought the show home for me in a whole different way.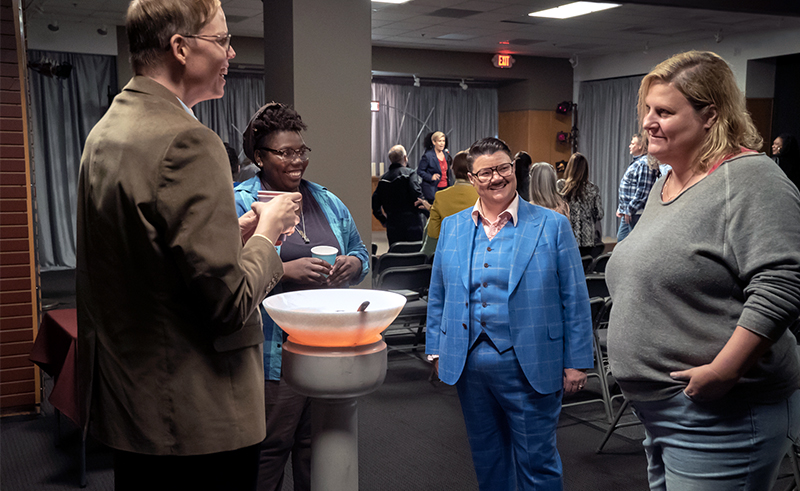 Was it emotional being back in Manhattan, or do you get back quite a bit?
I used to not get back very often. It was more emotional this time because the show sort of forced me to look at where I'm from in a different way. My mom had gone into a nursing home before the pandemic, and the visit felt to me like it had a little more heft and weight this time.
What impressions of your childhood remain after being away for so long?
I'm the youngest of six kids, so by the time I came around, my mom was like, "Well, do what you want," you know? [Laughs.] We used to ride our bikes and go everywhere at night. I had a driver's license at 14. I had challenges growing up, but I have a lot of fond memories of Kansas and of the people.
It's weird, there are all these things that people make fun of about Kansas, like being flat and whatever. But now I crave going to places like Top of the World [a scenic overlook off KS-113] where I can look out and see it for its simple beauty. I really find a sense of peace when I'm driving back from KCI on I-70 to Exit 313. It's a beautiful, beautiful place. I didn't always feel that way. You run away from it for a reason, and then you come home for a reason.
How is Sam in Somebody Somewhere different from your stage persona?
Well, my cabaret stage persona has found her voice, and Sam has not found her voice—she has lost it. The idea for the show was: What if Bridgett had stayed in Kansas versus moving to New York?
Sam is at a point in her life where I was probably like ten years ago, just feeling a little lost, a little underwater, and a lot sad.
Fred Rococo is my favorite character next to Sam. Was Fred inspired by someone in your life?
Oh, yeah. Fred is inspired by Murray Hill, who happens to be one of my best friends in New York. He was the only person that didn't have to audition for the part. It was written for him. I'm desperate to bring Fred-slash-Murray back to Manhattan sometime.
Have you ever done one of your cabaret shows in Manhattan?
I haven't. I've performed in Lawrence and Kansas City. You know, my live show is pretty wild. [Laughs.]
Yes it is.
I don't want to put that on my brother and mom who still live there. Although I don't think they would care, I think they'd love it. I will eventually. Maybe something at the Wareham [Opera House] would be a fun coming-home.
In 2017, you said in an interview: "I just want to curl up and sit in the darkness when I'm not onstage." You're also really honest onstage about the traumatic aspects of your childhood with a father who left when you were little and a mom who was bitter and felt trapped. Do you struggle with depression, and if so, do you deal with it in other ways than working through it in your art?
Yeah, I do struggle with depression. There's probably a lot of people who, when the world stopped, had to face a certain amount of that as well. I think that the live show and the TV show are a way for me to feel alive and present and happy and awake. So not having that for so long has definitely been challenging.
I think if you feel things in a big way, there's sort of like no more alive or awake that I can be than when I'm on stage doing shows, because they're very personal. So, when I come home it's just like—you know—it doesn't always feel like there's a lot left, so I just sort of conserve and wait till the next time I get to do it.
I just actually finished a run of shows. I performed six nights last week, and it was the first time in two years, and I honestly feel like a different person. You know, I felt like I lost my ability to do it, and Covid makes it more challenging, but we had six incredible shows, sold out, and I felt like I plugged back in.
Are you single?
Yeah. [Laughs.] Why, do you know somebody?
I was just wondering what dating is like for someone that does cabaret like yours that is so raw and sexual.
If you're asking if I have ever hooked up with anybody after a show, I have one time and that was it. [Laughs.] I'm not like a rock star.
I wasn't asking that, but thanks for the bonus content.
No, I'm single and when I had Poppy, my dog, we were pretty devoted to each other and that was good, but, who knows, maybe love's out there waiting for me right around the corner.
Being single and also wrestling with depression, the lockdown portion of Covid must have been hell.
Well, I had Poppy, and she was a real comfort to me. And I really loved every night the seven o'clock cheers that we did for the essential workers, when you go and see all your neighbors hanging out the window, banging pots and pans. I have great friends and a full life. It's not like I'm depressed every single day. The waves come and the waves go, and I just try to get lots of Vitamin D and be grateful for what I have.
''I think showing a woman with a plus-size body in a swimsuit and not making it a point of discussion is really important."
One of my favorite scenes in the new show is watching Sam in a bathing suit dive into a pool. We see her from an underwater camera swimming freestyle and doing flip-turns at the wall. I read that you used to swim competitively, and I wondered what made you want to do that scene.
Well, Sam has just met Joel, and I think it's her wanting to get back to feeling alive again, to do the things that used to make her feel good. It's something she can do by herself to kind of test the waters and dive back into life. That sounds super cheesy but it's the only thing I can think of right now. [Laughs.]
That obvious angle escaped me. I was struck by the fact that you are six feet tall and a big, curvy woman, and to put on a bathing suit, not for your cabaret show, where you are very free with your body, but for a TV program that goes into people's living rooms…
Right, yes.
To me it's a powerful image about body acceptance.
Yes, that's very important to us, to show it's just another body in a swimsuit, it's not a big deal. I realize, of course, it is a big deal. I think showing a woman with a plus-size body in a swimsuit and not making it a point of discussion is really important.
And showing that a woman with a plus-size body can be athletic.
Yes, that was also important to us. To show that just because you are plus-size, it doesn't mean you don't have strength and power.
Without giving too much away, it seems like there is a lot of mystery around Holly, the sister that died. Why did you create a key character who isn't really there?
I think there will always be moments of Holly that are tender nerves for Sam. It may drive her less as time goes on, but it's definitely part of her bones now.
The thing about grief is that it never really goes away. It becomes a part of your fabric. You wish it would go away—well, you do and you don't.
I've been reading a lot about grief lately, and some people say that the grief is just a reminder that the love is still there. So, you don't want it to go away because you don't want them to go away. But I do hope that over time some of this gets a little easier.
Interview condensed and minimally edited for clarity.