Some things are synonymous with Christmas—such as presents, sugar cookies, and tinsel. Another staple? Watching the wayward adventures of the Griswold family in the 1989 holiday classic National Lampoon's Christmas Vacation.

This Saturday, Chevy Chase (Clark) and Beverly D'Angelo (Ellen) will lead audiences through a live, virtual retrospective event as they share fan-favorite clips from the movie, reveal their favorite memories from the making of the Vacation franchise and answer your questions in a live audience Q & A. It all happens November 28th at 7 p.m. Tickets are $25 and are on sale now at www.cabledahmerarena.com.
We chatted up D'Angelo about the film and what it means to her—and, more importantly, why it remains a crowd favorite more than 30 years after its release.

Riddle me this, when you were making the film back in the late 80s, did you have any idea you'd be talking about its popularity three decades later?
"No, none whatsoever. Maybe some people do. But as an actor, I never thought in terms of the future. It's a wonderful thing—a wonderful thing that people relate to the Griswolds, and we're still enjoying watching that family go through what they go through.
I have a little theory. I always thought those movies are a love story. Clark loved his family, Ellen loved Clark, and love found a way in the end. No matter how rough things got for them, they never really broke apart. Everybody likes that sentiment."
John Hughes was a masterful storyteller. Very clever. What do you remember about him?
"How kind he was—especially in the setting of Hollywood. He was very human and kind.  He had a lot of success in Hollywood—and then decided to base himself back in his hometown of Chicago, which is kind of unusual when you think about how much success he had. He kept working, of course, but he wanted to be at home, so he set up everything back in Chicago. He understood the hometown concept."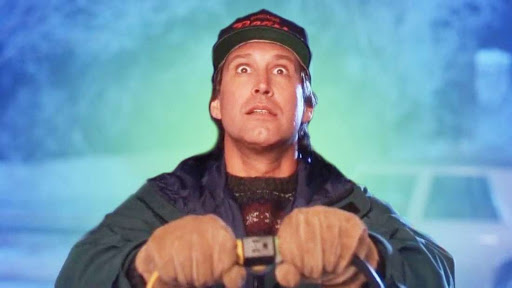 Whenever Christmas Vacation comes on, do you have to plop down and watch it for a while? I know I do.
"That's so sweet of you. Now I think we're in an era of entertainment on demand—but I think we might watch it this Christmas. It feels weird to watch movies that you're in. [Laughs] But I love it when I've shown it to my friends or kids. I've enjoyed watching it."
Do you have a favorite scene in the movie?
"I like that scene where Chevy and I are in bed and he's got the resin on his fingers and he's turning pages and it sticks to the pages and to my hair. You know that was his idea—to have that going on while were talking. (Ha! That's my favorite scene! Did Chevy yank out some of your hair during all those takes?) He didn't yank out any hair. And I can't remember what was on his hands. Maybe honey or something? I'll have to ask him."
A couple of reader questions for you. Were there any scenes that were left on the cutting room floor?
"Gosh, I don't think so. It was such a good script. We shot the whole script. John Hughes had a way of writing a script that you could see it when you read it—and all you had to do was shoot the scenes he wrote. I doubt if anything was cut."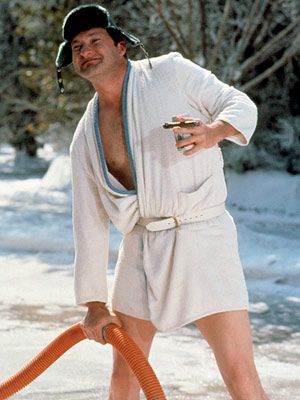 Can we talk Randy Quaid for a minute? He was trending on Twitter a couple of days ago. Do you two still keep in contact?
"I think he's lost his mind. I think he's crazier, I mean—actually, it's funny because Randy said he didn't like playing Cousin Eddie. This is back when I was in touch with him. Also, I did A Streetcar Named Desire with him and we both got nominated for Emmys for that. I've worked with him in comedy and drama, but I remember by Christmas Vacation he said he didn't like playing a redneck—or something like that. Same thing on Vegas. He looked down on this role even though I think it arguably—and he's a wonderful actor—but I think it's the role that arguably made him famous.
It's tragically funny to me how the persona he throws out there with his social media is so perfect for Eddie. He got retweeted a lot. Just in general, it's scary when people are narrow-minded about anything. Who knows what he's up to—but it's very Cousin Eddie of him."

Do you enjoy performing in comedies more or dramas?
"You know what's funny, my process as an actor is the same. Whether the material is viewed as comedy or drama, my work is the same. I take it seriously no matter what. I know for example Chevy can make stuff funny. No matter what you give them it's going to be funny. I think of myself as an actor—and my goal is to deliver what the writer wrote."
Finally, what should folks expect from the virtual Christmas Vacation get-together on Saturday?
"I'm really excited about the virtual Griswold Christmas. I'm excited to catch up with Chevy—and I think everyone will feel like they are part of the family."
Interview minimally edited for clarity and context.