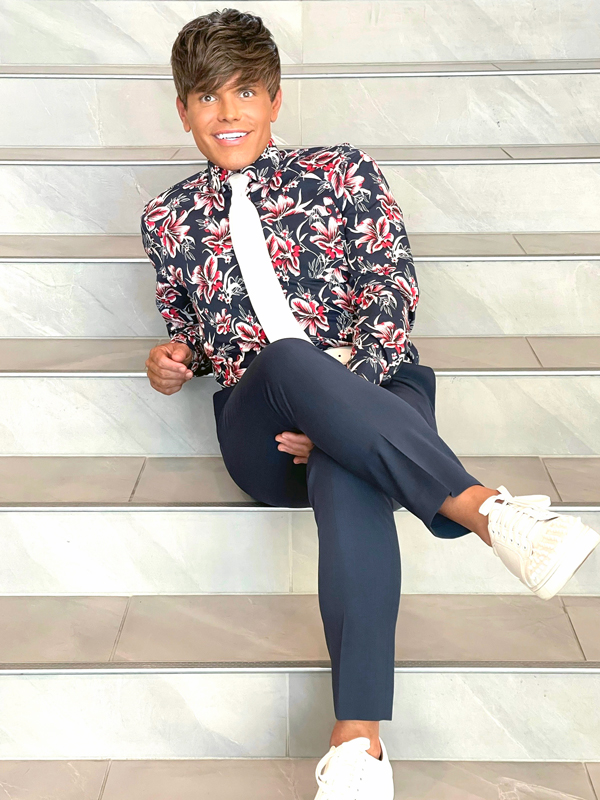 Nearly a decade ago, Ryan Wesley was reaching the pinnacle of the entertainment career he had dreamed of since he performed on stage for the first time at Shawnee's Theatre in the Park at age 12.
After performing in the Broadway shows Aida and South Pacific and embarking on national Broadway tours that landed him in Los Angeles, Wesley began working in cosmetic dermatology and dabbled in a music recording career as Ryan W Music. In 2007, Wesley returned home to Kansas City to care for his mom after she experienced a catastrophic stroke.
"I flew back to Kansas City and took care of my mom for nine years here," says Wesley. "During that time, I really got to focus on my music. I was signed to a record label in Europe and became the dance music artist I always wanted to be. I always wanted to do music that would make people dance and be happy."
While Wesley traveled occasionally for performances, he did most of his music recording and production from Kansas City so he could continue to care for his mom. 
"It was an outlet for me to go out and perform and do those things," Wesley says. "I shot a viral music video, and I got to work with Brad Rushing, the same videographer who did videos with Britney Spears and Jennifer Lopez. I made that all happen here in Kansas City."
Life was working out well for Wesley until a series of life-altering events unfolded in 2016. One day, Wesley noticed he had lumps on his neck, and soon after he was diagnosed with stage two Hodgkin's Lymphoma. Wesley put his music career on hold to begin chemo treatments, and after his third round of chemo, Wesley's mom passed away.
"After my mom died, I literally had no idea what I was doing to do," Wesley says. "I was unemployed because I had been taking care of her, and I wasn't doing my music. So, I did what I knew to do best: go back and make people's lives better with cosmetic dermatology and med spa."
In 2017, Wesley joined Kansas City's KMC Dermatology and Medical Spa where he still works today. When Wesley started at KMC, he was still fighting an uphill battle. Two years into cancer treatments, he had to have heart surgery due to damage caused by the treatments. Then, Wesley learned he was on the brink of being evicted from his childhood home where he had cared for his mother for nearly a decade. 
Fast forward to 2022, and Wesley has beat cancer, won back control of his childhood home, and he's appearing on a new television show from TLC.
"I call this my second act. Sometimes really bad stuff happens, but there is light at the end of the tunnel," Wesley says. "Life has gone on, and I am in a much better space. I look at life differently now. If I sit down and I think 'I'm bored.' I'm glad I have the opportunity to be bored. I'm grateful to have opportunities—good and bad—that I'm still here to witness. The stuff I went through was terrible, but you can get through it."
Now, Wesley is KMC's MedSpa director, and his two worlds of cosmetic dermatology and entertainment are colliding in Bad Hair Day, TLC's newest reality show that follows patients with hair-related disorders.
In Bad Hair Day, patients consult three hair restoration experts across the country including Meena Singh, KMC's dermatologic surgeon, who specializes in hair restoration and hair transplant practices for the KMC Hair Center. Throughout the first season of the show, Wesley is on camera as Singh's sidekick—a worthy role for Wesley, as his history with Singh dates back to elementary school when the two were classmates.
"People will see me as the fun character that entertains, keeps the clinic lively, and keeps things upbeat and fun," Wesley says. "Sometimes a patient's struggle is deeper than we know, and it's been eye-opening to see how much we change people's lives. A lot of time patients will go on and you may not hear from them, but in Bad Hair Day you get to see the patient's journey and story."
Bad Hair Day premieres on TLC on August 24. Follow Wesley on Instagram @ryanwmusic.