You know her as the sassy pastor featured in that infamous 2019 Head & Shoulders Super Bowl commercial who would jump in her bright pink mobile wedding van and marry Kansan Citians in fun, off-the-wall places.
Well, she's at it again.
Kansas City Chiefs fan and owner of KC Weddings 2 Go, pastor Nancy Kerr, loaded up her van and headed to Tampa. Why, one might ask, did she make the 19+ hour trip? She has one mission—to officiate a vow renewal ceremony for 15 lucky KC Chiefs fans at the Run it Back 2 Back BBQ Tour VIP charity dinner and concert event. We caught up with the "I'll marry you anywhere any time" Pastor Nancy and here's what we found:

What's the scoop? Why did you decide to jump in your van and head to Tampa?
"Well, you know I just love the Kansas City Chiefs—and I love to see happy couples. I'm a big football fan and I thought this would be a great adventure to be in Tampa for the big game. And what would make this even better is if I could find some couples who wanted to have some fun and renew their vows. Luckily, I found the Run it Back 2 Back BBQ Tour on the Arrowhead South Facebook group and the organizers welcomed me with open arms to the event. So, just like that, at a moment's notice, I was in the van and headed off to Tampa."

Tell us about your adventures on the road!
"KC Wolf, Pastor Jane and I left Kansas City on Tuesday.  We went through St. Louis, Nashville, and Atlanta before arriving in Tampa on Thursday. Of course, we had to sightsee on the way down. We visited the Gateway Arch, Music Row and the Nashville stadium. Just outside of Atlanta, we stopped at a Waffle House and met lots of great people. One guy even made it a point to stop us and get a picture. It's just been so great to see all the Chiefs fans along the way, and everyone was excited to see the wedding wagon, as we call it."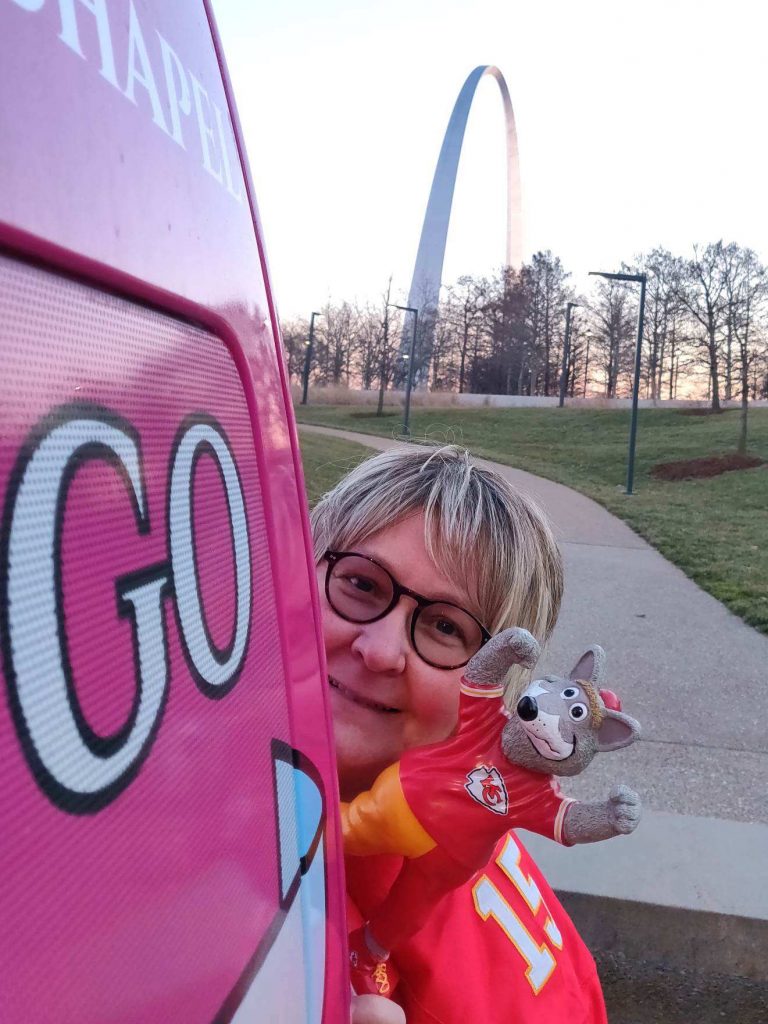 What is the Run it Back 2 Back BBQ Tour?
"It's a super cool two-day event for Chiefs fans in Tampa, sponsored in part by the Kansas City BBQ Society. There's a concert by Blane Howard both nights. (Editor's note: We just profiled him earlier this week!) Organizers are giving away free tickets to frontline workers, which I think is great. There will be real KC barbecue and some Florida barbecue. Proceeds will go to benefit the Kansas City BBQ Society Scholarship and the Bill Edward's Foundation for the Arts. And it all takes place in an outdoor stadium with all the proper CDC protocols in place."
Girl! Do you have tickets to the Super Bowl?!?
"No, I do not. But to just be in Tampa with fellow Chiefs fans cheering on our team is enough for me."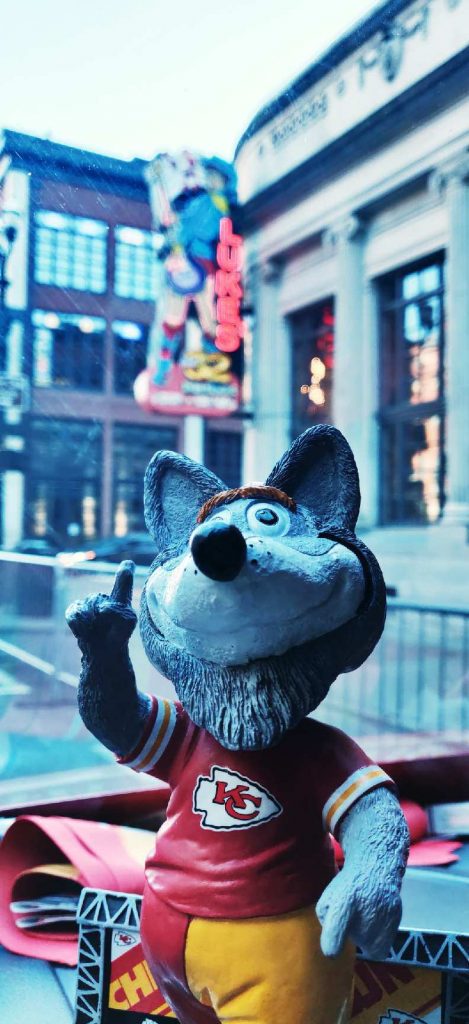 Details:
Run It Back 2 Back BBQ Tour VIP event
Saturday, February 6
Al Lang Stadium in St. Petersburg, FL
If you or someone you know would like to participate, simply contact KC Weddings 2 Go. It's free to participate. Check out the Arrowhead South Facebook group for more details or call KC Weddings 2 Go at 913-244-8528.