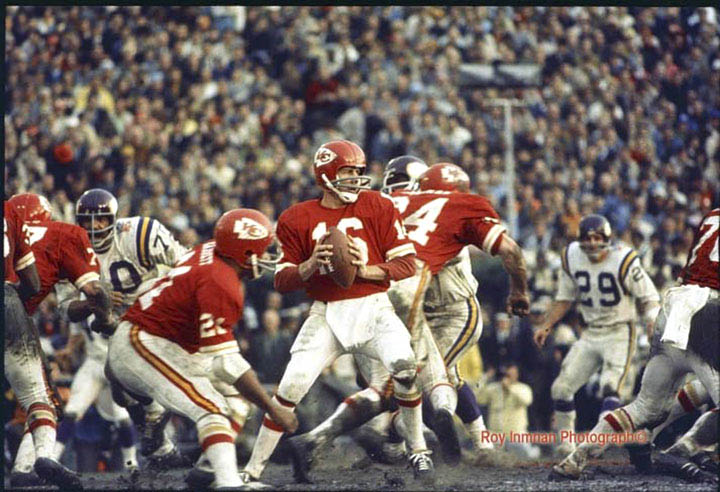 Photographer Roy Inman has been around forever—and a Chiefs fan even longer. To prove it, he sent us some amazing sideline pics from when he shot Super Bowl IV way, way back in 1970. Talk about a blast from the past. (The fashion! The gear!) When the Kansas City Chiefs beat the Minnesota Vikings, 23-7 back then, it was a big deal. But it's nothing compared to the Chiefs fever running amok in the city this month.
Inman shot eight rolls of Ektachrome that day. Some of these images and a few from the subsequent rally "have never seen the light of print," says Inman. Here are just a few of the retro moments he captured including one perfectly timed action shot of Len Dawson (above). "We set up a Kodak Carousel projector in the tiny magazine darkroom and started clicking through images. Despite being displayed as it was on the middle-yellow darkroom wall and partially interrupted by my Nikon calendar for 1970, the photo popped out from all the others."
The Super Bowl piece is one of the entries to be included in Inman's forthcoming book: Flashbacks: Tales From the Life and Times of an Old-Fashioned-Fire-Eating-Press-Photographer Wannabe.