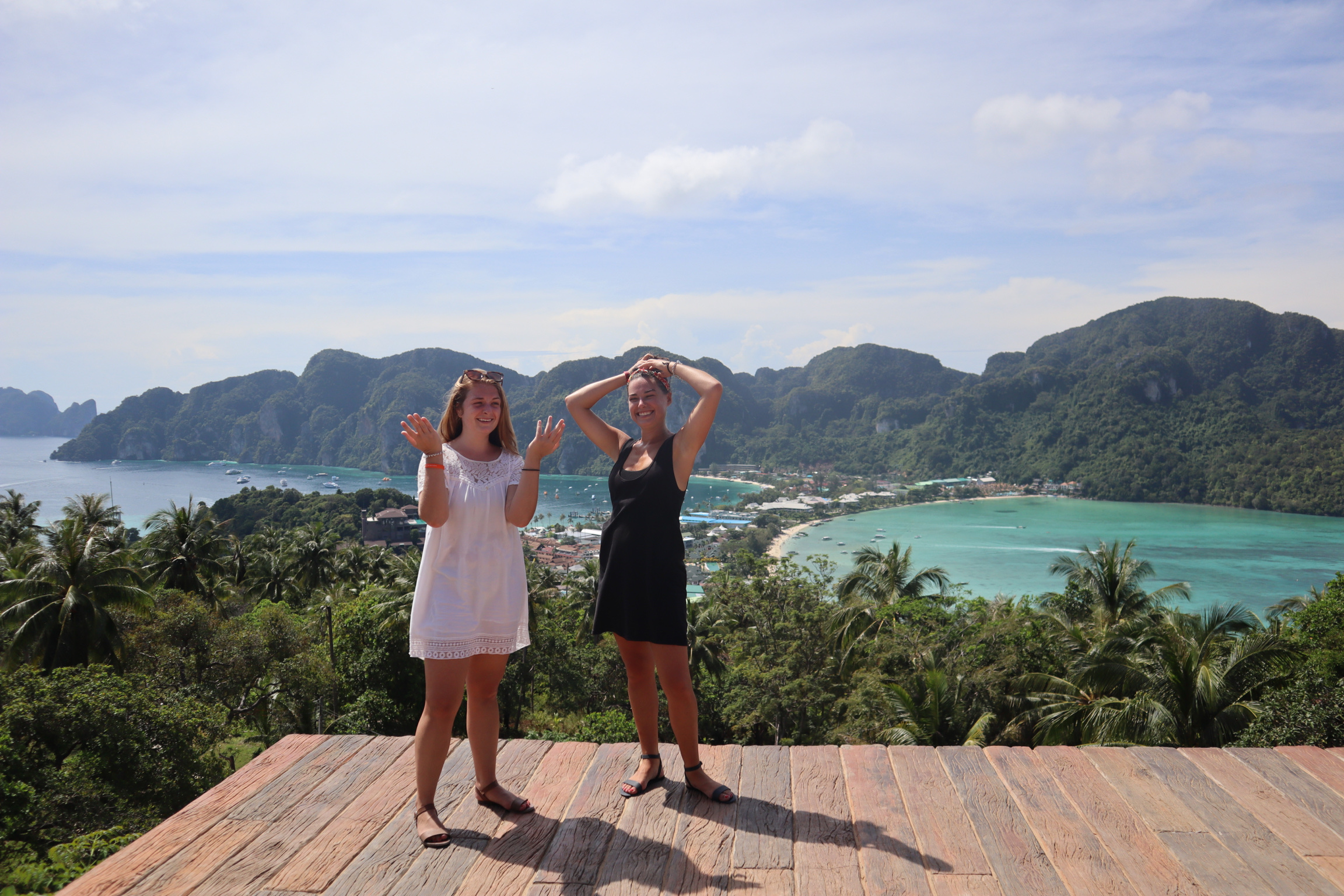 Our two favorite adventurers, Kim Farrell and Mady Johnston, had a crazy idea this summer. They quit their respective jobs, hocked all their belongings to begin a devil-may-care, 18-month journey around the world. Now they're skipping around parts unknown and brazenly enjoying wherever the wind takes them. IN Kansas City is following these two travel buddies from Overland Park on their epic adventure.

Since we last checked in with Kim and Mady, Kim took a quick flight back to KC to surprise her family for Thanksgiving while Mady continued island hopping around the Philippines. The girls reunited in Thailand, where they have spent the last nine days eating their way through street-food markets, boating around the Andaman Sea, sleeping occasionally and finally exploring Thailand's tourist hot spots: Phuket, Phi Phi and Krabi.
What adventures have they had? First up, read up on some quick stories and travel highlights on their last two weeks—and look out for their next globetrotting update in the coming weeks.
Kim: "It was a quick two weeks home for Thanksgiving and then I was back at the airport to meet Mady in Phuket, Thailand. What was supposed to be a 26-hour travel day from Kansas City to Las Vegas to Los Angeles to Hong Kong to Phuket was much, much longer. I made it to LA and was greeted with the news that my flight to Hong Kong was cancelled.
This triggered a fun chain of events starting with 18 hours at LAX, followed by a hotel stay in Hong Kong and finally making it to Phuket about 48 hours later. But in the end, I was met with the biggest hug and a hot plate of Pad Thai—really no better greeting in my book!"

Mady: "You guys! We went to another monkey beach and tried to get a picture with wild monkeys again. We will seriously never learn (read about our experience with monkeys in Malaysia here). Pro tip from this time around: vicious monkeys and gnarly hangovers do not mix well. First sight of fangs and I vomited on the beach. Maybe third time is the charm? Look out for an update when we visit Bali this summer. Maybe."

Currently in: Bangkok, Thailand
+13 hours ahead of Kansas City
Learn the Lingo:
Chang: Elephant
Phed-Mark: Very Spicy!
Pob-Kun-Mai: See you again

Last thing you ate?
Airport Lounge Noms – ฿0 THB($0 USD)
Kim: "How did we get access to the lounge?! Using Priority Pass, one of the perks from the Chase Sapphire Reserve credit card. This hands down has been one of our favorite travel tools this trip. It grants us to entrance into any airport lounge that takes Priority Pass, which gives us access to food, drinks, alcoholic beverages, WiFi, showers, and comfy seats while we wait for our flights. If we had to guess, this has saved us each a minimum of $25 each time we fly— keeping our bellies and wallets full!"
Last thing you bought?
A lunch for three (for the two of us) at Dean & Deluca– ฿982 THB ($29.96 USD)

Kim: "When you can no longer get Dean & Deluca at Town Center Plaza in Leawood (very sad!!), the only answer is to head over to Bangkok to enjoy a delicious taste of home—no matter the price tag. Probably not our smartest budget move, but the food held up to exactly what we remembered. In our defense, the bill definitely came in lower than if we would have ordered the same items back on our home turf in Leawood. In the words of the Thai—the experience was 'same same, but different.'"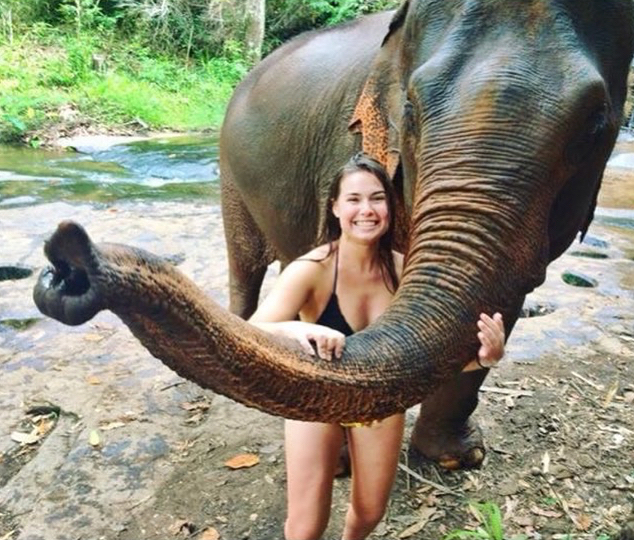 Learn the Lay of the Land:
Kim: "Elephants. The elephant is a very important animal to Thailand and with that has become a main attraction for tourists. And let's get real—did you really go to Thailand if you didn't post a picture with an elephant? We'll let you answer that.
So on our trip to Thailand in 2015, we were obviously keen to ride some elephants and get some epic photos for the Gram. After a little more research, we learned that elephants go through a torture process called Phajaan (to crush) before humans can ride them. If you go on a tour that allows people to ride the elephants, it's a guarantee that the elephants are being abused. Needless to say we no longer wanted to ride an elephant and instead started looking at sanctuaries that promote elephant rehabilitation.
We booked through Elephant Jungle Sanctuary, where we spent the day feeding, bathing and taking care of the elephants that were free roaming through the jungle. It was hands-down one of our best experiences to date! If you are planning to go to Thailand and are looking to hang out with elephants, head over to Chiang Mai and please book through an elephant sanctuary. Do try to opt out of going to places where you can ride the elephants. I promise you can still get a good photo for your Instagram feed that doesn't include suspected animal torture."
Last Night's Stay + Cost:
Ibiza House Hostel– $12.80 USD/night
Many: "Phi Phi Island attracts two kinds of people: (1) resort travelers looking for a tropical getaway on a quaint island or (2) ratchet backpackers looking for a nonstop party, no sleep, cheap food, and alcohol served in buckets. We're obviously the first option. Obviously.
This hostel is known for throwing an epic eight-hour pool party every Tuesday, Thursday, and Sunday. Knowing that we'd be in Phi Phi on a Sunday, it only made sense to stay here. However, come Sunday we were in a self-induced sleep coma and actually didn't make an appearance at the pool party until 7p.m. Oops. But hey, we caught the last two hours of it!"
Wizard of Oz Tally: 58 (and counting)
"While we know Kansas City has a lot to offer, the majority of the world immediately affiliates us with one thing—The Wizard of Oz. We're keeping a real-time tracker of all the Dorothy, Toto, and tornado references made to us along the way."
Kim: "After saying we're from Kansas, our Australian friend goes 'click, click, click—you're not in Kansas anymore' while physically clicking his heels together. Touché."
Next up?
Mady: "We're moving on to Australia! Yay! I fell in love with Australia when I visited in 2016, so I'm excited to go back and show Kim some of my favorite spots, plus experience new places together. We'll begin by travelling down the east coast and hit hot spots like Airlie Beach, the Whitsundays, Fraser Island, Byron Bay, Surfer's Paradise, and end in Sydney to celebrate New Year's Eve. While we're excited for all these spots, the highlights will definitely be (1) spending Christmas in Byron Bay where we'll be meeting up with friends back home and (2) experiencing the Sydney New Year's Eve fireworks show over the Harbour Bridge.
Australia will be home for us until the end of January, so if you're interested in seeing/learning more about this amazing country, you are in for a treat."
Follow the girls in real time on Instagram via @kimfarrell10 and @aboutlastflight.