Who would have thought that the best thing that happened to golf in the past year was the pandemic? As activities all over the world shut down because of restrictions, the sport that is played outdoors, in small groups—even alone—flourished. The 2021 season is off to an even better start as vaccinations become more prevalent and cities in the five-county metro area ease Covid 19 restrictions.
You want a tee time today, out of luck.
Tomorrow, same thing, most likely.
At the onset of the pandemic, it seemed as if golf would be as victimized as other sports and businesses. And it was. Courses shut down. Country-club restaurants closed. Social events at the clubs were canceled. The spring golf season for high schools and colleges was shut down. State tournaments were canceled. USGA tournaments in the Kansas City area were postponed. Many charity golf events—the lifeblood of not-for-profit organizations—were postponed or outright canceled.
But as the gloom of April turned into May, and scientists learned more about Covid 19, it became clear very quickly that golf was a sport unlike most others. Golf course parking lots became jam-packed. The courses were filled, as they continue to be today, and there was no daytime lull as work-at-home moms and dads found ways to steal several hours in the afternoon without the watchful eyes of a boss to keep them chained to a desk.
"Golf was on the rise because everything else was gone," says Karter Mills, general manager of Minor Park Golf Course, one of the five courses under the umbrella of the Kansas City Parks department. "Golf is outside, it's very easy to social distance. There were changes. We removed benches around the course. We were walk-only when we first reopened. But I worked more in the last year than at any time in my career."
The same thing happened across state line. Curt Nelson, general manager of St. Andrews in Overland Park, says the course closed on March 12, 2020 and reopened a week later with very limited tee times. Immediately they were filled.
"We had a touchless golf experience," he says. "We removed rakes from all the traps, took away benches, ball washers. Only took tee times and payment over the phone. We limited it to every other tee time to enhance social distancing because we just didn't know what was going to happen with the virus."
When the courses went to normal tee-time schedules on May 22, "They gobbled up the tee times. When we opened up, the phones just went crazy, and we haven't slowed down a bit since then."
Central Links Golf, the governing organization for USGA-sponsored tournaments in the Kansas City area, lost some of their tournaments in May. But by June, everything was up and running. Postponed tournaments were rescheduled later in the year.
"We were sold out in nearly every event," says Doug Haber, the executive director. "The only effect on our tournament was that there were some limitations. We did everything we could to limit any exposure. We didn't allow caddies at the tournaments. We don't really get many spectators, but we limited the number of them. We allowed players to be in a cart if they requested. We didn't have scoreboards where people would congregate. We did all of that electronically."
Following several of the sanctioned tournaments, some players called in and reported they tested positive for Covid 19 after they returned home.
"They had not been exposed at the tournament, but we were really diligent about contacting everyone that had been around them," Haber says. "Nobody else got Covid from that exposure. This year, we're still going to avoid large indoor gatherings at our tournaments. We will still not be doing scoreboards where everyone typically gathers. But we're going to allow caddies and spectators and just try to be smart about it."
Golf courses are busier than ever. Tee times are at a premium. Before Covid, there was typically a lull in the number of players on the golf course between 1 and 3 p.m. Morning rounds were finished. Afternoon rounds hadn't started until later in the afternoon.
That wasn't the case last year—nor is it this year.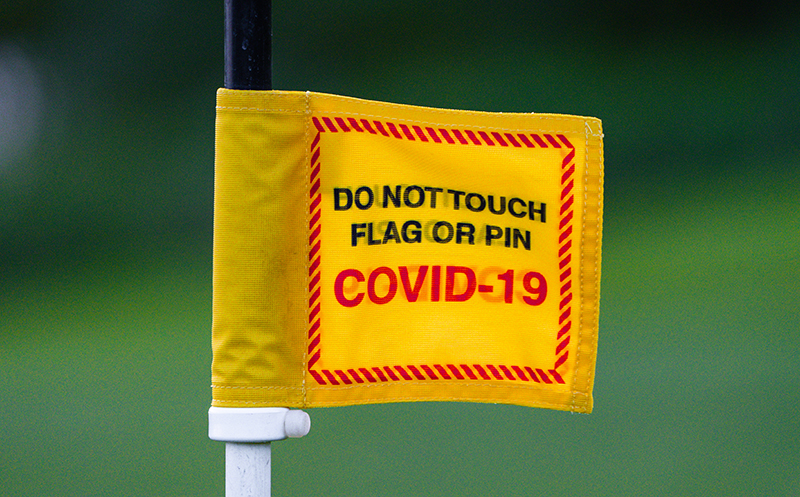 "With people working from home, some people would slip out earlier in the day and adjust their work schedule," Mills says. "We had salesmen—who weren't making in-person calls to clients—who told us that with their phone they could still conduct work if something came up."
Local increase in golfing rounds also can be attributed to lack of travel opportunities. With the world closed down, that long-awaited trip to St. Andrews or Hawaii or even Bandon Dunes in Oregon was put on hold because of other travel restrictions. The result: more play on your local course.
"People have discretionary money," Nelson says. "And they are going to spend it somewhere. Golf benefitted from that."
Nationally the biggest increase in the number of rounds play came from 35- to 49-year olds—people in the prime of their careers. More than two out of three attributed their increased play to lack of recreational alternatives. Among older golfers, more at risk for the virus, the number of rounds dropped. That has changed this year. Older golfers are back in droves.
While much of the increase came from regular golfers, Mills said he taught more beginner lessons than ever before in his career.
"They weren't all beginners," Mills says. "Some were brand new to golf, others were players who haven't played in a long time and were coming back to the game. They would take lessons to get started again."
Nelson agreed, saying: "People who had quit playing over the years started playing again because they didn't have any place else to go."
There is still a challenge, to be sure. When there were no baseball games to attend during the summer, golfers golfed. During the fall, when many golfers would normally attend college football games or Chiefs games and tailgate before and after, attendance was limited and tailgating curbed. So, they golfed, then went home and watched the games on TV.
Work rules may be different this year as offices reopen and bosses are around to look over your shoulder. But so far, the tee times remain at a premium, and nobody thinks it's going to change the remainder of this year.
"All the national research seemed to indicate that golfers who were playing on Saturday or Sunday were now playing Tuesday or Wednesday and Saturday," Haber says. "So it will depend on what the work situation looks like and whether people go back to their offices. Last year you could just schedule your round of golf around your Zoom call.
"In the fall, the numbers usually dipped. It will be interesting to see how the year goes. People are going to be back to tailgating and going to football games," Haber says. "So it will be interesting to see if that has any impact on the number of rounds played, But we expect it to be another year of really good participation in golf."
"I expect people are going to find places they can spend their money," Nelson says. "But we're already ahead of where we were before the pandemic. I think the pace will continue through 2021. Next year, we'll see."
There still are restrictions in effect. Masks—per city or county order—are required to be worn indoors inside the clubhouse, though enforcement is sketchy at most courses. Go to the website of a public course and the first thing you are likely to see is what restrictions are in place. If not on the front page, there is a link to tell you what the restrictions are.
The initial slowdown was not only true locally, but nationally. In March 2020, the first month of lockdowns and the month that golf season normally begins heating up, the number of rounds of golf were down nationally by eight percent. In April, the number was 42 percent lower than in the previous April. Already the year had spiraled down 16 percent from 2019. But by then the medical community was starting to learn more about transmission of the virus. It quickly became apparent that golf might be the perfect activity in a socially distanced world.
"It's really pretty amazing," Mills says. "Golf had kind of slowed down. Most people see it as expensive and time consuming and they were doing other things. It revitalized the sport. You see it on the courses, you see it at Top Golf, the driving ranges, golf apparel, golf clubs."
The pandemic instigated a resurgence in outdoor activity, including on the golf course.
---

Picking up the Clubs
Adults aren't the only ones hitting the course. The demand for junior golf is also at one of its highest levels ever this summer. Enrollment in the First Tee program in the Kansas City area is sold out, and the numbers in the Youth on Course program is also booming.
First Tee canceled its spring and summer programs in 2020 but was back up and running in the fall. Enrollment this past spring is 50 percent higher than in 2019. Ann Spivak, executive director of First Tee, says they could have more than doubled their numbers with a few more instructors. Demand for the summer session is off the charts, and First Tee is beating the bushes to find additional teachers for the program.
So many coaches hesitated coming back this spring because of Covid," Spivak says. "We're hoping many will return this summer. But even that won't be enough to meet the demand.
"In October, we were able to have kids on the golf course in masks," Spivak says. "We helped the kids when there was nothing else for them to do. They would walk away from that awful day in front of the computer, and by the end of the golf session, they would be happy. We literally became this sort of mental and physical safe haven for kids."
The two programs offer similar opportunities in youth development programs: leadership, character, confidence, responsibility, and respect through golf. Both offer a path to college scholarships. Classes in First Tee will be held at ten golf-course locations in the Kansas City area.
First Tee Kansas City: Phone, 913-648-7177; email firstteekc@gmail.com; or visit their website. 
Youth on Course: Phone 831-625-4653 or visit their website.