Preparing one's mind and body for a calming yoga practice is standard protocol. But imagine involving animals, storytime or an ice-cold beer. (Beer, people! Beer!) Those are just a few ventures that Kansas City yoga instructors now incorporate into their teachings—in and out of the studio.
Crack open a cold one and ready yourself for warrior pose, because alcohol has made its way to the yoga mat. Patti Stark, of Serenity on the Square, says the studio has hosted beer yoga for about six months at the Landing Eatery and Pub in Liberty, less than two miles from the studio—and, more recently, at the Dubliner in the Power & Light District. The events also feature live music, which Stark says adds a "whole new element of fun."
Initially, drinks were included after the practice, but instructors progressed to incorporating beverages into the practice with certain poses, as well as meditation. Beer yoga, according to Stark, allow instructors to "create the atmosphere" and bring their own element into the space.
"[Participants] still get all the elements of being in a studio," she says. "I enjoy being able to put all that together for them with live music. They actually get out of their head and into their hearts. And getting in a good practice, doing something they enjoy, having a beer with friends. For me, it's the real big community piece where everybody's connected."
At SEA LIFE Kansas City, yogis can choose their own adventure, so to speak, for their practice. Attendees are encouraged to set up their mat in front of "whatever attraction they want," according to Shannon McGinley, of CityShape Fitness.
McGinley reached out to the aquarium about hosting yoga, partly because CityShape's mission includes community involvement and finding ways for people to get out of their comfort zones. Holding yoga practices in the aquarium "makes for a very cool environment," McGinley says.
The instructor references the ocean as she leads sessions, and each participant receives headphones through which they can choose music to listen to while still hearing cues from the instructor.
"It becomes a very unique and personal experience for everybody," McGinley says. "Everybody has different experiences based on where they choose to sit in the aquarium." McGinley says some people are intimidated to walk into a yoga studio—and taking yoga into places like SEA LIFE can break down barriers. "A lot of people come to events who have never been to a yoga class before, and they really want to experience the entire thing," McGinley says.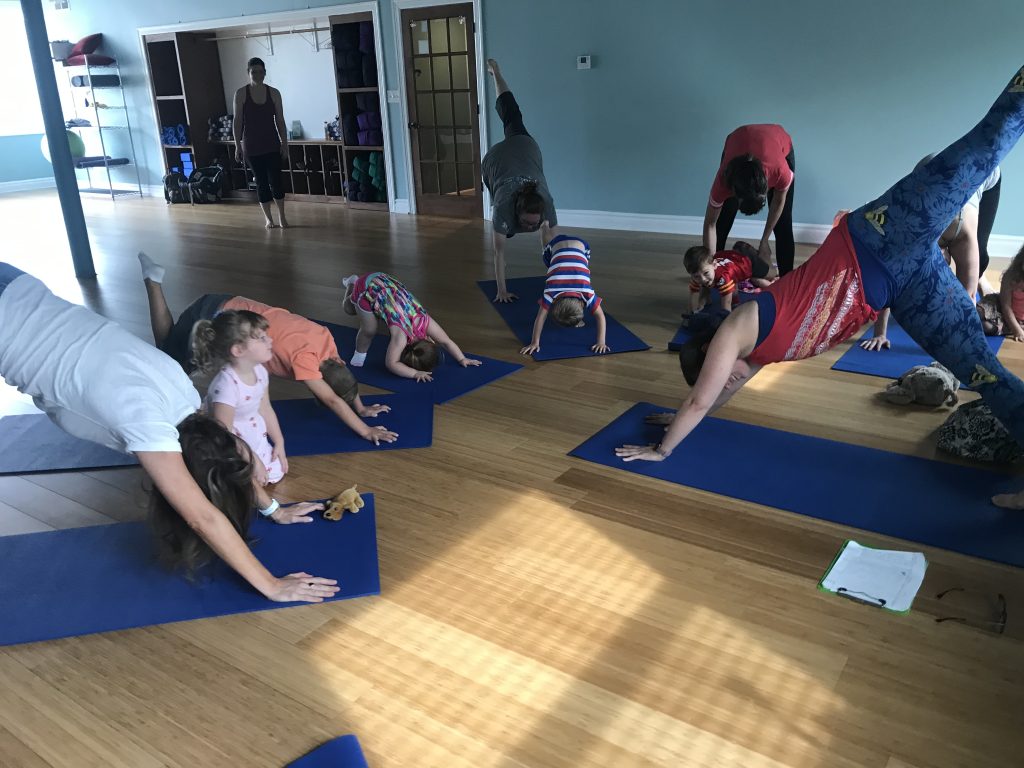 Storytime Yoga—For Big and Little Kids
Moms and dads looking to include their children in a yoga practice can do so at Full Circle Yoga on Troost Avenue. Alli Bernskoetter, also a children's librarian at the downtown library, leads those classes. She says bringing yoga and children's books together is "just a perfect blend." It incorporates early literacy skills, breathing activities that can help children calm themselves down, and physical activity (for parents and the child).
In one recent class, Bernskoetter read two animal-focused stories. Those types of books, she says, work "perfectly" with yoga because of the numerous animal poses that exist. So rather than end the session with "shavasana," or final resting pose, the children were "wrapped" in a cocoon (a yoga mat). Classes, which begin with an activity to get the children comfortable, are playful and "loud at times," according to Bernskoetter. This generation's youth, she says, are growing up watching their parents practice yoga, and the classes at Full Circle Yoga allow parents and children to bond through the exercise regimen, she says. Classes currently are for children ages 2 to 6.
Free your mind (for free) then enjoy Freestyle Poke, the River Market's Hawaian-influenced fare. The restaurant, owned by Jeremiah Dupin, incorporates wellness into its brand, including offering yoga to the community (and a discount for yogis immediately following the practice). Jesse Shroyer, of MyYogaKC, and fellow yogi Jesse Davis lead classes in the courtyard across the street from Freestyle.
When Freestyle was preparing to open the 100 percent gluten-free establishment, Shroyer contacted Dupin to express her excitement about the restaurant. He brought up offering free yoga, something he also instituted at an establishment in Dubai.
While the Kansas City area has plenty of studio options, Shroyer says that environment can be "a little intimidating" for those new to yoga or anyone who might have had a bad experience in a studio previously. "There's something about being outside I think that gives people a little more permission to feel like they don't have to be perfect," Shroyer says. Yoga at Freestyle Poke is for all levels and takes place every Tuesday at 6:25 p.m., weather permitting.
Yoga with (Furry) Friends
From goats to dogs, Kansas City yogis are equipped to incorporate some entertainment into yoga. Bar K, located on the Berkley Riverfront, offers doga—yoga with your lovin' pup. Shroyer leads those practices with her trusty dog companion, Rosa. Compared to traditional yoga, Shroyer says, doga is more about "learning to go with the flow."
"With dogs, I just always say it's about being present," Shroyer says. "It's about being joyful, and those are things that our dogs teach us to do every day. And that's really a lesson that we can take on to our mat in yoga and into our life in general."
Doga costs $15 for non-members and $10 for Bar K members. A complimentary mimosa is included with the purchase, which can be made at the door.
And we kid you not—goat yoga also has made its way to the metro. Zone 6 Fitness in North Kansas City, Mo., has partnered with Cinder Block Brewery and Windmill Acres Farm to host classes on the brewery's outdoor patio. No classes currently are scheduled at the brewery.