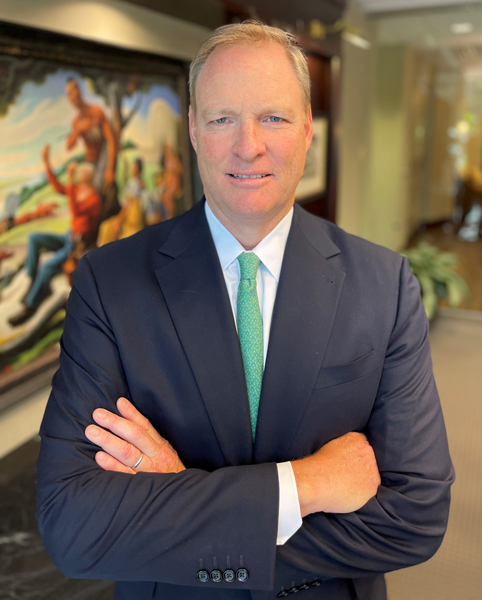 Sponsored Content
For Tom Freeman and his wife, Molly, success has always meant supporting the people and the community around them.
"It's something we've always done, and it's part of who we are," says Tom Freeman, the managing director and founder of FCS Private Wealth Management. "You start small, we always give what we can and still do. As our success has grown the numbers have gotten bigger, and we started having a bigger impact."
Recently, Freeman was named the 2022 John J. Sullivan, Jr. Foundation Humanitarian of the Year by the Kansas City Irish Center for following the legacy of John J. Sullivan. 
Sullivan was legendary in Kansas City for his humanitarian efforts as a banker who made loans based on his client's character rather than their collateral. He quickly became known for his integrity, generosity, and goodwill with the Kansas City community and its people, and the humanitarian award honors people who do the same.
"John was willing to take risks on people. He had a lot of success doing that, and he gave back a lot," Freeman says. "I believe giving back to our community and helping make our community a better place to live is important for everybody—and I believe in doing it in a way that other successful people can see that when you've had success, it's important to give back."
Over the years the Freemans have given to many organizations that support education and arts in the Kansas City area.
"We're big believers in ending poverty in our community, and the number one way to do that is through education," says Freeman. "Education has a ripple effect for healthier children and healthier lifestyles. I was born and raised in Kansas City. I love it. I'm always going to live here, and I want to give back and make the city a better place for everyone." 
Beyond education, he sees Kansas City's rich culture in the arts as a foundation for fostering community and education, as the arts—whether it be the Nelson-Atkins Museum, the Kansas City Symphony, or one of the city's other tremendous arts programs—make Kansas City a great place to live.
Leading by Example at FCS
Freeman's view on fostering community shines through at FCS where he and his team help others manage their wealth and meet financial needs and goals.
"Helping our clients has a ripple effect on the rest of the community. What we do philanthropically is what we do with our clients," he says. "We care about our clients and want to help them. We're going to do anything we can for them and help promote them in achieving whatever the purpose of their wealth is."
For 33 years, Freeman has dedicated his career to putting families first. The FCS Family Office focuses on four key areas:
Disciplined wealth management, focused on preserving the lifestyle their clients have earned

Family Advisory, helping to shape a family legacy

Tax-efficient investment strategies that make tax savings a priority

Trusted relationships that always put clients' best interests first to simplify their lives
Freeman started his career on the football field—he was an offensive lineman for the KC Chiefs—but even then, he was fascinated by the wealth management world.
"I've always been an investment advisor that also loved playing football," he says. "They have very similar foundations in that they take a tremendous amount of discipline and hard work to be the best, and they're part of a team where people trust that you're going to do what you said you'd do."
After Freeman left the football field, he graduated with a Master of Business Administration from the University of Notre Dame, and over the years he's continued to earn certifications from Harvard Business School, The Wharton School, and more.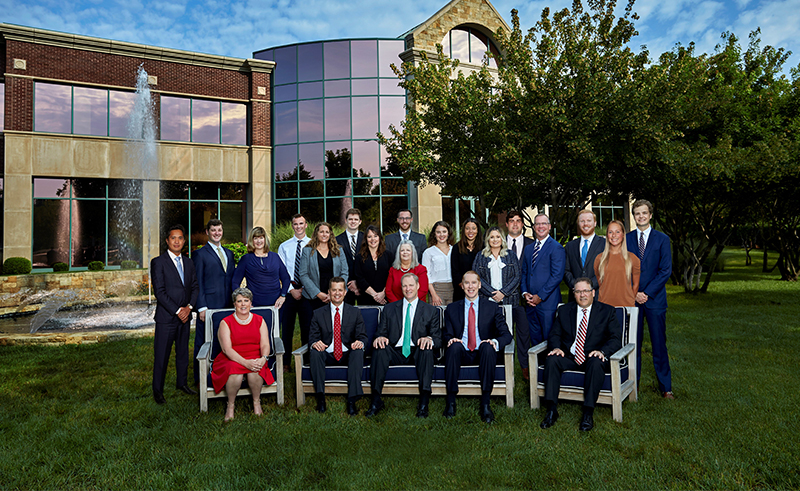 As Freeman's understanding of the business evolved, he found he really liked helping people and providing his expertise to clients, which continues to fuel his passion for the industry. 
He's been repeatedly recognized within the industry for various accolades. Most recently, he was named a 2022 Forbes Best-in-State Wealth Advisor, one of 2022 Barron's Top 1,200 Financial Advisors, and one of 2019 Financial Times 400 Top Financial Advisers.
The key to that success? Freeman says it's all about the client-to-advisor ratio. Freeman keeps the ratio low at FCS, so each client receives the time and attention to detail they deserve. Instead of a cookie-cutter approach, FCS clients get an individualized strategic plan to manage their wealth.
"I feel like I'm helping improve people's lives through what I do," says Freeman. "This business is very nuanced, and there's a lot of complexity that mystifies a lot of people, but it's very important. It dictates the kind of life people are going to have. Being honest, working hard, being good at what we do, and bringing it to our clients is very gratifying."
The 2021 Kansas City Irish Center John J. Sullivan Jr. Foundation Humanitarian Award is given annually to an honoree who exemplifies the legacy of John's ethical values, integrity, generosity and goodwill for this community and its people.
The Forbes Best-In-State Wealth Advisors ranking algorithm is based on industry experience, interviews, compliance records, assets under management, revenue and other criteria by SHOOK Research, LLC, which does not receive compensation from the advisors or their firms in exchange for placement on a ranking. Investment performance is not a criterion. 
The Financial Times 400 Top Financial Advisers rankings are based on data provided by investment firms. Factors include assets under management, experience, industry certifications, online accessibility and compliance record. Investment performance and financial advisor production are not explicit components. 
The Barron's Top 1,200 Advisors rankings are based on assets under management, revenue generated for the advisors' firms, and the quality of the advisors' practices.
Investment products and services are offered through Wells Fargo Advisors Financial Network, LLC (WFAFN), Member SIPC.  FCS Private Wealth Management is a separate entity from WFAFN.