Sponsored content:

Brace yourself for some surprising news.
Did you know that, in the era of dinosaurs, Kansas City was underwater? The land later underwent a transformation to jungle before evolving into the more familiar prairie terrain that we know today.
This information—along with other mind-boggling trivia—awaits within the soaring, glass-covered Museum at Prairiefire, which specializes in exhibits on natural history, arts, and science.
Before we peek inside, let's talk about the glass exterior. The eye-catching array of geometric panels is created from NASA-developed dichroic glass, the same glass that's used in the visors of astronaut helmets.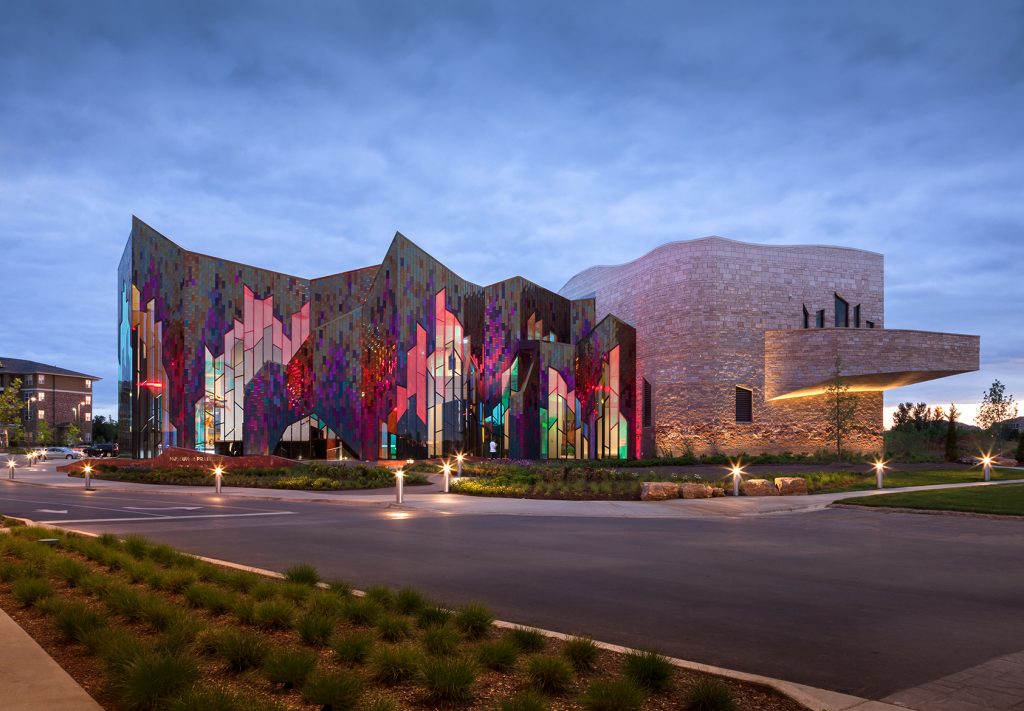 As sunlight moves over the glass and iridescent stainless steel exterior, the colors effortlessly morph into a vibrant spectrum that collectively evokes the brilliantly colored flames of prairie burns. The MAP was the first building in North America to use dichroic glass.
Once you've taken a surplus of selfies outside the MAP, all sorts of exhibits—including interactive opportunities—await inside. Some parts of the MAP required paid admission, but other exhibits—including the towering Tyrannosaurus Rex skeleton in the Great Hall—are free, part of the MAP's primary mission.
"We want to provide access for all," says Terri Thompson, the director of development and community engagement for MAP. Consider, for example, that the MAP provides free admission to veterans, active military and their guests, a strategic decision that Thompson says is a critical part of welcoming as many visitors as possible.
That commitment to access includes a special focus on under-served students. The MAP's key initiative is Kansas City Urban Advantage, which Thompson explains "helps level the playing field and increase access to quality STEM education."
That means every time you spend money at MAP, you help KC Urban Advantage. In turn, KC Urban Advantage students receive museum passes for themselves and their families and also visit the museum for curriculum-supporting field trips. Thompson says watching students interact and learn at MAP is one of the best parts of her role.
"We help ignite that spark of learning and change kids' lives," she says. "That's what gets my feet running to go to work every day."
Not only does MAP give kids of all ages plenty of opportunities to learn; they get to explore, too. The Discovery Room, a favorite MAP destination, is chock-full of hands-on exhibits and activities—everything from digging for fossils to trying on culturally significant masks. The Discovery Room is home to several critters, too, including hissing cockroaches, a tarantula, bearded dragons, a chinchilla and so many more.
"We want visitors to The Discovery Room to see everything," Thompson says. "Open drawers, see what's inside of them, take the objects out, experience each exhibit."

Like other museums, the MAP hosts revolving exhibits so even frequent visitors have a chance to explore new topics. Current exhibits include Permian Monsters, creatures that existed before the dinosaurs. Who knew?!
Space enthusiasts will love Liberty Bell 7, The Peril & Promise of Space Exploration. See artifacts from the Liberty Bell 7 mission, including the actual capsule. Side note: astronauts are tiny! The capsule, piloted by Virgil "Gus" Grissom, unexpectedly opened during the splashdown, filling the capsule with water. Grissom escaped and the LB7 capsule sank to the bottom of the Atlantic before being recovered at a depth greater than the Titanic's location.
Technology plays a significant role at the MAP, including a virtual-reality theater that immerses visitors in historic scenes like a volcano eruption or a journey inside the International Space Station. Don a VR headset and headphones and take a seat in a 360-degree rotating chair so you don't miss any of the action.
Step outside the MAP for even more learning or simply enjoy a few peaceful moments to yourself. Wetlands at Prairiefire is a collection of habitats that showcase plants and animals that call the wetlands home. A series of panels borders the trail and offers more information about the terrain and wildlife that's thriving right before your eyes.
The dynamic environment of the MAP is an ideal fit with Prairiefire, an experiential destination that unites dining, retail and entertainment, all with the walkability of a traditional neighborhood.
"We built Prairiefire for the people who want to hang out with their friends and family," says Founding Musuem Director Candy Merrill. "You can relax, mix and mingle and just enjoy the area."
To plan your own MAP adventure, check upcoming events and exhibits at www.VisitTheMap.org. For more information about Prairiefire, including a directory, head to www.VisitPrairiefire.com.