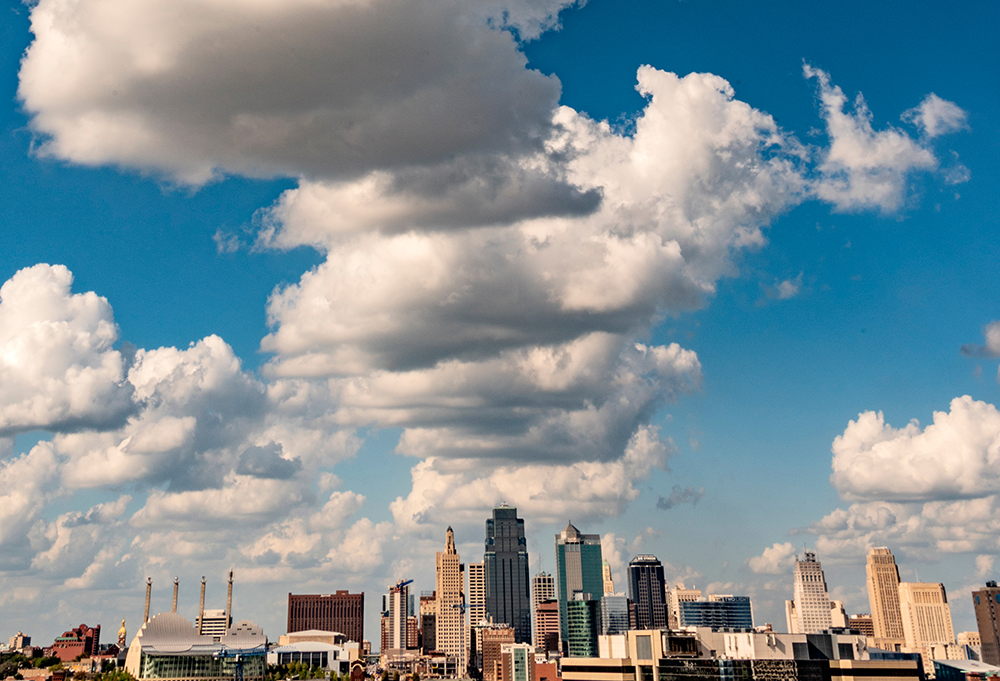 Sink your teeth into crunchy yet pillowy San Francisco-style bread. Snap a selfie in front of the first building in North America to use NASA's dichroic (light-bending) glass. Sample all-natural, Michoacan-style ice cream in flavors like Mexican peanut butter, dragon fruit, and avocado.
Before you start searching for airfare, good news! All of these experiences (and so many more) await right here in Kansas City. Whatever your travel passions—food, drink, art, shopping, sightseeing, or recreation—you can plan the perfect summer vacation right in your hometown.
Ignite your local wanderlust with a sampling of must-see destinations. The possibilities are so enticing, you just might find yourself packing your bags before you're done reading. It's time to reintroduce yourself to Kansas City.
Eat This
Yes, Kansas City barbecue is world-renowned—and rightfully so. Yet there's much more to the city's delicious, award-winning food scene, including an impressive array of global cuisines.
Start your culinary expedition at the City Market, which, in addition to hosting one of the region's largest farmers markets, offers an eclectic mix of specialty grocers and restaurants. Grab a gyro at Habashi House (ask for a side of hot sauce), then take a tub of house-made hummus to go. You'll smell City Market Coffee Roasters before you see it. Coffee is a must, but don't sleep on the grilled-to-order breakfast burrito (available all day). Beloved butcher Local Pig relocated to the neighborhood last fall with more space for free-range, locally sourced meat, plus curated kitchen staples like farm eggs, local cheeses and condiments. Order the namesake sandwich at Local Pig's sandwich outpost, Pigwich, and take it on the spacious patio for prime people-watching. Then, head up to Carollo's Grocery & Deli and feel like you've walked through the door to New York City's Little Italy. A tub of freshly made ricotta will change your life. Add a crusty baguette, a few slices of your favorite Italian deli meat, a sampling from the in-house olive bar, and an assortment of Italian cookies, and you'll have the perfect picnic.
If your travel style is "off the beaten path," delight your taste buds with these hidden gems. It's fitting that Bay Boy Sandwiches is tucked off a steep hill by the Country Club Plaza, since they make their sandwiches with house-made, San Francisco-style Dutch Crunch bread. It's crunchy yet soft, the perfect enclosure for sandwiches like the Crown Town Club, pastrami, or veggie. Try the daily special, especially on Fridays and Saturdays—the El Jefe is one of the best Cubanos this side of Havana. A nondescript exterior in a North Kansas City strip mall will lead you to authentic Thai food at Spices Asian Restaurant. The best approach: order multiple dishes, then pass them around. Favorites include the garlicky grilled Asian Tiger Cry beef, Thai-style Som Tum papaya salad, Massaman curry, and Pad See Eew noodles. Don't leave without sweet sticky rice for dessert. Another unassuming strip mall location—this one in Waldo—has a sweet surprise in store. Neighborhood Café offers a menu of traditional diner fare, and every table gets free, homemade cinnamon rolls. Yes—free! They're among the best in Kansas City, so buy a few to-go on your way out. Keep your sweet tooth happy with a stop at Paleterías Tropicana on Southwest Boulevard in the Westside, which features homemade, all-natural, Michoacan-style ice cream in flavors such as avocado, Mexican peanut butter, rose petals, and dragon fruit. Refreshing fruit popsicles come in flavors like mango with chile, hibiscus, and fruit cocktail. Or opt for creamy popsicles, such as rice pudding, pina colada, strawberries and cheese, or coffee.
In a larger outdoor retail district, Zona Rosa, awaits some of the best Indian food in the city at Swagat. If you're new to Indian food, try the daily lunch buffet for a sampling of meat and vegetarian dishes. The dim lighting, comfortable seating, and ornate interior, complete with wood scrolling on the ceiling, also makes Swagat a date-night destination. And next door, you can take home your favorite Indian groceries and spices from Swagat Spice Bazaar.
For many, a vacation is a time to splurge. Why should a staycation be any different? Located in the former Kansas City Board of Trade building just south of the Plaza, swanky steakhouse Stock Hill's stylish interior, complete with velvet banquettes, a soaring ceiling, and a towering, two-sided bar, is almost as yummy as the food. Start with the lobster gratin, an indulgent dip served with freshly fried chicharrones. And whatever steak you choose, make sure to order a side of the fluffiest whipped potatoes on the planet. Stepping into Voltaire in the West Bottoms is like traveling to the past. Dim lighting and an elegant wooden bar exude a Paris of the Plains ambiance. The dinner menu changes frequently to make the most of seasonal ingredients like a spring blackberry salad with local petite lettuces. Brunch is available on weekends so you can fuel up for a day of staycation fun.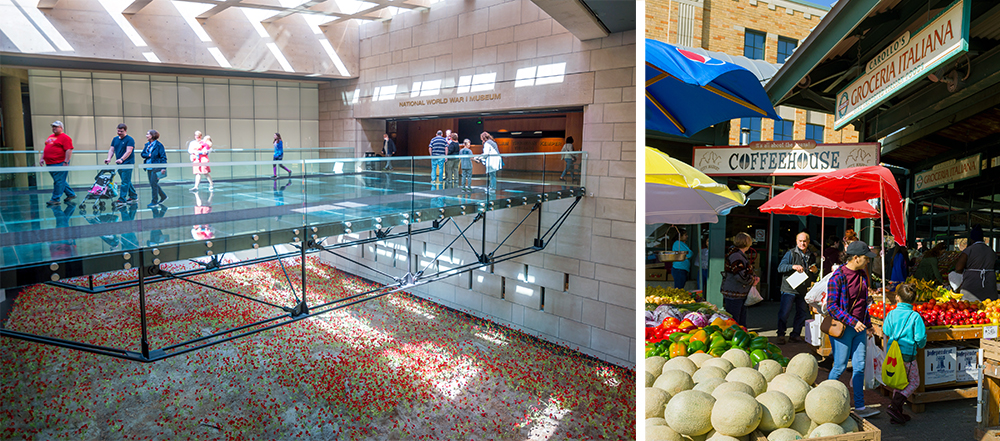 Drink That
Ditch the car and instead plan a bar crawl along the Kansas City Streetcar line. Start with a glass of wine or a cocktail at Pierpont's in Union Station, which might have the most eye-catching bar in Kansas City. Then, catch the northbound streetcar to the Kauffman Center stop. When you disembark, walk a block south to Tom's Town, Kansas City's first legal downtown distillery. The Art Deco-inspired interior is a nod to the distillery's namesake, Tom Pendergast, who famously declared, "The people are thirsty." Among the seasonally rotating cocktails are staples like the Pinky Blitz — Tom's Town vodka, blood-orange ginger shrub, and ginger beer. Or try a distiller's flight and taste the Tom's Town difference. Another short jaunt east to Walnut Street leads you to Tannin, a wine bar with impeccable service and an even better selection. Stick with a favorite, or let your server guide you to a new discovery. Snack on a seasonal cheese plate while you sip. Then, head back to Main Street to catch the northbound streetcar at the Kauffman Center stop. It's a short ride to the next stop, Power & Light. Disembark and you'll be across the street from The Chesterfield, a delightful bar tucked inside the Alamo Drafthouse theater. Keep the Paris of the Plains vibe going with a Horsefeather—Irish whiskey, ginger beer, and lime. Or try a refreshing Gin-Gin Mule with gin, lime, mint, and ginger beer. Get back on the streetcar and settle in for your longest ride yet. You'll loop around the River Market and get off at the River Market West stop. Grab a patio seat if possible at Tribe Street Kitchen. A global mix of flavors extends to the cocktail menu, where margaritas mingle with Manhattans, caipirinhas, and sangria, not to mention a rotating selection of mostly local taps. Oh, and one other thing: daily late-night happy hour!
Prefer a brew of the coffee variety? Blip Roasters, built on twin passions of coffee and motorcycles, opened a second location on Troost Avenue earlier this year in The Wonder Shops and Flats. As the temperatures climb, try Blip's bottled cold brew, Blip Blast. Then swing by Ruby Jean's Juicery, located catty-corner from Blip, named for the late grandmother of founder and CEO, Chris Goode. Grab a bottle of cold-pressed juice from the fridge, or opt for a handcrafted juice, smoothie, or shake.
Get Moving
Unleash your inner kid with a host of recreational opportunities throughout the Kansas City metro. Explore your favorite part of the city on a rental bike through KC BCycle. Stations span North Kansas City to Waldo, so you can design your own route. When you're done, simply dock your bike at the closest station. Enjoy hiking? Head to the Overland Park Arboretum & Botanical Garden, which offers a range of trails from path-lined gardens to mulched trails that wind through a bird-watch area, limestone bluffs, and a cedar forest. If you're feeling extra adventurous, take the Bluff Loop or Rocky Ridge Trails to the Arboretum's prairie, where you can explore butterfly habitats, local plant species, and more off-trail.
Golf enthusiasts, test your skills at Topgolf Overland Park, which features more than 100 climate-controlled hitting bays. Choose from several games, including Topgolf's signature game, during which you attempt to hit various targets and earn points for accuracy and distance. Not a golfer? Simply kick back and enjoy food or a cocktail while you watch the action. For a different type of golf, head to the Nelson-Atkins Museum of Art and play the new Art Course miniature golf experience. Each hole of the nine-hole course is an interpretation of a work of art from the museum's collection. Le Partie d'Artgolf, for example, is inspired by Edouard Manet's 1871 piece, The Croquet Party, and designed by Richard Farnan. Purchase tickets online (recommended) or at the museum. The course is open every day except Tuesday. The museum also hosts Yoga in the Park on Sunday afternoons, featuring free yoga practice and a rotating roster of local instructors.
Stay
Unsure about booking a hotel stay in your hometown? Don't be, especially with several design-forward boutique hotels to explore. A former Crossroads warehouse is now the polished yet still industrial Crossroads Hotel. Comfortable, inviting rooms are bursting with local collaborations, such as Jennifer Janesko art, Melanie Sherman light fixtures, Hammerpress prints, and floral wallpaper designed by Mikey Wheeler and Megan Mac Wheeler.
Part museum, part hotel, part restaurant, 21c Kansas City is a creative haven for art appreciators. The hotel's 21c Museum combines rotating, curated exhibitions with site-specific installations like the mesmerizing Linear Sky by Luftwerk, which lines the entryway with light fixtures programmed to reflect the changing colors of Kansas City skies. Walk in, and you'll be bathed in the bright colors of daylight. Exit, and a muted evening palette beckons. Rooms differ in size and layout but share contemporary furnishings, high ceilings and in every room, original artwork.
Billed as Kansas City's original boutique hotel, The Raphael Hotel is a Plaza staple. The stately building exudes European charm that extends to the king guest rooms with a bed so comfortable you might stay forever! Suites are available, too. During your stay, eat at Chaz on the Plaza (and, if you can, get a cozy, cloistered booth or table for two). The dry-aged prime KC strip is a perpetual favorite, as are the fresh seafood dishes. There's a good chance you'll enjoy live music during your visit, from jazz brunch to evening performances. Order your favorite drink, a snack from the lounge menu and let the sultry sounds whisk you away.
Shop Local
Whether or not you consider them souvenirs, every staycation needs a little shopping. Experience Kansas City's impressive array of local retailers at shops like North Kansas City's Mitch e Amaro, part amaro bar, part cocktail supply shop. Stock your home bar with liqueurs, books, barware, and an expert array of bitters. Need a sample? Head back to the bar and settle in for an afternoon of tasting and learning. Also in North Kansas City, Tyler Kingston Mercantile blends home décor with vintage goods and handmade furniture. Opt for a fun memento like a local T-shirt or KC can glass. Or splurge on a made-to-order reclaimed wood coffee or bistro table.
In the Crossroads down an alley between 18th and 19th Streets are a gaggle of creative, independent retail shops. Kanso is a paragon to timeless design ranging from furniture and kitchenware to office supplies and lighting. The functional, inspiring space is an escape within itself, so be prepared to wander for a while.
Between the Plaza and Brookside awaits the charming Crestwood Shops. Pear Tree Design & Antiques is one of those shops you want to live inside. French antiques mingle with garden ornaments, home decor, bath and body products, and gifts. Pop into Underdog Wine Company, a narrow shop with a wine selection that's anything but. Bottles are carefully selected by owner Ryan Sciara and tend to favor small production, family-owned wineries. Check the store calendar for wine tastings, including weekly Thirsty Thursdays. Step into DelBrenna and you'll think you're in Italy. It's the only U.S. outpost of a three-generation family-run Cortona, Tuscany, company that specializes in handcrafted fine jewelry and women's shoes.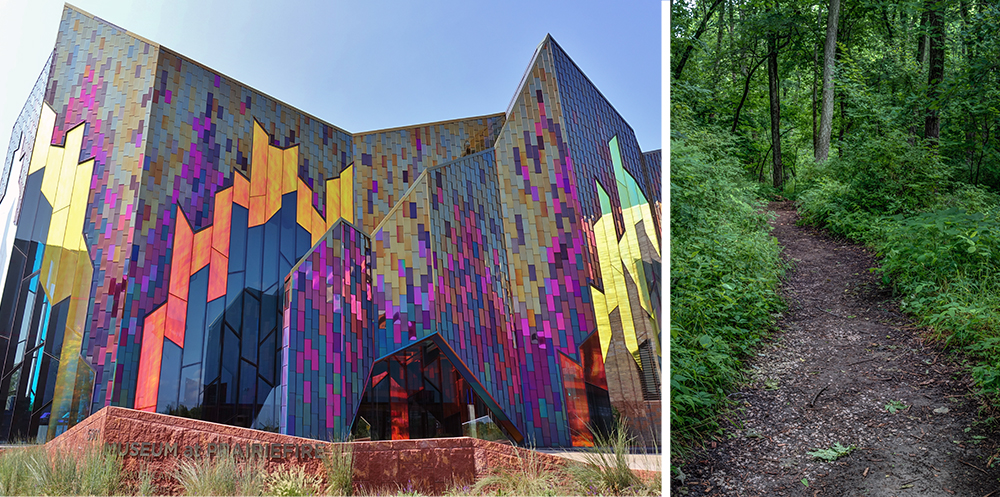 Explore, Learn, Appreciate
Kansas City's arts and culture scene isn't just growing—it's thriving. With world-class museums, public art, and art-centric events, it's easier than ever to appreciate local creativity during your staycation.
If your local excursion falls on the first Friday of the month, First Fridays in the Crossroads is an ideal stop, especially in the summer. While you explore blocks of galleries, keep your eyes peeled for an increasing array of eye-catching murals (especially in Art Alley between 17th and 18th streets near Locust and Cherry streets). Grab a bite from local food trucks, shop local boutiques and sidewalk vendors. Then, find a patio table and share highlights from the evening over your favorite drink.
No matter how many times you've been there, a trip to the Nelson-Atkins Museum of Art is always inspiring and enriching. New exhibit highlights include the Walking Wall, created by Andy Goldsworthy. A stone wall that, according to the museum, will "walk" in five successive actions. You can see the wall from inside the Bloch Building or walk up to Rockhill Road for a closer view. A few blocks away is the Kemper Museum of Contemporary Art, where on Thursdays this summer from 5 to 7 p.m., you can enjoy live jazz (featuring drummer-lead ensembles) in the atrium, along with a happy-hour menu and cash bar.  The Kansas City Museum's Corinthian Hall is under construction, but you can visit the Kansas City Museum at the Historic Garment District in downtown Kansas City. Peruse historical items from the museum's collections, plus see a display of contemporary work by local fashion designers, entrepreneurs, and artists. The space also houses the Historic Garment District Museum, which showcases the people who worked in the neighborhood by featuring the clothes they made and equipment they used.
Kansas City is home to America's official WWI museum and memorial, and it's every bit as moving and significant as you'd imagine. The National WWI Museum and Memorial immerses you in the Great War through interactive displays, films, and eyewitness testimonies. It can be an emotional experience, especially as you enter the museum and memorial over the Paul Sunderland Glass Bridge, which is suspended over a symbolic poppy field that represents the nine million people who died as a result of the war.
In downtown Kansas City's historic 18th & Vine Jazz District neighborhood, learn about the important legacy of African-American baseball at the Negro Leagues Baseball Museum. Enjoy a self-guided tour as you explore photographs, artifacts, and film exhibits. When you're done, head two blocks to the Paseo YMCA, where Andrew "Rube" Foster established the Negro National League in 1920. After a seven-year renovation, the building reopened in 2017 as the Buck O'Neil Education and Research Center.
The Museum at Prairiefire is the centerpiece of Overland Park's Prairiefire retail development. You'll see the exterior from a considerable distance. Architect Jonathan Kharfen of Verner Johnson, Inc., designed the exterior to mimic the visual effects of a prairie fire. It's the first building in North America to feature NASA-developed dichroic (light-bending) glass on the exterior, which creates a blend of red and oranges outside, and inside, cool hues of purple and blue. Natural history and science are the focal points of the museum, including full-size dinosaur skeletons, a virtual-reality Stonehenge experience, and Paleo Kansas City, which highlights locally discovered fossils that date back 300 million years.
Live music is an integral part of Kansas City's creative identity—hello, jazz! Head to the Crossroads and slip into the Green Lady Lounge or the Black Dolphin next door for jazz 365 days a year. The retro ambiance is perfect for enjoying the cool riffs of Kansas City jazz musicians. One of the best places in the city to see local and national musicians is Knuckleheads Saloon, built on the former site of Electric Park in the East Bottoms. Four stages, including an outdoor stage complete with VIP seating in a converted caboose, mean there's always a performance happening. And if you're an Elvis fan, make sure to schedule your staycation during the last Friday of the month. Renowned Elvis tribute artist Jeff Bergen will have you rockin' and rollin' as if the King himself was on stage.
Whatever you do, see, sample, or buy during your Kansas City staycation, there's undoubtedly one thing you'll discover. There's no place like home.
---

Beer and Barbecue: The Ultimate Staycation Combo
As you're planning your Kansas City staycation, what about making it a themed adventure like beer and barbecue? Thanks to a tour and an app from Visit KC, it's easier than ever to explore two Kansas City favorites.
Visit KC recently launched the third season of the Kansas City Tap Tour, which guides you through a tasty selection of local breweries. Head to their website to get your guidebook, then start sampling! Be sure to get a stamp in your guidebook at each stop, then turn in your completed guidebook at Made in Kansas City's Crossroads location to collect prizes.
Once you've worked up an appetite, download Visit KC's KC BBQ Experience app, a digital resource for all things barbecue. Check into more than 100 barbecue restaurants, then earn badges as you rack up meals (no pun intended!). The app also includes Trails, themed expeditions that include categories like patio perfect, barbecue bucket list, and as seen on TV. It's going to be a delicious staycation!