Sponsored content:
See a towering Tyrannosaurus Rex skeleton—and take a selfie with it! Sip house-made limoncello and play a favorite Italian pastime, bocce. Explore work from both established and up-and-coming artists, including an exclusive display of Tom Corbin sculptures. Sample cuisines ranging from sushi and Mexican to wood-fired pizza and low-country-inspired fare. Stroll through wetlands habitats and capture the beauty of native plants and animals. Or catch the latest blockbuster movie in the comfort of climate-controlled, reclining seats. All of this and more awaits in Prairiefire, an experience-based destination with the welcoming charm of a vibrant neighborhood.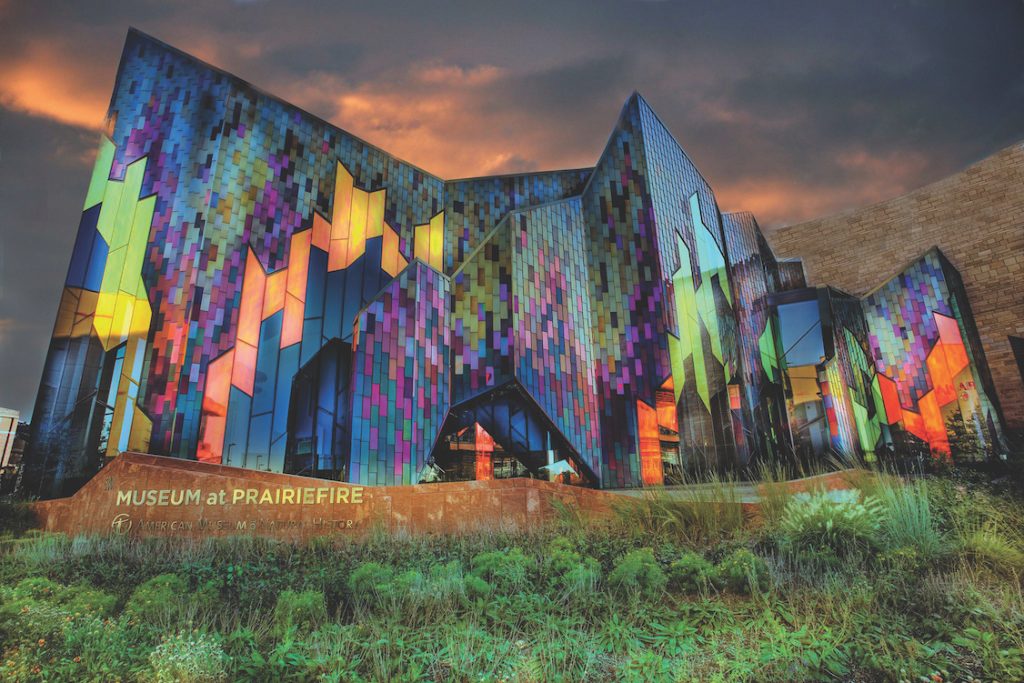 Developed with community as the central theme of its vision, Prairiefire opened in 2014 between Nall Avenue and Lamar along 135th Street in Overland Park. Prairiefire arrived with several other mixed-use concepts that dotted the greater Kansas City area, but from the beginning, Prairiefire has strived to be different.
"We built Prairiefire for the people who want to hang out with their friends and family," the Merrills say. "Every place is accessible, and you can mix and mingle and enjoy the area."
The Eva Reynolds Fine Art Gallery is a prime example. Poland native Eva Reynolds has lived in Kansas City for 30 years and has become an integral part of the city's creative community. As a gallery owner, Reynolds welcomes the opportunity to dispel the traditional stereotypes of galleries as intimidating, even unwelcoming.
"You don't have to understand or know a lot about art to appreciate it," she says. "Having this gallery space is about encouraging exploration and experiences."
Browse the latest collections and you may even be treated to impromptu performances, thanks to a piano perched in the middle of the gallery and adorned with a sign that says, "Please play the piano!"
During warmer months, Reynolds joins with other Prairiefire tenants to host events like Thursday night live-music performances. You might find buckets of sidewalk chalk lined up outside the gallery, encouraging kids of all ages to decorate the sidewalk with their masterpieces.
Merrill says people love to pack picnic dinners for the concerts, enjoying casual alfresco dining set to a live soundtrack. That's another thing about Prairiefire—with so much to see and explore, it's possible to enjoy an outing without spending any money. Instead, the emphasis is on slowing down and taking time to gather.

Brooke Bradley is the general manager at Pinstripes, one of Prairiefire's many restaurant and entertainment venues. Bradley loves Prairiefire so much that she moved to the Residences at Prairiefire, luxury apartments that are a short stroll from her office at Pinstripes. Even on off days, Bradley typically finds herself at Prairiefire, enjoying the bars, restaurants, and attractions, often running into friends.
"Candy and Fred have done a great job of keeping the Prairiefire team like family," she says.
It's easy to think of Prairiefire as a small town surrounded by the thriving Overland Park community. Then you turn the corner and stop in your tracks, greeted by the mesmerizing exterior of the Museum at Prairiefire.
The natural history museum is encased in NASA-developed dichroic glass, the same glass used as visors for astronaut helmets. Depending on the way that the sunlight hits the glass, it reflects different colors, creating the overall effect of the development's namesake—tallgrass prairie burns.
Select museum attractions are available free of charge, including the opportunity to stand in front of the towering T-Rex skeleton in the museum's lobby. Just behind the museum, the Wetlands at Prairiefire beckons, a natural haven that provides peaceful respite from the city bustling just blocks away. Signage along the trail offers a closer look at native plants and wildlife that play such an important role in Kansas wetland environments.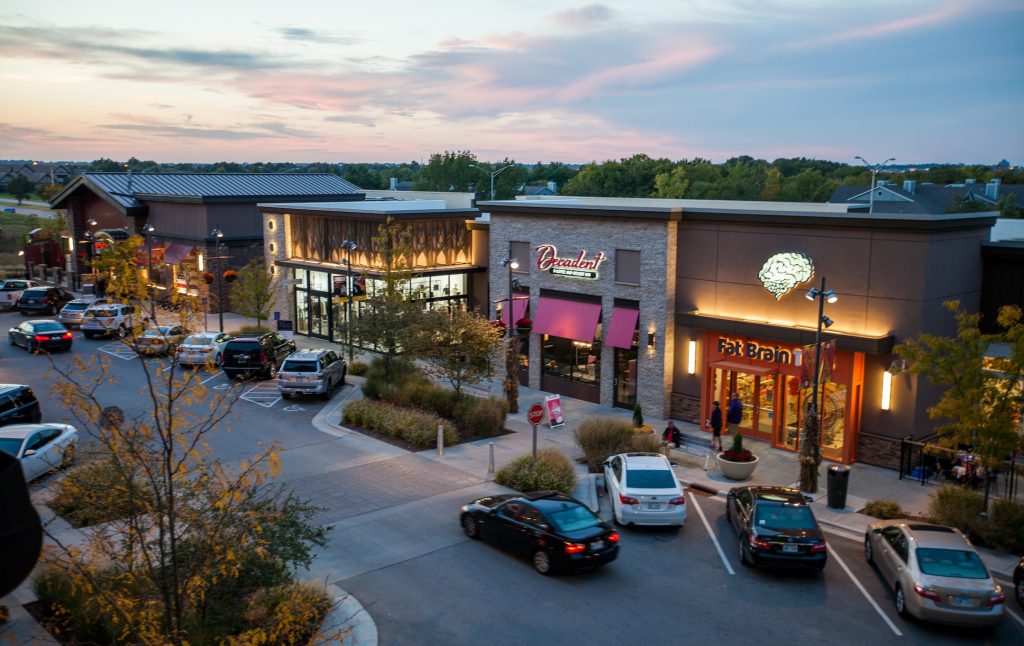 From there, there's still so much to see and do, including numerous restaurants and an AMC Dine-In movie theater. Pop into Decadent, a coffee and dessert bar, for (what else?), coffee and dessert. Locally owned retailer Threshing Bee gives fashion-forward shoppers the chance to shop women's clothing and accessories from several boutiques under one roof. Pro tip: stop by on Wednesday afternoons for Wine Wednesday and enjoy free vino while you browse.
A final phase of development will bring additional attractions to Prairiefire, including the second location of beloved local business, Chicken 'n Pickle.
"The final phase will create an even more walkable, European feel, making Prairiefire that much more of a destination," Reynolds says. "It's so exciting to watch it happen."
Start at www.VisitPrairiefire.com to plan your own Prairiefire adventure. One visit and you'll be back for more. Don't be surprised if soon after, you're greeted by name. That's just the sort of relaxed, welcoming experience you can expect at Prairiefire.
"It's like walking through Mr. Rogers' neighborhood, adult-style," Bradley says.