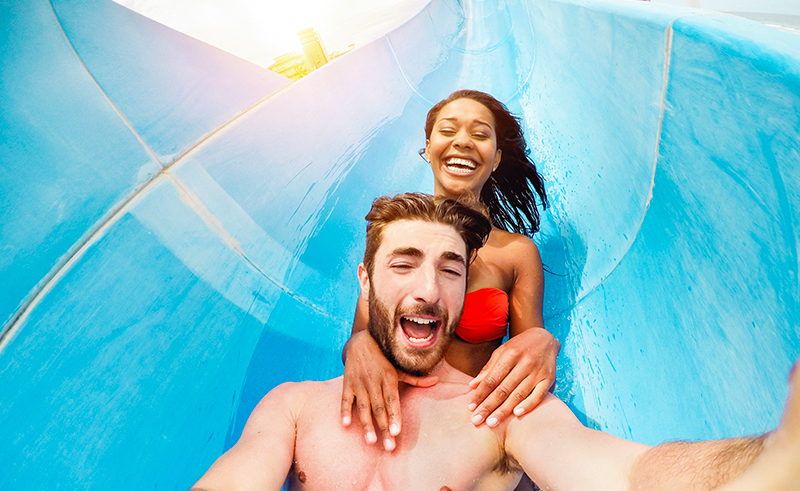 Summer is in full swing, and boy, oh boy, is it hot outside! Lucky for us, Kansas City has quite a few options for cooling off in the sweltering heat. 
We're making it easy for you with a guide to Kansas City water activities. Looking for a rooftop pool with a view? Wondering how to find your closest community pool? Need a breakdown of water parks around the Kansas City area, or where to find the best lazy river to float the day away? Or are you more interested in learning where to go for water sports or a day out on the water? 
No matter the way you're hoping to make a splash this summer, we're here to help.
Water Parks
Adventure Oasis Water Park 2100 S. Hub Dr., Independence
Adventure awaits with this park's lazy river, poolside climbing wall, three water slides, water playground, and swimming pool. Daily admission starts at $6 and is only available to Independence residents.
Black Bob Bay 14570 W. 151st St., Olathe
Take a raft down the water slides, bask in the lazy river, play with the kids on the shallow water playground, or take a swim or dive at the pool. Daily admission starts at $5.
Bonner Springs Aquatic Park 1200 S. 134th St., Bonner Springs
With one- and three-meter diving boards, two water slides, a lap pool, in-water basketball goals, a water playground, a lily pad walk, floatable animals, and a rock wall, there's plenty to do. Daily admission is $6.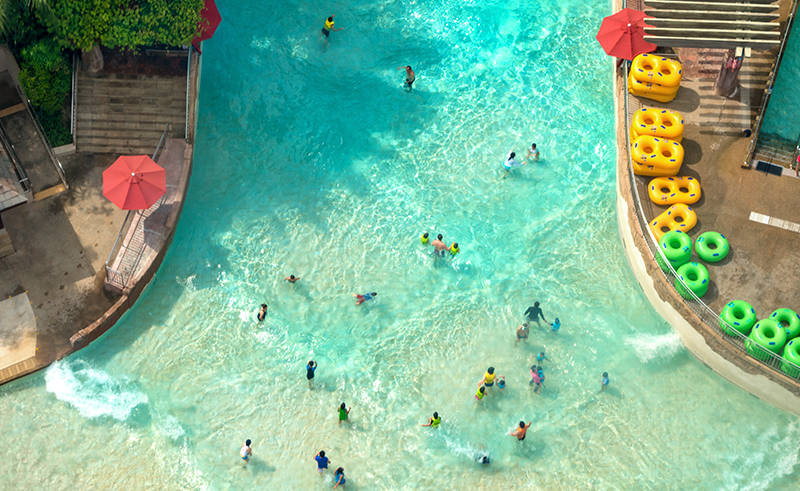 Gardner Aquatic Center 215 N. Center St., Gardner
Water slides, a lazy river, water playground, climbing nets, floatable walk, spray grounds, and pool await at the Gardner Aquatic Center. Daily admission is $6.
Great Wolf Lodge 10401 Cabela Dr., KCK 
Kept at 84 degrees year-round, this indoor water park offers low to high thrills with water slides, playgrounds, obstacle courses, hot springs, and other water activities. Half-day admission passes start at $48.
Indian Trails Aquatic Center 8801 Greenway Lane, Lenexa
Located at Sar-Ko-Par Trails Park, this water park features two water slides, a pool, an in-deck spray feature, an AquaClimb rock wall, and a diving board. Daily admission starts at $6.
KC Watersports 25825 Edgemore Rd., Paola
This isn't your typical water park, but this is the ultimate destination for thrill seekers that want to try out their skills at wakeboarding. For beginners, there are day camps and lessons to perfect your skills. For experts, you won't find a more challenging set of rails, ramps, and sliders anywhere else near Kansas City.
Leawood Aquatic Center 10601 Lee Blvd., Leawood
Take a swim in the pool, ride down the water slide, or play with the kids at the splash pad at the Leawood Aquatic Center. Daily admission starts at $6.
Mission Family Aquatic Center 5930 West  61st. St., Mission
Beat the heat at the Mission Family Aquatic Center with water slides, diving boards, lap lanes, and a spray ground. Daily admission is $7.
Oceans of Fun 4545 Worlds of Fun Ave., KCMO
Looking for serious thrills? Oceans of Fun offers 60 acres of extreme water slides, splash pools, a wave pool, and lazy river. Tickets start at $39.99 and include admission to Worlds of Fun too.
Splash Cove Aquatic Center 5800 King Ave., Shawnee
Choose between the mini wave pool, 125-foot water slide, interactive water playground, and swimming pool for a day of fun at Splash Cove. Daily admission starts at $6.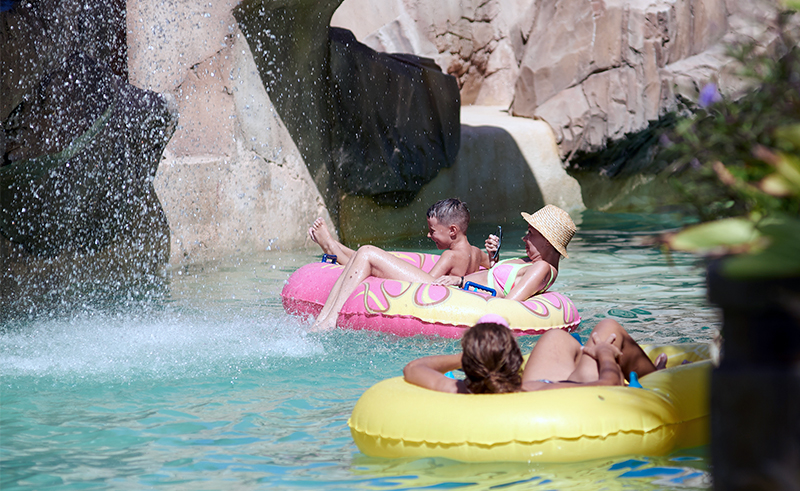 The Bay Water Park 7101 Longview Rd., KCMO
Water slides, a swirl bowl, and a lazy river are ready for enjoyment along with recreational and kiddie pools. Daily admission starts at $6.
The Springs Aquatic Center 9400 N. Congress Ave., KCMO
Choose from water slides, a lazy river, water playground, and pool at The Springs. Daily admission starts at $8.
Summit Waves 120 SW Blue Pkwy., Lee's Summit
Relax on the lazy river, catch a thrill on the water slides, or take a swim in the pool at Summit Waves. Single visit tickets start at $6.
Thomas A. Soetaert Aquatic Center 13805 Johnson Dr., Shawnee
Between two water slides, a lazy river, bubble bench, water vortex, AquaClimb, diving boards, water playground, and pool, keep the water fun going all day long. Daily admission starts at $6.
Lakes
Blue Springs Lake 1700 NE Bowlin Rd., Blue Springs
Go for a swim at the beach or hit the water for power boating, water skiing, tubing, and jet skiing at the marina all summer long. Windsurfing is also permitted Mondays through Thursdays. 
Kill Creek Park 11670 Homestead Lane, Olathe
Visit the Kill Creek Park Beach or Marina on Thursdays and Fridays. Go for a swim in the lake starting at $4 per person at the beach, or rent a kayak, paddleboard, or canoe from the marina to get out on the water.
Lake Jacomo 7401 West Park Rd., Blue Springs
Hit the water at this 970-acre lake in the heart of Fleming Park. Take out your own boat or rent a pontoon, jon, utility, or fishing boat from the marina. Stand-up paddleboarding and windsurfing are also permitted seven days a week.
Lake Olathe 445 S. Ward Cliff Dr., Olathe
You'll find a swim beach, spray ground, and floating obstacle course at Lake Olathe. Admission starts at $8 for the beach and $10 for the AquaPark obstacle course. At the marina, you can rent canoes, kayaks, paddleboards, and pedal boats to take on the water.
Longview Lake 9898 Longview Rd., KCMO
Get away with the whole family for an exciting day of power boating, water skiing, jet skiing, or a relaxing pontoon boat ride at the marina. You can also get a tan and go for a swim at the beach. Windsurfing is permitted Mondays through Thursdays.
Shawnee Mission Park 7900 Renner Rd., Shawnee
Take a swim at the Shawnee Mission Park beach with same-day admission starting at $4. You can also rent kayaks, paddleboards, pedal boats, and canoes at the marina for a peaceful float across the water.
Smithville Lake 17201 Paradesian, Smithville
At this 7,190-acre lake, you'll have two beaches and two marinas (with rentals) to choose from where you can swim, boat, and sail. Access to the park surrounding the lake is $5 per car.
Wyandotte County Lake 91st and Leavenworth Rd., KCK
This 400-acre city lake offers a marina and boat rentals. 
Swimming Pools/Spray Parks
Henley Aquatic Center 18200 MO-78, Independence
Swim a few laps in the ten-lane pool, practice your diving skills, or take swim lessons.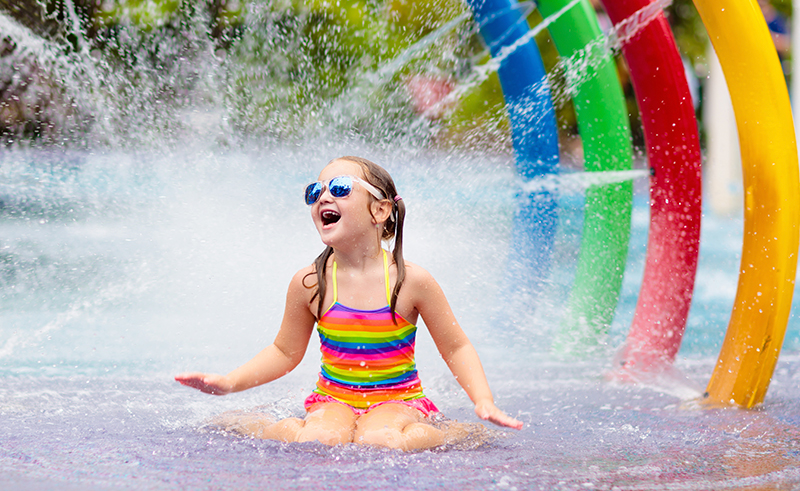 Kansas City Parks and Rec Locations throughout KCMO
The city of Kansas City, MO, offers indoor and outdoor community pools and spray grounds at local parks throughout the metro. Find out which one is closest to you.
Lenexa Parks and Rec Locations throughout Lenexa
Lenexa offers community pools at Ad Astra Pool, Flat Rock Creek Pool, and the Lenexa Rec Center.
Liberty Parks and Rec Locations throughout Liberty
Liberty Parks and Rec offers outdoor pools, indoor pools, and spray grounds with various features at Ruth Moore Park, City Park, and the Liberty Community Center.
Olathe Parks and Rec Locations throughout Olathe
Olathe has an indoor pool at the Olathe Community Center and outdoor pools at Frontier Pool, Mill Creek Pool, and Oregon Trail Pool.
Overland Park Parks and Rec Locations throughout Overland Park
Overland Park has community pools at Stonegate Pool, Tomahawk Ridge Aquatic Center, Young's Pool, and Matt Ross Community Center.
Parkwood Pool 950 Quindaro Blvd., KCK
Wyandotte County's Parkwood Pool has reopened for the 2022 summer season.
The Fontaine 901 W. 48th Pl., KCMO
Visit the Nine Zero One Rooftop at The Fontaine for a luxury rooftop pool experience. Reserve a poolside cabana for $200 that comes with a welcome cocktail, welcome snack plate, and pool passes for everyone in your party of 2-8 people. Or get a pool pass only for $40 per person.
Wyandotte County Spray Parks Locations throughout KCK
Spray parks with brightly colored towers, loops, and hoops are available at Eisenhower Park, Pierson Park, and Heathwood Park.