Sponsored content: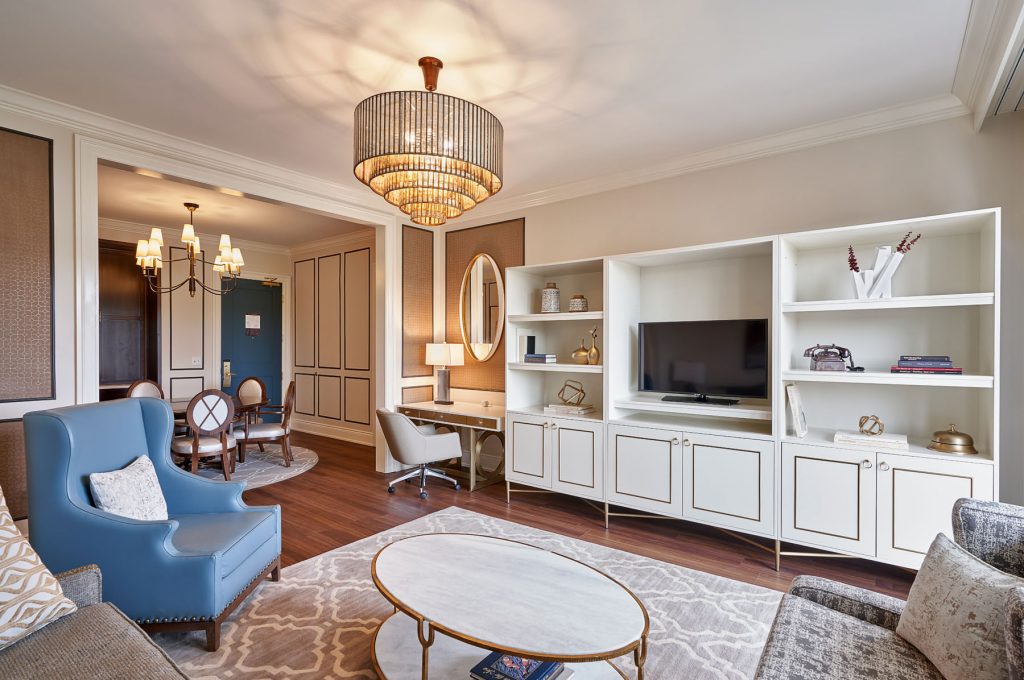 Even before The INN at Meadowbrook's official opening last spring, there was a buzz of excitement about the luxurious, boutique hotel being built in the heart of Meadowbrook Park, in Prairie Village. Now the hotel is poised to celebrate its one-year anniversary.
A Mecca For Staycations
When the pandemic was in full swing last year, The INN found itself with a sudden influx of local guests who were looking for a break from constant home confinement. "We've always focused on taking care of each and every guest—one guest at a time," says Robert Leyva, general manager at The INN.  "And The INN at Meadowbrook is an ideal place where people can get away from their own homes. It grew from there."
Thanks to word of mouth and rave reviews, the luxe hotel started positioning itself as a respite for people to enjoy brief, mini getaways. Those marketing efforts paid off as The INN remains a popular, intown, R&R destination. "We knew guests would be receptive to the level of service," says Leyva. "Coupled with our cleanliness standards, our guests felt at ease. Comfort and service remain top of mind."
A Breath of Fresh Air
Known for its spacious rooms and curated European flair, guests are encouraged to take full advantage of all The INN's abundant amenities—many of which are found on the grounds of the hotel. From the outdoor firepit and seating areas in the courtyards, to the fitness facility, The INN is designed to take you away from the city and give you room to breathe. "It's an ideal place for any kind of active lifestyle—whether that's walking around the tiered lakes or grabbing a bike from the front desk and biking the trails," he says. "Plus, our guests can enjoy a variety of events in Meadowbrook Park, like yoga in the park on Saturday mornings."
With warmer weather upon us, Leyva says the pool will soon be open. It's become one of the hotel's calling cards—a place to soak up some sun and decompress. A newly transformed courtyard—a 1,900-foot lakeview terrace on the west side of the property—also adds to the season. "It's a spectacular transition—think of it as a beautiful, open space to enjoy the fresh air and watch sunsets. It's perfect for outdoor receptions or cocktail events."
Above and Beyond
Customer service is paramount at The INN. Every staff member on the team is trained and trusted to create something special for guests. It's no wonder online reviews over the past year repeatedly mention the same thing: The INN at Meadowbrook's hospitality is second to none. That's by design, says Leyva. His staff loves being there for guests on wedding weekends, anniversaries and birthdays, or guests' trips across country. Anyway to ease frustrations after a long day of travel gives the team at The INN a chance to curate a more personalized guest experience.
Personalization is the name of the game for boutique luxury. Especially when it comes to cleaning. Hotel staff goes above and beyond to ensure every person coming into the hotel feels comfortable and safe. This led to The INN's creation of PRISTINE by Meadowbrook—a culture of clean comfort. Many guests remain vigilant about precautionary measures and PRISTINE is the answer. High-touch areas continue to be cleaned multiple times per day. Linens are washed and cleaned with medical-grade disinfectant. The staff wears gloves when handling guest amenities, and masks remain mandatory for everyone on staff. These efforts lead The INN to be recognized by the Global Biorisk Advisory Council through their GBAC™ Facility Accreditation program, a worldwide initiative focused on standards of cleanliness and preparedness.

Looking Forward To A Festive Spring and Summer
As guests start venturing out again, Leyva says micro-events at The INN are starting to take shape. Both of the hotel's eateries are planning to rollout a revamped seasonal menu just in time for summer. And for guests at the hotel that means great options for breakfast, lunch, and dinner. Guests who would still prefer to stay in room are welcome to use the Market's grab-and-go menu of snack items or order straight from Verbena's upscale culinary offerings. "We'll bring it right up to you," says Leyva.
In addition, a quick check of the hotel's website includes several fun getaway packages. The first is a Sunset & Savory package, "which includes bottle of wine and charcuterie offering which we serve in room, or outdoors," says Leyva. "Guests can enjoy their package while watching the sunset." The INN also offers a Taste of KC package, which allows guests to nosh on fare from several local vendors—including Joe's KC, Velvet Cream Popcorn, Savory Addictions, and beer from four different breweries around Kansas City. "It's the perfect treat," he says.
The team at The INN is ramping up for a busy summer with distinctive service. It's both a welcome change from last year at this time and a testament to the hotel's unique brand of boutique. "Our phones have been ringing off the hook," says Leyva. "People are getting back out and about—and we're excited to welcome everyone to our brand of service and hospitality."