Patrick and Joanne Quillec initially didn't have any intention of opening restaurants beyond their Prairie Village-based Café Provence and French Market concepts, but when the couple was invited to take a tour of the soon-to-be-finished Meadowbrook Park, that changed.
"VanTrust (the redevelopers of the park) approached us with a space they had there," Patrick Quillec says. "They were looking to build a high-end restaurant and had been customers of ours at Café Provence, and they liked what we were doing. We decided to take a drive out there. It wasn't fully constructed yet, but we could see the potential. So, we started talking, and we started dreaming a little bit, and Verbena was born out of it."
Café Provence and French Market were built around the concept of the French cuisine Patrick Quillec grew up with, so it made the most sense to build their new concept around Joanne Quillec's upbringing in the New England area.
"My wife is from Philadelphia and I said, 'Why don't we focus on the food where you grew up?' After that, we were looking for a name," Patrick Quillec says. "Lemon verbena is a plant that grows in both New England and France, it's where East meets West—Joanne is from the east and I'm from the west."
East Coast fare without leaving home
Using fresh produce supplied by local farmers, and ingredients that are flown in daily from the East Coast, Verbena guests can experience lobster, oysters, and other New England delicacies that taste like they never left New England—right in Prairie Village, Kansas.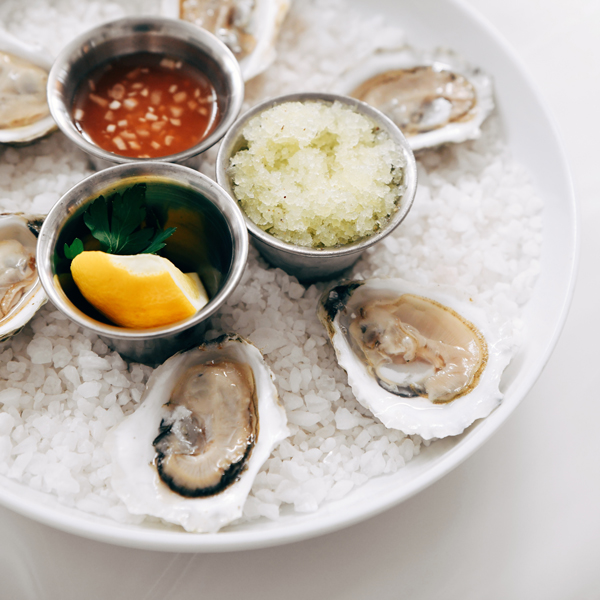 "We're very heavy on seafood, and we feature many wines from New York state and Virginia—wines people won't find anywhere else around here," Quillec says.
While Verbena's menu changes with seasonal ingredients, there are a few items guests can expect to see on the menu all year round. Those dishes include customer favorites, such as Verbena's lobster and crab rolls made with fresh Maine lobster, red crab, Duke's mayo, celery, tarragon, chive, and lemon; the Parker House rolls made with everything spice and whipped honey butter; and chips and dip with green goddess avocado dip, vegetable crudité, and honey mustard potato chips. 
Ask Quillec what are his favorite things to order at Verbena, and he'll tell you he always starts with oysters—Verbena's selection of award-winning oysters are flown in daily from Boston, and he says they're about the best and freshest oysters you can get. Quillec says Joanne always orders the Parker House rolls, and the couple usually shares an order of chips and dip. For the main meal, Quillec says he always orders linguine and clams, made with littleneck clams, white wine, and toasted breadcrumbs.
"I'm not trying to follow the norm of high-end restaurants that try to do crazy presentation with too many ingredients on the plate," he says. "We just try to simplify and put only good and awesome quality product on the plate."
Part of a Community
Once a 135-acre Prairie Village country club and golf course, Meadowbrook Park is now home to single-family housing, twin villas, The Kessler apartments, The Inn at Meadowbrook, Verbena, and the Quillec's fourth concept, The Market at Meadowbrook, which are all nestled within the park's walking trails, trees, and lakes.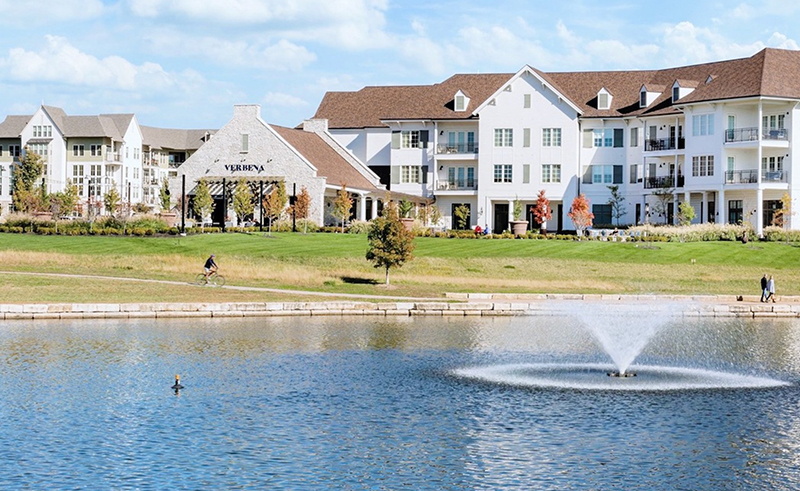 Like Café Provence and French Market, Verbena offers the upscale-casual dining experience Café Provence is known for, and The Market at Meadowbrook is a low-key casual environment perfect for grabbing coffee with a friend or a quick bite to eat—similar to what guests expect from French Market.
"A lot of people think we're a hotel restaurant, but while we do work with The Inn, we are independent from the hotel," Patrick Quillec says. "We are Café Provence, we are French Market and we run Verbena and The Market at Meadowbrook the same way. People who live in the neighborhood have quickly become regulars—they come to the bar for happy hour, come to the market and buy food. We want to create a place where everyone feels comfortable and everyone knows everyone."
After a day in the park, guests can enjoy a lovely evening in Verbena's elegant, yet homey dining room, relax to the sights and sounds of nature on the restaurant's patio or enjoy a happy hour on the terrace.
Plus, guests can expect live music on Friday nights performed by local musicians or grab quick bites to eat from the Miss Ruby's food truck which serves traditional, fast-casual food and drink.