Shep's Place Senior Dog Sanctuary in Independence just celebrated their one-year anniversary this April. This haven for homeless senior dogs who have been unable to find families has found quite the groundswell of volunteers over the last 12 months. Helpful humans ensure Fido and Rover are free to roam the house, play in the yards, sleep, or hang out with their canine companions. It's become the perfect venue for a dog's twilight years.
Meet Little Lady
Life can be tough for a senior dog without an owner, says Russell Clothier, a physician and president and CEO of the shelter. "Take Little Lady, for example. She is a beautiful 12-year-old terrier, affectionate—a genuine sweetheart. However, she is blind in one eye, mostly deaf, with stiff back legs that make it difficult to walk and is prone to occasional accidents," he says. "That's probably why she was found abandoned in central Missouri. At her age, most shelters would not see her as an adoption candidate, and that would be the end of her story."
Fortunately for Little Lady, she had an alternative. She is one of the current residents at Shep's Place—which operates out of a small renovated house on Truman Rd. Little Lady and her elder furry friends live freely alongside the volunteers—where there are ample pooch play yards and lots of comfortable beds and couches to sleep on.
Volunteers Are Always Welcome
"Little Lady is the most recent of the 26 dogs to be welcomed at Shep's," says Clothier. At its busiest, the shelter has held ten dogs—and recently as few as one during the pandemic. "As a sanctuary, the dogs are welcome to stay forever. However, if a good family wants to offer a dog their own home, we are happy to consider adoption. This has actually gone much better than we anticipated, with 19 adoptions to date."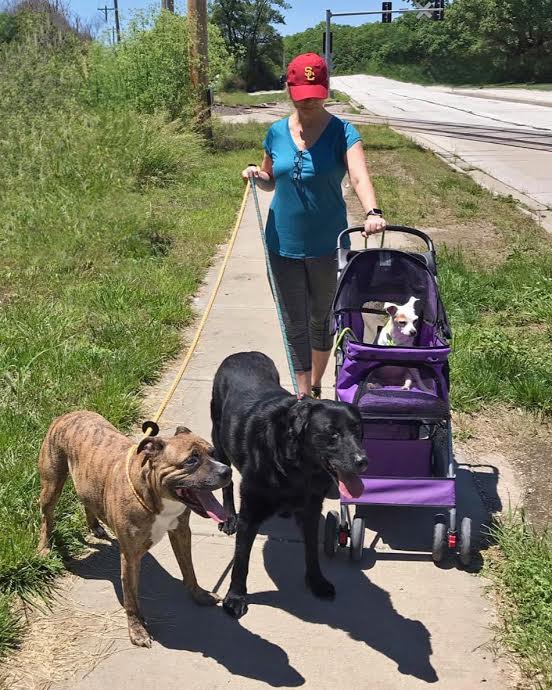 From day one, the heart of Shep's Place was the endless stream of volunteers. "We have 150 or so folks from around the KC area who come in every day to feed, clean, and pamper the pups," he says. "There is no paid staff, so we are always looking for new volunteers to love on the dogs, if only for a couple hours a week."
"Thanks, Kansas City!"
The most surprising thing?  The never-ending support Shep's Place has received from the community over the past 13 months. "As a 501(c)(3) tax-exempt public charity, we rely entirely on donations to survive. It was my primary concern at the start, but holy cow, what a response! Elementary schools, TV stations, neighborhood groups, animal welfare organizations, and tons of individual donors have stepped up to get us off the ground," says Clothier. "I can't properly express my gratitude to everyone who helped.  It's been a humbling experience.  Thanks, Kansas City!"

Now, like much of the world, Shep's Place is slowly emerging from the pandemic, and looking forward to new challenges. The organization cut shifts drastically during the crisis and has only recently reopened to volunteers on June 1. "This summer, we hope to add a playground to the play yard, and continue expanding our hours," he says. "As well as welcoming the next batch of Little Ladies!"
If you'd like more information on volunteering or donating to Shep's Place, visit their Facebook page @ShepsPlaceSDS or their website: shepsplace.org.