Ever wish you could make a wish, snap your fingers, close your eyes, and open them to a brand-new house? That dream is becoming a reality for one Overland Park family. 
After entering to win the HGTV Dream Home 2022 sweepstakes, Karey Wolstenholm beat out 142 million entries to win the prize package of a brand-new 3,090-square-foot home, plus furnishings, a 2022 Grand Wagoneer, and $250,000 from Rocket Mortgage.
Wolstenholm owns a print and promotional product company with her husband, Rick. They've lived in Overland Park with their children and dog for the last nine years.
Located in Warren, Vermont, the home Wolstenholm won in the sweepstakes is a luxurious, modern mountain cabin that takes cues from the surrounding Vermont forest with earthy greens and rustic oranges.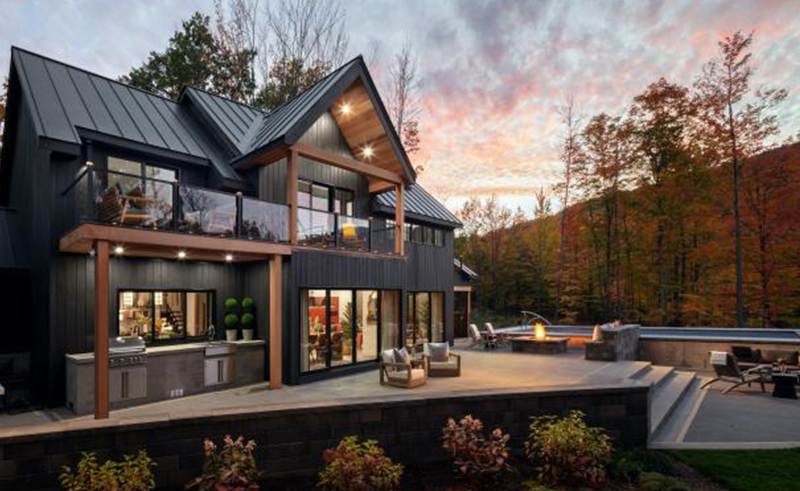 The first floor has an expansive, open floor plan with a large, fully equipped kitchen complete with a dining area. From the dining room, there is a cozy living room complete with a two-sided fireplace that's connected to the three-season porch. 
The upper level offers an industrial feel with a loft furnished with a full-size murphy bed. Down the hall from the loft is the main suite, which has a classic cabin style with a modern twist. The home also features a guest bedroom suite with a kitchenette and full bathroom.
The perks of this home don't stop with the interior either. Outside, the home offers a screened porch, a heated pool with an integrated hot tub, two seating areas with fire pits, and an outdoor grill area and dining room.
Wolstenholm's favorite thing about the cabin? "The outdoor space," she told HGTV. "And the land it's on. The privacy and the Vermont setting—it's a package deal."
Jealous yet? We sure are. If you're wondering how to land a sweepstakes win that big, it takes dedication.
Wolstenholm entered the sweepstakes every day, twice a day from the time the contest opened on December 28 to the contest end on February 17, just as she's done in the past with other home giveaways.