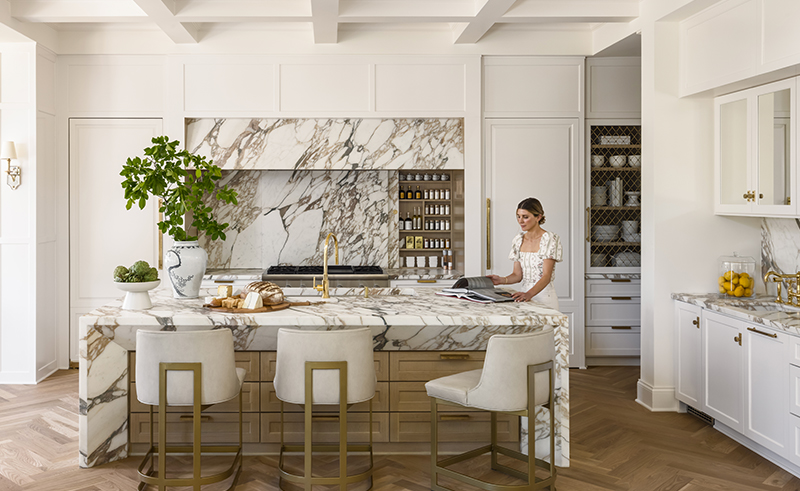 A French-modern kitchen accented with striking marble and fresh, white paneling designed by Laura McCroskey of Kansas City-based McCroskey Interiors caught the eye of producers at HGTV.
After seeing the kitchen design in House Beautiful earlier this year, an HGTV producer called McCroskey and told her the kitchen could do well as a nominee for the television channel's annual Designer of the Year awards. 
On August 23, HGTV named McCroskey's design as one of 14 nominees for the HGTV Designer of the Year Awards in the Kitchen + Dining category.
"It's just exciting, and it's just so personal because it's a kitchen," says McCroskey. "We love design, so we do everything, but kitchens are what we really focus on. So that's really exciting for us."
McCroskey is also excited to put Kansas City on the map for leading-edge interior design.
"It's probably a surprise to everyone that we have innovative designers in the Midwest," she says. "A lot of time, people consider us as flyover states, but we have some incredible artists in Kansas City. We have it going on in Kansas City, and it says we're on the forefront of beautiful kitchen design and very innovative kitchen design."
McCroskey worked on the design for the HGTV-nominated kitchen for two years with the home's owner, Becky Hillyard, founder of the blog Cella Jane. Completed about ten months ago, McCroskey says this particular kitchen was a natural one for her to design because her own kitchen has French-modern influences too.
"Becky Hillyard has a very fresh sense of style, very pretty. She loves things that are neutral, very light, and airy," McCroskey says. "I'm pretty French modern as well. I can do any style, but when you work with someone who has your personal style, that's very exciting."
The result? McCroskey used Calacatta Vagli marble, featuring dramatic dark gray veining, for the kitchen's backsplash and waterfall countertops. She used trim doors to hide a large, organized pantry behind the cooking zone and sliding marble panels behind the range to conceal shelving for spices, oils, and other stovetop needs. McCroskey anchored the kitchen with bleached hardwood floors set in a herringbone pattern, white cabinetry, chef-grade appliances, and gleaming, top-of-the-line hardware.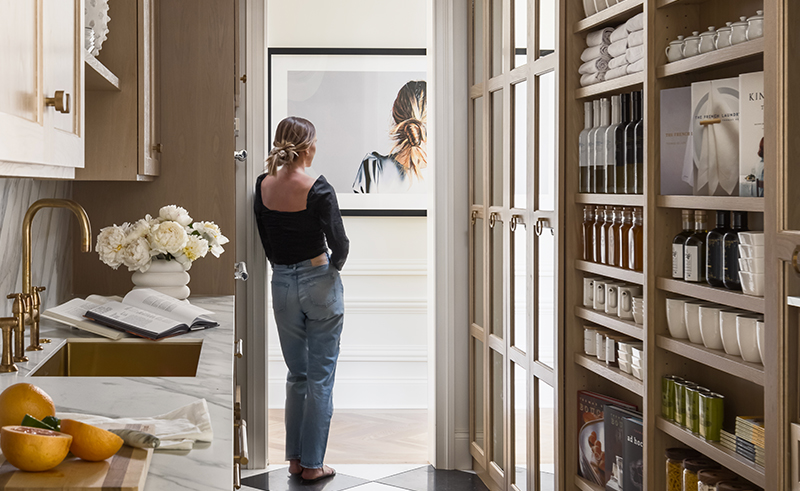 Voting for the 2022 HGTV Designer of the Year Awards is open through September 27. Voters select their favorite project in each category, and the project with the most votes in each category will win the People's Pick award. Contestants can also win the HGTV Editors' Pick award if their project receives the most votes from the HGTV editorial team. 
Vote for McCroskey's kitchen, labeled Kansas City Kitchen Shines With a Soft, Neutral Color Palette, here.