Sponsored content:
When Ron Scott and Jennifer Oles moved to their new home at the Fairways at City Center nearly two years ago, they knew they'd enjoy the lush park that meanders through the luxury villas community, codeveloped by Hunt Midwest, Jeffery Alpert and Melanie Mann. Yet they had no idea the park would become one of the most important places in their lives.
"I proposed to Jen in the park just over a month ago," Ron says. "Jen thought we were going on a walk and we were tracking our activity. I asked her to sit down for a minute, then asked her to marry me. Her first answer was, 'What?' Then she said yes!"
The fact that Ron proposed to Jen so near their home underscores just how much they love where they live and how important their neighborhood is in their lives.
The two met in Kentucky while consulting on the same project. As their relationship progressed, Jen moved to the Kansas City area from Chicago. They lived near each other—both in Johnson County apartments—but decided, as Ron says, that they were "ready to join forces."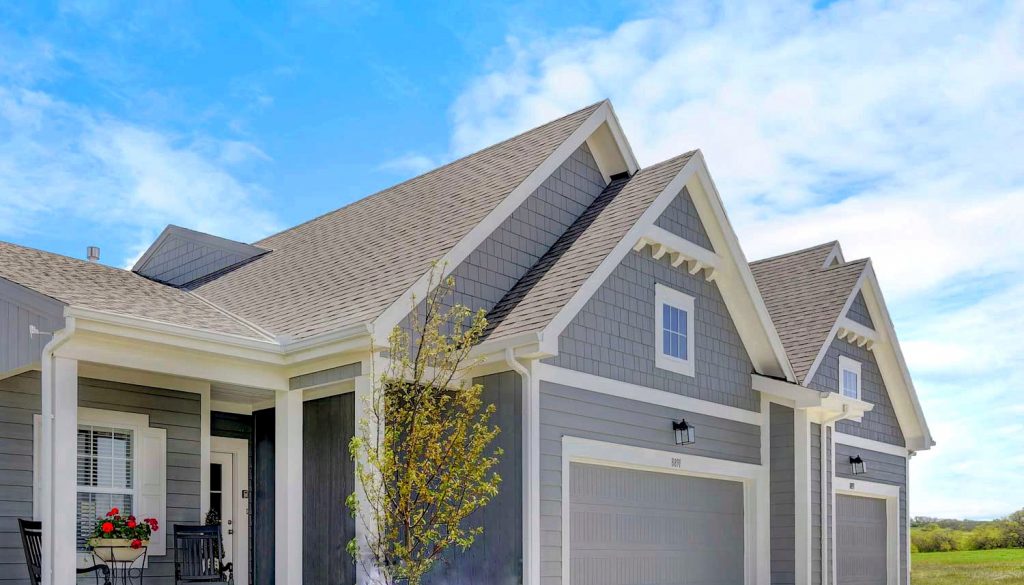 Jen had a jump on a possible new community. When driving home from Ron's apartment, she'd always cut through a neighborhood that she loved because of the eye-catching houses. During one such drive, she noticed a new development underway—Fairways at City Center—and wanted to learn more.
"The homes are unique for this area because they're villas for rent," Jen says. "You can find a lot of apartment rentals nearby, but not villa homes."
Jen and Ron both also loved the location—just a short walk from Lenexa City Center, a vibrant hub of local dining, shopping, recreation, and services.
"We could walk to all of these things and have all of this space—it seemed like it would check a lot of boxes," Jen says.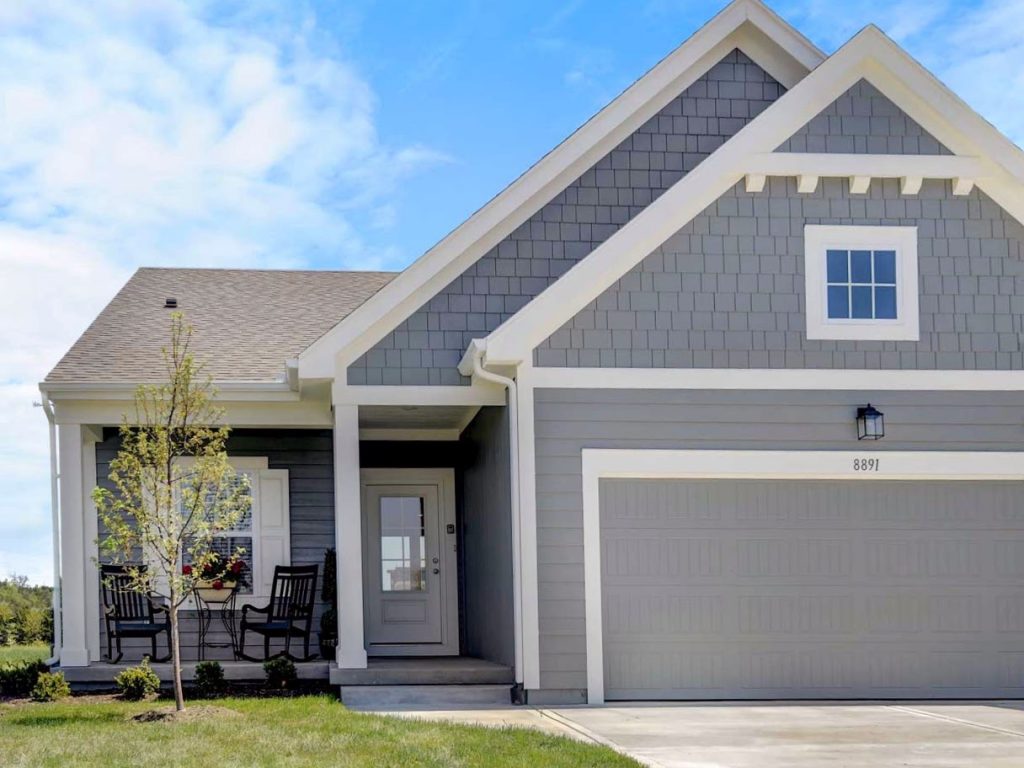 When Jen and Ron visited the community co-developed by Hunt Midwest, Jeffery Alpert and Melanie Mann, they realized they had an exciting opportunity to pick a lot and watch their villa home come to life before their eyes.
"It was like building a home without the purchase price," Ron says. "We'd drive by once a week to check the progress. It built up a lot of excitement for us before we moved in."
Each home in the Fairways at City Center also offers the convenience of maintenance-provided living, another benefit to the couple.
"Before Covid, I was traveling weekly," Ron says. "If anything in the house went wrong, Jen only needed to make a call."

Not only did Jen and Ron get to enjoy the process of homebuilding without the price tag; they also appreciate the attention to detail, including fixtures and finishes, that isn't always found in rental living.
"Lambie Custom Homes didn't overlook any details when building the home," Jen says. "It feels very luxurious—with crown molding, tile, and beautiful fixtures. If I had picked all of the options myself, I wouldn't have done anything different."
The spacious villa layout, which includes a main-level living area and bedroom, plus two bedrooms and a rec room downstairs, also came in handy as Jen and Ron combined their households. They've kept furnishings and other items in their home's generously sized storage areas, freeing them from the hassle of finding an external storage option.
Another feature of their home has emerged as an essential throughout the pandemic.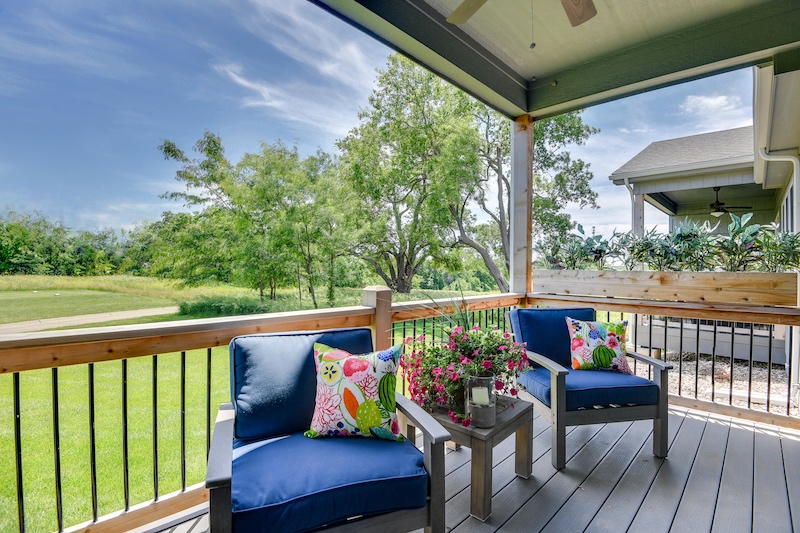 "We have a balcony that overlooks the green on hole 11 of Canyon Farms Golf Club," Ron says. "During quarantine, it's been so nice to sit out there with a drink and watch people play golf. I think the balcony is one of the most used areas in our home besides the office!"
And then there's the location. Jen and Ron frequent several nearby restaurants, including Silo Modern Farmhouse, Ignite, and Grand Street Café. Saints Pub + Patio became their go-to spot to gather with friends and watch Kansas City Chiefs games. Other favorite spots include Chewology inside the Lenexa Public Market and the numerous nearby trails and parks.
"We can walk, run, bike—there are miles and miles of trails around us," Ron says. "Last summer, we went up to the Public Market while walking our dog. There happened to be a band playing, so we sat down with our dog, had a beer and watched the performance. That kind of spontaneous event is so great for the area."
To explore available luxury villas and learn more about a new resident special, visit FairwayVillasCityCenter.com.