They've survived floods, a slow economy, and a pandemic. Now these suburban downtowns are thriving thanks to homegrown restaurants and boutiques that make "buy local" an easy goal. Spend a day shopping, luxuriate at a salon, peruse a menu, and consider an overnight stay in the heart of the action. Fall open houses, Halloween treats, and resplendent holiday windows create Americana memories for the entire family. Check websites and social media for upcoming events.
Inspiration at Independence Square
Harry Truman made this Missouri town famous, but Cindy McClain, owner of 15 businesses on the Square, turned it into a modern-day destination. One standout is Ophelia's Restaurant serving salads, smash burgers, and President Truman's fried chicken recipe for lunch and dinner. The inn upstairs offers the perfect staycation or girlfriends' getaway; ask about spa treatments, yoga, or Pilates classes; movie tickets; or a bowling lane, all within walking distance.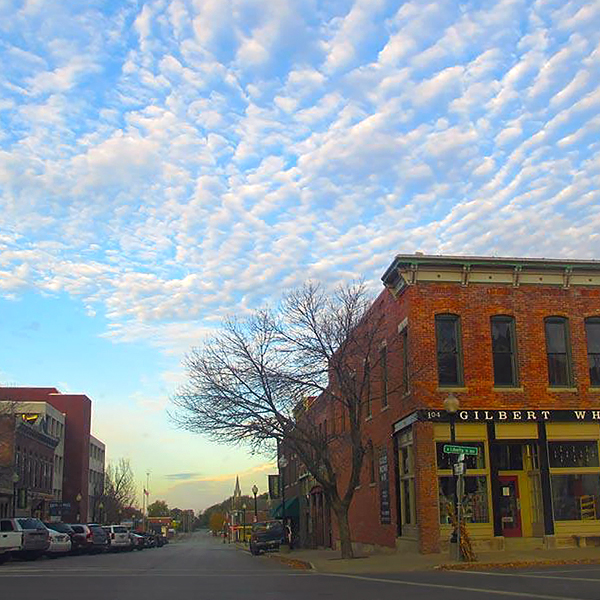 Other dining options include juicy burgers at Courthouse Exchange, Flying Horse Flatbreads within 3 Trails Brewing, caffeine courtesy of Mainstreet Coffee House, and ice cream at Clinton's Soda Fountain. Eclairs de la Lune Bakery has scratch-made sweets, a pie club that includes a wooden carrying box, and even keto-friendly breakfast fare.
Shopping abounds, starting with Gilbert, Whitney, & Co., a gourmand's best friend with cookware and local provisions, including Vain vanilla extract. Be Here Now displays home décor and antiques, and Black Lemon Boutique caters to women of all sizes and shapes. Wild About Harry has one of Kansas City's largest selection of accessories and gifts for men. 
For a fascinating history lesson, book a 30- to 90-minute Pioneer Trail Adventures tour on a mule-drawn covered wagon.
Give Me Liberty
Say yes to Liberty, Missouri's tagline—as in give me more Ginger Sue's "candy" bacon and Black Magic margaritas at La Costa Mexicana restaurant. Between breakfast and happy hour, there's plenty of shopping and history lessons, including the bank Jesse James robbed in 1866. Start your day at Huey's on the Square or Ginger Sue's bruncheonette where that signature bacon is tucked into a fried egg sandwich.
Add to your Chief's gear at Brant's Clothing, find a cute shacket at Catfish + Tater Boutique, and score flattering (trust me on this) knit pants at More Excuses Boutique. 
Petals & Potpourri's Christmas trees will inspire your holiday décor while jars of gourmet condiments make great hostess gifts. More gifts await at Anna Marie's Teas and D'Agee Florist where you'll find fresh flowers, clever cocktail napkins, and two friendly shop cats. 
Classy Chocolate is a must for sweets, cookies, and decorated cakes. Pie Time offers a variety of flavors including take-and-bake savory pies. Townies rave about Joni's Special, a loaded pasta dish at Luigi's Italian Restaurant. Jousting Pigs BBQ and 3Halves Brewing share an address and a commitment to craft; the Stick 'Em Up stout stands up to the succulent brisket and burnt ends. 
Nearby Belvoir Winery and Inn welcomes you with luxury suites, award-winning wines, and possibly a ghostly visit. 
Playtime in Parkville
Historic Downtown Parkville, Missouri, is Hallmark-movie ready, complete with toddlers in Halloween costumes and snowy riverfront trails. It's surrounded by nature, but shops offer their own beauty, especially during fall and winter festivities.
Start at Samsara Home with lavish vignettes of modern and vintage furnishings for home and garden. At Fabulous Finds, sales of gently used items benefit the Friends of Parkville Animal Shelter. La Bottega Vintage Market is a decorator's dream with antiques, retro finds, and collectibles. 
House on Scott offers a more serene space with new and vintage décor and textiles. Farm House Collection sells its own line of heavenly scented candles, or you can create your own personal fragrance at Farmacy Fragrance Bar next door. White Farmhouse Flowers has fresh blooms, gifts, and a charming mobile flower truck. 
Cool Vintage Watches is legendary for its selection of retro watches, but the most desirable item may be a membership to the private cocktail club next door. A more family-friendly activity is the Parkville Mini Golf and ice cream shop overlooking downtown.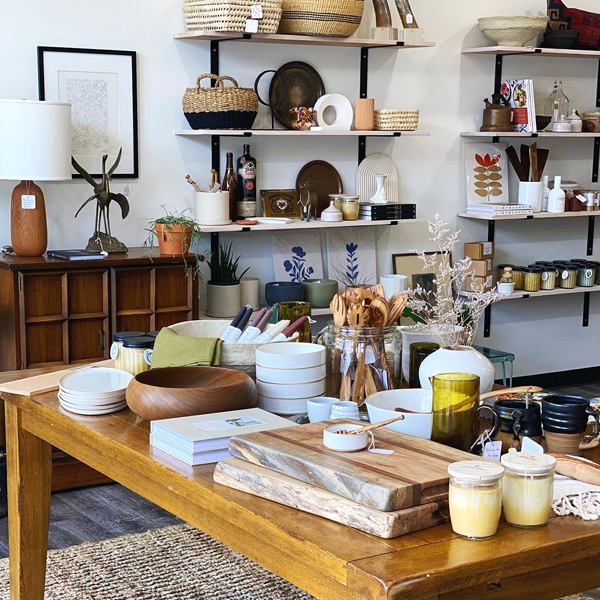 When hunger calls, Craic Irish Pub serves up shepherd's pie and whiskey; live music adds to the fun. Locals recommend anything on Canyon Pizza's menu, especially the margherita pizza. The Baker's Table is known for pies, sweet and savory pastries, and breakfast choices including biscuits and gravy. 
Romantics opt for lunch or dinner at Café des Amis, a French bistro famous for its decadent dishes, wine list, and tree-lined deck overlooking downtown. Wines by Jennifer offers tastings and bottles available for purchase. 
If you plan to overindulge, book a room at one of five Airbnb suites above downtown's shops or the award-winning Main Street Inn. 
A Martin City Makeover
Credit Matt Moore for rebooting Martin City's fun meter. He and his partner launched Martin City Brewing Company in 2011, but Matt's love for the south Kansas City 'burb didn't stop there. His Pizza and Taproom pulls in crowds for its brews, pub fare, and live music. And don't let the rustic décor at Coast to Coast Pub fool you; the menu includes supreme seafood choices along with steaks and burgers. High ceilings, wooden beams, and chandeliers make for lovely weddings and special occasions at The Martin City Event Space. Martin City Ice Cream serves its own line of frosty treats.
Other businesses are buzzing as well. Jack Stack Barbecue's original location is known for its smoked meats, ribs, cheesy corn bake, and giant onion rings. In 1972, writer Calvin Trillin put Jess & Jim's Steakhouse on the map; the result is the 25 oz. Playboy Steak. For healthier fare, Martin City Coffee has paleo bowls along with its signature brew. Rosehill Garden's patio creates a lush setting for Somerset Wine & Cider Bar. While it's only open May through September, it's available for private events through the year. 
What's inside Sidelines Custom Floral is as vibrant as its mural outside. Along with fresh flowers, the shop offers baby togs, women's accessories, and stylish home décor. Hostess gifts include cocktail napkins with smart-aleck sayings, candles, and potted plants.  
Living the Good Life in Lenexa
What Lenexa lacks in historical charm, it more than makes up for with energy. When city leaders decided to create a modern urban neighborhood, they did it right. Locally owned restaurants and retail, a handsome civic campus, and plenty of green spaces.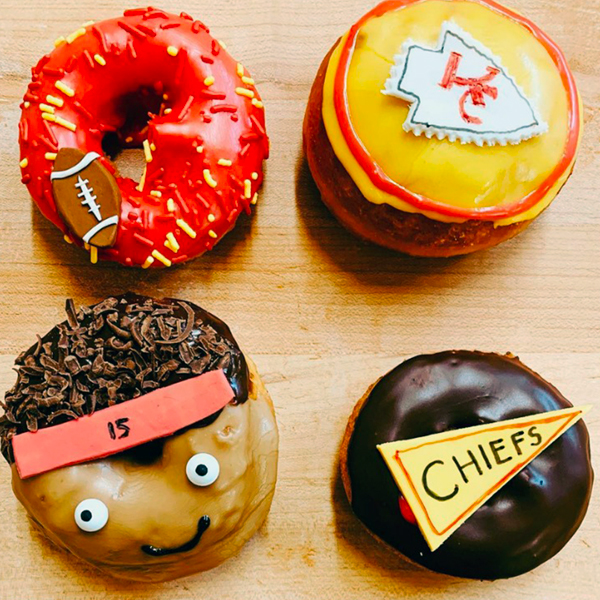 At its heart is the Lenexa Public Market, a shared food hall where diners can choose from smash burgers at Cosmo; loaded pizzas or grinders at Topp'd Pizzas + Salads; Messenger Coffee at Mr. D's; pastries and loaves of breads at Butterfield's Bakery; and wine from the Tasting Room. Red Kitchen KC has built a robust fan base thanks to authentic Mexican recipes, including tortas and traditional tamales for breakfast and lunch, and dinner, when margaritas are also available. 
After dining, feast your eyes on the art gallery in the adjacent Lenexa City Hall where the exhibit changes every month. Here's also where Park University offers classes. The outdoor spaces within the market hosts free Friday night music, family-friendly activities, and holiday makers' marts. 
Across the street, The District has an ever-expanding list of services and retailers including Pure Barre fitness, Savoy Tea Market, and The One, with swoon-worthy designer wedding gowns. Made in KC's shelves are filled with local food, art, gifts, and décor. Gather friends for a game of shuffleboard. 
A restaurant row is planned for the area, but there's no need to wait. Nearby dining choices include Grand Street Café, The Big Biscuit, and Silo Canyon Farmhouse, a handsome restaurant with views of Canyon Farms Golf Club. Open for lunch, dinner, and brunch, the executive chef, Laura Favela, has put together a menu that features everything from KC strip steaks and lobster ravioli with truffle oil to a $10 tenderloin burger special on Tuesdays. Save room for the 32-layer chocolate cake.
Come Over to Downtown Overland Park
From a town on the military roadway in 1905 to a thriving community, Downtown Overland Park offers lots of reasons to visit. Actually, more than 300 of them, the number of unique shops and restaurants surrounding the Clock Tower Plaza. Friends gather in this urban park to hear live music while kids play in the fountain or seek the best view of the Christmas tree lighting ceremony. A few steps away, people shop for fresh produce and provisions like local honey and cheese at the farmers market.  
But for those who'd rather order from a menu, there's Strang Hall with six chef-driven restaurants under one roof. Order in person or online, grab a beverage from the bar, find a table indoors or on the patio, then dig into shrimp and grits, cider-braised pork belly, a chorizo breakfast burrito, or tuna poke.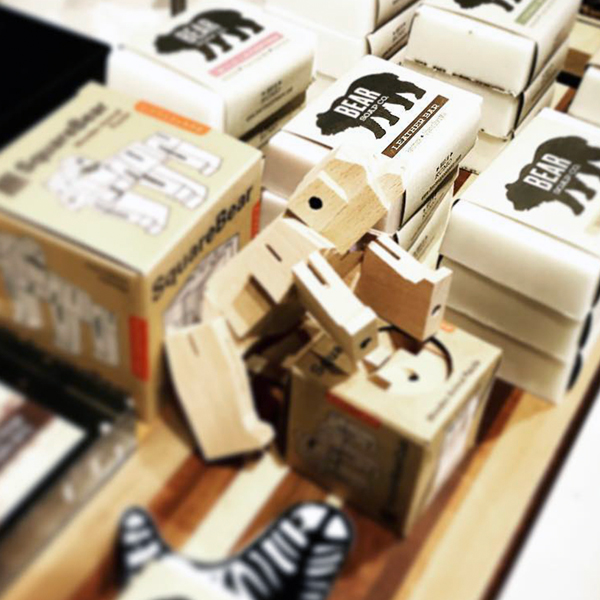 Stand-alone restaurants include Lemongrass Thai Cuisine, which is known for its Pad Thai and coconut shrimp. Evolve Juicery and Kitchen is the place to grab a healthy juice blend or smoothie. Brew Lab's burgers, barbecue, and pretzels are meant to go with its IPA, stout, wheat beers, and sours. Hummus & Pita serves kabobs, wraps, and shawarma plates. The Peanut is famous for its wings and two-fisted BLTs, and Buffalo State Pizza has popular combos or lets you choose your own toppings. 
Downtown Overland Park is also tops when it comes to shopping. Ten Thousand Villages is filled with free-trade items, including rugs, baskets, housewares and gifts. The General Store is popular for its KC-centric goods including tees, pillows, and coasters along with greeting cards that are definitely on the naughty or nice side. Penzys Spices caters to home cooks with its vast inventory of seasonings and spices, dried chilies, and a hot chocolate mix. 
Complete your fall wardrobe at Ensemble, and update your home with furniture, art, and textiles at Old Mango. Hatch + Home is a designer's dream with vignettes of seasonal accessories and gifts. If you find yourself wishing you could take it all home, remember they offer design services.
Get to Know North Kansas City
Five craft breweries, a distillery, cocktail bars. and even a bike shop that serves beer are all found in this friendly area the locals call Northtown.  
Cinder Block is known for handcrafted beer including its "hop monster" Block IPA, porters, lagers, and hard ciders. While it doesn't serve food, the crew is happy to let you bring in your own from nearby places, including Hawaiian Bros Island Grill or Chicken N Pickle. Make plans to join them for live music and trivia nights. 
The Big Rip Brewing Company's offerings include German wheat, brown ale, and cream ale. You're welcome to order food from Hawg Jaw BBQ next door and have it delivered just in time for a Geeks Who Drink trivia contest. Velo Garage & Tap House combines a bike shop with a beer garden and shuffleboard court. Brewkery, a kombucha brewery, has several flavors on tap. Try a flight or fill a growler to take home. Restless Spirits produces five core spirits, including a botanical gin, vodka, blended whiskey, and Irish Whiskey—all crafted by one of the country's only female distillers. They offer tastings and tours along with classes on distilling and cocktails.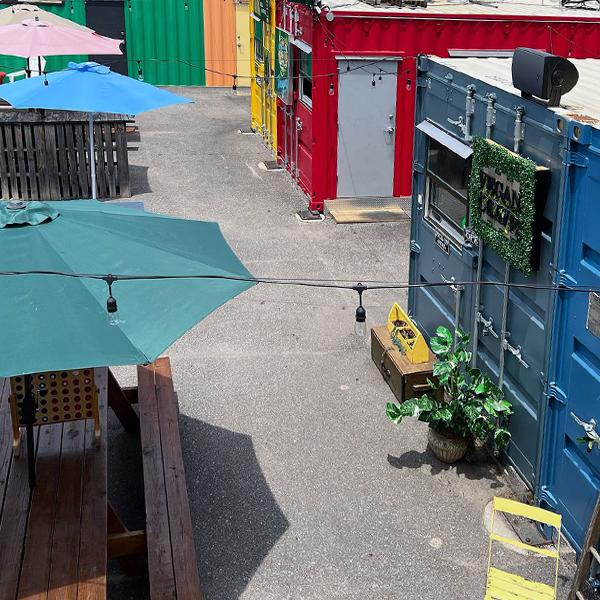 When hunger strikes, Smokin' Guns BBQ has been serving brisket and burnt ends since 2003. Sign up for beer-pairing dinners, buy sauces and rubs to take home or stick around for live music on Gunner's Deck. Scimeca's Market and Deli serves sandwiches along with lasagna made from the same family recipe from 1935. Take-home items include its famous Italian sausage, pasta sauce, and marinades. 
The Iron District is an outdoor space surrounded by colorful shipping containers turned into restaurants and shops. Order your favorites, including Creole barbecue, vegan, tacos, or Far East comfort food along with beers or cocktails and meet back at a table or game area. Screenland Armour offers 20 beers on tap to enjoy while watching a current or classic film. Movie-themed menu items include the Kevin Bacon sandwich and Royale with Cheese Burger. 
Living It Up in Lee's Summit
What was once an 11-block plat known as Town of Strother, Lee's Summit has grown into one of Missouri's most vibrant cities with a walkable downtown filled with restaurants, breweries, and fashion boutiques. The Strother District is now known as an entertainment mecca. Two bars provide the coolness factor: Hand in Glove, serving cocktails and coffee drinks, and The W, a speakeasy-style lounge upstairs. Both are intimate yet friendly, with handcrafted cocktails and bottles of smoked vanilla to go. 
Restaurants throughout the downtown are casual affairs where friends gather to watch the game, enjoy live music, or stop by for Sunday brunch. Third Street Social, open for lunch, dinner, and brunch, has an expansive bar, three-season patio, and some of the best fried chicken in town. When Stuey McBrew's menu has a caution notice on its hot wings with Shut-up Sauce, you know it's best to ask for samples first. The cinnamon rolls at Neighborhood Café are almost as big as the neon sign outside. This breakfast and lunch diner also brags it has the best liver and onions. Konrad's Kitchen and Tap House offers live music on weekends including dueling pianos the second Friday of the month. But folks show up for the food as well, including pizzinis that start like traditional pizzas in the oven, then hit the grill like a panini.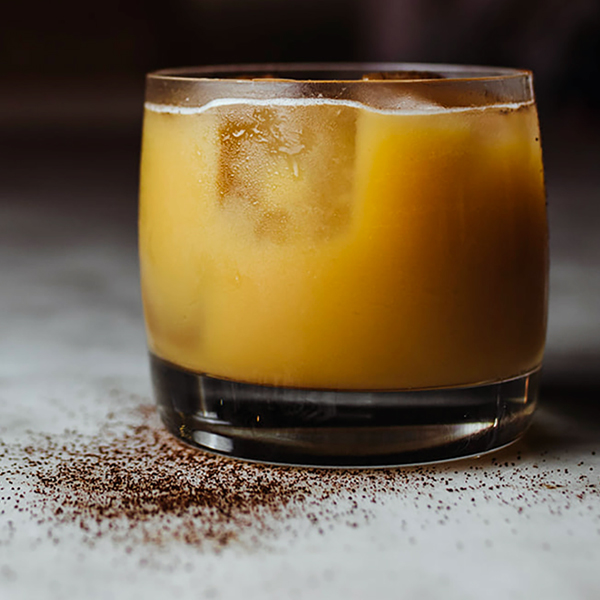 Flavor Lab started out selling spices and pantry items but has added deli food, including loaded hot dogs and seasonal soups along with local craft beer. Choose from three bars at Llywelyn's Pub with live music and traditional Celtic fare, such as fish and chips and shepherd's pie. 
The neighborhood seems to have a thing for handcrafted beers, too. Grains and Taps offers 20 beers on tap; order a pizza or pretzels and play bingo on Wednesday nights. Smoke Brewing Co. marries championship barbecue with handcrafted beer. Order the assemblage of brisket, meatloaf, ribs, and more called The Beast that serves from four to six—or one offensive lineman. The Hang Over Bloody Mary is a buffet on a glass. Diametric Brew has 19 beers on tap; outside the Burn Theory Fire Kitchen food truck serves elevated pub items including street tacos. Poppy's Ice Cream lists seasonal flavors on a blackboard and offers concretes, sorbets, and pastries as well. 
For retail therapy, The Trove specializes in vintage tees, new fashions, and pre-loved but pristine Louis Vuitton and Gucci bags. Anchora Bella has your fall wardrobe ready to go with sweaters and faux-leather skirts. Accessories include clear game-day bags with hand-beaded Chiefs straps. The Razzle Bee Boutique is a chic cowgirl's best friend with well-priced fashions and accessories including roughed-up caps with sayings like "Hold my drink while I pet this dog." Embers Candle Bar invites you to create your own candle using their stylish containers and 63 different scents. Walk-ins are welcome or rent the space for a private event.