Sponsored content: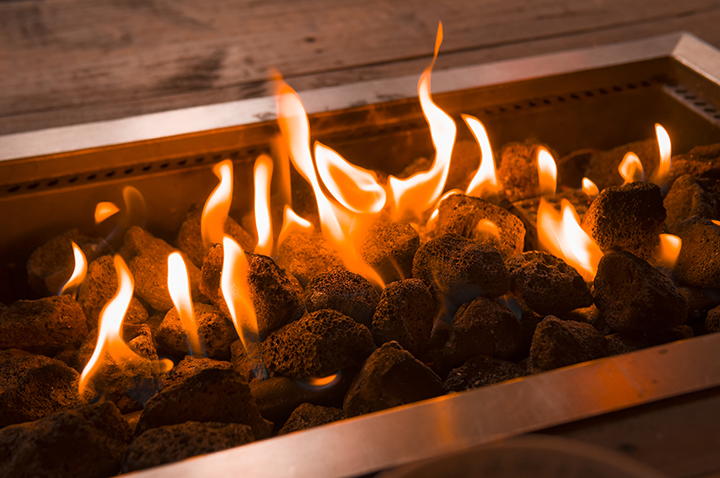 Sure, the days (and nights) are quickly getting cooler, but with a professionally installed outdoor fireplace or fire pit, you can continue to enjoy the outdoors well into the holiday season. Just imagine bundling up and gathering your friends and family for a cozy outdoor gathering complete with steaming mugs of hot chocolate, gooey s'mores, and lots of laughs. 
Not only is this the ideal time of year to be outside and enjoy the changing seasons; it's also a great time to plan the outdoor space of your dreams. What do you want to add? A fireplace? A fire pit? An outdoor kitchen? The team at Complete Home Concepts can help you with all of this (and more).
Fireplace vs. Fire Pit
Since Complete Home Concepts can help you design and install both outdoor fireplaces and fire pits, how do you decide which to choose? The biggest factors are likely the size of your outdoor area and your budget, closely followed by how you want to use the feature. 
For example, fire pits are typically more conducive to gathering and interacting, as you can group people around it. On the other hand, an outdoor fireplace will be similar to its indoor counterpart: it will be connected to a chimney and your seating options are more limited (in front of the fireplace as opposed to surrounding it). 
Also, consider your desired aesthetic. What sort of style or look do you want your outdoor space to evoke? There's an argument to be made that outdoor fireplaces can be more architecturally striking, built with stone or other surroundings to truly bring the inside out.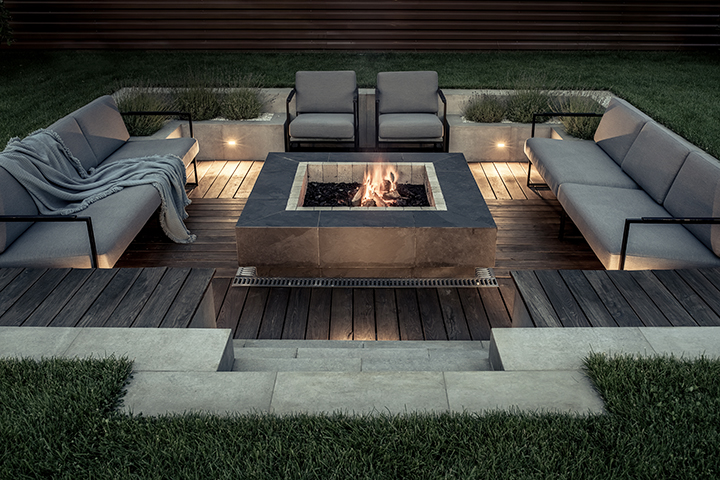 That said, Corbin Haughenberry, Complete Home Concepts project manager, says that fire pits have come a long way in recent years, especially as demand continues to spike. You could go simple with a circular fire pit bordered with brick or stone. Or you could opt for a more elevated result like a sleek square fire pit surrounded by a variety of seating and finishing touches like concrete planters, plank flooring—the sky's the limit! 
"You tell us what you're thinking and we'll build it for you," he says.
Here's one other factor to consider as you're creating your plan. Check with your HOA (if applicable) to see if they have any existing guidelines around fire pit installation and use. That's another benefit to working with Complete Home Concepts—because they've worked with clients in so many Kansas City-area neighborhoods, they already have a good idea of any regulatory parameters you should consider and can help you avoid unnecessary headaches. 
'If You Move the Kitchen, You Move the Party'
That's one of Complete Home Concepts' go-to sayings, and it's true! Just think about indoor entertaining—more often than not, people tend to naturally congregate in and around the kitchen. After all, it is the source of food and drink! 
You can create a similar vibe with an outdoor kitchen. And just like with outdoor heating elements, your outdoor kitchen can be as basic or as elaborate as you want. Haughenberry says outdoor kitchen projects are among his favorite because both the company and the client have a chance to really flex their creative muscles. 
"The outdoor kitchens that we create and build are truly yours," he says. "We don't have kitchen packages. Instead, it's an outdoor kitchen that's built from the ground up to match how you're going to entertain, what sort of space you have and other parameters."
Haughenberry recommends dreaming as big as possible when you stop in to Complete Home Concepts to discuss your options. Perhaps you want to install a brick pizza oven? Multiple cooking surfaces? Refrigeration? Cabinets? A smoker? Warming drawers? All of that—and more—is possible. 
"We always tell customers to not hold back," he says. "Come in with your full vision—you'd be surprised at what's possible."
From helping you select the focal point of your outdoor kitchen (typically a grill) to selecting cabinetry, accessories and finishing materials, then moving into design and installation, Complete Home Concepts works with you every step of the way. 
Whatever sort of end result you envision, the first step is to reach out to Complete Home Concepts to schedule a free in-person consultation and estimate. Feel free to bring ideas, sketches, Pinterest posts—anything that inspires you and your vision. Or you can lean on the team to flex their creative muscles once they learn more about your space, price range and other pertinent details. 
As we've all learned far too well throughout the past year and a half, you really can't put a price on spending time with friends and family. Consider an updated outdoor space, an investment in making priceless memories that all start in the most special place: home sweet home. 
Visit completehomeconcepts.com to browse projects, services and schedule a consultation.