Sponsored content:
Kansas City, we're almost there. The clocks jump forward this weekend, which means spring is just around the corner. 
As you begin planning backyard barbecues, an alfresco dinner party, or an impromptu weekend happy hour, you'll need a fully equipped outdoor space that's functional and inviting—the perfect place to gather or simply relax. And the team at family-owned Complete Home Concepts is ready to bring your vision to life. 
"We work with customers that are in the process of building a new home or who have owned their home for decades," says Corbin Haughenberry, project manager, Complete Home Concepts. "We take care of everybody from start to finish. Each time we work with someone, they're no longer a customer, they become a part of our family."
The Complete Home Concepts team offers a full range of outdoor-living services that is typically grouped into three categories: fire pits, patio heaters, and outdoor kitchens. Read on for insight from Haughenberry in each category and jump-start your own outdoor project planning.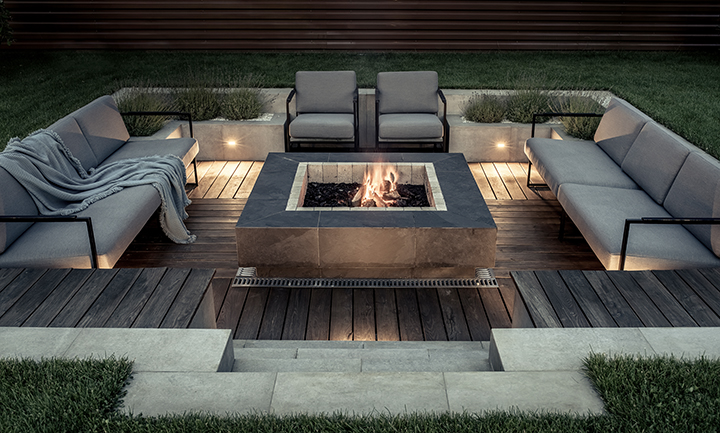 Fire Pits: The roaring popularity of fire pits shows no signs of cooling off. (Puns intended!) The Complete Home Concepts team specializes in custom fire pits—think of them as heated structures built specifically for your home. 
"We bring in a structure with brass-ported burners to get a nice big flame, then surround the structure with stone or granite," Haughenberry says. "Not only do you get an outdoor focal point that keeps you warm, but you'll also add value to your home."
You don't need a sprawling backyard to accommodate a custom fire pit. Instead, there are two key elements to keep in mind: 
1. A fuel source, either natural gas or propane. Haughenberry says it's not unusual for customers to tackle this part first. Complete Home Concepts can come to your home and help assess what size gas line you'll need. Then, once it's installed, you can decide when the time is right to finish the project
"We tell a lot of our customers to run the electric and gas now," he says. "Then, when they're ready to finish the project in a year or two, we are, too. The hard part is out of the way."
Be sure to enlist professional help when you're planning and installing a gas line. Here, Haughenberry offers some truly invaluable advice. 
"There's nothing more expensive than a project you have to do twice!"
2. A solid building surface. Rather than constructing the fire pit directly on the ground, the team will create a level surface with concrete or pavers. This is another opportunity to get the insight of Complete Home Concepts. Maybe you have a hilly backyard or one that presents some challenging space configurations. There's likely a solution, but the earlier you can enlist the Complete Home Concepts team, the better.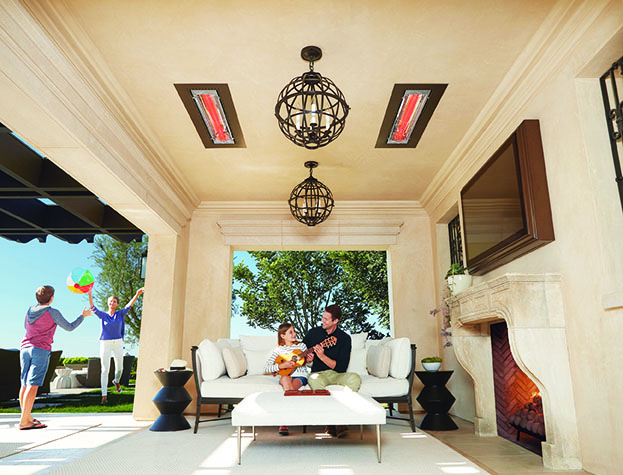 Patio Heaters: You may have noticed patio heaters becoming more widely available at area restaurants. They're now also available to consumers, and Haughenberry says the team was excited to add this product category in the last year. 
"As we keep adding outdoor elements, they all have one thing in common: to keep you outdoor longer in the evening or to help get you outside earlier in the year," he says. 
The patio heaters available from Complete Home Concepts are electric—once you have a power source installed, you'll have heat at the flip of a switch. And if you do have a larger outdoor area to work with, Haughenberry can help give you ideas on combining patio heaters and fire pits to create multiple warming zones and accommodate larger gatherings.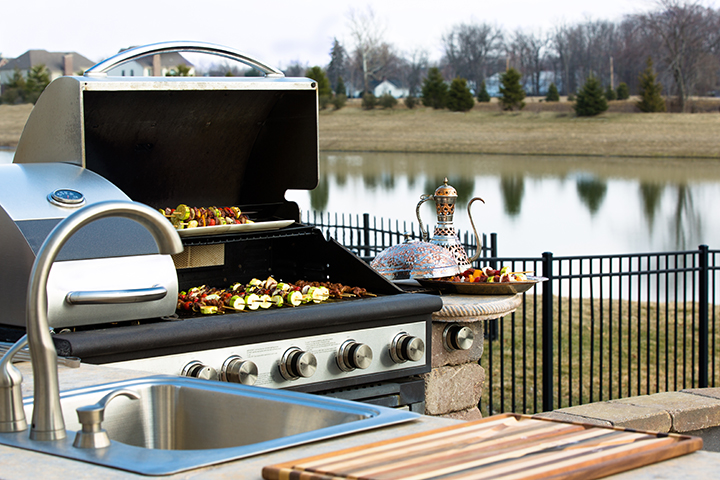 Outdoor Kitchens: Haughenberry says the popularity of outdoor kitchens increased during the pandemic, giving the Complete Home Concepts team more opportunities to embrace their creativity and also expand their knowledge. 
"We go into every outdoor kitchen project with our eyes open—what can we do better going forward," he says. 
Take two recent projects, for example. One customer wanted an expansive, 15-foot outdoor kitchen that Haughenberry says included "almost every burner you could add!" 
After that installation was complete, another customer came in with a similar vision but a much tighter outdoor space. Not only were the cooking spaces reconfigured to work better in the space, but the team also added a second kitchen island designed specifically for food prep. 
"Not only is the space we're designing important; it's equally important to consider how you'll use the space," he says. "This customer entertains dozens of people each week, so we wanted to be sure she had a functional yet flexible space so that she could easily adjust from hosting a small group to a larger, more impromptu gathering."
As important as it is to consider the logistics of your outdoor transformation project, it's just as critical to spend some time considering how you want to feel in your outdoor space. 
"The days are getting longer, the mornings are starting earlier," Haughenberry says. "Think about firing up your heaters or fire pit on a Saturday morning with a cup of coffee. You'll probably spend most of the morning outside enjoying those good vibes, starting your day off on the right foot."
As you contemplate what you want in an outdoor space, reach out any time to Complete Home Concepts. Stroll around the Riverside, Mo. showroom to get a feel for the products that are available. Then, schedule a consultation and get your own planning process underway. Just think: this time next year, as spring beckons with warmer temperatures and longer, more leisurely evenings, you could be welcoming friends and family to the warm, welcoming glow of your own outdoor oasis. Are you ready to get started?