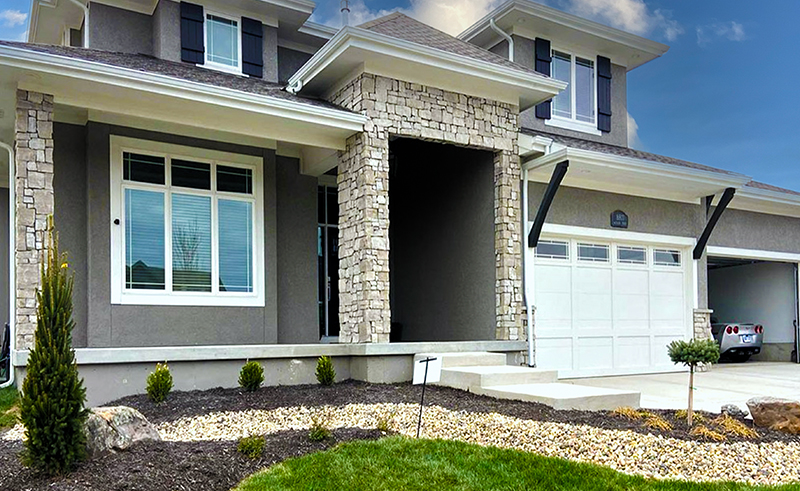 Sponsored Content
Browse through Complete Home Concepts' extensive portfolio of home updates—both inside and out—and you'll likely notice a common feature: stone. 
The company originally launched as Model Stone of KC. Owner, Jim Goodwin, created and sold stone to contractors for installation. Since then, the company has evolved to offering its own installation services and now, as Complete Home Concepts, provides a full range of services and products to transform both outdoor and indoor living spaces. 
In a nod to the company's roots, Complete Home Concepts remains committed to the value and versatility of stone. As you consider updates to your home, here's a closer look at various ways to incorporate stone and why you should prioritize it. 
Six Ways to Incorporate Stone In Your Home Updates
Outdoors
Fire pit—When you work with Complete Home Concepts on a custom outdoor fire pit, there's a good chance it will include stone, not only for its aesthetic value, but also its durability. 
"Any material we incorporate is meant to be installed outdoors, but rain isn't the only consideration," says Corbin Haughenberry, project manager, Complete Home Concepts. "Think of our recent summer weather and those hot, humid days, which just terrorize the typical sheet metal products you might find in a big-box store. They have just enough protection to hide wear and tear for a bit, whereas stone is made to last."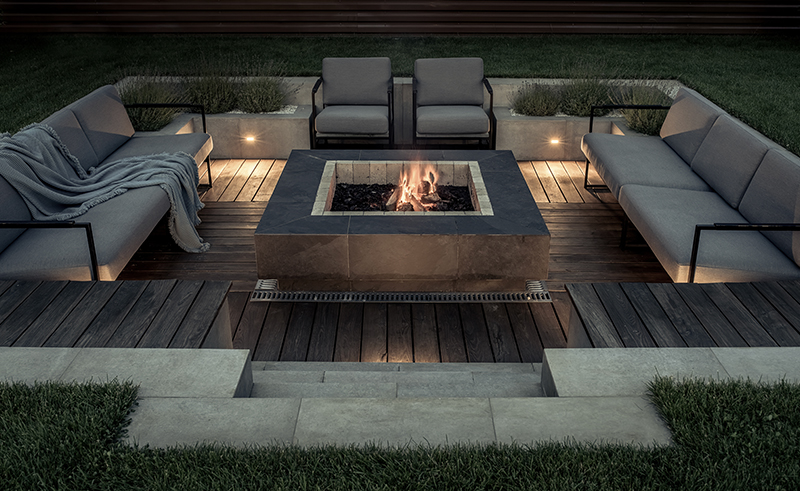 Not only can stone withstand extreme Midwest weather conditions (both hot and cold); it's also incredibly versatile, a key factor in Complete Home Concepts' creative approach to each project. 
"That's the beauty of designing and building an outdoor fire pit with us," Haughenberry says. "I can't break the mold because I don't have a mold. If you want your fire pit to spell your name in fire, we can make that happen."
Decorative accents—Beyond the fire pit itself, Complete Home Concepts uses stone in a variety of outdoor living applications. For example, a recent client wanted to disguise the concrete foundation visible from her walkout lower level. Haughenberry suggested a stone overlay to conceal the concrete and extend the outdoor area's polished aesthetic. 
Kitchen—Stone also plays a starring role in an outdoor kitchen. Haughenberry says most outdoor kitchens include a stone kitchen base, stone coverings over the cabinets and around the appliances. Not only does this create a sleek, uniform look; it also provides additional protection from weather-induced wear and tear. 
From there, clients have even more options to include stone. If an outdoor kitchen is built against a wall, for example, stone can be added to the wall to function like a tiled backsplash. Haughenberry also recalls a raised bar with a granite working and eating surface to add durable functionality for effortless entertaining.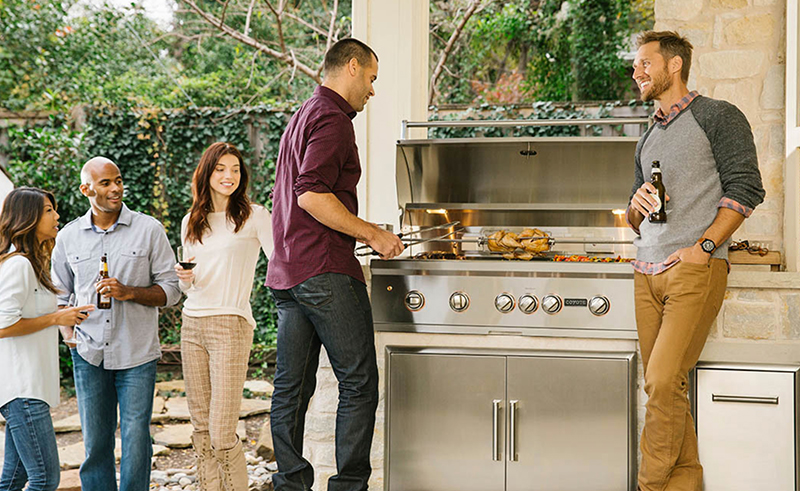 "We've seen some really fun projects in the last couple of years," Haughenberry says. 
Indoors
Fireplace—Is there anything more eye-catching or welcoming than a sizable, stone-surround fireplace? This timeless living area feature will never go out of style, and Complete Home Concepts can help you navigate your numerous options to find the indoor fire feature that's a perfect fit. 
"Stone is versatile, which is one of the reasons we love using it," Haughenberry says. "It can be traditional or modern. It really comes down to the styles and colors that you choose."
Stop by the Complete Home Concepts showroom to get a firsthand look at the exciting array of stone available. Or jump-start your inspiration by seeing more projects by the Complete Home Concepts team. Just as stone can be extended in a variety of uses outside, the same happens indoors, too.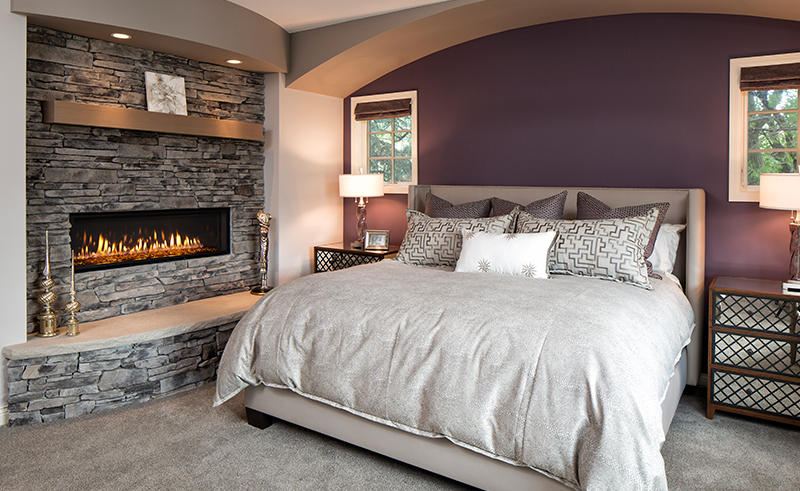 Kitchen—Imagine walking into your kitchen and instantly being transported to Europe. That's the effect that Haughenberry and his team recently created for a client who wanted her kitchen to exude the rustic appeal of an old Italian villa. Stone was installed throughout the kitchen, including on the backsplashes and as cabinet surrounds, so that the finished product exceeded the client's initial vision. 
"When we finished, it looked like her entire home had been built around this kitchen," Haughenberry says. 
A similar stone aesthetic can be extended to other parts of the home—a wine cellar, perhaps—to create a cohesive visual look, but also an escape with no travel required.
Home office and beyond—The Complete Home Concepts team has the experience and products to transform most parts of your home. If you have a study or home office, consider adding stone to make it feel like you've stepped into a traditional library or a minimal, modern workspace. 
Haughenberry cites another recent project: a stone accent wall in a home theater. 
"The back wall included built-in speakers and a fireplace, so we ended up stoning in the whole wall to create more of a retreat," Haughenberry says. "That's his escape, so he trusted us to build this vision. He's so happy there now that he avoids calls from friends inviting him out and away from his house."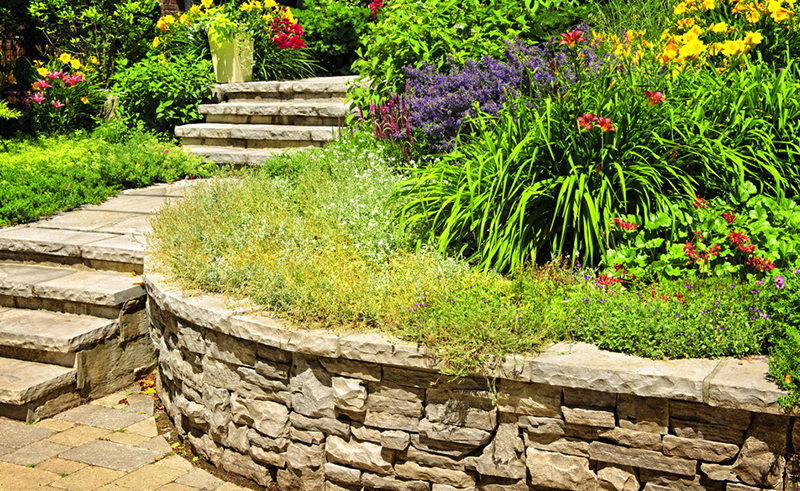 No matter how you incorporate stone into your home, the Complete Home Concepts team will make sure that stone not only enhances the creative vision of the home update, but also that it provides a lasting investment. 
"One of the reasons why we like natural or man-made stone is that it becomes part of your house and its décor," Haughenberry says. "It's not simply a drop-in element you buy at a store and add in. Instead, stone elements add value to your home and the experiences you can offer within your home."
Visit the Complete Home Concepts website to browse stone veneer and other products and schedule your free consultation.