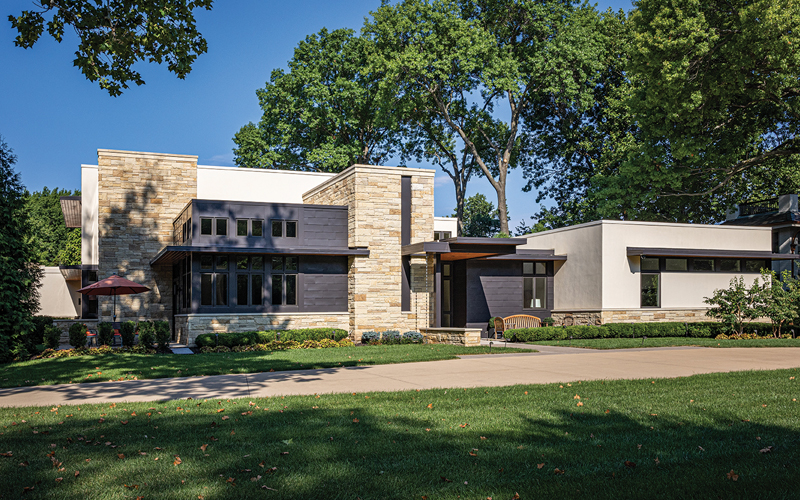 In 1935, famed architect Frank Lloyd Wright fell in love with falling water in Mill Run, Pennsylvania, and designed a modern house to embrace it.
Flash forward—and westward—to 2014 Kansas City. Art collectors Deborah and Tom Macon swooned over three stately oak trees in a backyard near Loose Park. At this stage of their lives, they wanted a deeper connection between daily life and nature.
They bought the 1960s French cottage-style house that came with those trees and thought to renovate it enough to get close to their vision. But an unlooked-for opportunity presented itself. Structural issues couldn't be solved, and the house had to be torn down. 
Back to the drawing board. 
And into the trees. "We really started with how we wanted to live," says Deborah Macon, an attorney and artist. Bringing the outside in. "And we soon realized that a traditional home with a hallway and little rooms didn't suit us anymore. I'm all about the floor plan. I'm a function over form person, but the form must be beautiful."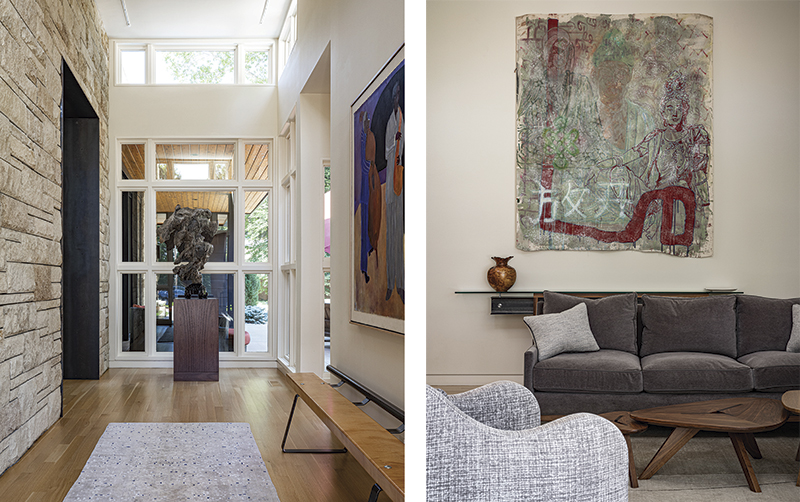 In contrast to the open living spaces, there are smaller rooms, too. Deborah wanted an office/art studio. Tom, a serial entrepreneur, wanted an office/den (along with a TV, banished from the living room). Little by little, the shape and substance of the new house changed.
"We chose one concept—inside/outside—and one word—serene—on which to base every decision," says Macon. "We invited the landscape into the home with more than 180 windows and glass doors." Wood, stone, and raw steel both inside and out created a seamless transition from one to the other. Serenity dictated one paint color for most of the rooms—Benjamin Moore O-95—a warm white. Rift-sawn oak floors and cabinetry, ten-foot-tall sliding-glass doors, and passive solar panels blend function with form.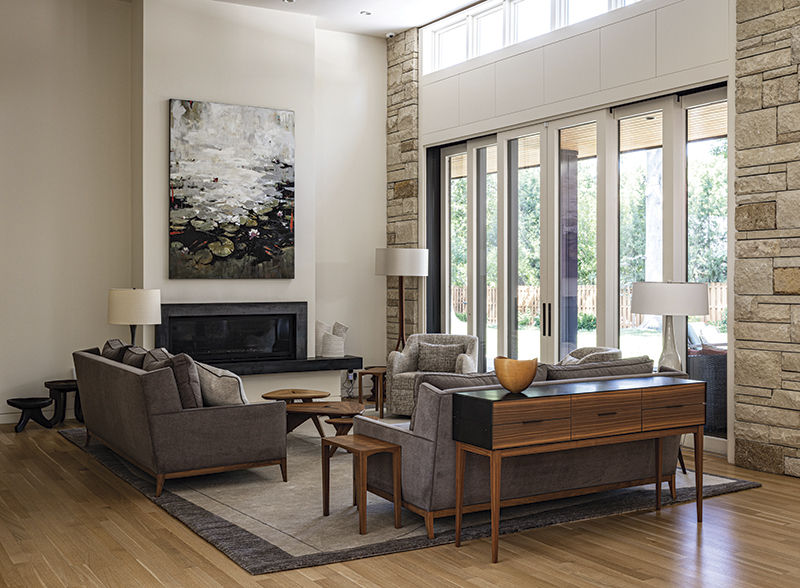 Although streamlined and minimalistic, the home also had to be friendly and welcoming. "The great thing about Kansas City neighborhoods is that they're alive, embracing differences. They accommodate change and growth over time," says Macon. She had gone to law school at UMKC and used to walk in Loose Park. Tom also had roots here. "We met in Washington, D.C. and vowed that if we ever got a chance to move back to Kansas City, we would."
That opportunity came after Hurricane Katrina destroyed much of New Orleans in 2005. Tom moved his business and some employees to Kansas City; Deborah and their two children followed. "People couldn't have been nicer to us," she says.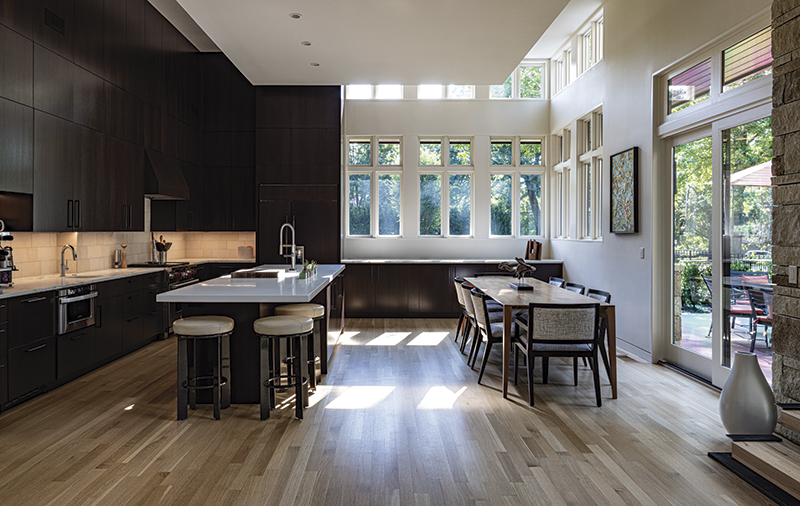 As this house was coming together, through Deborah's floor plan, collaboration with their architects Mike Cress and Tom Proebstle of Generator Studio, and Tom's approval, they realized that their traditional furniture might not be quite right. They took a page from Frank Lloyd Wright's notebook and commissioned custom furniture from David Davis of iCon Architecture to fit the new living room, primary bedroom, and dining room.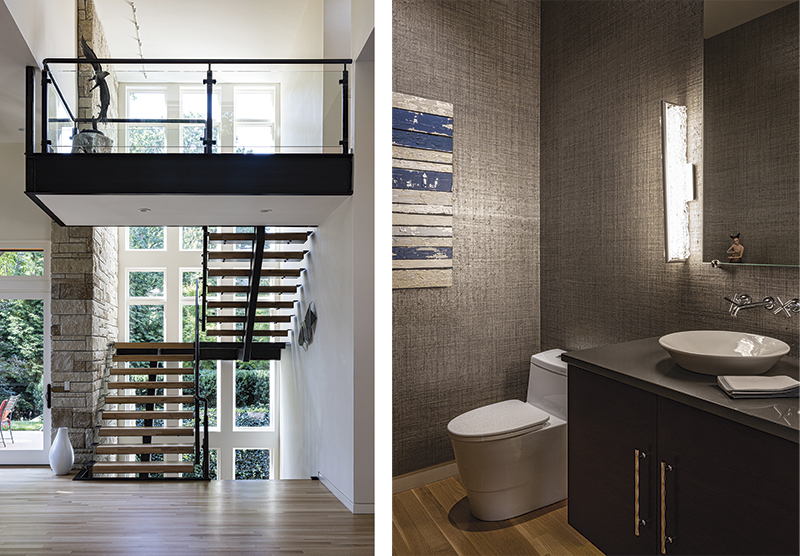 The couple also wanted customized space for their extensive art collection. "We collect living artists," Macon says, "because they have a vision and have worked on their craft, and they need to make a living. We're not interested in the publicity of art. We support artists whose work we like, whether they are famous or not." Many works are by Kansas City artists, including Lori Buntin, Lisa Lala, Christopher Clark, and Deborah herself. "We also have a garage gallery where I also hang some of my work," she says.
The kitchen features a dramatic wall of rift-sawn cabinetry across from a wall of windows. "Where women spend their time is given short shrift in most floor plans. My kitchen is filled with art and the sliding doors provide direct access to the garden. The kitchen is loaded with views, light, and volume. It's pure joy to spend time there," Macon says.
"One of our favorite dinner parties took place during a summer deluge," she recalls. "We opened all the doors and listened to the rain. Who needs music when nature provides such beautiful accompaniment?"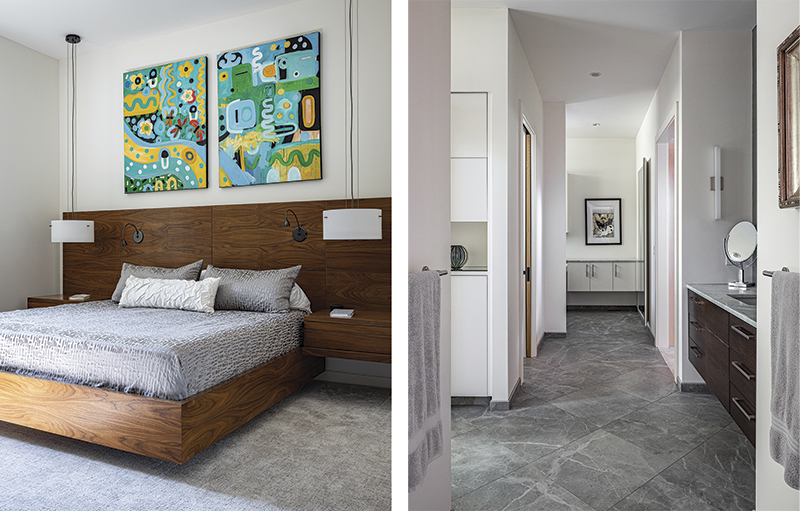 The primary bedroom is minimally furnished, with a diptych by New Mexico artist Gregory Lomayesva over the custom walnut bed. Nearby is a fabulous closet you could get lost in, designed to accommodate both Tom's neatness and Deborah's more messy side. She also loves the private, secluded, outdoor shower room of the spacious and sleek primary bath. "When the moon is up and the stars are out, it's a piece of divinity," she says. And there's a Buddha in the tiny courtyard to prove it.
In the light-filled foyer sits a Chinese sculpture the couple found at the former Brookside Antiques. Perfectly balanced on a rosewood plinth, the "scholar's rock" symbolizes serenity as it celebrates the beauty of the garden.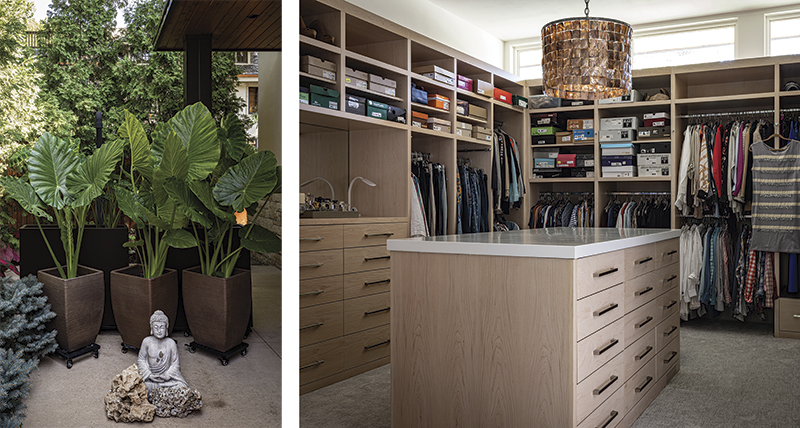 The couple now enjoys a joyful ease of living in an airy, light-filled space, surrounded by the things that matter most to them—a sense of connection to nature, plenty of room for friends and family, and meaningful art.
"This house has given us a new lease on life," she adds. "It's rejuvenating." 
"Contemporary can be just as comfortable as traditional," Macon maintains. "It's all in the use of materials and arrangement of the living spaces. It's so peaceful. We live in every room. Morning and evening, Tom and I sit in our living room and look out at the trees. It's endlessly entertaining."
---
The It List
Architects
Generator Studio
Builder
RM Contracting
913-208-6928
Custom Furniture and Millwork
iCon Architecture