If Ted Lasso, Sporting KC, and a potential FIFA hosting gig aren't enough for soccer fans, this week's news from the nascent Kansas City National Women's Soccer League will send you over the edge. 
The team, owned by Angie Long, Chris Long, and Brittany Matthews, is an expansion team for the NWSL and has played its inaugural season at Legends Field in Kansas City, Kansas, and will play its 2022 season at Children's Mercy Park. Yesterday, the owners announced their plans for the first NWSL purpose-built stadium at Kansas City Riverfront. 
At a Wednesday press conference, Angie Long told reporters that the stadium would be 'right-sized' for their audience. At 11,000 seats in its original horseshoe configuration, it offers the opportunity to host sold-out matches and presents the opportunity for expansion as the sport grows.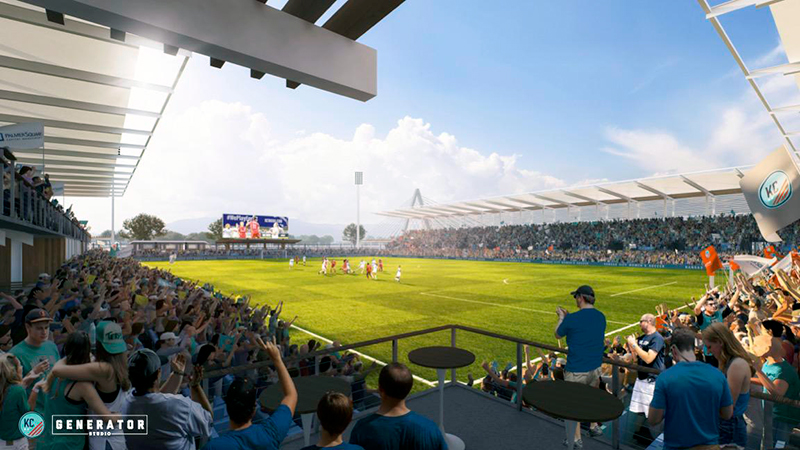 Women's soccer is a growing sport that's rapidly taking the international spotlight. 
"Tremendous momentum exists in women's sports specifically, and we are so proud to play a major role in ensuring the sport and also our region benefit from the economics and growth offered by a stadium of this magnitude," Angie says. 
The proposed stadium will cost an estimated $70 million of private funding. The team has already inked a 50-year land lease with the Port Authority of Kansas City for the needed seven-acre parcel. JE Dunn, Generator Studio, and Monarch Build have been tapped for design and construction.
A new stadium isn't the only excitement for the team. On fan appreciation night, Saturday, October 30, the still-unnamed team will unveil their new name, crest, and brand. Learn more about the team and the new stadium at kcwoso.com.