Entrepreneurs and philanthropists Jason Holmes and Kevin Westrope were living complex and busy lives with homes in Dallas, Puerto Vallarta, and Union Hill, when they decided to simplify. Kansas City would remain their home base, but they were ready to create a spacious, light-filled home that would meet all of their needs.
"We really wanted a place where we could entertain," Holmes says. "We wanted easy, open spaces."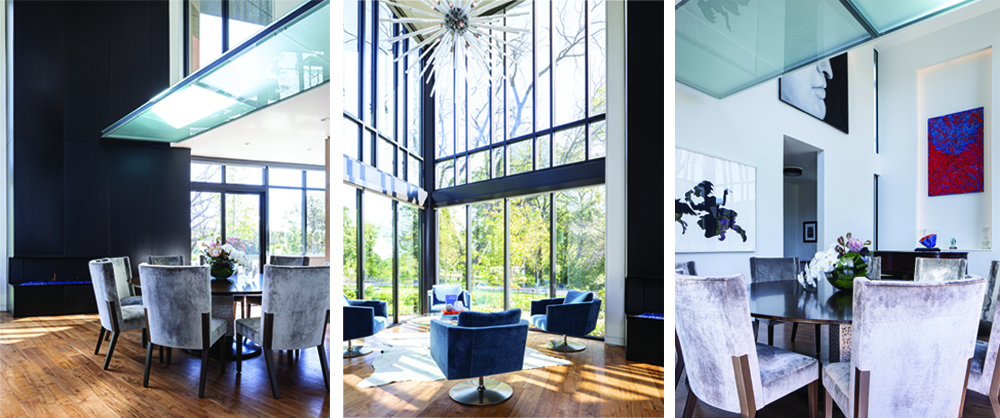 Their aesthetic is modern, but the look isn't cold. Clean, sculptural lines, warm woods, and colorful fabrics and rugs create a space that is rich and relaxing, rather than sleek and sterile. When an empty lot near Loose Park became available, the couple decided to build.
A few years ago, Westrope suffered a stroke that resulted in his needing a wheelchair. They wanted the home to be easy for him to navigate without taking on a sterile, hospital feel. They worked with Generator Studio to design a home that would incorporate their favorite pieces of furniture and art from previous residences, provide ample space for entertaining, and be sensitive to Westrope's needs. The architects stepped up for the job.
The house is sited to face a quiet residential street, but still has generous views of Loose Park. Double-height windows in the living room create a statement inside and out, while providing natural light throughout the public spaces on the first floor. A custom sputnik-like crystal fixture—that adds stunning sparkle day and night—hangs over an intimate seating area. The 1929 Steinway welcomes enthusiasts as well as accomplished performers.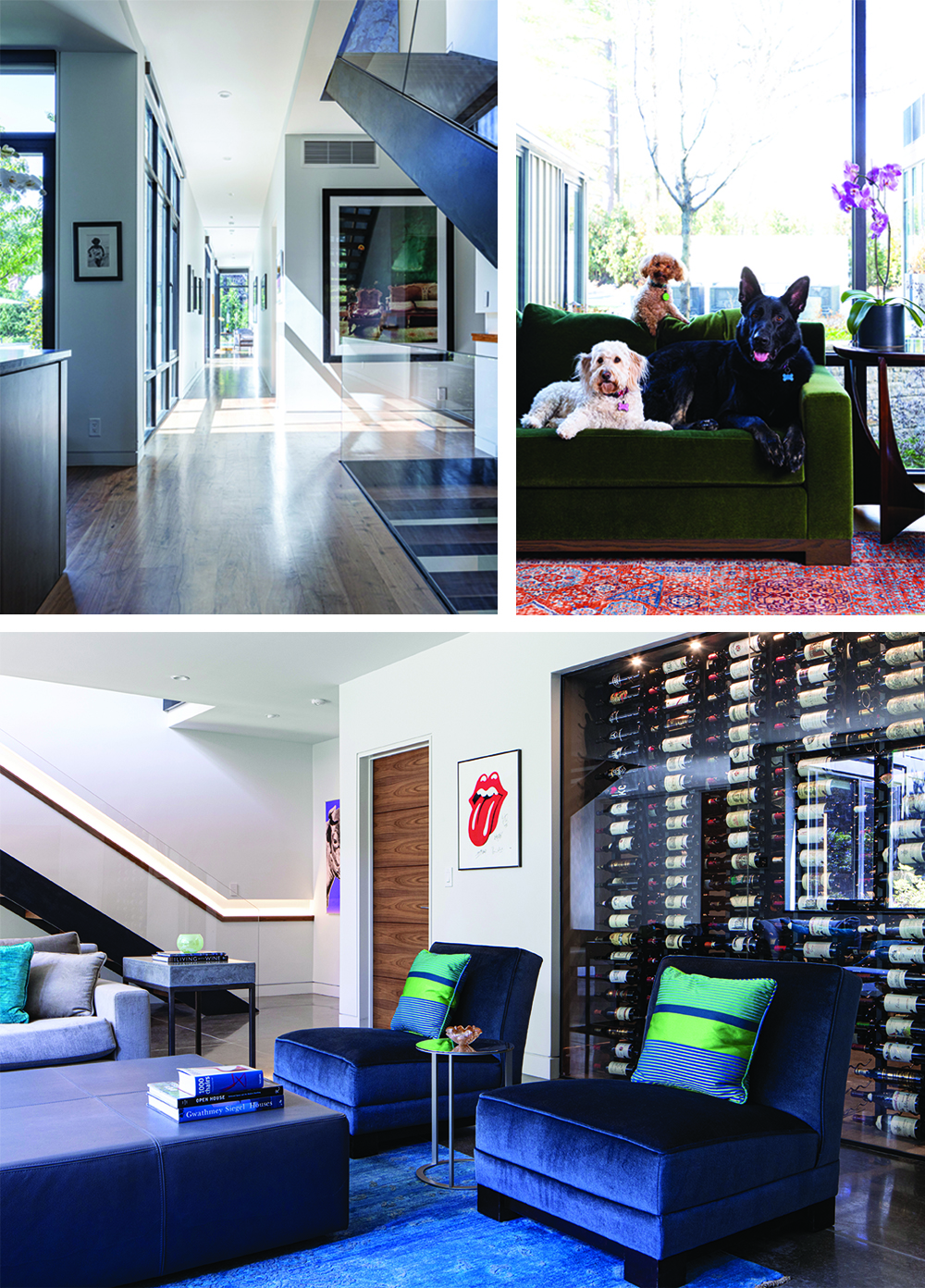 A large painting by the couple's friend, artist Brady Legler, hangs nearby. Holmes and Westrope are enthusiastic and accomplished art collectors. Besides Legler's work, the public spaces of the house include a Kara Walker painting, an Andy Warhol Marilyn Monroe lithograph, and photographs by Henri Cartier-Bresson, Herb Ritts, and Michael Eastman.
The formal dining table, situated in front of the oil-rubbed steel two-story fireplace, is open to the living room. A glass canopy separates the first and second floor and lends an intimacy to the dining space. Joseph Jeup chairs upholstered in platinum velvet surround the zebrawood-topped table.
The streamlined kitchen, which opens to a patio that overlooks the Loose Park rose garden, is an easy set up for cooking at home or hosting a large crowd of friends. A caterer's kitchen nearby gives chefs and guests the space they need when Holmes and Westrope entertain.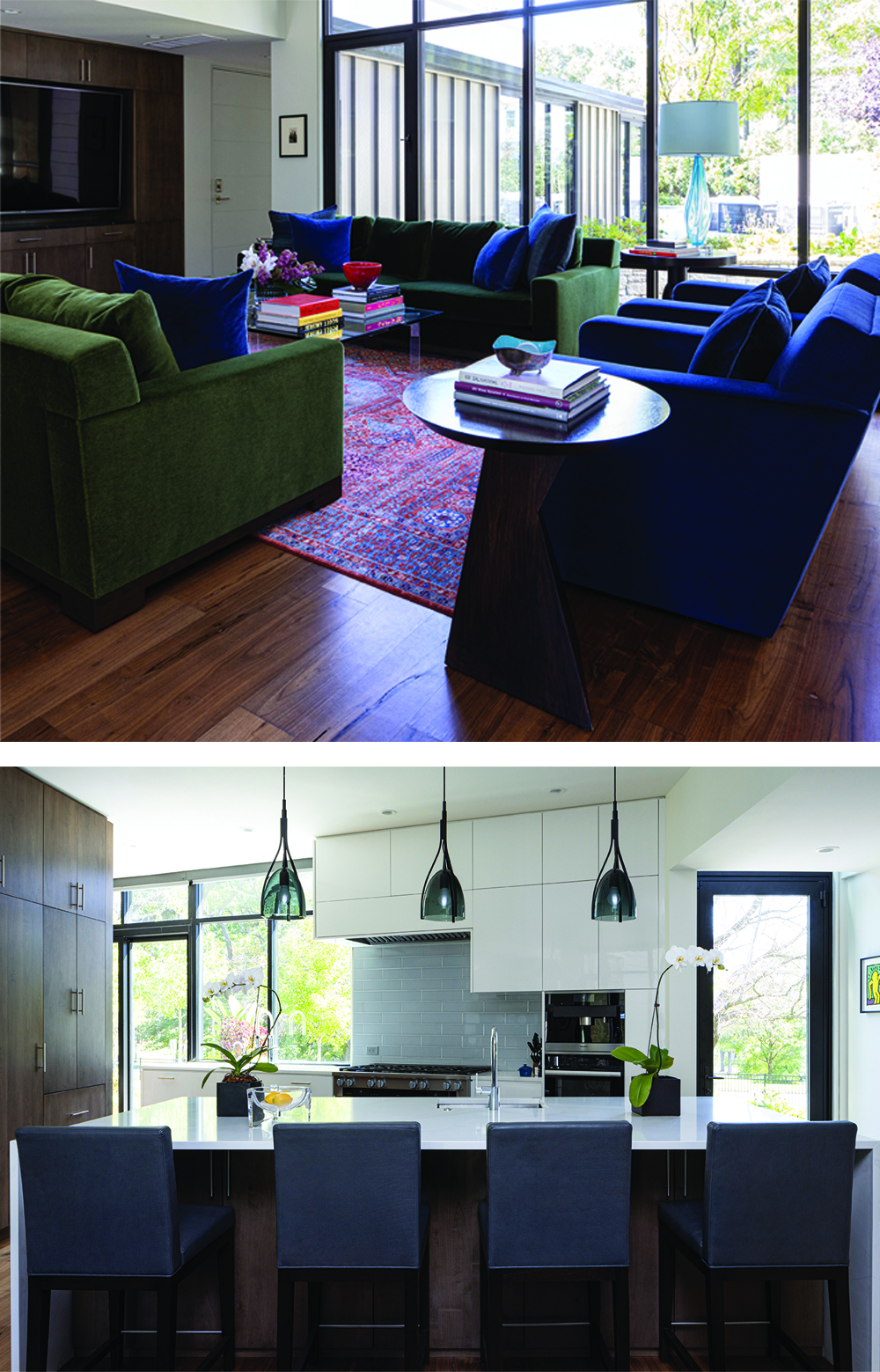 Deep, rich green mohair-upholstered Christian Liaigre sofas provide the perfect space for relaxing and watching television or visiting with friends. The entire house is oh-so-smart with lighting, sound, and security available by a touch of the screens on the men's phones.
An open stairwell encased in glass is an exercise in form and function. It's steel and wood construction is sculptural and airy, despite the weight of the materials. An elevator is tucked discreetly behind.
Holmes's office is on the first floor. Rather than an opulent altar to work, it seems the epitome of efficiency. Its rich navy walls are made lively by orange leather chairs and a pillow sporting a jaunty Sig Lindberg print. A distinctive Hunt Slonem rabbit painting of a similar hue leans nearby.
The first-floor master bedroom is comfortable, yet serene. It is a retreat from the men's busy lives. Here, too, they have surrounded themselves with art both on the wall and underfoot. Legler's final project for art school hangs by the bed and one of his rugs is underfoot.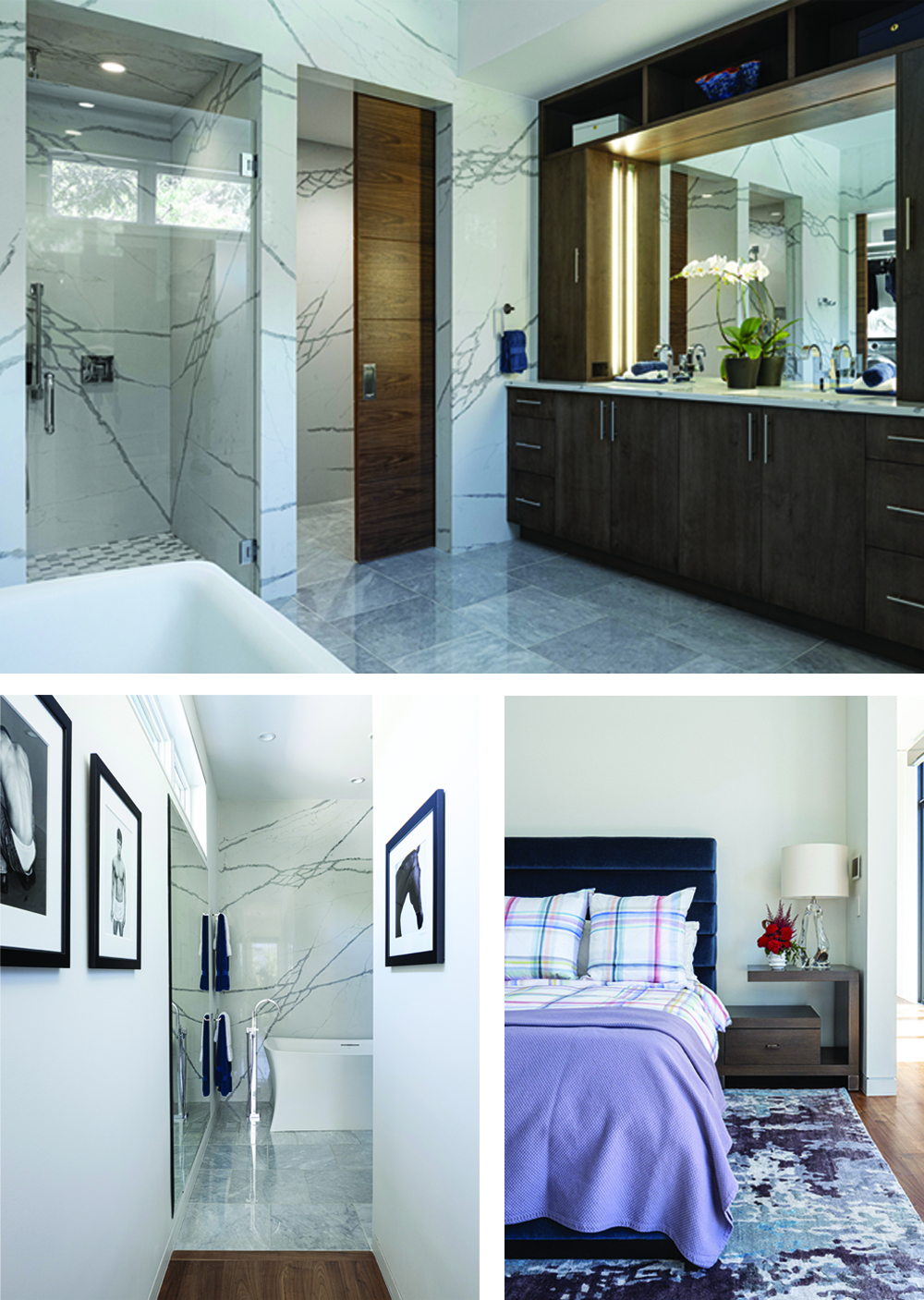 The second floor is home to four guest bedrooms, each with a private bath and a view of either the park or the courtyard. Two open-air second-floor decks offer even more views. 
The backyard is terraced toward the house with stone walls and natural plantings. This design, coupled with large windows in the basement, creates a room that has not only ample light, but a view of trees and plantings, which negate all unpleasant connotations often associated with "finished basement."
The couple also asked the architects to design a wine cellar that would accommodate Westrope's wheelchair. "Kevin's the oenophile," Holmes says. "It's his passion. I wanted him to be able to move easily and be comfortable in here."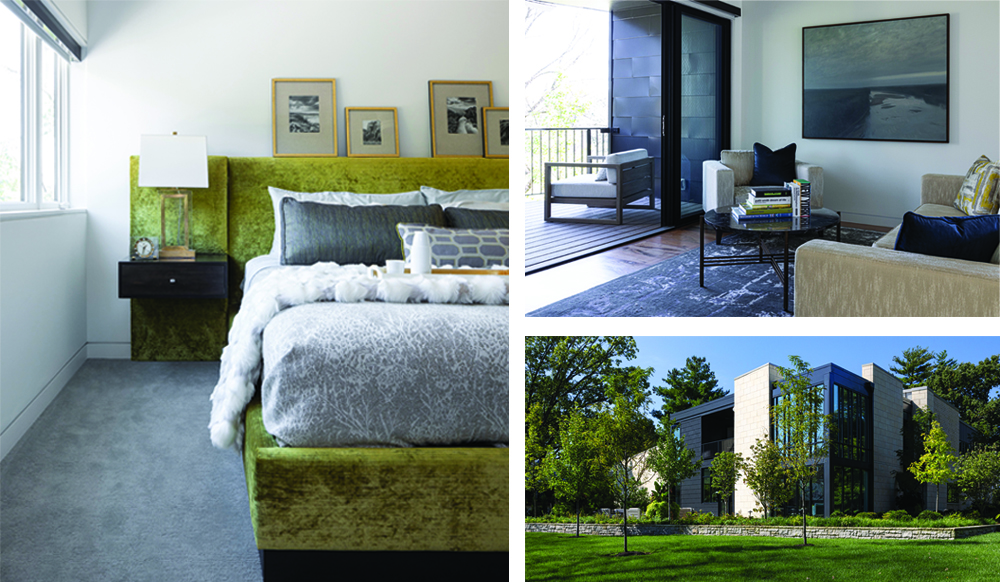 While the basement has a utilitarian—and chic—polished concrete floor, there is also a home gym and a steam shower that provide a spa element and also enable Westrope to do his rehabilitation work at home.
While Holmes sometimes wonders how the couple ended up with a little more square footage then they were planning, overall the house has suited their needs.
"We love art and wine," Holmes says. "We wanted to incorporate the pieces from our other homes, which we were able to do. We have fresh flowers brought in once a week, which we love. It's all working."
---
The It List
Architect: Generator Studio
Contractor: Homoly Construction
Flowers: Studio Dan Meiners
Rugs: Knotty Rug Co.