Sponsored content:

As the temperatures begin to drop, the team at Complete Home Concepts has one primary goal.
"We want to help people extend their outdoor season," says Corbin Haughenberry, project manager. "Heat can help you stay outside a little longer and enjoy the weather."
Cool fall evenings and chilly nights might just be the perfect weather to gather around the grill or fire pit—or both! And with occasional warmer days in the winter, installing an outdoor heating source can enable an impromptu escape from cabin fever.
"Days that are 45, 50 degrees are an ideal match for a fire pit, and we get those into January and February," Haughenberry says.
He says they've seen an uptick in requests for outdoor living features, like fire pits, and vendors are keeping pace with that demand. Even custom pieces typically only need a lead time of approximately two weeks, which means now's an ideal time to plan and design an outdoor retreat.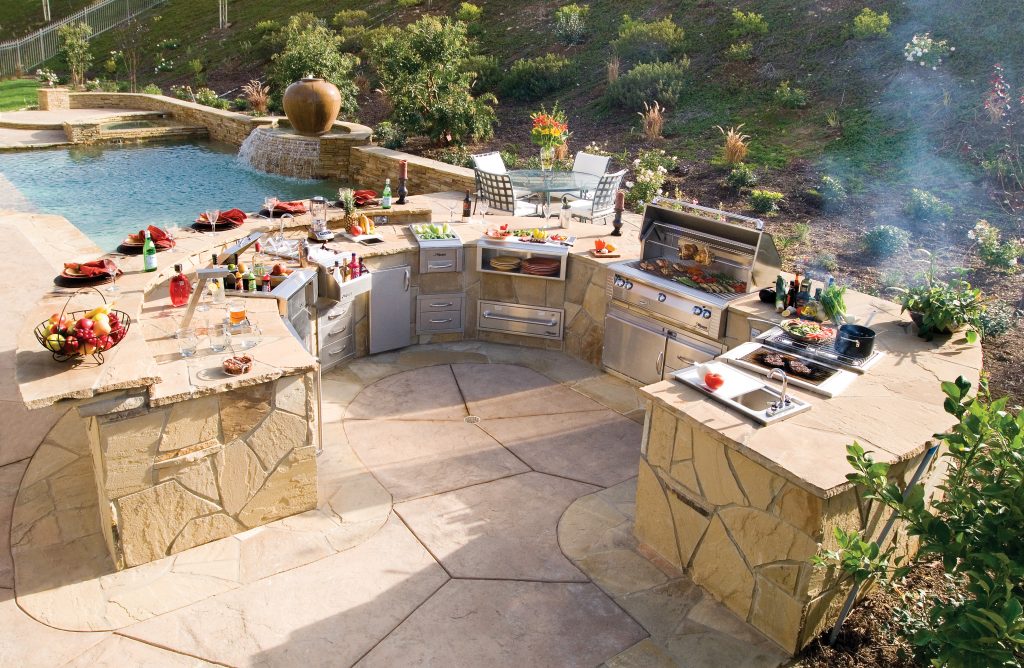 Whether you're in the market for a fire pit, an outdoor kitchen or both, Haughenberry recommends a few questions to help jumpstart the planning process:
1) What's the size of your outdoor space and your budget? These are likely the two most important numbers to consider as you build your outdoor space. Complete Home Concepts can work at any size, whether you envision a more traditional, round fire pit or prefer something more complex—a horizontal fire pit with a glass surround that can divide different parts of an outdoor space or create a cozy, eye-catching border.
That goes for an outdoor kitchen, too. They've created basic set-ups built around a grill and ideal for a compact space, all the way up to large, fully-equipped outdoor kitchens complete with cooktops, refrigeration, and running water.
"We'll go through all of those parameters, including if they need additional pavers or a concrete surface on which to place the kitchen equipment, as well as any gas or water lines," Haughenberry says. "Then, customers have the information they need to quickly and easily enlist the help of a contractor."
2. Do you want to incorporate existing appliances? Haughenberry knows firsthand how passionate people are about their grills!
"Some people are adamant that their grill is the best," he says, laughing.
If you're planning an outdoor kitchen, are there existing pieces that you want to include in the set-up? These most commonly include grills, large Yeti coolers, or meat smokers.
The Complete Home Concepts team can then add appliances, furnishings, and other accents to create a full-fledged outdoor kitchen. One essential? Additional counter space, whether it's an extension of the grill, a freestanding island or cart, or a built-in counter that connects two appliances. That way, you don't have to keep running in and out of the house to grab ingredients and instead have plenty of workspace outside.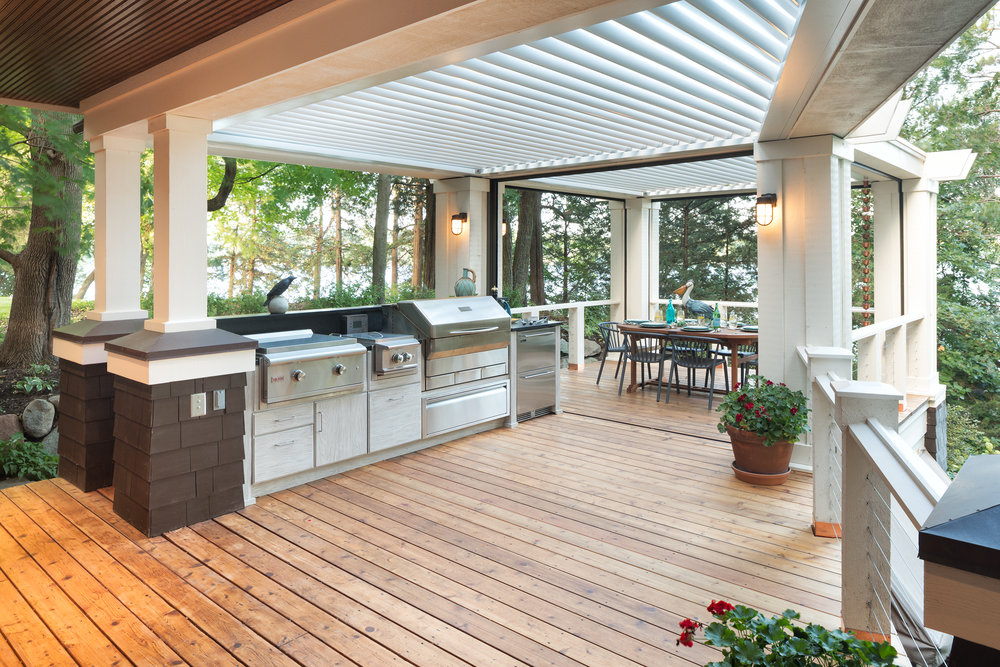 3. What would make this the space of your dreams? The Complete Home Concepts team especially enjoys working on outdoor kitchens because the possibilities are so numerous. Is there something you've always wanted in a kitchen—a brick pizza oven, perhaps, or a griddle cooktop? Customers have more options than ever when creating an outdoor kitchen. That's especially appealing in an area like Kansas City, when, with some additional heating and cooling elements, homeowners can often get ten months or more use out of their outdoor spaces.
Haughenberry says he's been especially intrigued by brick pizza ovens. They currently offer two wood-fired models and a third, "massive" oven that's powered by gas and wood, he says. "It turns out pizzas quickly! And it's a gorgeous appliance—dark red and stainless steel."
4. How do you want to use your outdoor space? Thinking through the functionality of your outdoor space helps you better understand exactly what pieces you need.
*Are you in the market for a cozy gathering place to read and sip coffee?
*Do you want to have multiple outdoor seating areas for easier, more enjoyable entertaining?
*What sort of outdoor kitchen works best for your cooking style? Are you content with a high-quality grill as the focus or do you want more functionality so that you can fully prep and cook outside?
Outdoor spaces are especially important right now as more people look to extend their living space and enjoy a change of scenery. By working with Complete Home Concepts, you'll not only get the durable, long-lasting fire pits, seating and appliances you need; they'll also be carefully selected to make your outdoor space just as stylish and inviting as your indoor living area.


"Most of our installations will be used by a homeowner for a long period of time, and also on to the next homeowner," Haughenberry says. "We want to make sure we do it right."
All you need to do to start the process is reach out to Complete Home Concepts. They'll work with you to understand your project parameters, then make product recommendations and create a timeline. And don't be afraid to think big! Sure, you may end up scaling back, but Haughenberry and his colleagues love showing customers the potential of what's possible.
"The only thing that limits us, especially when it comes to outdoor kitchens, is imagination," he says. "I've seen some ideas that didn't seem realistic before I sent them through our system. All of a sudden, we've got this dream on paper and you can see their eyes light up."